Mention 'TikTok' and your mind may conjure images of teenagers dancing or people eating Tide pods for views. But an increasing number of brands are jumping on the TikTok trend to generate leads, with the finance industry being no exception. Did you know that there are now over one billion active users on TikTok? Let's look at the finance brands that have been getting it right. TikTok for finance – just a fad or here to stay?
A brief history of TikTok
The app Tiktok began in China (as Douyin) in 2016 as a video-sharing platform designed to provide an alternative to Instagram and Facebook (which are banned in China). The app became available in other countries between 2017 and 2018. Initially, TikTok was a platform where users could post short (15-second), vertically-orientated videos, usually of lip-syncing to popular songs. Today, videos created on the platform can be up to 60 seconds. Or even longer if they're recorded off the app, with or without music. Videos on TikTok tend to be fun and/or humorous, but don't have to be. In 2018, TikTok merged with the Musical.ly app and incorporated most of its features. Since then, TikTok has gone from strength to strength, acquiring more and more users each month.
Is TikTok actually useful for my brand?
Short answer: yes.
Long answer: Yes, if your brand is the right fit, has a strategy and enough capacity to add an additional network. Digital marketing is shifting. Where pay-per-click and banner ads once dominated the digital marketing landscape, today, it's social media and video content. You can see where this going. TikTok, a social media platform dedicated to video, is a great channel to generate leads for your brand in the current digital marketing age.
There's a big opportunity to reach Gen Z through TikTok. For example, with droves of Generation Z on TikTok, finance brands can leverage the app at a time in these young people's lives when they are just becoming interested in the world of finance . Effectively reaching and aligning with this audience before competitors get the chance is key.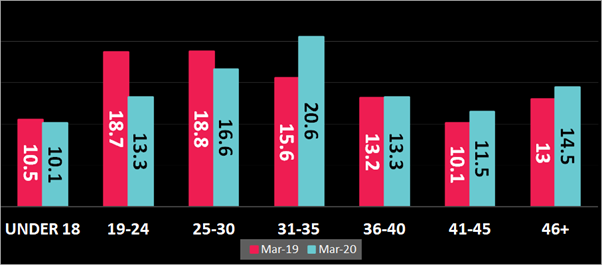 Perhaps surprisingly though, TikTok isn't occupied exclusively by teens and young adults. Increasing numbers of older generations are jumping on the Tiktok train. TikTok video marketing has the capability to engage diverse demographics.
Fin-fluencers
Finance influencers AKA 'fin-fluencers' or 'fin-influencers' are a relatively new phenomenon. But it's looking more and more like they are here to stay. These influencers focus on investment, trading, money management and other finance-related topics.
Financial trends are viral-worthy, especially among younger generations who are looking to increase their capital. Take, for example, how Redditors recently took on the hedge funds to manipulate the GME stock, resulting in losses of billions of dollars from the large corporations in a David and Goliath-style battle. This phenomenon in the trading industry provided a unique opportunity for fin-fluencers to take advantage of people's interest in the story by offering information and tutorials on the stock market.
TikTok fin-fluencer @ashleeinc started posting on TikTok in July of 2020. However, she only made her first finance-related TikTok in December of 2020 where she gave some advice regarding stocks.
The above post instantly garnered much more engagement than her previous monologues or clips of her pet. After seeing the demand among TikTok users for financial topics, she began posting more videos on stocks, cryptocurrency, and financial news. Today, just a few weeks from when she first became a fin-fluencer, she has 190,000 followers and 1.6 million likes on her page.
Humphrey Yang AKA @humphreytalks has collected over 1.5 million followers and 22.5 million likes by posting educational videos on the world of finance.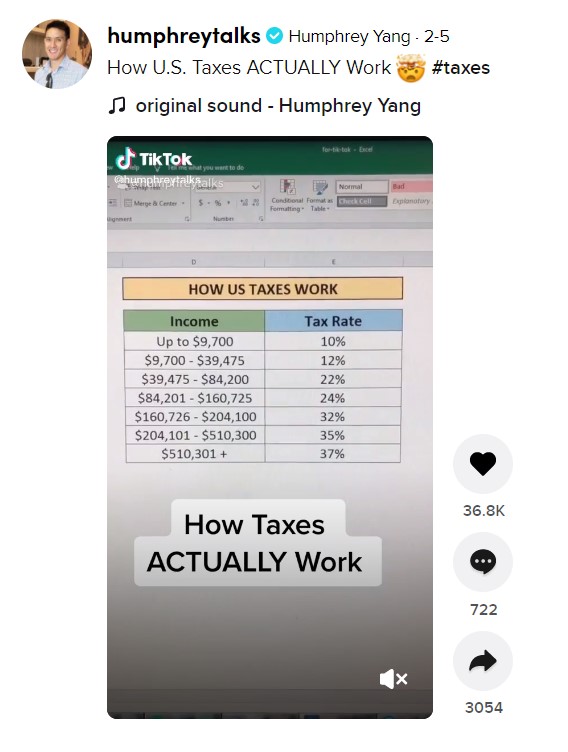 One thing that's clear, is informative videos are effective at grabbing attention on the platform – definitely something for your brand to think about. Find out which other fin-fluencers you ought to be keeping your eye on.
Brands on TikTok
It's still not commonplace to see finance brands on TikTok like you would expect to see them on Twitter, Instagram, or Facebook. TikTok certainly requires more thought and consideration as to what kind of content is appropriate for brands to post which certainly goes some way to explain the hesitancy.
Kelsey Vaeth, Senior Brand Strategist at The Infinite Agency, explains the reluctance from brands to embrace TikTok, saying,
'Some brands are holding out on considering TikTok as a legitimate marketing platform for their business. This stems from a belief that TikTok is only for tweens with poor dance skills and questionable music taste;'
It's easy to reduce TikTok as a low-brow platform, purely for entertainment, but brands need to know that there is so much to be gained from it. With all that said, there are a few brands that are killing it on the platform.
Planet Money began in 2008 as a blog and podcast produced by media organisation National Public Radio. The brand claims to be 'The Economy Explained' . They discuss financial matters in a clear and informative manner with a creative and sometimes humourous slant.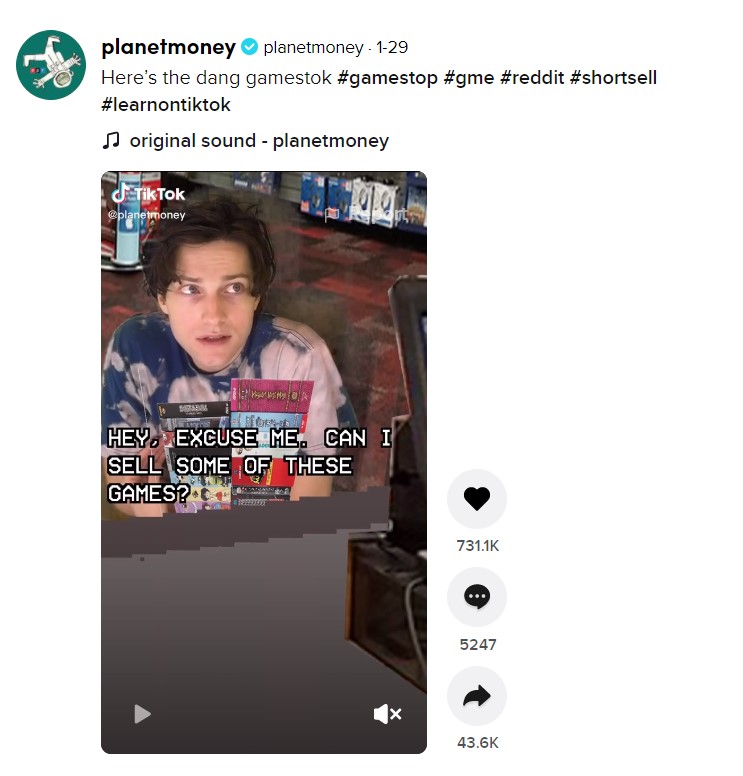 Planet Money started making TikToks in May of 2020 and has now amassed over 300,000 followers and 5.6 million likes, with a particularly significant surge of engagement after posting the above video. Senior supervising producer of Planet Money, Alex Goldmark, explains the brand's TikTok venture, saying,
'We realised the growing cultural influence that was coming from the TikTok community so we began paying attention to it.'
He explains how the world of finance, with all its complexities, can sometimes fail to really engage audiences that aren't particularly interested in such topics and how TikTok is a good tool to cut-through to beginners in finance.
'We want to bring our reporting to new audiences and we want to meet them where they are.'
Contentworks on Tiktok
We couldn't resist showing off just a little bit about our very own TikTok channel. Although not a purely finance-orientated brand, we do specialise in helping brands with our extensive financial-industry experience. Check out our first ever TikTok where we had a bit of fun one Monday with a behind-the-scenes snippet of office life and the kitten challenge!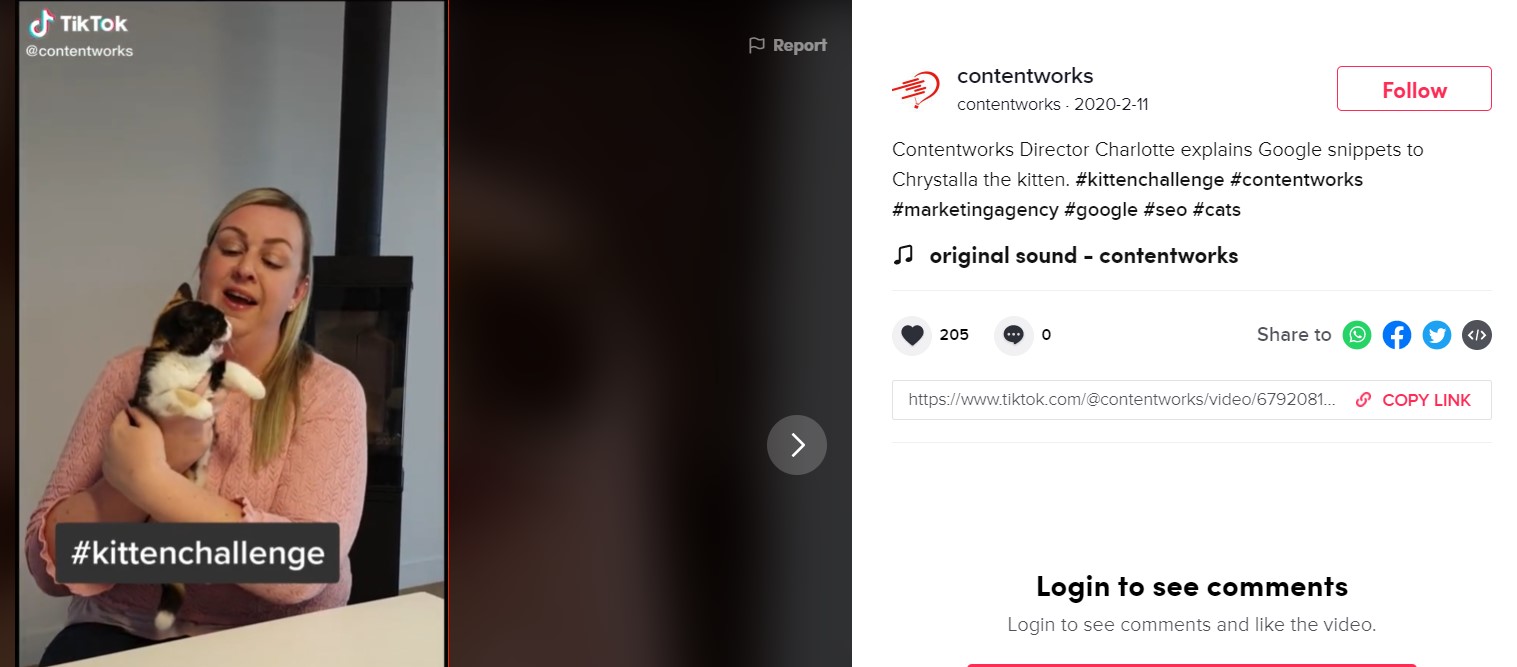 Is TikTok appropriate for brands and finance?
It's easy to view TikTok as unsuitable to the world of serious brands. This logic, however, runs counter to previous social media trends such as branded pages on Facebook, Twitter, and Instagram. Whereas they were once few and far between, it's now hard to find a brand that isn't on these platforms. With the rapid growth of TikTok, which shows no signs of slowing down, predictions are that brands on TikTok will soon become the norm.
Digital strategist, Luke Fitzgerald, explains how brands are missing out on the opportunity that TikTok presents:
'TikTok may currently fly under the radar of most conventional branding campaigns despite its surging popularity [but] it doesn't matter anymore […] It's now the king of creative social media content.'
Taking the time now to migrate some of your marketing efforts to the platform can mean getting an edge over the increasing competition.
What should my brand be doing on Tiktok?
If your brand's CMO is savvy enough to take advantage of the enormous opportunity that is TikTok, you could be looking at a sizeable ROI from the platform. But, it's also important to note that approaching TikTok with no strategy could end up doing more harm than good. What do marketing experts recommend in order to successfully take the TikTok plunge?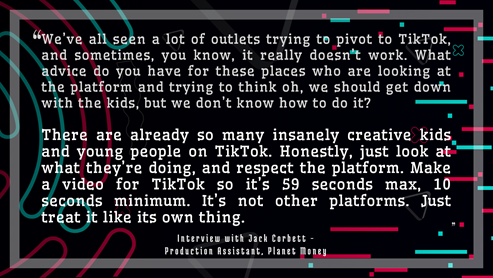 Be authentically you
TikTok is creative, innovative, and intended to be authentic. Brands shouldn't stray from these concepts but instead tap into the spirit of the TikTok community, creating content that gels with the platform but with their own unique take. Tech Content Writer for Sprout Social, Heliz Mazouri, says:
'Brands should weave themselves into existing communities and conversations by utilising influencer partnerships, participating in challenges and selectively following platform trends.'
Leverage the power of the platform
It can be hard for brands on TikTok to gain a good following in the early days. It's crucial to understand that users don't expect their brands to be on TikTok like they would on Twitter. For that reason, it's rare for consumers to actively seek out small-to-medium-sized brands on TikTok. To secure a sizeable following, you need to be doing the legwork of targeting your audience. The simplest way to do this? Influencers. Leverage the power of fin-fluencers on the platform to promote your brand. Read more about the benefits of micro-influencers.
Play with the tools
TikTok has some great tools for marketers to play with. Add filters, special effects, voice overs and soundtracks to your videos. The more fun you have playing with it, the ,more entertaining your videos will be.
Share your TikToks
Uploading content is only the start of the content marketing journey. If you're just starting out on TikTok, share your videos to other channels to build up your audience. You can also embed videos into your blogs and landing pages for an eye grabbing video option.
What shouldn't my brand be doing?
In the same way some brands scoff at the thought of creating a business page on the platform, it's just as possible for TikTok users to ridicule or outright ignore your brand's attempts to conquer TikTok marketing.
Ignoring trends
A successful TikTok venture for your brand means you need to be 100% open and alert to every opportunity you're presented with. Pay attention to trends, but only engage if you feel confident your brand is suited.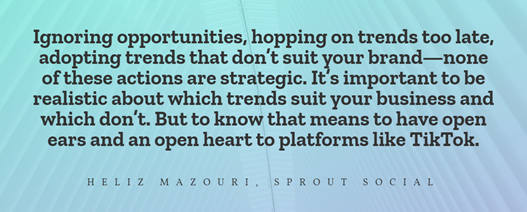 Producing boring content
There's no place on TikTok for boring content and Tiktok users will rip you to shreds if you upload it. Or, they might just ignore you. Both are not great options. If your boss is thinking about a video that explains your USPs or features and benefits, leave the meeting room. Fast.
Don't plan for viral
TikTok is fun, it's casual, it's not the platform to post your latest high-budget, high-production-value ad. Take, as a suitable example, the infamously chilled Ocean Spray TikTok created by user @Doggface. Ocean Spray, which has 77,000 followers on TikTok, used an original song created for the campaign and other TikTok creators joined in and posted their own takes on Apodaca's dance.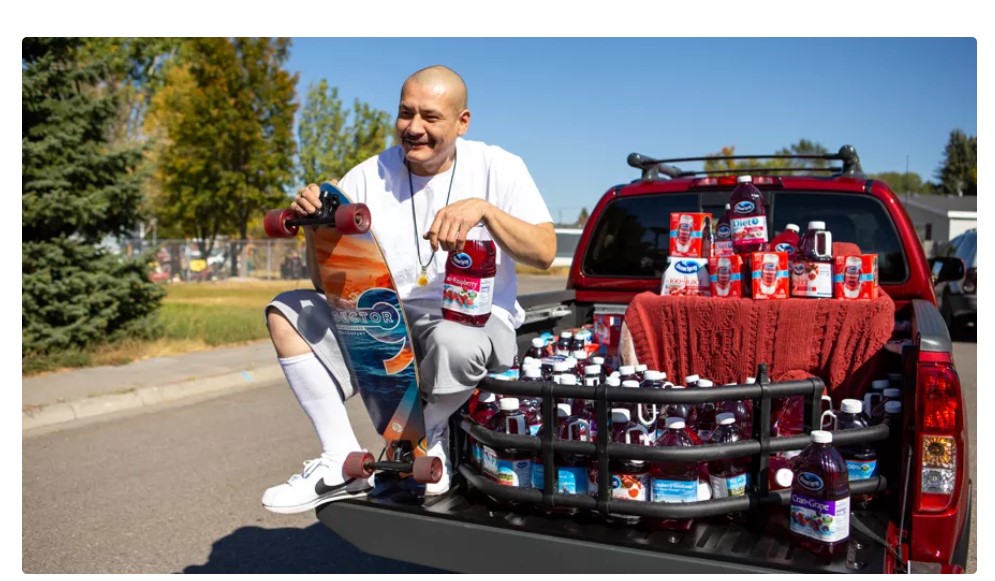 Global Head of Business Marketing for TikTok, Katie Pruris said:
"You can't plan for viral. Don't just wait for a moment to be opportunistic, but plan for this to be a component in the way you think about building your brand all of the time, with an always-on strategy. And have a plan in place for when these opportunities do show up."
TikTok is a place for brand authenticity is there ever was one. Keep things genuine and from the heart of your brand with TikTok ideas such as behind-the-scenes looks and opportunities for your audience to meet the people behind the brand.
Reusing YouTube Content
Don't use clips from your YouTube or Facebook videos because they will not work for your TikTok marketing. You must tailor the content to perfectly match the platform and utilise the trends, tools and audience that are there.
Breaking laws or regulations
With the advent of 'meme stocks' came a rise of fin-fluencers giving out financial advice left, right, and centre on TikTok with not all of it going uncontested. In fact, just recently, a UK Financial Conduct Authority spokesperson told the BBC,
'There are risks with taking unregulated investment advice and we engage with social media platforms to have pages which breach our regulations taken down.'
Just because you're uploading on TikTok doesn't mean you can circumvent the strict laws or regulations for the finance industry. It's always best to consult with an agency that is experienced with marketing regulation compliance like Contentworks.
Ready to get started with TikTok marketing or video marketing in general? Talk to our team. From executive interviews and product launches to explainer cartoons, viral social media videos, TikTok challenges and advertising preroll, we've got you covered. Our clients include forex brokers, banks, fintechs, shipping organisations, legal, property and lifestyle brands.
Our friendly and professional team will work closely with you to get the perfect tone of voice, style and messaging.