The financial services sector has many challenges when it comes to marketing. Regulations, rules and the reputation of being stuffy and boring to name a few. so how can banks, brokers and investment houses succeed? Here we go with Financial Services Marketing – the Ultimate Checklist
Difficulties of marketing a financial services brand
Showcasing a financial brand in all its glory is particularly tough. This is because products and services between companies can be remarkably similar to the untrained eye. And, as finance is perhaps not the most 'exciting' sector in the world, attracting an audience can be somewhat of a challenge (to put it nicely).
To succeed, your core business model needs to be up-to-scratch. But you also need an intriguing, interesting and engaging financial services marketing strategy that will help you to achieve much-needed visibility.
So, with this in mind, here's our ultimate financial services marketing checklist with the help of brands that are on top of their game.
#1 Meet audience expectations
Meeting the expectations of your audience is absolutely essential. Every brand has a different audience, so you must know who you're talking to and this requires extensive research. With the right data, you can then push forward with your marketing efforts.
The trick is to cater to the needs of your followers and deliver services they can relate to. For example, millennials do not gravitate towards traditional financial services, ditching brick and mortar banks for apps. Most do not even own credit cards, so it's important to adapt and find a way to stand out from competitors.
JPMorgan Chase, for instance, connects with the evolving needs of followers by focuses largely on the customer experience. Chase offers a wide range of benefits for Sapphire Reserve card users including a 50,000-point bonus system which can be used towards airfare, hotels, car rental and other travel requirements. They reward and acknowledge those who choose their services.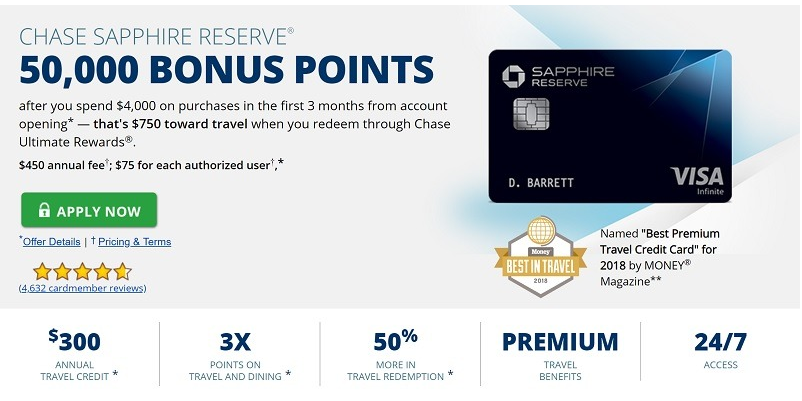 Key takeaway: Understand the needs of your target audience and use the information you have to your advantage. Make the consumer feel wanted and needed by giving back.
#2 Build loyalty
The idea of brand loyalty should be at the forefront of any marketing strategy. Essentially, you want consumers to come back time and time again. So how can you earn their continued attention? Well, trust is a good place to start and this comes from transparency, good experiences, strong company culture and relatable ethics. As custodians of people's money, trust is extremely important for financial institutions.
Your core values must align with the values of your audience. So, think carefully about the messages you want to convey. 73% of millennials, for example, prefer to associate with socially responsible brands, so being a brand that 'gives back' should be good for business.
Transparency is also a big factor when it comes to building loyalty. Consumers don't appreciate hidden fees or marketing material that's misleading. And as rules such as MiFID II now require brands to take a much clearer and upfront approach, it's important to lay your cards on the table.
UBS is one brand using transparency to build loyalty. In a symbolic move, the brand built a glass elevator to highlight and enforce the transparency it gives its customers. After all, transparency shouldn't just exist on paper.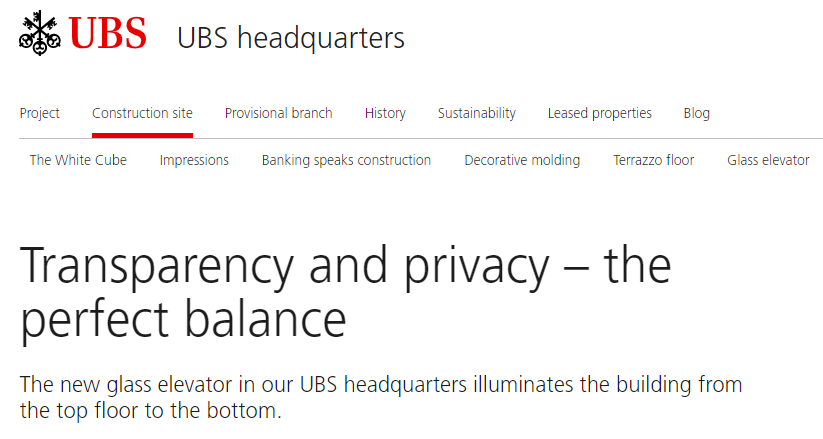 Key takeaway: Build trust with your audience through transparency and trust. Don't misinform. Instead try to be helpful and educational.
#3 Create valuable content
Financial terminology is jargon to many people. The last thing you want is for your audience to switch to another brand that explains their services in simpler terms. So your financial marketing needs to be backed by easy-to-understand and relatable content.
Unless your products are targeting a single demographic, it is wise to create content with a wider appeal (based on your consumer research). Millennials will have different content needs to those of Generation X and Baby Boomers. A one-size-fits-all approach to content will just not cut it.
Different content types being used for financial services marketing include data visualisation, videos, calculators and social media updates. Blogging is another powerful tool that brands are using to market successfully. Having a blog also makes it easier to separate different content for your different audience demographics.
NerdWallet, a personal finance company, leverages the power of blogging to market its services. The blog gets over 100 million visits each year.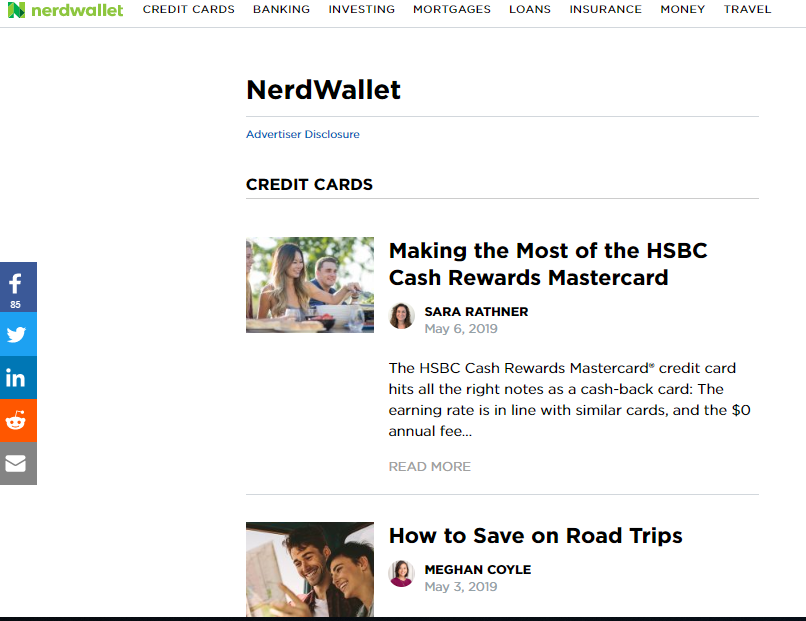 Key takeaway: Create content that addresses the needs of your whole audience and not just one group. Avoid using complicated jargon unnecessarily.
#4 Engage and personalise
If you want to create effective marketing campaigns, you need to engage with your target audience. Whether it's replying to emails or interacting on social media, it's important to create a two-way flow of communication. After all, consumers are becoming increasingly inpatient and are therefore likely to respond negatively to late responses, delayed feedback or no response at all.
Consumers also appreciate personal interaction with brands, so forget about generic reply-all send-outs or pre-scripted messages. Instead, reply according to each customer's needs and consumer behaviours. Impressively, 37% of financial marketers are already moving towards prioritising personalised engagement and therefore it's essential to keep up with this latest marketing trend.
Key takeaway: Be alert, active and responsive across multiple channels. Give the customer a personalised experience and never keep them waiting.
#5 Embrace influencer marketing
The financial landscape is changing. 265,195 Brits quit their banks in the first quarter of 2019, looking instead for digital alternatives. But as more and more finance brands move completely online, competition is also becoming even more fierce. So, what's the marketing solution for those wanting to remain at the top?
Well, influencer marketing is huge these days with micro and nano-influencers helping to target niche groups and promote services to dedicated groups of followers. These influencer types are usually much more cost effective than the macro influencers of this world too allowing you to increase visibility without breaking the bank. The result is also higher-quality engagement. So, it's worth putting out your feelers and seeing who to work with.
Ellevest is rocking its financial marketing with influencers who resonate with its largely female audience. Its '5 minutes with' series is one such marketing campaign that uses successful females to increase engagement and grow the brand.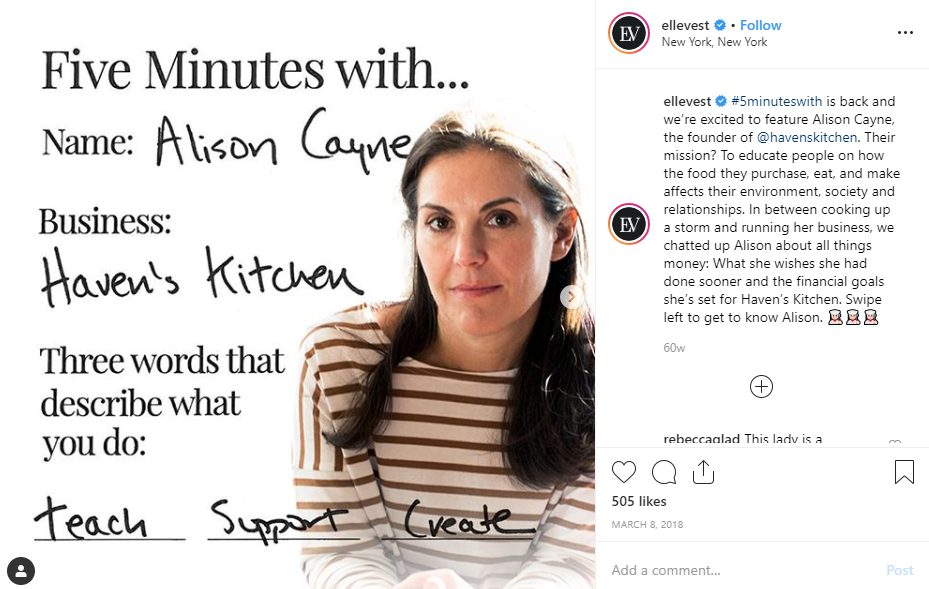 Key takeaway: Interact and work with influencers that will appeal to your target audience.
#6 Go mobile with your financial services marketing
It's the 21st century and mobile is big. Even for financial brands.
Why?
Handheld devices are everywhere and people are using them. Statistics show that American adults spend over three hours on mobile devices daily. Also, over 48% of global internet traffic comes from mobile devices. There's a high chance that at any given moment, a part of your audience is using its mobile devices. So, make sure they have a good experience when they visit your site on-the-go. To do this, avoid too many popups, widgets, and unnecessary information. You do not want to lose out on the potential conversions you can get on mobile.
Key takeaway: Have mobile responsive content and optimise your sites for mobile devices. Give your audience ease of use and speed on mobile devices.
#7 Have a robust social media strategy
A recent survey revealed that internet users are spending an average of 2 hours and 22 minutes per day on social media. Users cut across all demographics and this makes social media excellent for financial services marketing.
You can take advantage of where your audience hangs out on social media to curate campaigns that work for them. For example, millennials tend to favour Instagram while older customers may engage more on LinkedIn.
Additionally, you need to know the type of content that works on your chosen social media platform. For example, Facebook is flexible for various content types, YouTube is great for videos, Instagram does well with images and videos and Pinterest is great for images.
Mastercard's #StartSomethingPriceless campaign which inspires people to follow their dreams is an excellent example of how to engage consumers. A press release for the campaign read:

The result was plenty of organic content for the brand's social channels and an ongoing appreciation of consumer lives which in turn helps with brand loyalty.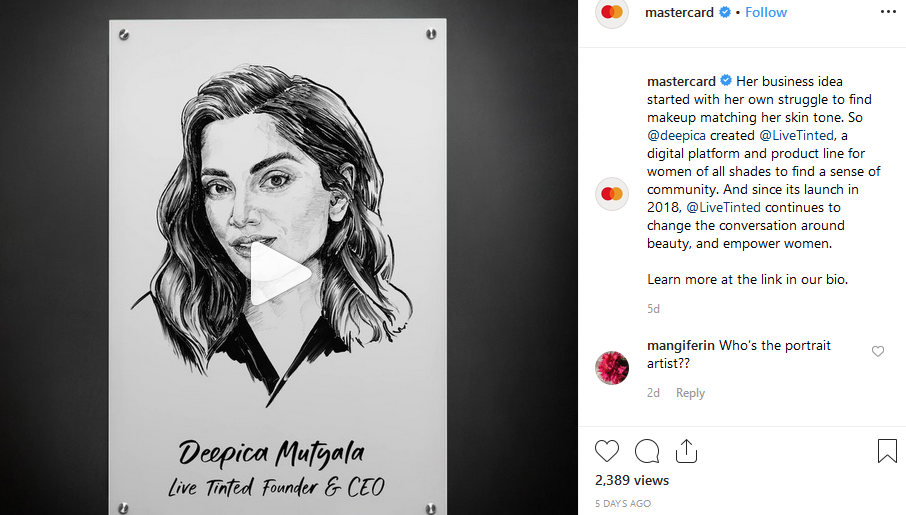 Key takeaway: Boost your marketing campaigns by identifying the social media platforms your audience uses and the type of content they enjoy.
#8 Use emerging technology to stay on top of the game
Brands across all sectors are embracing disruptive technologies. So, how can you use tech for your financial brand that appeals to a modern audience, particularly millennials who have been referred to as Digital Natives?
Create fast, 24/7 communication for your customers with chatbots. Some advanced bots can even adjust their responses according to the client's behaviour.
Use AI algorithms and biometrics to up your security. You can also use AI for real-time interaction, understanding your audience's behaviour, and customising your services, content, and marketing.
Capital One is one of the financial institutions utilising AI to improve customer experience with Eno, its shopping assistant. Similarly, Bank of America has Erica, a virtual financial assistant. Technology is big. Barely a month after launching, Erica already had 6 million users.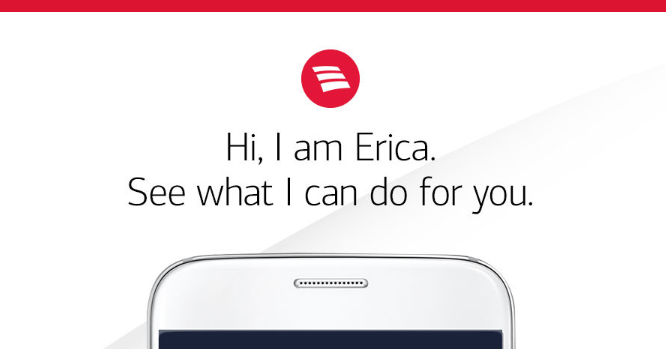 Key takeaway: Look into using emerging technologies to move from product to customer focus.
Financial services marketing remains challenging. That's why so many brokers, banks, hedge funds and fintechs utilise professional content marketing agencies. Contact Contentworks today for financial services marketing that works hard for your brand.