As one of the fastest growing social media platforms in the world with an estimated 800 million monthly active users, TikTok is a Gen-Z fave. Aimed at 13-24-year olds, TikTok has clocked more than 1.65 billion downloads to date with the average user spending 52-minutes per day on the app. That's pretty impressive considering most videos last for just 60-seconds. 9 out of 10 users also use the app multiple times a day. Available in 75 languages and 150 countries, TikTok is the latest social media craze. Let's look at the most followed brands on TikTok and what we can learn from them.
TikTok Accounts
TikTok's main account has 36.9 million followers. TikTok_India has 21.2 million followers. TikTok's official Live TV account has 23.5 million followers. That's a whole lot of people. Over 88 million, in fact, and growing. So, what is TikTok doing to captivate fans?
Original, educational content
While platforms like Instagram are busy curating and reposting other people's content, TikTok is making videos that educated users about the brand and the inner workings of TikTok. Smart, right? Of course, TikTok's target market is for teens and young adults. So, posts must be fun, lively and engaging. Gen-Z aren't bothered about finely polished productions either. Authentic is what they want. And TikTok delivers.
The type of content posted includes:
Mini interviews and behind-the-scenes insights
Why this works:
Over half of Gen-Z consumers consider how trustworthy a brand is before they engage in it. Introducing the team and being transparent about what you do is therefore a good way to build trust. TikTok's mini interviews help to humanise the brand and draw consumers closer.
94% of Gen Z expect companies to address pressing social and environmental issues like gender equality or environmental concerns.
Why this works:
52% of Gen Z trust influencers they follow on social media. They do, however, shun staged promotions and ads for marketing that's fun and on-brand. TikTok knows this which is why they gathered two influencers already hugely popular on the platform to play a laidback game. The mood is fun, unpolished and right up TikTok's street. The result? 93.7,000 likes and counting.
Videos like this show brands ways of being creative on the channel – without being overly promotional.
Let's look at some of the most followed brands on TikTok:
Flighthouse is a media and entertainment company with a whopping 22.6 million followers on TikTok. The brand was founded by 20-year-old Jacob Pace and has positioned itself among the top ten followed accounts on the platform. The only other brand to do this is TikTok. The result are influencers and artists. So, what's going down at Flighthouse to make the channel so popular?
Influencer marketing galore
Like TikTok, Flighthouse loves a bit of influencer marketing and they've mastered their approach. Instead of plucking out popular Instagram stars and bringing them to TikTok or high-paid celebs, Flighthouse works with influencers already doing their thing on the channel such as @BabyAriel who has amassed over 30.2 million followers.

Why this works:
By featuring influencers with a huge TikTok following, Flighthouse can expand their outreach in a fun and natural way. Even if people were unaware of the Flighthouse brand, they might start to follow based on their influencer-related content.
Flighthouse also jump on popular TikTok trends such as #whathappenednext to garner traction. This hashtag alone has already receive 315.2k views across the platform. And what better way to boost likes and comments than by featuring influencers with over 10 million followers combined?
Another popular series was #finishthelyric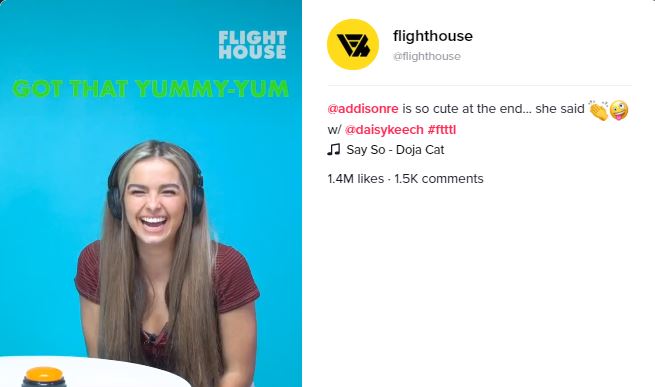 Consistent content strategy
Speaking of the TikTok success of Flighthouse, CEO Jacob Pace said:
"I think it was just putting out consistent content and the fans just kinda came with it. We didn't really growth-hack all that much. Consistency is so important."
And he's right. 82% of consumers from Gen-Z are looking for consistent and relevant content from companies.
Key takeaway for brands: If TikTok is a channel suitable for your brand, make sure your strategy is on point. Be sure to post content and analyse what performs well and what doesn't. Posting consistently will help build brand trust and you can gradually tweak your campaigns as you realise what your followers are responding to the best.
Visually on-brand
Note how the background colours of the videos reflect the Flighthouse brand. Strong, bold and vibrant it helps give their channel a distinctive presence.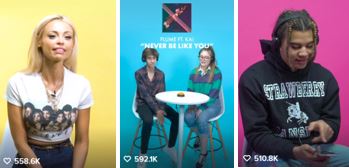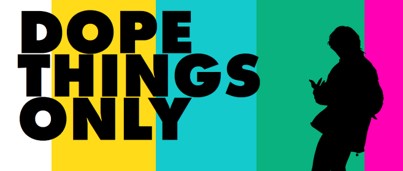 With 7 full-time employees creating content for the platform, it's no wonder NBA is storming ahead on TikTok with 8.2 million followers and 133.1 million likes. That's a load of engagement right there. So, what are they doing right?
They show a lighter side to the brand
NBA cleverly use social media to their advantage, thinking carefully about which content to post on each channel. While Instagram is all about basketball games and highlights, TikTok shows a lighter side of the brand, thereby appealing to a young, energetic audience.
The below video, for instance, shows a mascot bopping away to some beats…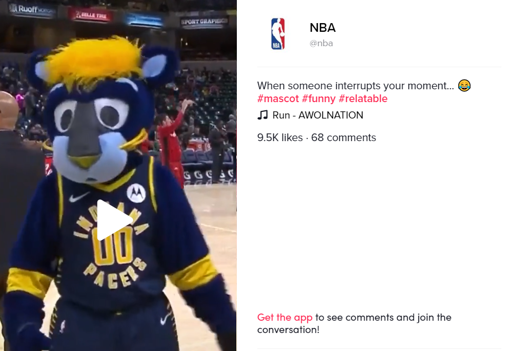 The result
Easy-to-watch content that appeals to extreme basketball fans and general Tik-Tok lovers alike.
By posting different content across your social channels you encourage people to follow you on multiple platforms where they don't have to endure the same old stuff.
Top takeaway for marketers: Post content consumers can relate to. While filming your team working on their computer is boring, arranging a team dance or song has a different vibe. Make the most of the app's musical features to bring your content to life.
As a brand creating award-winning shows for children, it makes perfect sense for Nickelodeon to be on TikTok. The platform is a great way for them to connect with new fans as well as old viewers looking for a touch of nostalgia. Here's why they're acing it, attracting over 5.9 million followers.
Fun music overlays
A video shows a scene from Spongebob Squarepants with a musical overlay of Billie Eilish's song Bad Guy was a huge hit. It's innovative and created for the Gen-Z audience. Check it out here:

Nostalgic flashbacks
Featuring the much-loved comedic duo Kenan and Kel, the Good Burger was a hit in the nineties. Nickelodeon's TikTok flashbacks help to connect with older followers of the brand.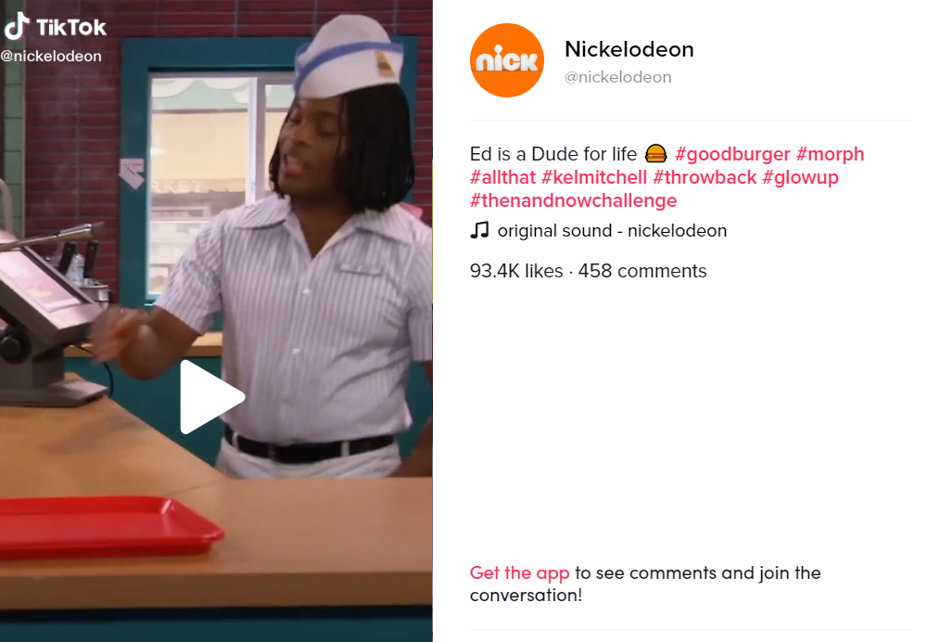 Top tip for marketers: Keep in mind different audience demographics. For instance, while Nickelodeon is for children – their parents may still be huge lovers of the brand they grew up with. Therefore, it also pays to market towards a generation who might get their kids to love your brand too.
How do Red Bull keep their 3.6 million followers engaged? Well, they live up to their slogan that the energy drink 'gives you wings'. Video posts highlight hair-raising challenges and adventures, many of which take place in the air.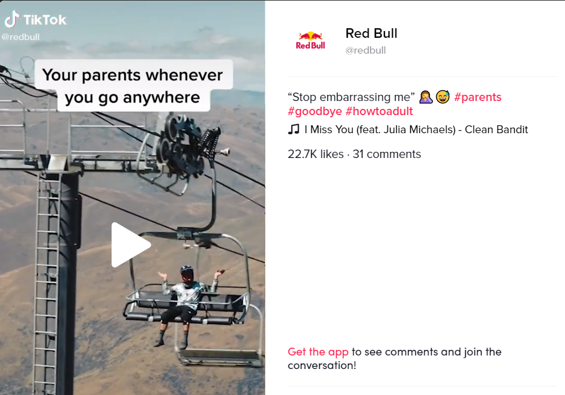 Why this works:
According to Red Bull's consumer demographic, fans of the brands are passionate about living life to the full and are fascinated by extreme sports. This is therefore reflected in their TikTok marketing.
Where Are All The Finance Brands?
As a content marketing agency for the finance, fintech and lifestyle sector, we were hoping to feature finance brands nailing their TikTok marketing strategy. After all, two-thirds of Gen-Z have a bank account, 56% have spoken to their parents about savings and 59% are more likely to connect with brands on social media than older generations making platforms like TikTok appealing for marketers.
But we researched the most followed brands on TikTok and it seems finance brands are late to the party. Again. The question is, why? The below stats suggest that a younger audience is keen to expand their financial literacy.
TikTok does not release download statistics but told MarketWatch the consumption of finance-related hashtags has grown 172% since the start of October.
The following hashtags are gaining loads of tractions: #invest 75 million views, #investing, 37.0m views, #finance 63.6 million views #personalfinance 49.2 million views, #financetips 1.5 million views, #blockchain 2.8m views, cryptocurrency 6.2 million views.
The Rise of Financial Influencers
What's also clear is that people talking about finance on TikTok are doing very well and enjoying high follower numbers. Cole Kelley, for instance, a 47-year-old financial literacy teacher at American Fork High School, has become an influencer with 18.4k followers and 101.2k likes and counting. Kelley's video explaining how real estate can be a good investment, has received 17.5k likes and hundreds of comments.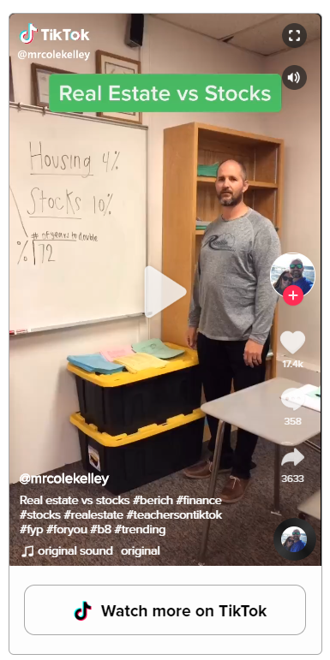 Katie Swanson – also known as #couponkatie is also a finance-related influencer encouraging people to save money through coupons. She has 1.1 million followers and it's not unusual for her videos to get well over 1 million likes.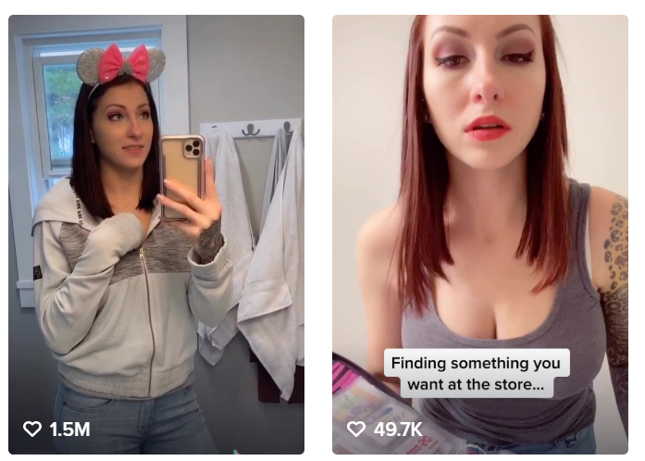 Commenting on the financial situation for youngsters, Katie said: "Young people are failing in basic economics. And if I can make a little bit of difference, then it makes it all worth it."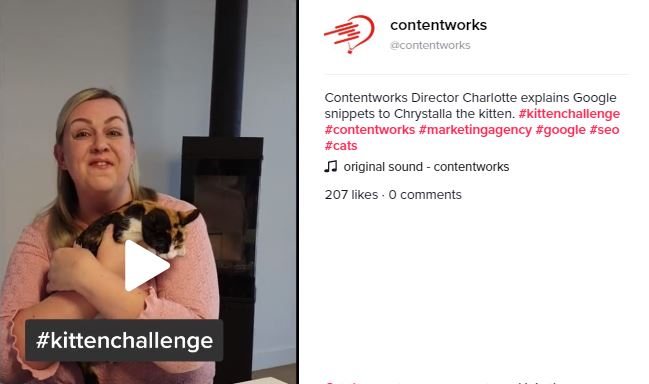 Want to follow Contentworks Agency on TikTok? Follow us here
Top takeaways for finance brands looking closely at TikTok:
Finance-related topics are big news on the site. By finding a clever, relatable angle to educate at Gen-Z audience, your brand could stand out on the channel.
Connecting with finance influencers could be a natural way for you to gain traction.
Remember your audience and that TikTok is often about showing a more human side to your brand. This could mean behind-the-scenes interviews, team days out, corporate responsibly events set to funky music and so on.
Hire a marketing agency that understands the social media landscape. Yes, we meant us.
Like reading about the most followed brands on TikTok ? Don't forget to hit the share button. If you like our style, contact us for content and social media management. We can even call it the #HireAnAgency challenge.