From saving and budgeting to investing and building a credible portfolio, there's a whole lot to think about when it comes to finances. Following the right influencers on social media can help you get a deeper insight into complex topics. It can also be lots of fun. Our team has rounded up 20 finance influencers to watch right now. Let's do this.
#1 Joe Saul-Sehy
Top of our list of finance influencers is Joe Saul-Sehy. As a former financial advisor, Joe is one of the hosts of renowned podcast Stacking Benjamins. This explores smart approaches to financial planning, spending and saving habits. Joe can also be found on Twitter @AverageJoeMoney where he shares useful articles and entertaining posts with his 10.7K+ followers. Stacking Benjamins also has its own Twitter account @SBenjaminsCast where you can catch up on all the latest updates.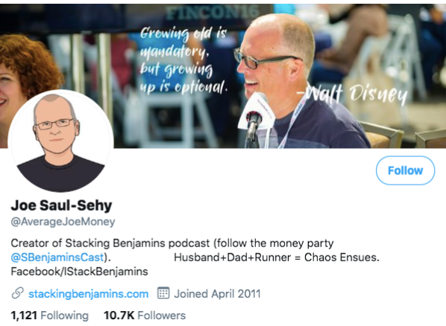 #2 Rachel Cruze
Dedicated to helping others become smart with money, Rachel Cruze has a strong social media presence, with over 142K followers on Twitter, 330K+ followers on Facebook and 326K followers on Instagram. She even has 199K followers on YouTube where saving money and achieving peace of mind are strongly in focus. As the host of the Rachel Cruze Show and daughter of renowned financial expert Dave Ramsey, Cruze is definitely worth a follow this year.
Her bitesize, easy-to-digest videos with motivational aspects and takeaways are a particular winner.

#3 Money Moustache
Mr. Money Moustache is all about living a 'badass' lifestyle. After enjoying an early retirement in his 30s, this influencer set up his own blog offering money management tips. This is the place to be for useful advice about saving and personal wealth.

You'll also find him on several social media channels where he has over 114K followers on Twitter and 130K followers on Facebook. He's pretty witty and is all about keeping the positive vibes.

#4 Tarra Jackson
Tarra Jackson, AKA Madam Money, is a personal finance expert as well as an award-winning international speaker and presenter. She's worked in many different roles over the years including bank officer and executive VP. She has also authored numerous books such as 'The 4 Financial Languages' which focuses on ways to communicate about money, especially with romantic partners.
Jackson runs a financial advice blog and is highly active on social media with 10K+ followers on Twitter where she regularly links to her Madam Money Minutes. She's a top finance influencer to follow!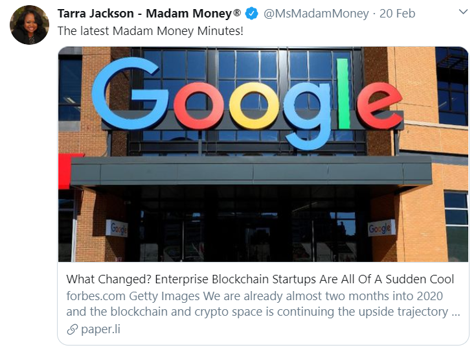 #5 Bola Sokunbi
Bola Sokunbi is a certified financial educator and finance influencer with a goal to help women escape debt and create wealth. She established Clever Girl Finance, a personal finance platform for women offering loads of down-to-earth advice for people in all financial situations.

Sokunbi's Clever Girl Finance YouTube channel has 38.1k subscribers and aims to give women the knowledge to manage their finances confidently.
#6 Tiffany Aliche
A financial educator and best-selling author, Tiffany Aliche strives to make life-changing financial education accessible to women across the globe. Highly active on Instagram and known to her followers as @thebudgetnista, Aliche breaks her content down into easy-to-read sections with Instagram Stories including financial tools and wealth tips.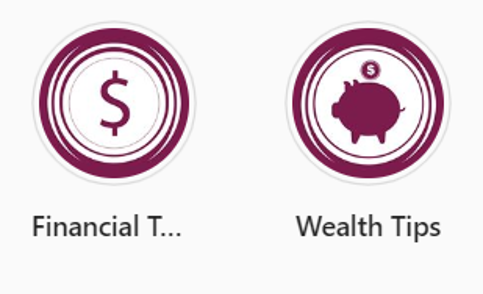 Her YouTube channel is also soaring with over 34K followers. Her educational approach is very much based on personal storytelling which helps to make the advice she offers more human and credible. All this ranks her high in the list of finance influencers on social media.

#7 His and Her Money
While many finance influencers work alone, others like to team up and collaborate. @hisandhermoney is the brainchild of debt-free couple Talaat and Tai McNeely who want to encourage other people to manage their money effectively and clear debt. They run a podcast and also have a YouTube channel with 90.6K subscribers. Their Sunday night sit-down feature posted at 7pm regularly attracts thousands of viewers.

#8 David M. Brear
Describing himself as 'always falling backwards,' David M. Brear is the CEO at 11FS, a fintech delivering the next generation of financial banking services. As the host of the Fintech Insider Podcast and the #FinOnAir series, Brear has amassed a following of over 44K Twitter followers and regularly explains the ever-changing fintech landscape in a simple way.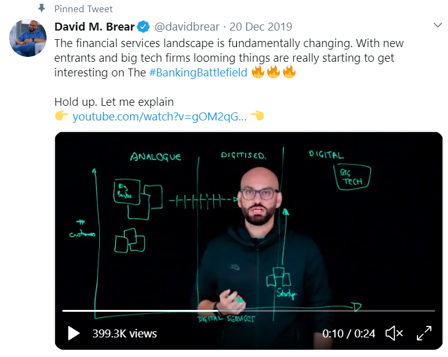 #9 Bradley Leimer
Fintech is driving the finance sector significantly with new developments shaping the way we save, invest and bank. With his 56.6K Twitter following @leimer, Bradley is the co-founder of Unconventional Ventures. He is also a start-up advisor, investor, writer, speaker and podcast host. He regularly talks about how fintech can bring about global financial inclusion. Bradley is a great addition to our finance influencers!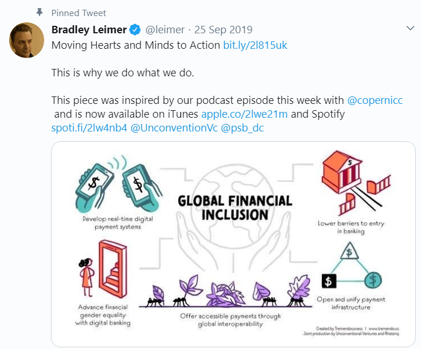 #10 Ron Shevlin
Ron Shevlin has 31.3K followers on Twitter and is the Director of Research at Cornerstone Advisors. He's also the author of Smarter Bank and Fintech Snark Tank on Forbes where he regularly shares fintech and banking content/data as well as his thoughts on breaking news.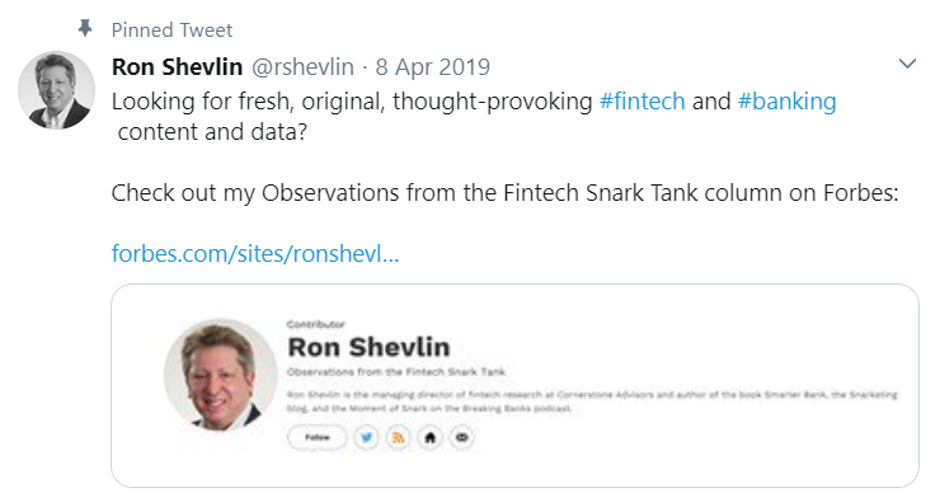 #11 Brett King
As the author of Bank4dot0.com which helps to navigate the rapid changes within the banking sector, Brett King has made a name for himself within the fintech industry hosting the #1 global fintech podcast Breaking Banks. He has over 61K followers on Twitter and is a self-proclaimed speaker and futurist, constantly keeping an eye on the future of banking.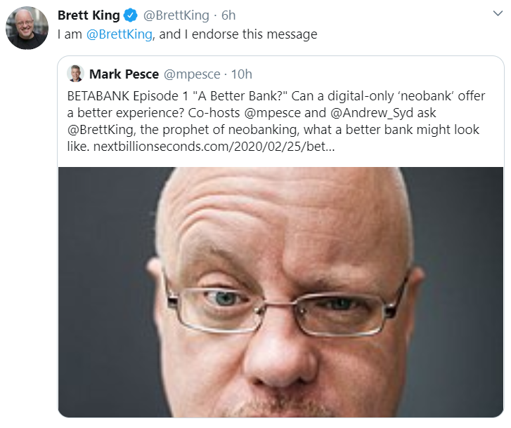 #12 Jim Marous
Named as one of the most influential people in banking and a top 5 fintech and finance influencer to follow, Jim Marous is an internationally recognised financial industry strategist. He's the co-publisher of The Financial Brand and the owner/publisher of the Digital Banking Report. Marous advises on a wide number of topics including portfolio growth, payments and digital innovation. He has 86.4K followers on Twitter.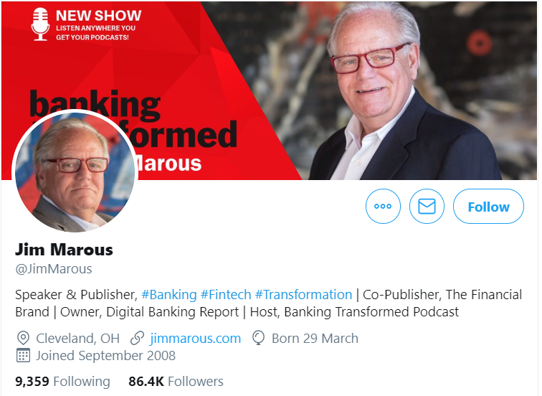 #13 Farnoosh Torabi
Living in New York at the age of 22 and $30,000 in debt, Farnoosh realised that digestible financial advice for young adults was severely lacking. So, she took it upon herself to pursue financial education and wellness and is now a leading influencer within the personal finance space with @FARNOOSH having a following of 31K. She also hosts the award-winning So Money podcast which focuses on candid conversations about money with the world's top business minds.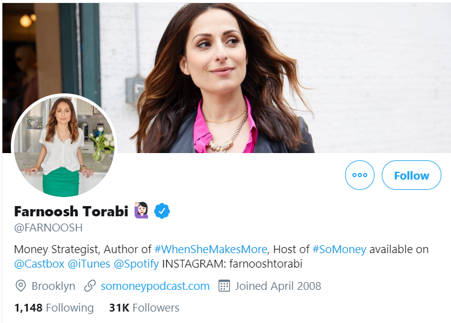 #14 Emma Edwards
Like Farnoosh, Emma Edwards started @the.brokegeneration after realising there was little financial advice available for millennials. English, but living in Australia, Edwards talks about a wide array of topics including money tips, travelling and living far from home. With 23.4K Insta followers and rising, Edwards aims to help followers break the spending cycle and feel financially free. She's even got a whole Stories section dedicated to thrifting.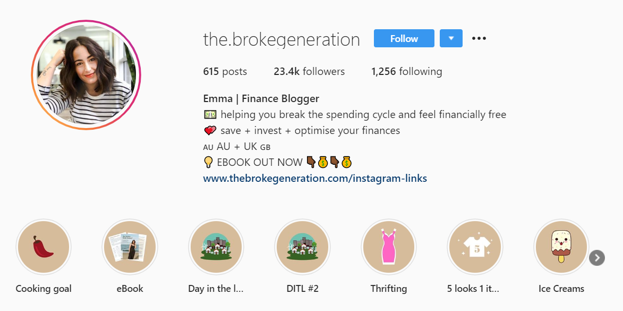 #15 Anne Boden
Anne Boden is the founder and CEO at Starling Bank – a digital-only challenger bank. Passionate about the way people manage their money, Boden is all about embracing a new age and encourages people to understand digital change. Her Twitter account @AnneBoden, followed by 22K people, offers regular insights from Starling Bank as well as the latest fintech news.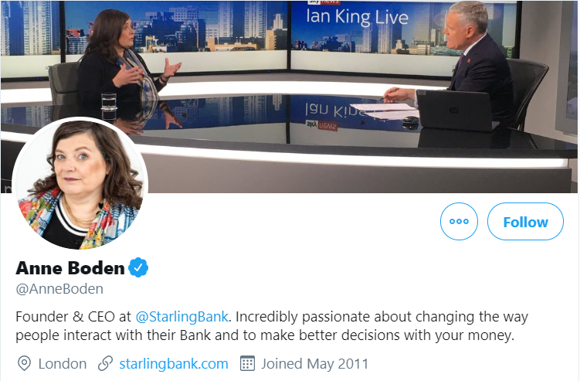 #16 Spiros Margaris
As the first international influencer to achieve the Triple Crown ranking, Spiros Margaris was named the number 1 fintech, blockchain and artificial intelligence influencer by Onalytica. He is a keynote speaker at fintech and insurtech conferences and has even published an AI whitepaper entitled: "Machine learning in financial services: Changing the rules of the game." His social media presence is significant with @SpirosMargaris having 94K Twitter followers.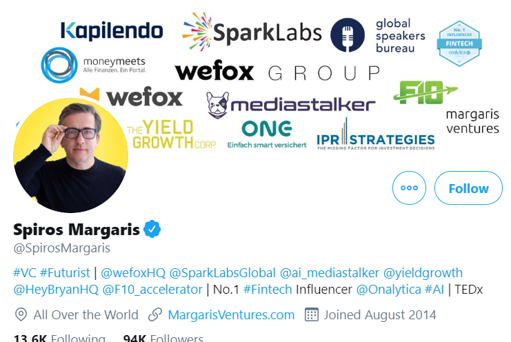 #17 Chris Skinner
Chris Skinner is a London-based writer,  financial commentator and one of our finance influencers . He has written several books including the best-seller Digital Bank where he discusses new technologies emerging in the financial field. While his blog zooms in on the changes in the banking world, he shares financial insights and news via his Twitter channel @Chris_Skinner.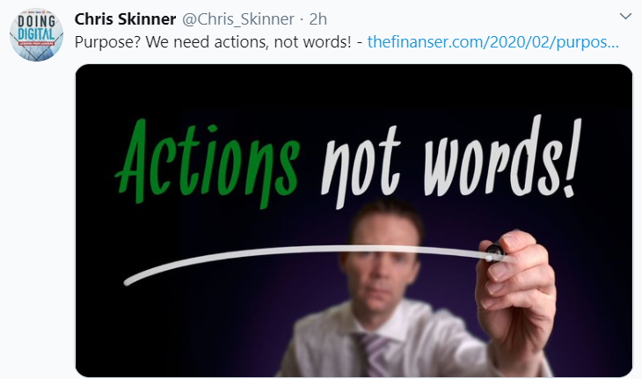 #18 Eric Patrick
Known as the Hip-Hop Stock Doc, Eric Patrick has built up an Instagram following of 36.5K followers @black_market_exchange. On a mission to make money matters memorable, Patrick fuses investing with music and hip-hop vibes. He uses Instagram Stories to deliver topics in a bitesize and easily relatable way.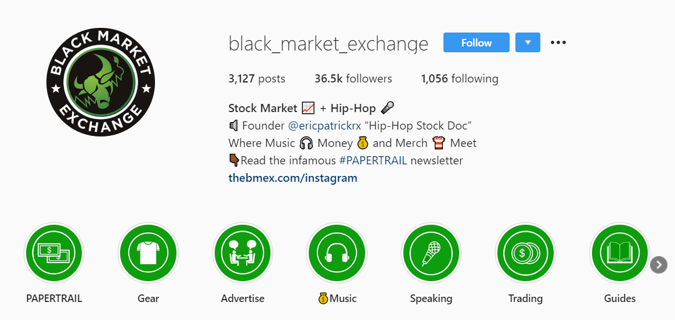 #19 J.Money
With a quirky Twitter handle @BudgetsAreSexy, J. Money discusses finance freely, entertaining his 45K-strong audience with witty updates and anecdotes. He uses a people-first approach in a bid to make financial topics more interesting stating: "Finance can be boring, so when you have a mohawk and talk like a normal, everyday person, it seems to help connect better with people versus suits and ties."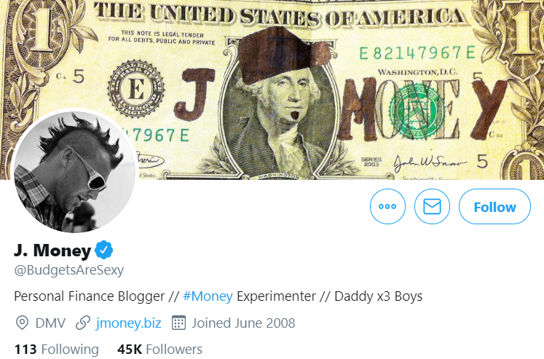 #20 Tonya Rapley
Founder of @MyFabFinance which has an impressive 22.2K Twitter followers, Tonya Rapley is all about helping people to achieve financial freedom. Determined to break the depressing cycle of living hand to mouth, Rapley has established a structured community which offers advice, information and support to help fix your finances. She also runs a podcast which covers important topics such as managing finances during significant life events. Congrats Tonya for being one of our top finance influencers.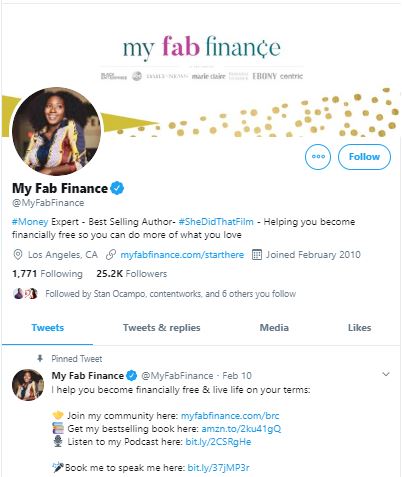 Like reading 20 Finance Influencers To Watch Right Now ? Then don't forget to hit the share button. Contact the Contentworks team today for articles, PR, whitepapers, video scripts and social updates tailored to your brand. We've got services to suit your digital marketing needs, so get in touch for more information.