Here at Contentworks, we love a good networking opportunity even if that means spreading our social butterfly wings online. That's why we're media partnering with Virtual Vision Finance, the ultimate B2B digital fintech expo brought to you by Ultimate Fintech, producers of the renowned iFX EXPO. As a marketing agency, we're all about adaptation and fully support the innovative efforts of this gathering in light of the covid-19 pandemic.
What's it all about?
Taking place on Wednesday 10 June 2020, Virtual Vision Finance is just like any expo, only it's conducted entirely online. Pretty cool, right? This means you can still build potential business partners and generate leads without having to worry about breaking lockdown or social distancing rules.
The expo-style conference will feature an interactive 3D expo hall that will accommodate 100+ exhibiting brands and 5000+ targeted visitors in financial services, retail and institutional trading, fintech, digital assets and blockchain, payments, affiliates, IBs and more. Networking and socialising during these bizarre Covid-19 days has never been easier with the conference offering access to the most prominent industry firms via online video, voice calls and chat too.
Register today to save your spot at the most exclusive event in the online trading industry. Be sure to register for the iFX EXPO to attend Virtual Vision Finance for free.
Benefits of Virtual Vision Finance
This online event is ideal for anyone in the finance space looking to move their business forward in the corona era and to pick up hints and tricks regarding digital marketing. There are specific talks covering forex, cryptocurrency and understanding traders, making the summit ideal for brokers. It's also a great way to catch up on the latest from the finance/fintech arena and keep up with technology updates and regulations.
Here's a rundown of what you can look forward to:
Insightful content and a full agenda
The conference will feature 12 hours of insightful content delivered by industry professionals. Panel topics include Asian Markets Roundup – What's Next, Key Updates from Global Regulatory Frameworks, Leaders Round Table: Insight for a New Era, Refocusing the Crypto Industry's Vision Post-Corona, Fintech & the Future – and more.
Contentworks' own Director, Charlotte Day, will be speaking on the marketing panel Marketing for Social Distancing: Marketing & Acquisition Tips. This will provide actionable insight about:
The right messaging for positive engagement in quarantine and isolation
Lead prices on different acquisition channels
How to utilise different meeting options and which way to go
Examples of different corona-era campaigns that delivered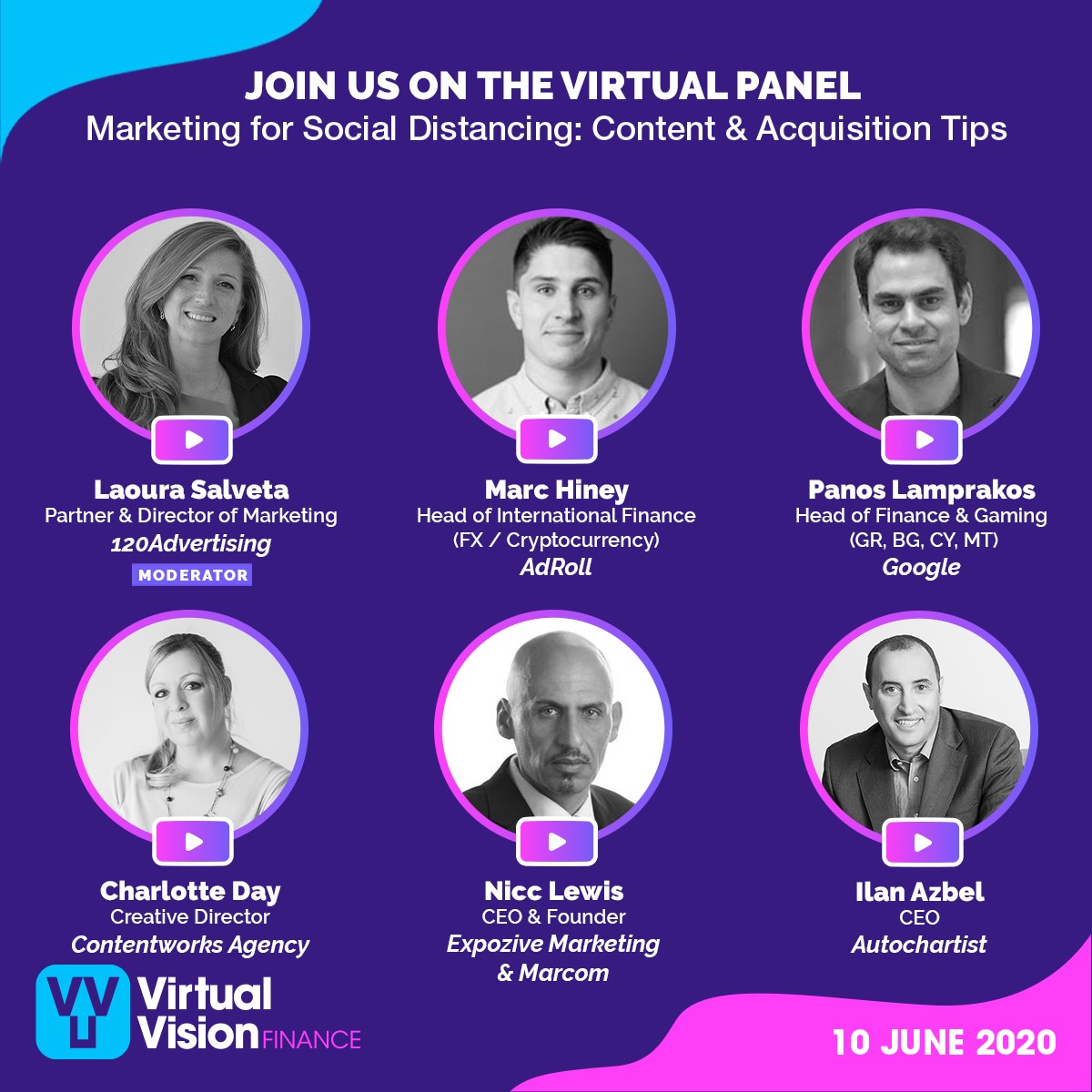 All sessions will be available on demand after the event, so you can enjoy wherever you are in the world and be up to date with what's happening in your industry.
24-hour LIVE virtual expo day
The online Virtual Vision Finance platform will support international time zones, making it possible to engage with attendees and exhibitors world-wide in live format. The virtual platform will also be accessible for 30 days after the event allowing you to truly solidify any new business connections and correspondence.
Virtual speaker hall and workshop room
As well as live virtual panels, there will also be fireside chats and workshop sessions with live Q&A polls giving the audience and speakers the change to interact directly. This conference is all about engagement with attendees being able to play an active role.
Contentworks provides content marketing for the finance and fintech sectors tailored to the needs of individual clients. We've been particularly involved in helping businesses build success during the pandemic and look forward to partnering the upcoming Virtual Vision Finance summit which is a great fit for our brand.
Register online today and be part of this leading industry event which is guaranteed to be both insightful and useful for brokers, banks, fintechs and service providers. It's also one of the only ways to network with industry leaders until face-to-face interactions resume. See you there!