There will be a notable lack of outdoor Pride parades this year due to the covid-19 pandemic. The London parade which attracted more than 1.5 million people in 2019 has been postponed alongside many other mass gatherings including WorldPride in New York City. But does this mean we should all put down our rainbow flags, ditch the glitter and let June Pride pass without recognition? Of course not. Pride is far bigger than that. Celebrating the progress of LGBTQ+ people is top of the agenda for many brands. In this article- Pride Marketing in 2020 – Our Top Picks, we're looking at some of the best Pride campaigns of 2020 to date.
#1 Kiehl's – Genuine Support
This year, as any other, Pride marketing is all about showcasing genuine support for the LGBTQ+ community beyond commercial interests. In other words, it's important to back Pride causes and campaigns rather than just hash tagging Pride in order to sell a product.
Authenticity matters, with American beauty brand Kiehl's leading the way by launching several virtual promotions as part of its new partnership with LGBTQ+ non-profit The Trevor Project, to which it is donating $100,000. The brand is also planning an online dance party on Instagram Live on 5 June 2020 featuring LGBTQ+ ambassadors to encourage donations to the organisation.
Melanie Green, Kiehl's Vice President of Integrated Communications said:
"Virtual Pride will certainly be a different sort of Pride for Kiehl's. Our wonderful employees always get behind Pride and host events in store. As many of our stores won't be open in June, they will be supporting on social and we'll all be dancing and donating to Trevor Project together."
To avoid being criticised for the commercialisation of a social movement, other brands such as Bliss will also donate 100% of the net proceeds from its Makeup Melt Wipes collection to The Trevor Project, with a cap at $40,000.
Top tip for marketers: Embrace corporate responsibility by creating relevant partnerships and making relevant donations. This will help your campaign to get noticed and will ensure you're not seen as simply 'showing up for the party and not the fight.' In other words, put your money where your mouth is.
#2 Marc Jacobs – Pride Collection
Kiehl's isn't the only beauty brand to showcase genuine support for Pride 2020. Marc Jacobs will also donate $10,000 each to two LGBTQ+ charitable organisations – SAGE USA and Fondation Le Refuge in order to provide 'vital services and assistance'.
The high-profile brand has also unveiled an all-new Pride collection of its Enamored Hydrating Lip Gloss Stick available in five new festive shades. These include baby pink 'Pink-Kiki', purple, 'Hips Don't Lilac', apricot 'Wet Your Lips', rose-mauve 'Coming Out' and clear 'Dancing Sheen.' The combination of a new Pride range and money donations helps the brand the achieve an authentic marketing approach.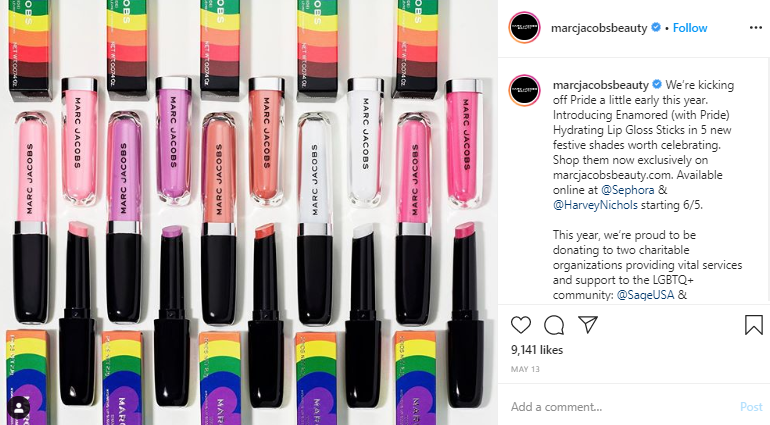 Top Tip: Plan your launch dates carefully to help you stand out from the crowd. Marc Jacobs was one of the first beauty brands to launch their Pride collection this year.
Remember to tag any collaborative organisations and partners as this will help you to spread brand awareness and gain traction for your product. You can also use the most-relevant hashtags of the year such as #Pride2020 so long as it's relevant to your campaign. Don't simply put this at the end of every post to try and gain attention as this will look ungenuine.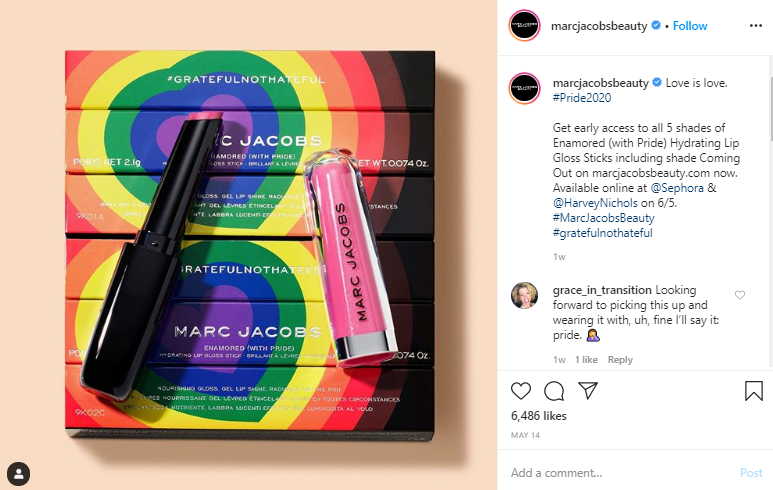 #3 IKEA – Make a Statement
IKEA is all about making a statement online this year, promoting inclusivity and taking a stand against discrimination. Their IDAHOBIT Story tab on Instagram is particularly powerful. While this initially supported the International Day Against Homophobia and Biphobia in May, the Story has been saved as a highlight on Instagram and is perfectly relevant for Pride. Offering an on-brand spin, IKEA's main hashtag is #besomeoneshome. And through Stories, the brand stresses the need to make people of all sexual orientations feel at home anywhere – anytime.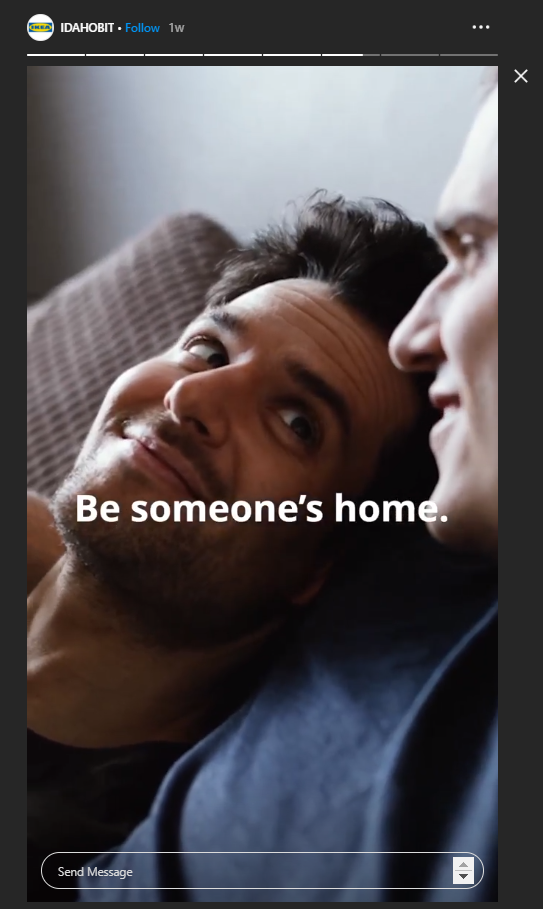 Top Tip: Use storytelling to tap into emotions as this will help people form a closer bond with your brand. Storytelling will also bring your messaging to life, giving your campaign relevancy and context. Make sure your graphics and cast represent the messaging you're trying to convey – particularly with regards to diversity.
IKEA has also launched a rainbow version of their iconic FRAKTA bag which is designed to make a statement and celebrate the hard-won rights of the LGBTQ+ community.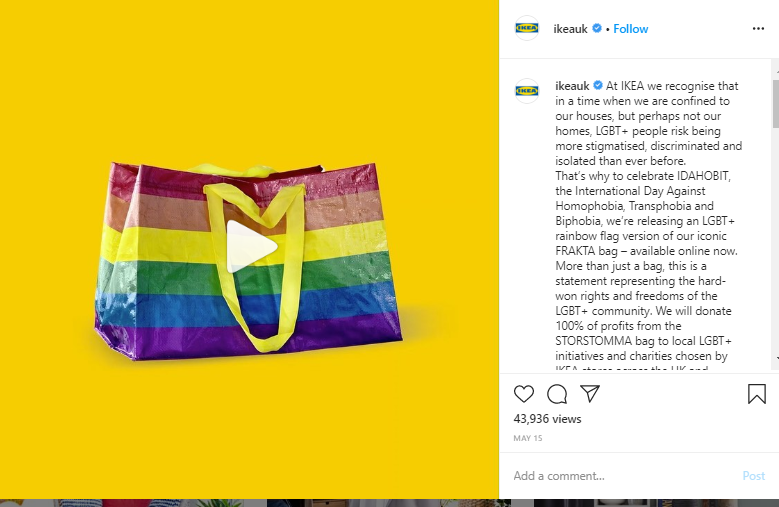 100% of the profits made from rainbow bag sales will go towards LGBTQ+ initiatives chosen by IKEA stores across UK and Ireland. And thanks to a shoppable post on Instagram, the bag can be easily bought online. This is particularly important at a time when accessing a physical store might be more difficult than normal.
Top tip: Learn how to set up Instagram Shopping to make it easy for consumers to purchase your products online. You'll need to set up an e-commerce catalogue to use product tags and stickers.
#4 Skittles – Ditchin' the Rainbow
'Taste the Rainbow' has been Skittles' long-running slogan for years now. So why are they ditching their seemingly appropriate candy colours for Pride? Well, the idea is that only one rainbow matters. While everyone else digs out their brightest attire, Skittles is launching grey, limited-edition Pride Packs to make the ultimate statement. While you won't be able to see the rainbow, you'll still be able to enjoy the same mouth-watering, fruity flavours.
True to form for this year's Pride, Skittles has also partnered with LGBTQ+ advocacy group GLAAD. For every pack of grey Skittles sold, $1 will be donated to the group up to $100,000. This isn't the first time a brand has partnered with GLAAD in this way, however. In 2019, Bud Light sold rainbow-coloured aluminium bottles in bars nationwide and donated $1 from each case sold.
GLAAD President and CEO Sarah Kate Ellis said:
"This Pride month, Skittles is removing its rainbow, but replacing it with much-needed conversations about the GLBTQ+ community and a visible stand of solidarity."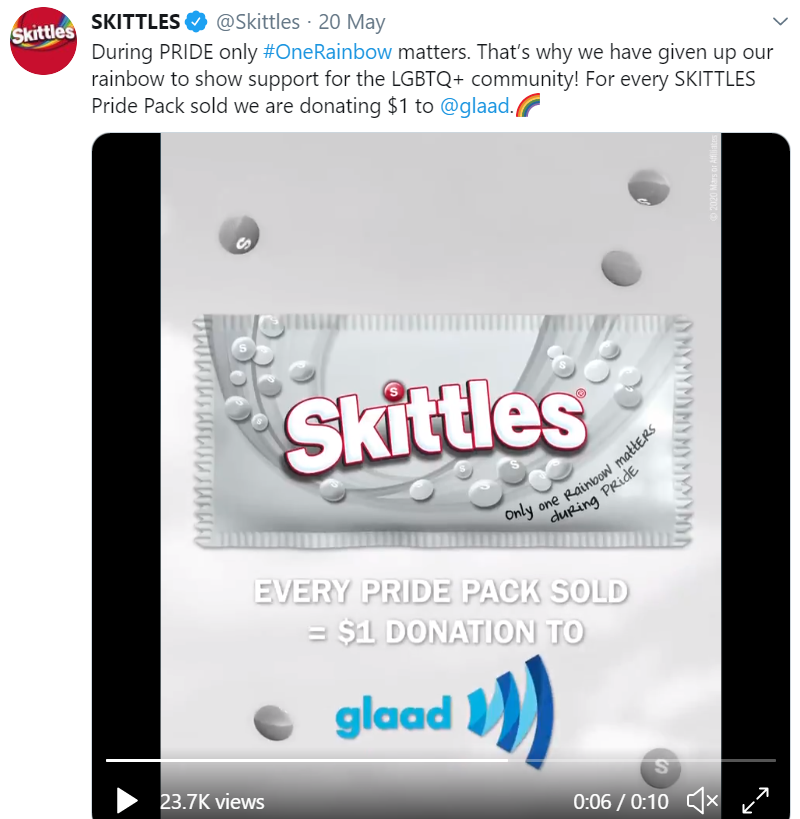 The campaign has so far initiated a whopping, largely positive response on Twitter. Skittles has so far been on the ball when it comes to replying to comments online helping to boost engagement and improve consumer trust.
Top tip: Clever marketing is all about standing out from the crowd. So, when you're planning your campaigns think about what you can do to get noticed. If Skittles had kept their colours, they would have blended in with all the other Pride campaigns effortlessly, without actually making any statement. So instead, they took a bold move to shake up their branding temporarily. Don't be scared of limited editions. These can actually lead to a surge in purchases particularly if you put a timescale on products to induce FOMO.
The Need for Digital Intelligence During Lockdown
So, it's clear that many big brands have started to launch their Pride campaigns online. During these strange covid-19 times, digital marketing has become more important than ever. So, here's a rundown of what you should be focusing on this Pride Month.
Creating Pride-specific landing pages advertising your product range.

Regularly updating your social media channels to include the latest Pride information from your brand.
Utilising the top Pride hashtags to make your content searchable. These include #Pride2020
Responding to consumers. Initiating interaction through polls and questions.
Thinking about freebies, giveaways, incentives that will get people talking about your brand.
Forming collaborations which you can promote across channels.
Going live as this will give your brand an authentic touch.
Creating videos that can be viewed on IGTV, YouTube or even on your website. These could be product explainers or more about your Pride initiatives.
 Anything is Possible – The Current Climate
Covid-19 might have thrown some challenges at Pride 2020. But anything is possible when you put your mind to it. Here's how digital platforms are being used to promote events and unite communities. Remember, successful interaction is all about fun, engagement and keeping a constant flow of online communication.
The South Florida Pride Collective recently led by example with their Live Pride event hitting Facebook on 9th May from 12 noon 'til late. This was put together by the organisers of five top non-profit Pride festivals including the region's two biggest in Miami Beach and Fort Lauderdale. It featured local and international performers and all money collected through voluntary donations was put towards helping South Floridians impacted by the killer virus.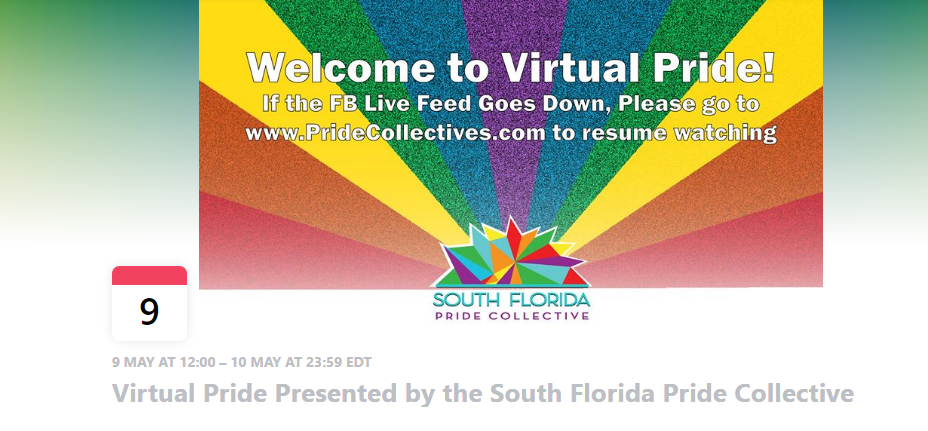 What can we learn as marketers? It's all about being creative and making the most of technology. There's absolutely no reason why you can't host a live broadcasting or entertainment event to support your brand. Or, go live on a more modest scale with Q&A sessions on Twitter or a Facebook Live quiz.
Organisers running LGBT+ Pride marches around the world have also joined forced to hold the first online Global Pride event in June. Global Pride will be live streamed on 27 June, starting with East Asia, Australia and New Zealand and moving through time zones to the western United States. It will include musical performances, speeches and key messages from human right activists.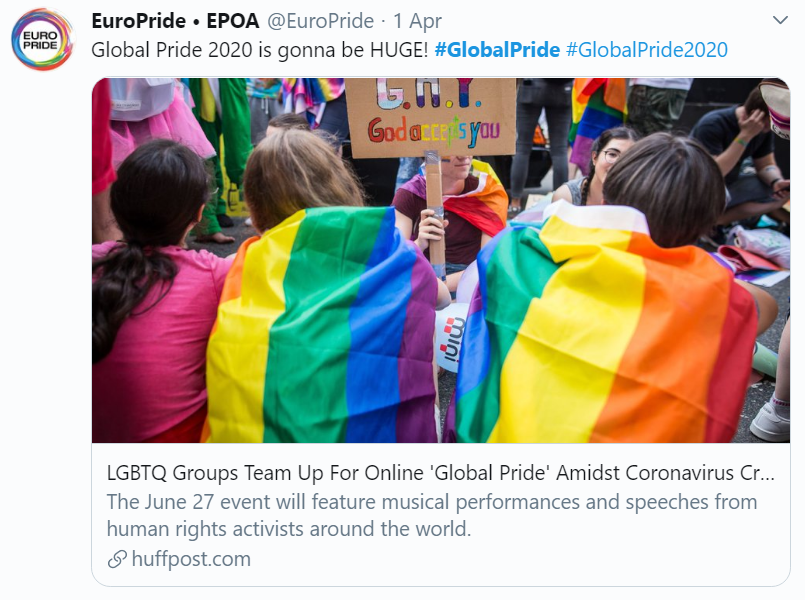 What can we learn as marketers? A global audience remains at your fingertips. With the right payment strategies, marketing messages and interaction you can still bring people together digitally.
And finally, the Contentworks Agency team, we wish you a very happy Pride Month! Enjoyed reading Pride Marketing in 2020 – Our Top Picks? Go ahead and hit share or tweet us @_contentworks and tell us your favourite. Contact the Contentworks crew for articles, PR material, video scripts, e-books, social media updates and more.