Over 850 million new blog posts are published each month. 500 million tweets are sent every day. Brands are encouraged to publish on Facebook at least 3 times a week with 6 billion businesses being 'active advertisers.' Throw in the fact that worldwide internet ad spend is forecast to increase 11.1 percent in 2020 to $326 billion and you'll see there's a whole load of content out there; a whole load of noise. So how can you stand out from the crowd? One of the best ways to boost engagement and create an authentic bond with consumers is through storytelling. Here are 5 best storytelling examples we loved from the past year.
Storytelling 2020 – The Juicy Stuff You Should Know
56% of global consumers say a brand's story influencers their decision to buy
More than three quarters of consumers (76%) say they would buy from a brand they feel connected to over a competitor. Storytelling is a great way to attract, engage and retain consumers by evoking emotional responses.
57% of people are more likely to increase the amount they spend with a brand they feel connected to. So, if you can take them on a journey of discovery about your brand as a whole, the product you offer and your team, you're off to a great start.
64% of consumers are now belief-driven buyers who want brands to deliver on societal issues as well as products. Showcasing corporate responsibility through storytelling is a great way to get noticed.
"Once Upon a Time": The Brands Getting Storytelling Right
Many successful brands today, keen to break away from irritating and old-fashion marketing techniques like flashy banner ads, are now embracing storytelling. So, who's getting it right?
#1 Airbnb – Community Storytelling to Build a Global Brand
Airbnb has totally nailed the art of storytelling, promoting their brand through authentic, user-generated content. While essentially a digital platform designed to facilitate bookings between guests and lodging hosts, Airbnb has masterfully managed to create a brand that promotes inclusion, belonging, acceptance, adventure and shared values. Here's how:
Airbnb Experiences are activities hosted by locals like expert surfers, seasoned chefs and other cultural connoisseurs. They can be booked by travellers longing to experience a new destination in a unique way. Via the website or app, you can simply tap on Experiences, browse via interests and you're good to go.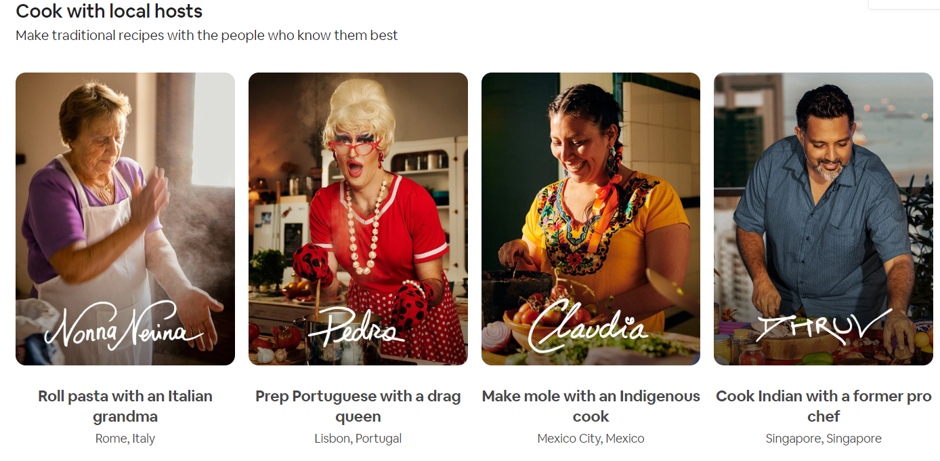 Why we love this:
The marketing is highly personalised putting consumers at the heart of the brand.
Using the names of local hosts helps humanise the whole Airbnb concept and supports the brand's ethos of 'belonging' when you travel.
The imagery is expressive and emotive while the captions are enticing.
Airbnb gives consumers a voice and enables them to tell their own personal stories. Customer reviews take a prominent place on their website enabling site visitors to scroll through at their leisure. At a time when consumers crave transparency, with 47% tired of inauthenticity from influencers, reviews are a great way to tell a story through someone else's eyes and not be overly self-promotional.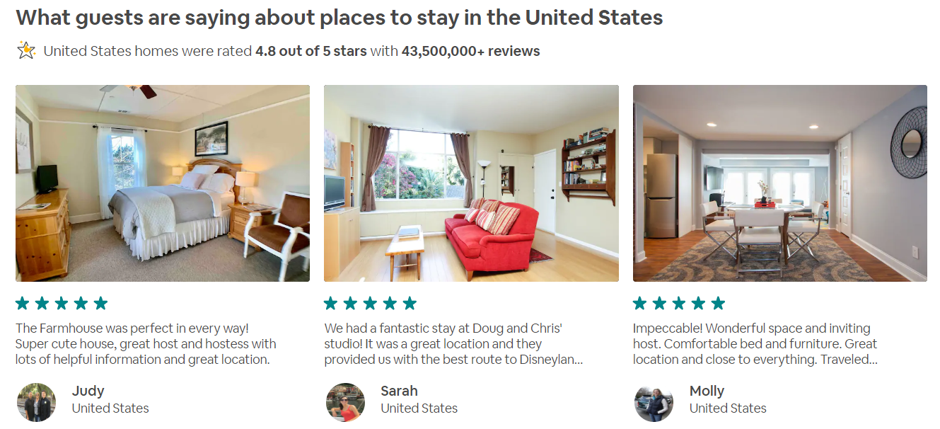 Top-quality video content
Video is a powerful storytelling medium and with 207k+ subscribers, Airbnb has built up a loyal following on YouTube. Their subscription video is all about storytelling, emphasising the importance of sharing experiences all around the globe.

And, you'll not only get to see some of the early mentioned Experiences in full swing, but also hear from Airbnb hosts themselves, with an entire section of video content being dedicated to the Airbnb Host Stories section. And host tips.


Why we love this:
92% of consumers trust UGCmore than any other type of content
78% of people watch online videos every week, and 55% view online videos every day, so this is a great form of outreach
By 2022, online videos will make up more than 82% of all consumer internet traffic, so Airbnb is bang on trend with their storytelling approach.
Top marketing tip: Repurpose content. So, if you're talking about an experience on your blog, tweet about it or make a video about your offering. This helps the same idea work harder and is good for brand consistency and effective outreach.
#2 Nike – Bringing Human Stories to the Forefront
Nike is one of the most popular sporting brands in history. Unafraid to take risks, Nike often shies away from 'in your face' product promotions and often focusses on stories from the wider community. A great example of this was the 2018 Just Do It campaign featuring ex-NFL player Colin Kaepernick. Yes, this was a few years ago, but it's worth mentioning due to the social impact it had.
At the time Kaepernick was the face of player protests against racial injustice and police brutality. He would kneel or sit on the ground during the national anthem played before games. Nike daring to take a political stand was a story in itself. The brand boldly revamped its 3-decade old Just Do It slogan while using the powerful stories of athletes to reach a younger demographic. Sales jumped 31% after the brand revealed the campaign.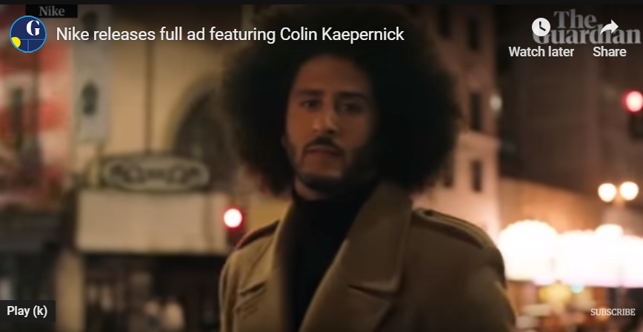 Nike has continued to rock its storytelling prowess with their Lunar New Year: The Great Chase ad which has already been viewed a whopping 80,980 times on YouTube alone. Taking its first steps into the Chinese New Year, Nike puts a witty and endearing twist on the time-honoured tradition of gifting money in little red envelopes, throwing in an annual chase between an aunt desperately trying to gift her niece.

Why we love this:
Sales in China grew 24 percent in 2018 to $6.5 billion last year, the company's highest rate of global growth. Nike aims to expand throughout China despite the US-China trade war, growing its headquarters for greater China in Shanghai. Therefore, acknowledging the Chinese New Year is a smart move helping to get eyes on their brand and attract an ever-increasing audience.
The video was a timely release being placed on YouTube a week before the New Year, giving it enough time to gain traction.
#3 Dove – #MyBeautyMySay
As a global personal care brand, Dove is well-known for spreading messages of inclusivity. And, while they haven't always got it right, they've been very forthcoming with acknowledging mistakes and moving forward in a positive way. The brand's ethos is all about diversity, inclusivity and how everyone can feel beautiful.
Dove's #MyBeautyMySay revolves around storytelling and features real-life accounts from women who have stood up for their own beauty. Boxer Helen, for instance, is told she's "too pretty to fight" whereas Jessica was told "only skinny girls can dress well." These statements are, of course, obscene and the girls are fighting back.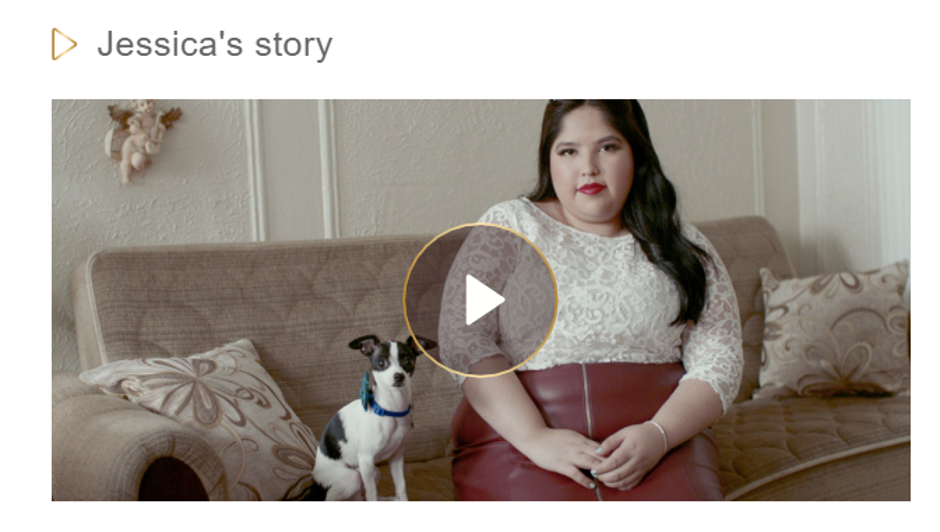 Why we love this:
Dove embraces inclusivity. This is important considering 56% of consumers feel more loyal to brands who "get me".
Dove also launched its Project #ShowUS campaign in 2019 which shows women and non-binary individuals shattering unrealistic beauty standards. In collaboration with Getty Images, Dove's campaign features a collection of over 5,000 stock images shot in 39 different countries. The idea is to give a true representation of female beauty and the movement was powered by social media.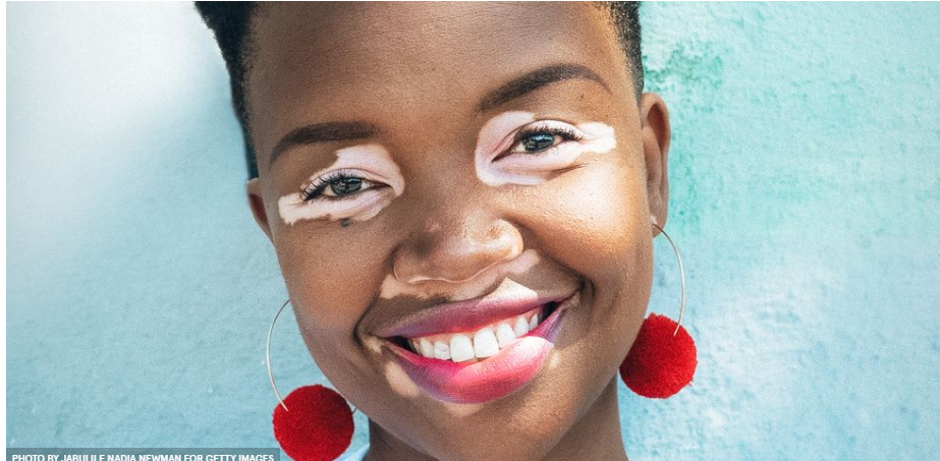 Why we love this:
Dove listened to customer research which revealed 70% of women still don't feel represented by everyday images. They then used this to tell the stories of women from all different warps of life. All photographers were also female or non-binary which was important considering 90% of stock photography is shot by males.
#4 Always – #EndPeriodPoverty
Close to 12 million women across American aged between 12-52 live below the poverty line and most of them don't have access to sanitary pads. Indeed, a study of 183 women with low incomes living in the US city St, Louis, Missouri, found that 64% could not afford menstrual hygiene supplies at some point in the previous year and 21% of the women suffered that problem each month.
While these stats paint a vivid story, hygiene brands like Always are able to write their own chapter by becoming part of the #EndPeriodPoverty movement, which is something they're very passionate about. Always documents their efforts against period poverty on social media, taking followers on a journey and using hashtags such as NationalPeriodDay to garner support.
Why we love this:
Some of the most vivid stories include uncomfortable topics. Always does not shy away from talking about real-life issues.
1 in 3 consumers choose brands based on their social and environmental work making it very important to incorporate an element of corporate responsibility into your strategy.
Always feature real-life examples to backup their campaign and enhance the authenticity of their marketing efforts. It's not all the intense marketing of products.
They incorporate facts into their marketing to help make a point.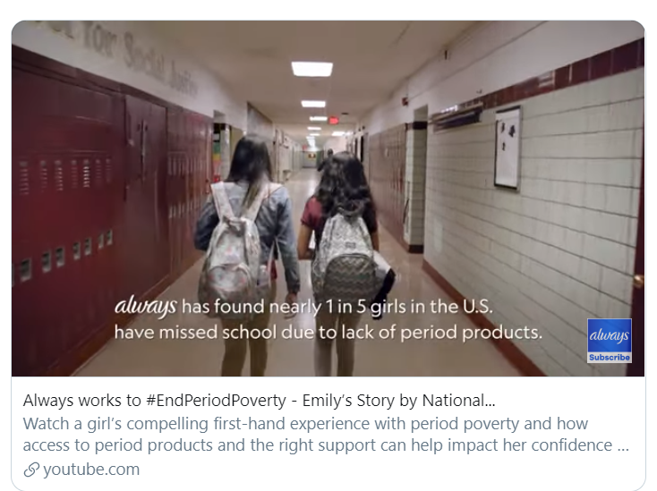 #5 TOMS Shoes – Each purchase helps a person in need
When you find out that every purchase made goes towards helping a person in need, you want to know more, right? It's like reading the blurb of the book! What's the rest of the story and who are the characters behind such a tale?
Why we love TOMS
The corporate responsibility story of this brand is broken down into easy-to-read chapters on the TOMs website, each explaining where money from TOMS Shoes purchases go.
Top tip for marketers: Avoid over complicating your messages. Keep them simple and avoid unnecessary jargon.


Their marketing is centred around storytelling and explanation.
Top tip for marketers: Use bold fonts to highlights key messages and takeaways.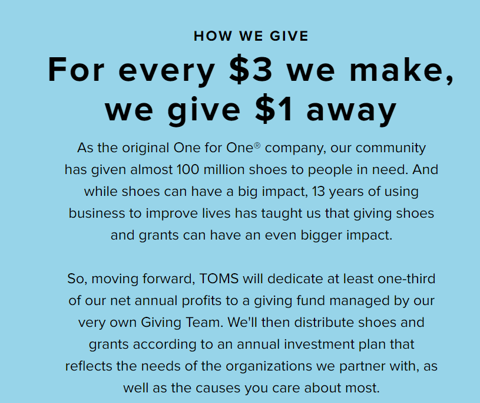 The brand uses clear visuals and facts to showcase the highlights.
TOMS' social impact is shared on social media and other partners are praised for their contribution.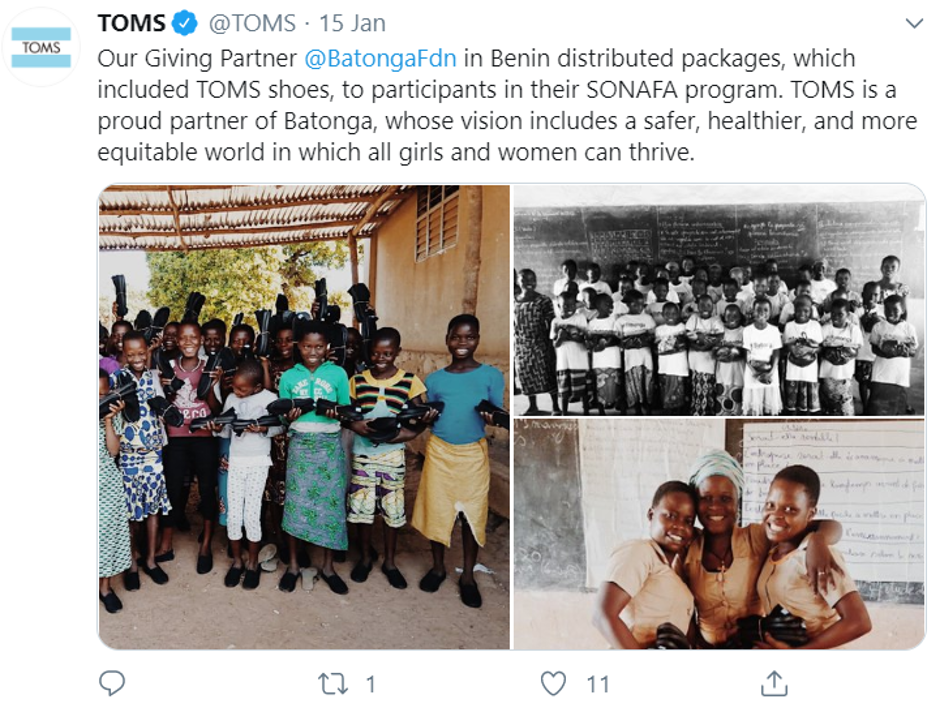 Top tip for marketers: Use social media as a way to tell your story and share your visions. With stories on Instagram, videos on TikTok or Facebook and meaningful hashtags on Twitter, social media is the ideal home for your stories.
If you loved reading 5 Best Storytelling Examples, don't forget to share it with friends and colleagues. Contact Contentworks today for content marketing that works hard for your brand. We offer everything from blogs and articles to video scripts, PR, whitepapers, e-books, social media management and more.