FOMO (Fear of Missing Out) is a significant psychological trigger that humans can't help responding to. The idea that others may be having rewarding experiences can be overwhelming and often encourages people to 'take action'. This might include following a new brand everyone's talking about on Twitter or buying a product that appears to be flying off the shelves. As financial services marketers we love to see great marketing in our sector. In this article, we're looking at 8 finance brands doing FOMO right.
Why Use FOMO as a Marketing Tool?
FOMO is most prevalent among millennials with 69% experiencing the phenomenon and 60% making reactive purchases because they feel they might miss out.
Recent data suggests that over half of people using social networks suffer from FOMO. And with 3.484 billion social media users worldwide, there's huge FOMO potential.

21% of American millennials have made a FOMO purchase over the course of a month.
40% of American millennials have gone into debt to keep up with their friends' lifestyles. And while spending money you don't have is never encouraged, it shows just how the strong the fear of missing out can actually be.
FOMO and Social Proof – Who's Nailing It?
FOMO is pure gold for marketers who ride the FOMO wave to drive sales. But who's nailing it? And who's also using social proof to increase credibility and ROI? Social proof is based on the idea that people follow what others are doing. So, if a brand has a load of followers on Twitter, consumers may feel the need to join them. This ties in neatly with the whole FOMO concept.
Here are 8 brands doing it well – and what we can learn.
#1 Go Compare – Set Expiry Dates and Offer Deadlines
The 'Go Compare Man' also known as Gio Compario has become a household name. But this brand doesn't just rely on an over keen operatic tenner to get noticed. Sure, he's all over social, but FOMO is also a prominent technique used across channels like Twitter.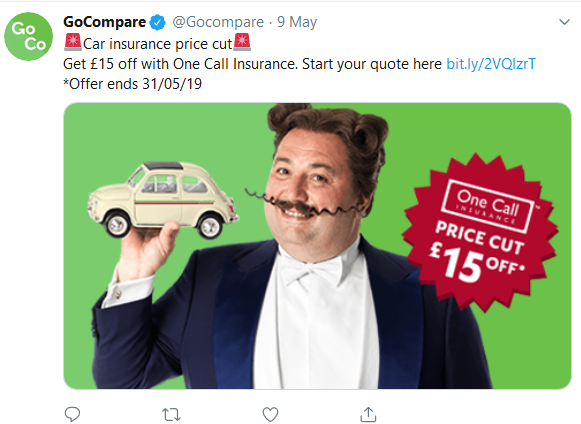 Why we like this:
There's an expiry date. If people know an offer will end, they're more likely to make an immediate purchase rather than saving it for a later date.
Emojis are used to draw attention to important sales messages.
The call to action is emphasised with clear visuals. Red also symbolises urgency, encouraging people to not only take note, but take action.
The brand's character helps Go Compare to be instantly recognisable.
Blackwell Global also draws attention to the time and date of specific industry announcements and events. This is a clever marketing technique as it creates FOMO among traders and those who need to stay-in-the-know, therefore making Blackwell a go-to source of knowledge.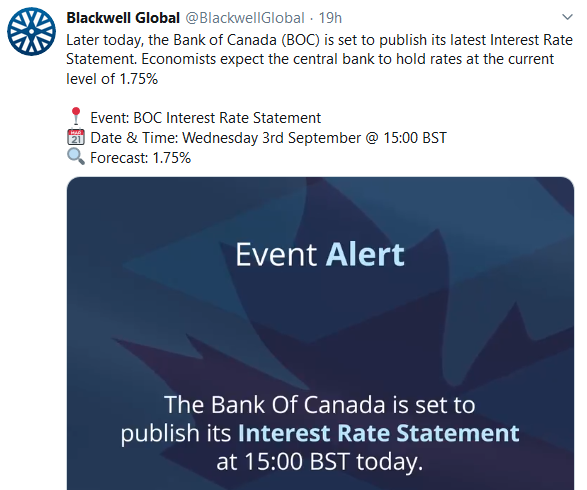 Top marketing tip:
Whether it's a specific date or countdown, give your offer a timeline. And let it expire. If you keep extending the offer, people won't take your FOMO marketing messages seriously. Don't shy away from counting down to important industry announcements too and tweeting about them afterwards. By staying on the ball, consumers will come to you to avoid missing vital information.
Amazon rocks countdown content well in their Daily Deals section. Note how there's an incentive to buy and that the content is very on-point. There's no waffle and all marketing messages are concise.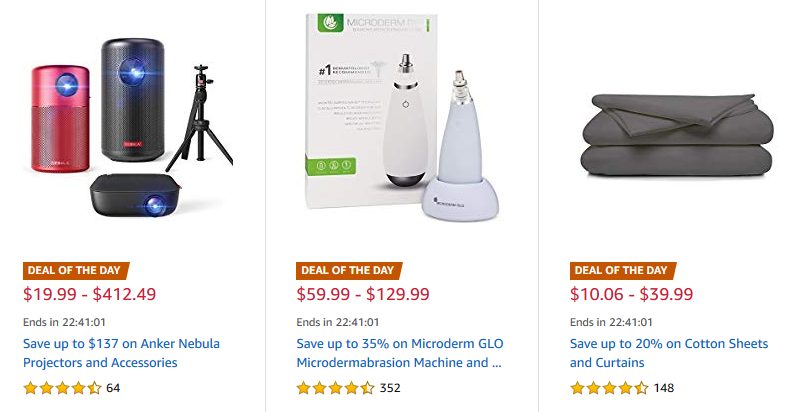 #2 Booking.com – Urgency and Social Proof
With so many wonderful places to stay across the globe, knowing where to book a holiday is hard. So how can you encourage people to part with their hard-earned cash? Booking.com creates a sense of urgency by clearly stating how many rooms are left on a specific date. When offers are limited, consumers are more likely to take action faster.

Why we like this:
The red font is associated with urgency.
Using the word 'only' prompts a fast response to avoid disappointment.
Booking.com also uses social proof to show that rooms are being sold. Remember, social proof is all about following the masses, under the assumption that they know what they're doing. Shouting about a particular product or service that's popular is a great way to attract attention and secure sales.

Top marketing tip:
Create social proof notifications through tools such as TrustPulse.
#3 Citi Bank – Make Your Offers Limited or Exclusive
Nothing triggers FOMO like a limited offer or exclusivity. If people think they're getting access to an event or product that others can't easily have, your deal will seem more appealing. Citi Bank used this to their advantage during a recent collaboration with @pawpatrollive.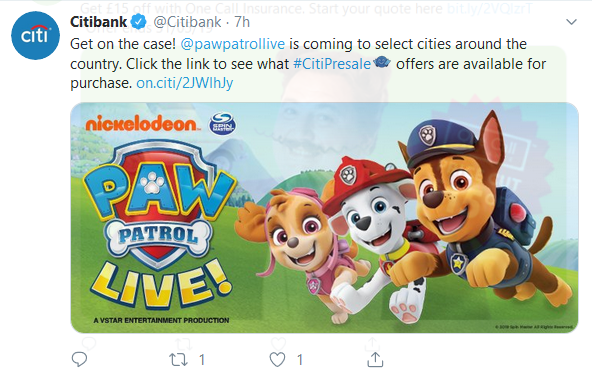 Why we like this:
The limited offer is reflected in the wording of this tweet. By saying 'select cities' people are encouraged to delve more into the offer in order to benefit from some level of exclusivity.
People respond to visuals. Relatives of children who love Paw Patrol are more likely to take notice of this tweet which clearly showcases the Paw Patrol brand.
There's a strong call to action.
Top Marketing Tip:
Use the correct tags. In the example above, consumers can click through to @PAWPatrolLive which is designed to generate even more excitement about the event and FOMO.
#4 Robinhood – Create Intrigue and Suspense
As well as limiting your offers, you can also work on creating intrigue and suspense. Don't shy away from trialing products or rolling out new brand elements to a small section of followers. Online trading company Robinhood, for instance, announced they'd be introducing a new messenger service to a small subset of customers first. Those who receive the update will feel privileged while those who don't will be inspired to keep checking their account through FOMO.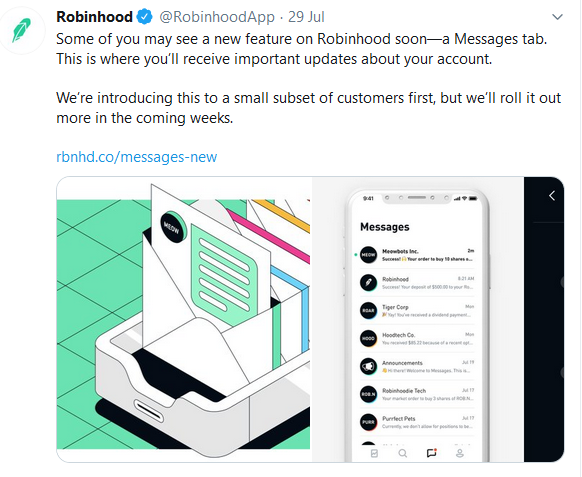 Why we like this:
Tweets like this spark interest. Consumers are likely to keep an eye on their account to check for the Messages option because of FOMO.
The post links through to more detailed information about how the new Messages service will offer timely, relevant and actionable updates tailored to your account. Providing additional content highlighting such features helps to build interest and suspense.
Top marketing tip:
Don't be afraid to explain what you're doing. If you're trialling a product or service, let people know as FOMO is strong when people think others are benefiting from something they are not. Keep them hooked by stating your plans are ongoing. For example: "We'll roll it out more in the coming weeks."
#5 Mastercard – Promote Experiences
Promoting not only a product or service but an experience too, is a great way to pique interest and create FOMO. Mastercard got this just right with their nachos at Yankee Stadium campaign on Instagram which also highlighted their handy tap & go option.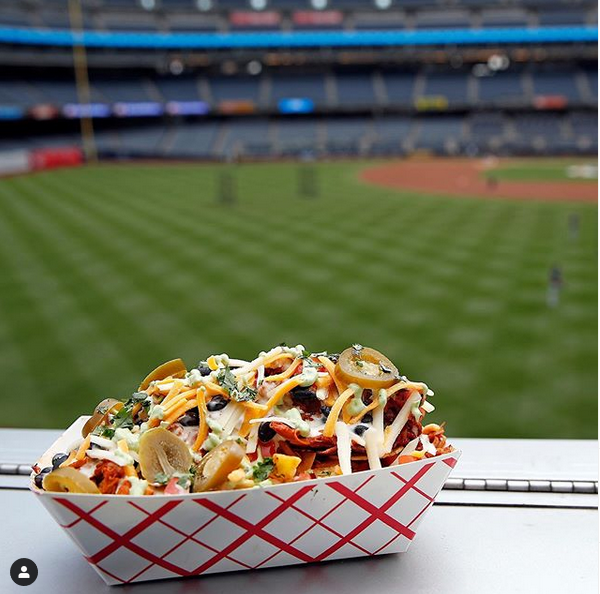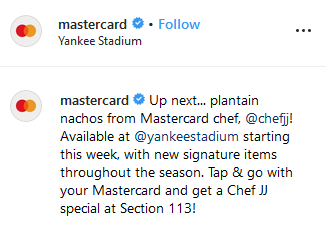 Why we like this:
The language is fun, exciting and upbeat with 'starting this week' making you want to pop a nacho date in the diary – before your friends do.
Anything with the word 'special' in it means its too good not to try. Or at least that's how it works in the marketing world. No-one wants to miss a special offer or product.
The imagery. Oh, the imagery. Tweets with images get 150% more retweets than ones without, so remember this when you're trying to create urgency and hype.
Top marketing tip:
FOMO only works if you're offering something people want. So, make sure your marketing is attractive, bold and full of imagery where possible. Remember, 90% of information transmitted to the brain is visual with the brain processing images 60,000 times faster than text. 40% of people also respond better to visual information than text giving you good reason to use photos and images where possible throughout your campaigns.
#6 Navy Federal Credit Union – Write Inspired Content
To create FOMO, you need great content. Anything that's bland or unimaginative just won't work! Instead, you need to grab people's attention. You need to answer questions and make consumers feel like they have found answer that others haven't. The below example from Navy Federal Credit Union ticks our FOMO boxes.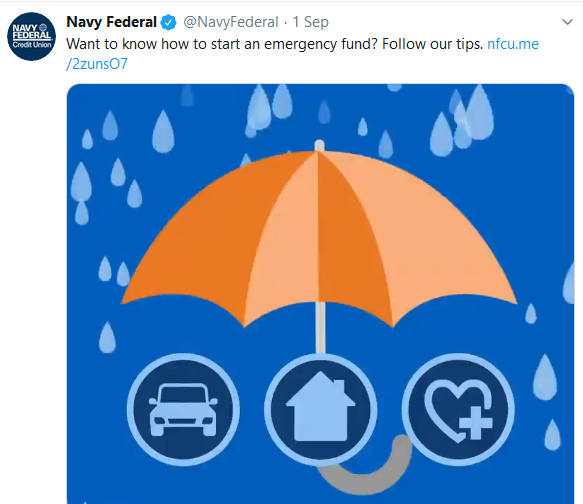 We why like this:
Asking a question makes the content personal and relatable helping to pique interest. It talks to each consumer with the 'follow our tips' part indicating there's vital information people really need to know.
The imagery is clear, concise and gets the brain ticking. If something goes wrong with your car, house or health how will you cope without an emergency fund? Suddenly FOMO sets in as what if you're the only one without an emergency fund? Should you have more stashed away than you do? Do your friends have emergency accounts?
Top marketing tip:
Ask people what they want via a poll or survey. You can then tailor content to meet those interests. Be useful and make consumers feel valued. This way they'll not want to miss a single post.
#7 Fidelity Investments – Make People Accountable
As a brand, it's easy to feel responsible for consumer decisions asking yourself questions such as: Is your marketing clear enough? Are you being helpful enough? Are your services desirable? This is all important stuff, but it's also good to hold the consumer themselves accountable. If you're providing informative, easy-to-read content, for example, it's their responsibility to read it.
Fidelity Investments makes people accountable by asking bold questions such as "are you keeping an eye on these key trading events?" This implies that not doing so could prohibit professional growth. Of course, knowing important trading events is essential if you want to make progress, therefore this tweet is playing on the whole FOMO idea once again. Traders should ask themselves, is there something I should know that I don't – and you should provide the answers. Fidelity is also aware of compliance restraints and has stayed on the right side of the law. A non compliant update might be "Traders should be investing in Gold this week…".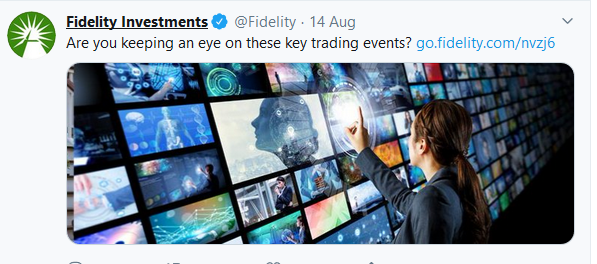 Why we like this:
The post is direct and to the point making consumers feel accountable for their trading education.
It links through to must-read content that people with a FOMO response will likely read.
Top marketing tip:
Repurpose longer form blog and article content into social media tweets that encourage FOMO and enhance education. The more informative you are, the more people will want to delve into your posts.
#8 Barclays Bank – Create Unmissable Opportunities
In a high street banking first, Barclays launched £100,000 unsecured lending for SMEs on its award-winning app and online banking. This idea is innovative, creative, new and encourages those having light-bulb moments to seize this opportunity – in case they never get another chance.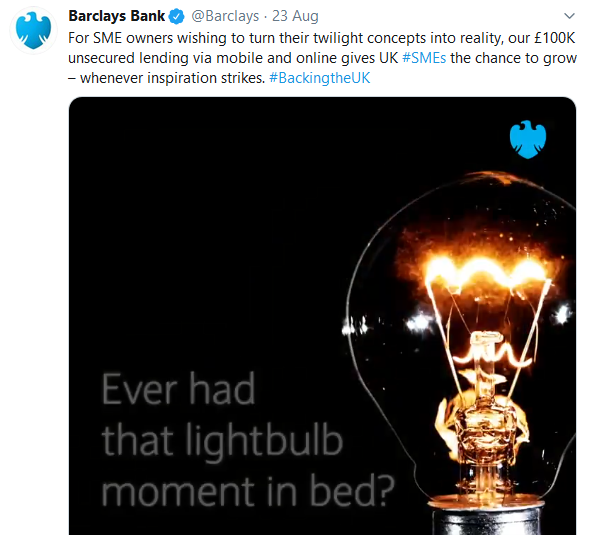 Why we like this:
Standing out from the crowd is important. Launching new business ideas prompts people to take notice even if they're not existing customers. Essentially, consumers don't want to miss out on opportunities and services that other banks are not offering.
This campaign is relatable. According to research, light-bulb moments for SMEs are most common at 2.33am.
The short video clip of a light-bulb flashing is eye-catching and not easily missed when scrolling.
Top marketing tip:
Do your research. What are other companies in your industry offering and can you spot a gap in the market that could help you create a FOMO-led campaign? The more unique you are, the more you'll drum up attention. When a campaign is in flow, use social media monitoring tools such as monitoring software from Hootsuite or Twitter Counter which lets you keep tabs of retweets and so on.
FOMO can boost followers, increase engagement and drive business. Did you enjoy reading 8 Finance Brands Doing FOMO Right? Hit that share button!  Contact Contentworks today to get Socially Sorted – marketing that works hard for your brand.