Financial technology, known as fintech, is a rapidly growing sector and one that requires innovation. Disrupting traditional methodologies in order to improve financial services requires a careful strategy, advanced technology, brilliant content and originality. The fintech  industry is on fire at the moment, so let's delve into the facts and check out which brands are totally nailing fintech marketing.
Fintech: The Facts You Need to Know
First things first; let's take a look at the stats to see how the fintech world is evolving:
According to a Juniper Research forecast, revenue generated by fintech companies will skyrocket from approximately $263 billion in 2019 to $638 billion by 2024.
Fintech is Europe's largest investment category representing 20% of all global investments.
For Q1 in 2019, the fintech industry saw a 41% increased from Q4 2018, generating an additional $1 billion.
Global fintech brands including Revolut and Monzo have now reached unicorn status meaning they're worth more than $1 billion.
What challenges does the fintech marketing industry face?
With change comes a need for education. While fintech companies utilise complex technology to provide their services, fintech marketing messages need to be communicated seamlessly in order to not scare consumers away. Essentially, users must know the benefits of the product, without being overwhelmed by jargon.
A communication checklist for fintech marketing:
Use simple, to-the-point language
Make the most of bold headers, lists and visuals
Remember the average human attention span is 8 seconds so don't waffle
Fintech adoption rates have grown to 64% globally. 96% are aware of the existence of at least one fintech app. Use video to cut through the noise and enhance your marketing strategy. Awareness videos, for instance, are a great way to break the ice, provide a company overview and connect with your audience.
Provide product demos
Make the most of customer testimonials and user-generated content
Link to educational content on social media
Ensure your brand is approachable via social channels and be prepared to answer questions within good time. 37% consumers who use social media expect a response in under 30 minutes.
Compliance
The finance industry is heavily governed and therefore fintech marketing needs to be crafted with compliance in mind. Fintechs offering full banking services, for instance, must comply with anti-money-laundering standards and Know Your Customer (KYC) rules. All content provided must be clear and not misleading.
The Importance of Effective Marketing for Fintech
As a fintech marketing agency, we know the importance of strong marketing campaigns. Communicating the right messages to the right audience is key, but there's more to it when it comes to fintech. Let's check out some of the brands doing it right and the key takeaways from each campaign.
#1 Wealthsimple
As a Canadian online management investment service targeting millennials, Wealthsimple has a strong online presence, hanging out where their target audience might be. With 80% of Twitter's active users being millennials (equating to 248 million people), it makes perfect sense for Wealthsimple to use this as a marketing platform. And they do it well. Here's how:
Millennials are looking for much more than generic marketing messages. They want to be taken on a journey which is why Wealthsimple incorporates storytelling into their marketing strategy with video content that's fun and accessible.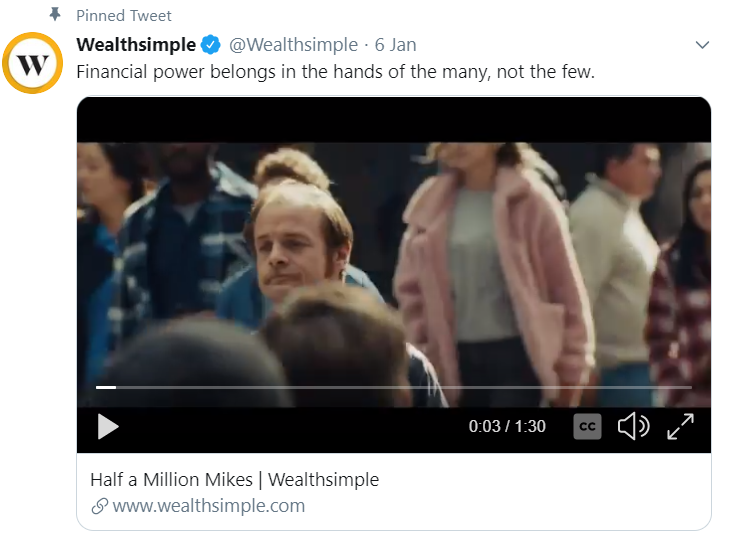 Why we love this video:
80% of the world's online video content will be video by 2021. Therefore, such fintech marketing is bang on trench.
The video shies away from unnecessary jargon and instead talks about the founder and how he came up with the Wealthsimple idea. It's not boring, boastful or over-promotional which is a turn-off for millennials. Instead, it's humorous and relatable with the video beginning: "There are 457,000 Mikes in Canada and this is the story of one of them." Such storytelling helps brands connect with their audience.
There's a strong message of inclusion. With Facebook's Libra aiming to bring financial services to the masses and not just the few, this is very much a modern way of thinking that resonates with a millennial audience. The stats show that most millennials (77% to be precise) said their favourite brands value inclusivity, with 79% saying they want ads to showcase diversity and 78% saying it's important for ads to be "representative of me."
Relevant influencer marketing
Influencer marketing is still alive and kicking. Indeed, millennials are 54% more likely to purchase a product or utilise a service promoted by a social media influencer than previous generations. However, millennials are looking for authenticity and for influencer marketing that matches well with a brand. Wealthsimple nailed it with their collaborations.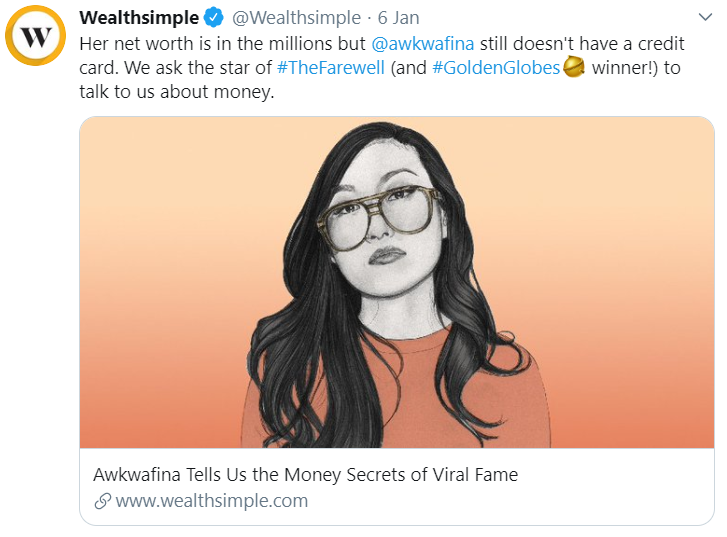 Why we love this campaign:
It's relevant and the topic is very much in-line with the brand's efforts.
Featuring a Golden Globes winner shortly after the ceremony is a great way to ride off the back of an event in a clever and authentic way.
It addresses themes that resonates with millennials such as 'viral fame.' Marketing to millennials means thinking carefully about what it is they want to read. It doesn't have to involve promoting your brand through flashy ads.
Storytelling is again at the very heart of the campaign, pulling consumers in.

Investment masterclasses
Want someone to use your product? Then why not address the questions of your target audience? Millennials are taking advantage of new investment options such as trading with almost 50% of all forex traders being millennials. But they want to know the facts. Again, Wealthsimple shows their willingness to engage head on.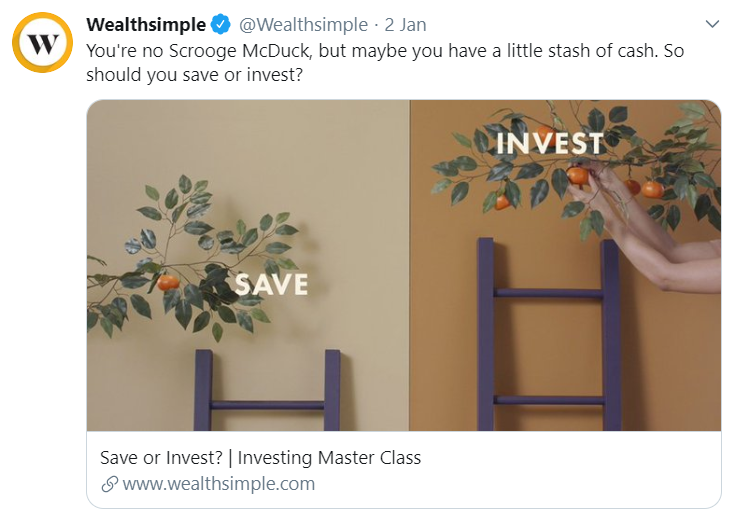 Why we love this:
It leads through to a video masterclass which is easy to watch.
The language is simple, and the question answered is a very real concern for millennials.
It talks about issues such as buying a house, something which millennials are likely to do. The topics are all tailored to the audience.
#2 Starling Bank
Based in the UK, Starling Bank is a digital, mobile-only challenger bank which promotes a better relationship to money and banking. But how do they stand out from the crowd?
Starling wanted to spread the word about its mobile-only bank account. It also wanted to boost the number of people who were opening accounts and lower the acquisition costs for new customers. So, they took to social media and installed the Facebook SDK. This allowed the brand to accurately track and measure the actions people take within its banking app.
With the SDK in place, Starling could target their mobile install ads to people who had not already seen them, helping to turbocharge their social media efficiency. They could also monitor which ad formats worked best and make the relevant tweaks. Video ads were found to generate more app installs than photo ads, for instance.
By increasing its media efficiency and honing its ad creative, Starling found that it had successfully lowered its cost per install by 36%.
Interesting and educational content
Starling Bank is also using social channels like Twitter to share interesting and educational content. This helps to promote products such as their budgeting tool without being overly salesy. Over 43% of people will unfollow a brand on social media if they see too many ads, so it's important to take a more creative approach.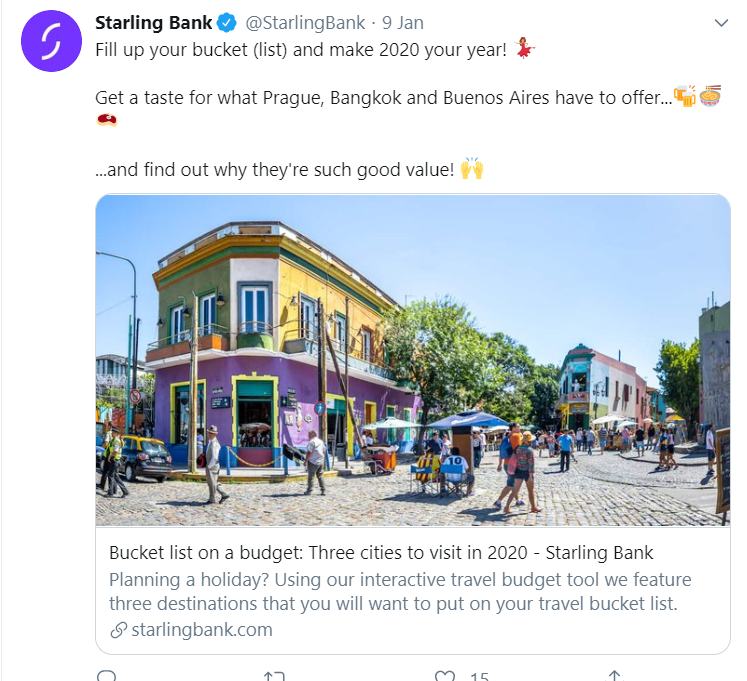 Why we like this post and others like it:
The content is interesting and relevant. 51% of social media users will unfollow brands whose content is too random or irrelevant. So, stay on point but find good ways to promote your products and services discreetly.
Tweets that include visuals can expect 1.5x more shares.
#3 Monzo
With 40,000 people opening a Monzo account each week, it's no wonder this fintech has achieved Unicorn status, meaning its worth more than $1 billion. As a digital, mobile-only bank, Monzo's is designed to make banking easier. And their marketing is on-point.
Saving strategies that work
Only 36% of non-retired adults think that their retirement savings are on track. Nearly half of all millennials cite living costs as a barrier to home ownership, yet many are frivolously spending without realising. There is a problem when it comes to saving and Monzo aims to address these issues with simple, actionable tips communicated through social marketing.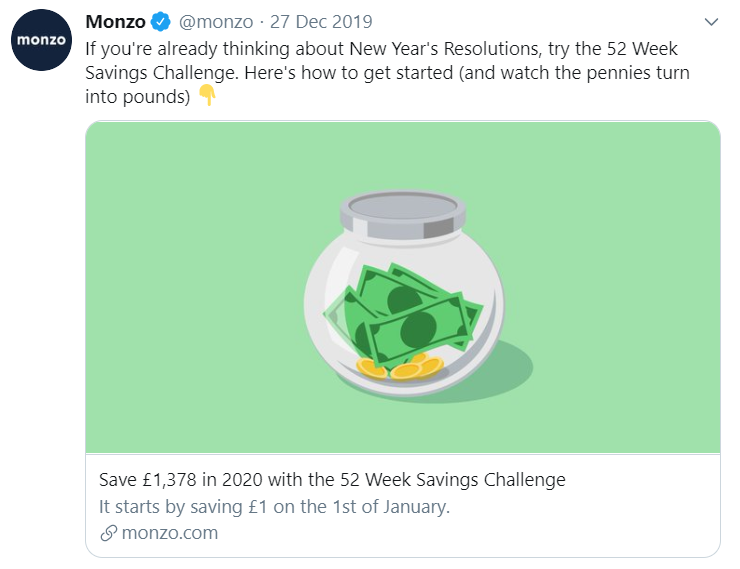 Why we like this:
It speaks to the right people. 81% of Monzo's target audience is under 39. This means they're largely millennials. 66% millennials don't feel on track with their saving habits, so this message is highly relevant. Similarly, 29% of Monzo's audience lives in London. This is a notoriously expensive city where saving advice is sure to be highly appreciated.
The challenge is simple and promotes the brand without being salesy.
Support and communication. As part of Monzo's digital marketing strategy, they ask questions and offer guidance relevant to their campaigns. This helps to improve the consumer connection and boost interaction.

#4 Klarna
When it comes to influencer marketing, Klarna went big, hiring notorious rapper Snoop Dogg as the face of their Smooth Dogg campaign. Snoop also became a minority shareholder in the 'buy-now-pay-later' company, putting his face to many campaigns across the social media world.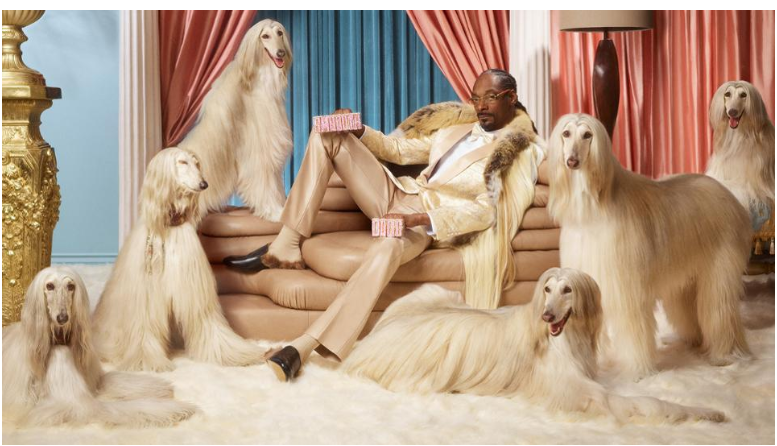 Why we like this:
Many influencers get criticised for not being authentic and just promoting products for money. Indeed, 25% of consumers believe authenticity on social media to be "very important" unfollowing brands that come across as fake. This campaign worked due to Snoop's interest in the fintech industry and his investment commitment.
Commenting on his business pursuits, Snoop said:

"I've been doing business in Europe for years with fashion brands, telecommunication companies and more. I've endorsed them, advised them, and now I'm looking to invest in them. I plan to keep growing the portfolio, ya dig?" Speaking about his passion for fintech and finding reputable brands, he continued: "I learned a lot about business over the years. I gotta take it slow and make sure I do my research. It's important that I really like the founders and that I have confidence they can lead these companies."
The multi-pronged social media campaign included short 1-minute videos featuring Smooth Dogg (AKA Snoop) garnering over 150,000 views.

#5 Revolut
As a leading fintech company offering banking services as well as a prepaid credit card, Revolut's marketing strategy is one to watch. Here's what works.
The fear of missing out (FOMO)
Check out Revolut's profile on Instagram.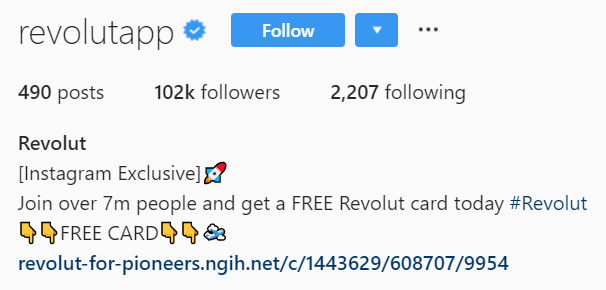 Why we like this:
It induces FOMO by stating over 7m people have already got a FREE Revolut card. Those who haven't yet got one instantly feel like they're missing out on a trend that's hugely popular. And when they do. There's a link right to the product. Genius.
Social tools for promoting new products
Revolut targets millennials. The majority of Insta users are millennials (over 32%). Therefore, it makes perfect sense to promote new products such as Revolut Metal via Instagram Stories. 500 million Instagram Stories are watched each day making this a popular advertising avenue.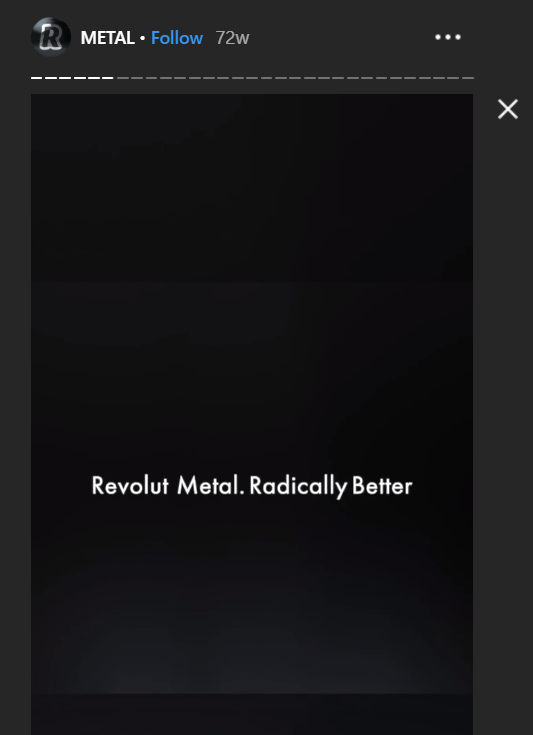 Why we like this:
Revolut use attractive visuals and minimal content to communicate their message as well as user generated content.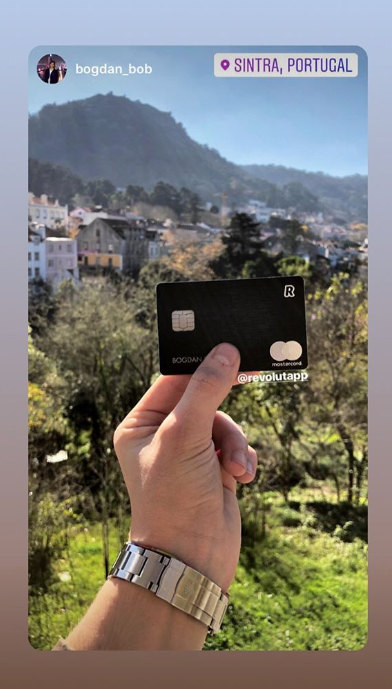 Products are increasingly being upgraded to add interest and appeal. These are shouted about on social media.
Enjoyed reading 5 Killer Fintech Marketing Campaigns? Then don't forget to hit the share button. And, if you want fintech marketing that works for your brand, Contact the Contentworks team today. We offer everything from blogs and articles to video script writing, whitepaper content, e-books and more.