Influencer marketing is expected to be worth $15 billion by the end of 2022. That's huge. And while partnering with high-profile celebs is already familiar to many brands, micro influencers offer increasingly distinctive trade-offs for companies looking to widen their reach. Large brands are now using 3x more micro influencers than they were in 2016. Furthermore, in 2020, 46.6% of brand mentions featuring the hashtag #ad, were published by Instagram accounts that have 1K-20K followers. That's micro-influencer territory. So, why are influencers with between 1,000 and 100,000 followers preferable to those with millions of fans? Join us as we check out the benefits of micro influencers for your brand.
Benefit 1: Improved Authenticity
Influencer marketing is evolving at a rapid rate. Fake 'Fyre Festival' style marketing is a big no-no. And celebs posing with diet drinks for quick cash? Well, that's so 2019. We're looking at you Kardashians. These days, authenticity on social media is one of the most effective ways to build a digital community.
Consumers are looking for content creation that's passionate and sincere. They want influencers to care about the products they promote and are turning away from forced collaborations. In fact, micro influencers are 10% more likely to influence decision making than macro influencers. This is largely due to stronger levels of trust.
Case Study: Embracing Authentic Influencer Marketing
Creating an authentic influencer marketing campaign doesn't happen overnight. As a brand there are several things you need to consider. Firstly, it's essential to choose a micro influencer that is a good match for your brand. This means they should have an interest in what you do as a company and be able to talk to your client base in a way that's not awkward. In fact, you should share an audience demographic with your chosen influencer as this should lead to improved brand engagement.
Check out ghd®, for example. This high-profile company has 605K followers on Instagram and regularly works with micro-influencers such as Tilly Penn who has just short of 2,000 followers. Tilly is a hair stylist and educator, making her the perfect fit for a ghd tutorial video about how to achieve loose curls with ghd Helios and a wide nozzle attachment. There are certain things about this micro influencer campaign that stand out.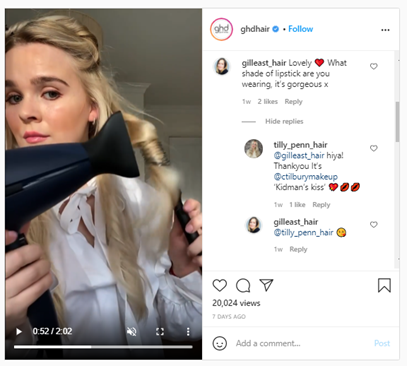 Tilly Penn has a 'girl next door' vibe which gives ghd products a wide appeal. Seeing celebrities with beautifully styled hair is one thing. But watching a micro-influencer style her own hair quickly and easily makes the product a lot more relatable.
The how-to video aimed at people like Tilly with long, thick hair is a clever touch. This is because it shows styling in progress and avoids highly polished before and after pictures which may have been photoshopped for sales purposes. The result is a more authentic influencer marketing campaign with a clear target audience in mind.
When choosing an authentic influencer for your brand, it's also important to look at their interaction rates. Do they have an engaged community? Are they regularly responding to posts? Are their responses intelligent and factually correct? If so, this shows they're genuinely care about what they do. They are also a lot more likely to respond and engage with your own followers organically which is what you're looking for.
Benefit 2: Higher Engagement
This leads us nicely onto our next point – engagement. As a brand, the last thing you want is to have is a completely disengaged social media following. Instead, you want to create an interactive space where people can chat, ask questions, make comments, gain credit, share opinions and more. Micro influencers can help with this as, generally speaking, they have an engaged, if not huge, social media following. While macro influencers are lucky to get engagement rates around 5%, micro influencers can double that. But why?
There are several reasons why engagement rates are higher for micro influencers:
They're passionate and knowledgeable about their particular interest area and therefore tend to have more digital conversations.
They know their niche and target market. This allows them to pursue collaborations with brands that will interest followers.
Micro-influencers have a lot more time than celebrities with millions of followers. They're more likely to read and reply to specific comments helping to nourish an already well-engaged community.
Case Study: The Pursuit to Higher Engagement
When looking for influencers that'll boost brand engagement it's important to suss out their channels and work out how you could fit into the puzzle. Ask yourself questions such as:
What products could they represent?
Are they right for a product launch?
When is their audience most engaged?
Have they done similar projects to what you have in mind? What was the response?
Do they have the right follower demographic?
Let's look at a campaign in action. Micro influencer Sandra Igwe focusses on motherhood, lifestyle and well-being. She regularly features in paid partnerships for Tesco Food alongside her family. The wrapping paper campaign below is in keeping with her motherhood/lifestyle vibe while offering Tesco family-friendly exposure in an authentic way.
The post received over 500 likes as well as numerous positive comments from loyal followers which talked not only about the sweetness of the family but also about Tesco's 'cute' wrapping paper showing that the tone was on point.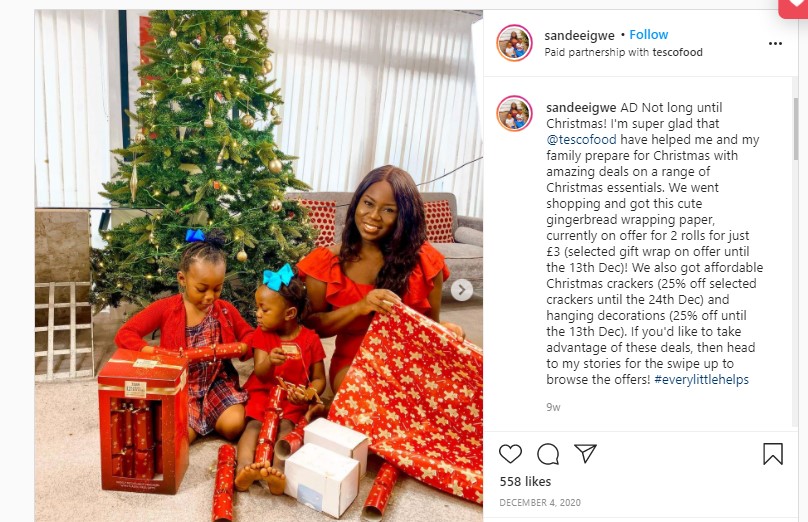 Benefit #3: Micro Influencers Cost Less to Work With
When it comes to influencer marketing there's a whole lot to think about. And costs vary. While some influencers will change their rate depending on the channel, others will up their costs as their follower numbers climb. Working with micro or nano influencers (1000 – 10,000 followers) is often much more cost effective than working with macro influencers and celebs. Sure, you won't be hanging out with the super cool kids. But do you really need to when you'll be tapping into your specific niche? Our advice? Know who you are and look for those who want to be in your crew for reasons other than a hefty pay pack.
To put things into perspective, here are the Instagram influencer rates. Nano influencers typically get between $10 – $100 per post. Micro influencers get between $100 – $500 per post. Macro influencers, on the other hand, start charging around $5,000 – $10,000 per post while celebrities have been known to charge $1 million+. Sounds crazy doesn't it.
Instagram is where many influencers thrive. But there are other channels too, which might save you a bob or two. There's TikTok for example. Being fairly new to the influencer game in comparison to Insta and Facebook, micro-influencers charge around $25 – $125 per post and mega influencers with a million+ followers charge around $2,500+ per post. Of course, hitting up platforms such as TikTok is only really beneficial if it's popular with your target audience and you've built up a strong following.
Top tip for marketers: As well as paid partnerships, many micro influencers will be happy to promote your business in return for exposure, branded products or free services. So, before splashing the cash it's worth communicating with micro influencers to strike up a good deal.
Benefit #4: Seamless Brand Collaboration
Often, a micro influencer can connect multiple brands. This happens a lot in the beauty industry. For example, health and beauty retailer Boots regularly uses influencers to not only draw attention to their brand but to place maximum exposure on the brands they represent. In the post below, the micro influencer chosen to showcase the Laura Mercier Ballet à Paris limited collection was Jess Kohn, National Trainer & Events Manager for Laura Mercier UK & Ireland. This is an obvious brand fit and is an example of brands effectively using in-house talent for maximum exposure. Jess has a niche following of nearly 2,000 who already love the Laura Mercier brand. Therefore Boots doesn't have to work overly hard to source a good brand match.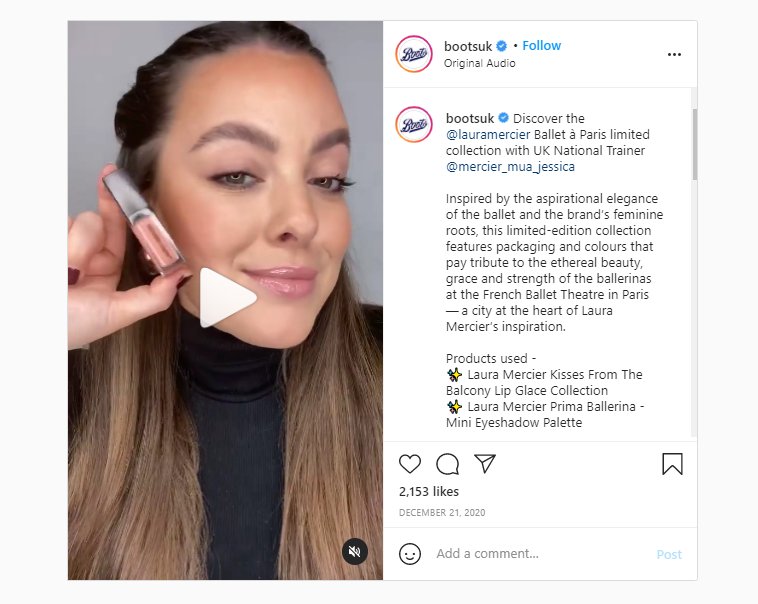 Sephora is another brand that regularly tags their brand partners in posts featuring suitable micro-influencers. In the example below, influencer Sabrina Khan has over 5,000 followers and is a makeup and fashion blogger. So, this is the type of content her users would expect her to promote. The tag to @freshbeauty also maximises post exposure and is a great example of brand collaboration.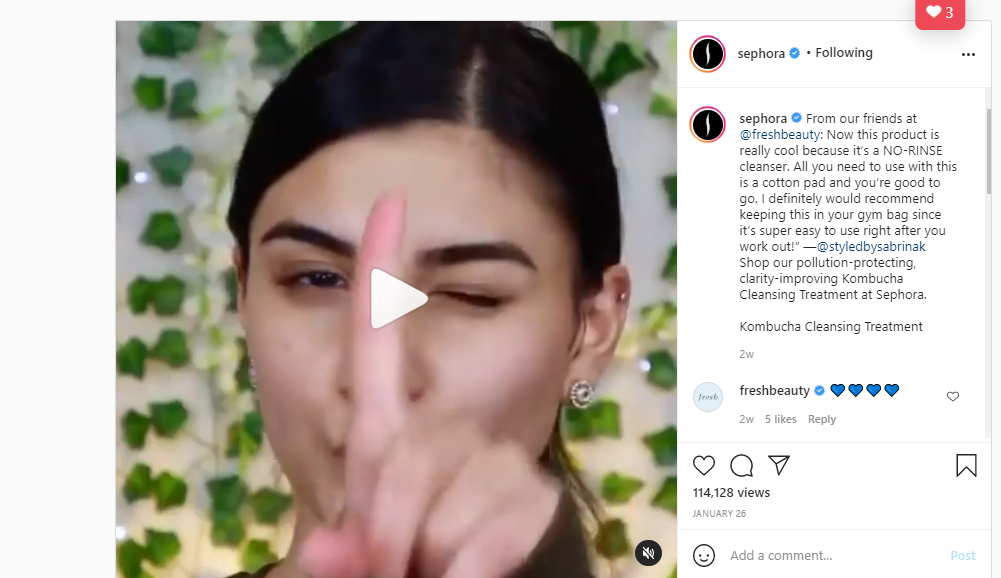 Micro influencer marketing isn't just for the beauty and fashion sectors. There are great influencers in every sector including the finance and fintech spaces where our team has extensive experience.
Speak to Contentworks Agency about organic influencer marketing for improved brand outreach and awareness. As social media experts, we know what works in this competitive space and will operate according to your budget and channel preferences. Let's talk.