2020 will go down in history as one of the most tumultuous. In terms of the financial markets, it was a volatile but exciting year for traders and investors with brokers reporting record volumes. But the pandemic was definitely not the only thing that shocked us last year. Here's 10 times the financial markets shocked us in 2020.
2020, A Year We'll Never Forget
How do you sum up a year like 2020? It was, of course, the year of the Tiger King, the Black Lives Matter movement, the Last Dance, that Animal Crossing sequel everyone went on about all the time, Brexit and a rather infamous election campaign. Here's our top 10, got one to add? Tweet us @_contentworks.
#1 Bitcoin was at it again!
Cast your mind back to December 2017. If you recall, that was the year of the great 'Bitcoin Bubble', when BTC rose to its then astronomic all-time-high of 19,843.55 USD, with the King of Crypto gaining over 99% in value within just 31 days. You'll probably also remember the following crash, as bitcoin spent the whole of 2018 in a monumental bear market, dropping down to 3,329 USD at its lowest point.
Fast forward 3 years and BTC was at it again, and it made 2017 look like child's-play.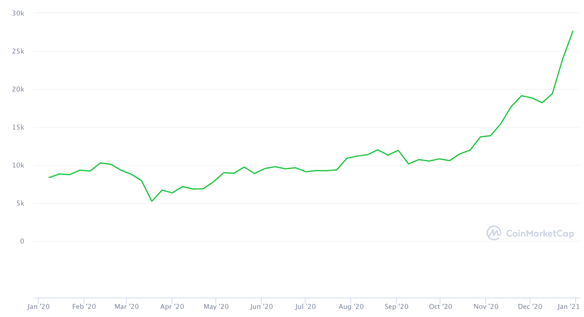 BTC, 2020
Source: Coinmarketcap
Bitcoin started making moves on March 15 when it was priced at 5,357.68 USD. By the time the bells rang in New Year across the globe, its price had hit 29,388.94 USD, a crazy hike of +448.53%. It didn't stop there either, rising to 41,941.56 USD on the 8th of January before eventually correcting.
The exciting news for crypto enthusiasts is that this consistent rise wasn't totally based on pure speculative retail trading as in 2017. This time it was fuelled, in part, by the increasing number of institutional investors that are buying up BTC. As well as those who now see the digital coin as a hedge asset, like gold.
#2 Tesla electrified the stock market
Tesla was one of the stock picks of the year for many investors. Quite rightly, too.

TSLA, 2020
Source: Google
Everyone's favourite electric carmaker saw its stock rise almost 700% in 2020. Through the course of the year, the company managed to become one of the ten most valuable companies in the world, despite starting the year outside of the top 100. Tesla certainly shocked us all in 2020 — pun intended.
#3 The day trader emerged triumphant
2020 saw a significant change within the market itself. Even as stock prices started drifting in February and March, there was still buoyant optimism in the markets as more investors started looking for buying opportunities. This new wave of retail investors began impacting the market to the annoyance of some institutional investors. They began seizing opportunities related to the pandemic's 'new normal', jumping for stocks in companies like Zoom, Netflix and Slack — due to the shift to remote work and time spent at home.
This shook up the markets and shifted them into their own sort of 'new normal', too.
#4 That US Presidential election
Well, wasn't this a debacle!
Joe Biden just about scraped himself over the finish line, but it wasn't without significant drama, vote recounts, legal challenges, etc. But, ultimately the former vice president managed to trump his conveniently named opponent (who still hasn't conceded, last time we checked) to the Oval Office.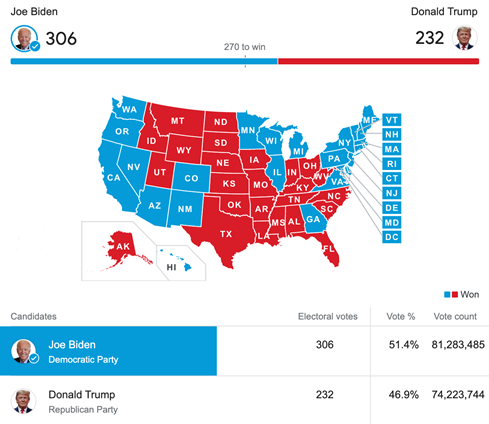 The US Presidential Election, 2020
Source: Google
It was a pretty neck-and-neck affair until the last month or so of the race. As we moved into November, the markets began pricing in a Biden win, so this was largely a calm affair. The biggest shock came as the Democrats completed a 'Blue Sweep', unexpectedly wresting control of Congress, winning the Senate elections by a hare's whisker as well as ousting Trump. The Democrats now control both executive and legislature, giving Joe Biden the perfect platform to execute his policy — which brought a relative amount of calm to the markets.
#5 Brexit actually happened
It took an incredible amount of blood, sweat and tears, but the UK finally exited the continental bloc at the stroke of midnight on New Year's Eve.  The "no-deal Brexit" risk had weighed on Britain's growth and investment prospects since that fateful vote in June 2016. That prospect faded away just 7 days from the deadline, after a trade deal was struck between the two warring sides. Missed out on all the action? We covered Brexit on the trading charts throughout 2020. 
The pound had seen plenty of volatility before that, however, as negotiations between the two sides stalled and crucial deadlines were missed.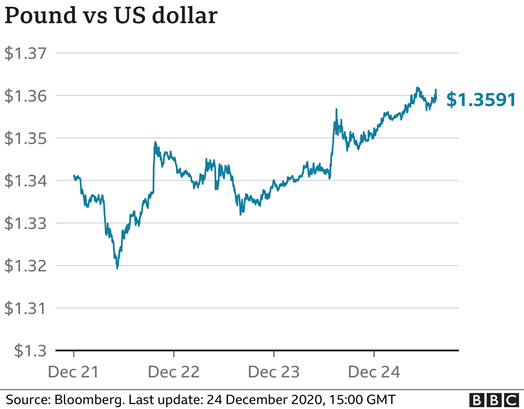 GBP/USD
Source: BBC News
GBP gained nicely against the dollar on the news of the trade deal, much to the delight of many investors. The FTSE 100 then went on to experience its best ever start to a new year. Just imagine how much energy we'd all have saved if they'd agreed the deal earlier on.
#6 Oil prices slipped up
Oil took an obvious hit at the end of the spring, largely thanks to global lockdowns that kept people indoors. Demand dried up and prices plummeted. The main cause of the drop wasn't the lack of commuters out on the road, but the grounding of aircraft all over the globe following an almost total shutdown of the aviation industry.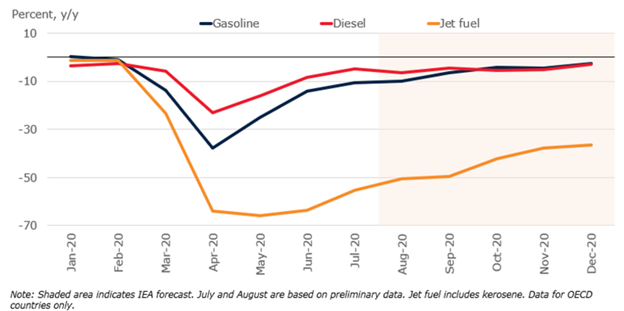 Source: World Bank
Oil prices did rebound slightly in Q3 due to the steep drop in production in June as OPEC and its partners agreed to cut production by 9.7mb/d, almost 10% of global oil supply. Oof!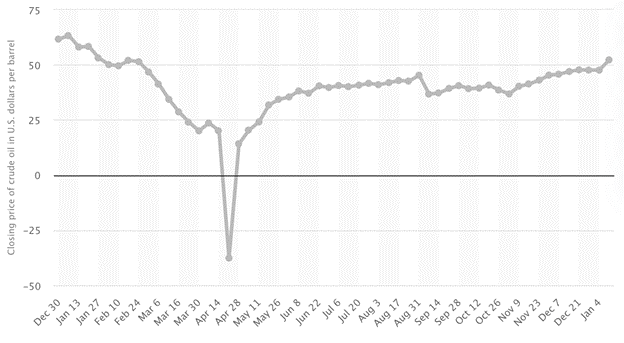 Weekly WTI prices, 2019-2021
Source: Statista
Q4 was much more positive and things slowly appear to be getting back to normal levels. However, that backlog won't last forever and the pandemic is expected to have a long-term impact on oil consumption, with demand only likely to fully recover by 2023.
#7 The SEC sends ripples around the crypto world
The SEC left it almost until the very last minute of the year to spring a surprise on XRP, Ripple's crypto token.
On the December 31, it filed a very serious complaint about 2 of Ripple Lab's executives. The whole thing results in Ripple potentially becoming insolvent by the end of 2021 and now having to sell off its assets — potentially XRP.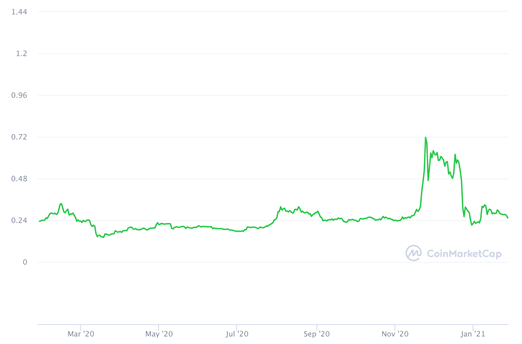 XRP, 2020
Source: Coinmarketcap
Exchanges then started shutting their doors, en-masse. Crypto.com, Coinbase, and OKCoin said they were suspending trading of the XRP token. However, the company has reiterated that XRP is independent of Ripple Labs, so there is a chance that it may yet survive, albeit a slim one!
#8 "Can you see my screen?"
2020 saw the meteoric rise of Zoom. The San Jose-based videoconferencing firm won truck-loads of new users during the pandemic, but its business success likely won't end along with the pandemic. It's name is now synonymous with video-calling the world over.

ZOOM, 2020
Source: Google
At its peak, ZOOM stock had risen a gigantic 730.86% from the beginning of the year. Since then, it's dropped down to a not so modest 325.42% increase, YoY. Very tidy! Incredible 2020 gains have made the company into a household name. The future looks good for Zoom, but multiple heavyweight competitors circle overhead.
#9 Moderna
We had to include at least one pharma here, right? Love them or hate them, it was a good year for these guys.  Researching, creating and manufacturing workable vaccines sent Pfizer and Astrazeneca against one another as the two heavyweights that grab the headlines. But it was Moderna that had the most positive year, all-round.
At the start of 2020, MRNA was trading at 18.89 USD and, at one point, hit 156.93 USD — interestingly also up a Zoom-sized ≈730%!

MRNA, 2020
Source: Google
#10 On your bike!
Our final little surprise package of 2020 was Peloton. The stock of the American exercise and media company, founded in 2012 was largely unremarkable until a lot of people were forced to stay at home and needed to find an outlet for their exercising needs. A great many of them turned to Peloton and that really reflected in the company's stock price, which rose from a modest 30.60 USD at the start of the year to 151.72 USD by the end of it.

PTON, 2020
Source: Google
A good year for Peloton, for sure, but some might say that such user growth won't be sustained beyond the end of the pandemic, when people can exercise outside again. Who knows?!
That's a wrap!
Well, that's about it for our 2020 wrap-up. It was a year full of crazy highs and lows, but the financial markets provided plenty of surprises. Here at Contentworks, we pride ourselves on being experts in financial content marketing. We closely follow the markets and prepare content that the customers of some of the world's leading brokers love to read. Contact our team on hello@contentworks.agency to discuss your broker, fintech or bank.