The financial services industry is booming; there's been a 108% growth of digital ad spending by financial services since 2016. A significant contributor to this growth is the savvy use of social media by the sector's CMOs. In fact, 55% of financial advisors that secured a conversion in 2020 did so after increasing their social media presence. But, financial services marketing can be challenging. Not only are there strict regulations in place with harsh penalties for brands who break the rules, but you must ensure the tone of your campaigns and strategy are exactly on the money. Social media for Financial Services – the Essential Guide has been compiled by our financial services marketing experts to help you navigate this minefield.
#1 Craft engaging conversations
The entire purpose of social media is to socialise and foster communities. Be careful not to alienate your audience by imposing large amounts of technical information or jargon on them and neglecting to engage and get to know your fans. Reaching and keeping your target audience through meaningful interactions should always be your top priority.
The best way to closely monitor you and your audience's presence on social media and react accordingly is by hiring a dedicated social media marketing agency like Contentworks, who specialises in marketing for the financial services.
Monitoring financial services trends
Proactively suggesting relatable finance campaigns
Using the correct hashtags to get you noticed
Creating expert financial services content for your brand.
Inserting your brand into meaningful conversation
Networking with FX, banking and Crypto influencers
We can also help with tailoring your message, strategy, and campaigns to run alongside trending conversation and shifts in consumer mindset. Involve fans and build authenticity by taking them behind the scenes like World Bank did on Twitter.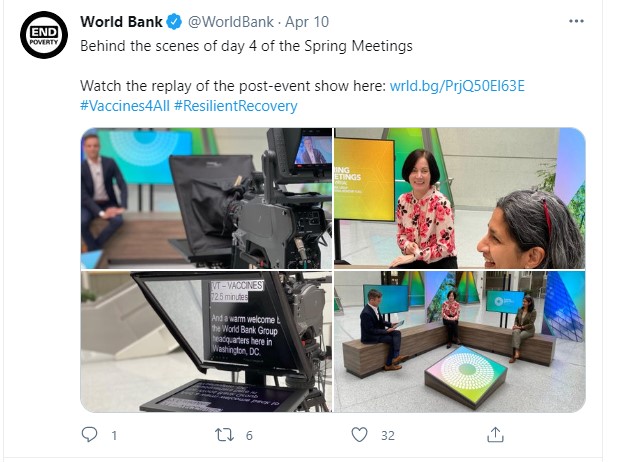 What to do:
Analyse audience sentiments using social listening metrics to track things like trending hashtags.
Use emojis, photos, and/or slang when appropriate; be wary here though, brands that try too hard to 'get' their customers can come across in the exact opposite way. Awkward and out-of-touch.
Foster two-way interaction by joining relevant conversations and avoiding monologue.
Converse with your fans – rarely, or never, leave a comment or tweet un-responded to.
Reach out to financial services professionals like Contentworks to help you generate useful and relevant dialogue with your audience.
#2 Use content to deliver value to the audience
Social media now plays a significant role in how people make purchases. In 2020, social media influenced 71% of consumer purchasing decisions and approximately 51% of people in America were influenced by social media ads to make purchases.
Sectors such as the food and fashion industries are in a fantastic position to showcase their products, and influence sales. When it comes to financial services, however, there is rarely a product to 'show.' Instead, audiences make purchase decisions based on the perceived value of your services and, primarily, this comes from the value of your brand. So, you need to sell yourself before selling your products. The customer needs to understand your brand's value and have faith in your products and services.
What to do:
Get the backing of another individual or brand. Collaboration instils confidence in consumers. More on influencer collabs further down.
Think about the value you're providing. Do you have a great education centre, special security features, super support, community or events? These are all elements that will differentiate you.
Show don't tell – show value through quality visual or video marketing on your social media accounts. Find out more about how to produce great video.
Do more than pushing a hard sell 24/7 – show your brand's value via blog posts, site updates, webinars, eBooks etc., all marketed via your socials.
#3 Address bad or poor PR
Bad PR has the potential to bring down your brand. For financial services, this is unfortunately even more true since your value is strongly determined by your reputation. It is also taken more seriously as it involves money, security and transactions, not a faulty purse from a high street retailer that can be returned. Avoiding bad PR in the first place should be your top priority but all brands should have a clear plan of action for when, inevitably, you are hit with a less than favourable review, marketing blunder, or bad press.
Today, social media is the go-to place for people to vent their dissatisfaction and disappointments with brands. It's also the place that the majority of consumers will receive information from you. It can heal or hurt your PR depending on whether you have a strategy and backup plan in place. Also monitor ratings and reviews on your pages and popular online forum sites like Trust Pilot or industry specific sites.
Assess if the reviews are from real customers- if not, you can politely address this with the site owner
Always respond politely and compliantly to genuine complaints.
Understand that your answers may be sent to CySEC or the FCA so be sure to get your facts straight
Don't place fake reviews- many sites monitor IP addresses and you might make the situation worse
If you experience a barrage of fake reviews, consider disabling reviews on your Facebook page
If you're unlucky enough to ever find yourself in the midst of a PR blunder or even dealing with a bad review on a third-party site, it's important to own your mistakes. Offer your sincere apologies if you think you could be at fault and explain what you're going to do to rectify the mistake.
 Here's what you should do:
Always respond professionally – comments that come across as rude, unprofessional, or even curt, damage your reputation not only to the person you're responding to but to anyone else who sees it.
Don't air your dirty laundry – if possible, take grievances off public platforms by directly contacting the individual and leaving a comment to explain this.
Don't make it worse – consult your legal team before you respond to clients on technical issues.
Make use of available monitoring tools to identify bad PR quickly.
Respond quickly – 40% of consumers expect a response within just one hour! Have a team like Contentworks on standby to deal with customer inquiries and concerns at all times.
#4 Hold competitions and contests … but be careful
People love getting in on the chance to win something. Competitions can be a relatively low-cost marketing strategy with a high ROI. However, remember that you are dealing with a heavily regulated sector. You must ensure you are acting within any rules or regulations. Be sure to store and maintain records of all the communication and entries from participants according to Markets in Financials Instruments Directive (MiFID 2) requirements and give a prize or cash amount of a reasonable value. Additionally, social media sites such as Twitter and Facebook have policies that you must take into account. If you're ever unsure, talk to Contentworks before holding the competition to check you're in line with the financial market regulations in place.
What to do:
Always adhere to platform policies and regulations using the appropriate tools if available.
Be careful when giving away money. Bonuses are banned in many finance sectors and tightly regulated.
Announce your winners in strict accordance with privacy rules.
Give your contest mileage and excellent visibility using branded hashtags.
Engage your legal team on the terms and conditions for the contest and the range of price value in compliance with the rules and regulations.
#5 Understand the pace of the finance world
The financial sector is characterised by its ever-shifting landscape and its volatility. Social media for financial services involves staying updated with trends, industry gossip, market movers and of course regulations. Twitter remains the unrivalled platform for finding up-to-the-minute updates. By tracking the use of hashtags, your brand can stay on top of relevant market-moving news and trends. Use RSS feeds to gather information on Twitter from reliable sources.
Additionally, make use of trending hashtags such as:
#forex – generic for the forex sector
#XAU – the symbol for gold
#CHF – the Swiss franc
#CAD – the Canadian dollar
#NZD – the New Zealand dollar
#AUD – the Australian dollar
#JPY – the Japanese yen
#GBP – the Great British pound
#EUR – the euro
#USD – the US dollar
#SP500 – S&P 500 Index
#NASDAQ – NASDAQ Stock Market
#DOW – Dow Jones Industrial Average
#NYSE – The New York Stock Exchange
Follow hashtags like:
#Fed – Communication from Fed heads
#OPEC – Organisation of the Petroleum Exporting Countries updates
#Brexit – Effects of Brexit on the Pound
#NFP – Non Farm Payrolls
#Trump – Volatility in the financial markets caused by Trump's Tweets
#6 Take advantage of influencer endorsement and social proof
To cut through the masses you need to find a way to connect with your audience and develop trust. Consumers, especially younger generations, look for 'social proof' before making a purchase. Consider leaving a space for users to post their experience for potential customers to read.

Another strategy is to harness the power of influencers. Influencer marketing is projected to be valued at over $15 billion by 2022, up from as much as $8 billion in 2019. You should ensure you use authentic influencers if you want to reach more people and avoid wasting money.
Things to do:
Encourage customers to give their honest feedback but take steps to ensure the overwhelming majority of feedback is positive.
Employ User Generated Content. That means retweeting, sharing and featuring fans on your channel.
Seek authentic influencers that have a strong connection with your target audience.
Follow key influencers in your sector and engage with them regularly.
#7 Capitalise on strong interactive content
Most people (65%) wouldn't take a job in the financial sector because they think it 'sounds boring' (according to research conducted by KPMG). Hint- it isn't at all, especially with advancing fintech trends. Try to keep your customers' experiences as interactive as possible with Twitter polls, Q&A stickers on Instagram, LinkedIn AMAs, interactive videos, quizzes, and others.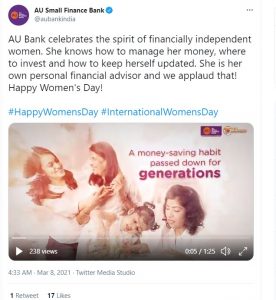 The focus remains on great content. That's useful and relatable blogs, FAQs, education centres and explainer videos. Utilising trending hashtags like #InternationalWomensDay is great, as long as you can back it up with the goods!
Steps to take:
Focus on the community, environment, and people in a bid to humanise your brand.
Strive for interesting content but don't compromise the voice of your brand – if your brand's voice is serious and intelligent, don't post something out of character.
Aim to provide a comprehensive knowledge base on your website so customers don't need to go elsewhere.
#8 Beware of Facebook's crypto rules
Facebook has regularly updated policies on misleading adverts, especially in cryptocurrency, initial coin offering, and binary options. At one point, you needed prior approval before posting anything about cryptocurrency, but that has since changed. Binary options, initial coin offerings, and contract for difference ads are still prohibited though. Ignoring these policies could be seriously detrimental to your brand.
What you need to do:
Educate your employees on Facebook policies and things to avoid while making advertisements.
Watch how you word boosted posts or ads. You could end up on the social media advertiser blacklist.
Focus on education, community and CSR to avoid Facebook jail.
Consult the help of a team like Contentworks who can guarantee you won't find yourself in hot water with regulators.
#9 Adhere to laws and regulations
In the UK, it's a requirement for brands in the financial industry to follow procedures in regard to social media, such as archiving exchanges between you and your customers as per the FCA and MiFID 2 requirements. Other limiting rules include ensuring that you use the data you collect for the intended purpose only. You also need to secure permission from the clients to use their information and ensure that your promotions are not misleading, clear, and fair. Failing to follow these procedures could end up costing you your business.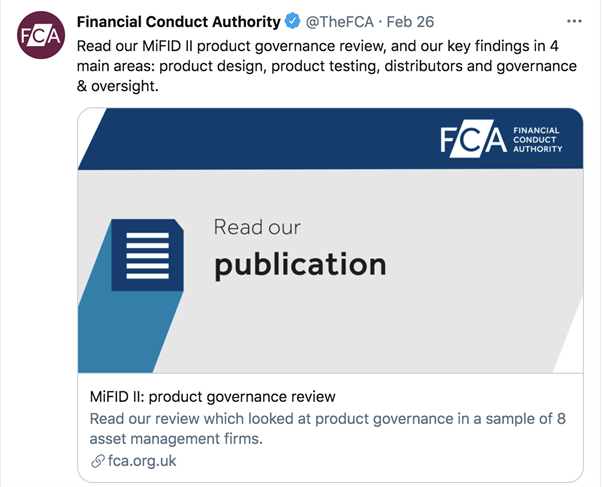 Compliance involves:
Keeping tabs on regulation changes – make use of Reuters and Bloomberg for regular, digestible updates. You can also follow our monthly Regulation Roundups.
Ensure your employees are well versed with the regulatory requirements and offer training to your employees when needed.
Have the right record-keeping software for your brand and reliable privacy tools.
Check out this article by our Director Charlotte on social media for financial services
Feel like there's a lot to take in when it comes to marketing for financial services? Our team has years of experience helping finance brands to conquer social media, boosting their trading volumes, signups and ROI whilst helping them to stay on the right side of the law. Have a chat with us today. Enjoyed reading Social Media For Financial Services – The Essential Guide? Go ahead and hit share.