The finance sector is heavily governed by regulation warlords marching up and down with metal helmets and spears. Joke. However, there are some very tight restrictions. So when there's a PR crisis, can you conquer the backlash,  stay within the law and salvage your brand? Before your cry into your coffee, here are the dos and don'ts of PR crisis management for financial services.
Do – Think before you speak
If you notice a negative activity spike on social media, good work, you're on the ball. But now it's time to deal with the issue professionally. It can be all too easily to fire off flippant responses to social media comments without thinking about the reputation of your company or compliance. Remember, everything you say online can (and probably will) be monitored by regulators and screenshotted by complainants. Therefore it's a good idea to sit down with your PR and compliance team to come up with an effective and compliant way to deal with negative feedback. And get your facts straight. Never reply to an online complaint until you know what actually happened. If you need more time then a good reply would be "thank you for your comment, please allow us some time to look into this and revert back."
Don't – Ignore regulations
There are many rules when it comes to content for finance. For example, under MiFID II regulations, all content,including social media responses, needs to be fair, clear and not misleading. So, when addressing consumer complaints, you must never try to appease your audience by going off-piste and glorifying your promotions/services without being honest, transparent and providing relevant risk warnings. The FCA clearly states:

Do – Respond quickly
One of the best ways to respond quickly without saying anything inappropriate is to have a crisis management strategy already in place. The online world moves fast and therefore everyone should ideally know their role when it comes to staying afloat during a 'drama.' If you've a social media manager in charge of monitoring all accounts, why not make it their responsibility to release pre-approved comments while you delve into the issue further?
Don't – Bury your head in the sand
You're not an ostrich so don't bury your head in the sand. Ignoring the issues in front of you will not help the situation. If you're an ICO or a broker who suddenly goes quiet during a crisis, what will investors think? That you're scamming them? That they'll lose their money? This is likely to lead to further outcry. So, stand up and reassure your consumers that you're taking the relevant actions to resolve specific concerns or problems.
Do – Formulate personal replies
Sometimes, releasing an apology across multiple channels is necessary. Other times, it may be better to respond to people on a personal level. This is particularly true if it's a one-off case. Or, if you feel the issue has the potential to spin out of control if you don't address it. As a rule of thumb, engaging with consumers and replying to queries, questions and issues will help give your brand credibility and allow you to lead the conversation in a more positive direction. Your effort and interaction will be seen and appreciated by others.
Below is an example of how a respondent for Barclays handled an unsatisfied customer on Facebook: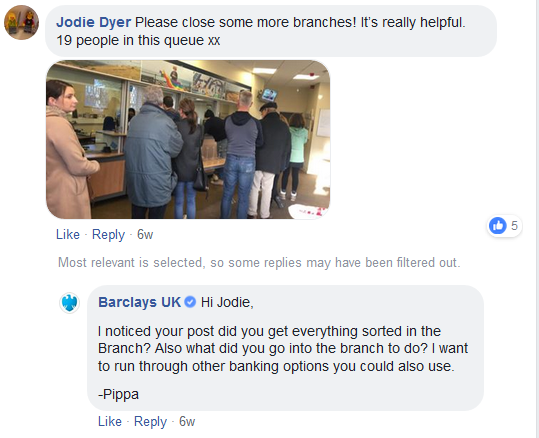 Top takeaway: Provide solutions to problems and ask more questions to show you're genuinely interested in the problem at hand.
HSBC also tackled a personal issue with a direct response and a precise call of action.

Top takeaway: You can also openly suggest continuing the conversation more directly via a private messaging service or over the phone. This way, you take the issue out of the limelight while showing your wider audience that you want to rectify the problem.
Do- Monitor Ratings
Ratings and reviews in the finance sector are a double edge sword. Positive ratings absolutely gain you more clients. However negatives will put off potentials. 85% of consumers trust online reviews as much as personal recommendations. What's more, 49% of consumers need at least a four-star rating before they choose to use a business. and when it comes to the financial services sector, investors and traders are very careful to read reviews before they spend their money. Here are some tips if your brand has received negative reviews in a PR crisis:
Assess if the reviews are from real customers- if not, you can politely address this with the site owner
Always respond politely and compliantly to genuine complaints.
Understand that your answers may be sent to CySEC or the FCA so be sure to get your facts straight
Don't place fake positive reviews- many sites monitor IP addresses and you might make the situation worse
If you experience a barrage of fake reviews, consider disabling reviews on your Facebook page
Don't – Be confrontational or argumentative
Addressing complains online is one thing. But never be confrontational or argumentative as this is far from professional. Instead, maintain your brand's tone of voice and try to be proactive and friendly in your response. Remember, news travels fast and an argument could trigger anything from social media memes ridiculing your response, to further negativity.
Do – Monitor all comments
Most likely, the comments your company receives will shape your replies. Finance brands should keep an eye on their social channels to get a feel for public sentiment, particularly around a new product or service launch. During a crisis, this becomes even more essential as you need to stay abreast of public opinion so you can respond accordingly.
Don't– Delete comments
See a comment you don't like? And another? And another? Oh dear, the temptation might be to delete the lot of them. Bu that's not good for business either. People have eagle eyes on social and will notice how you respond. So, it's better to face the criticism head on. Also replying to comments gives you a voice and helps you project a different, more positive side to the story. As a rule, the only comments you should be deleting are spam or phishing comments or those containing expletives, racism, homophobia or sexism. Genuine complaints should stay.
Do – Focus on the positives
Mistakes happen. And yes, you must deal with them right away. But don't sit back and dwell on the situation as this will affect future business progress. Instead, move on from the crisis in style by producing incredible content and focusing on the positives. It's also important to reestablish your credibility and trust. Going behind the scenes with a company figurehead or giving live insights into how your business functions is a great way to give your brand authenticity. A crisis often happens when people lose faith or trust in a company. But being real with consumers and producing interesting content can restore their belief in what you do.
That said; don't do what JP Morgan did a few years ago. When more than two-thirds of tweets using #AskJPM were negative, the Q&A session on Twitter was pulled. This did the company no favours as it looked like they were yet again burying their head in the sand regarding important issues surrounding the financial crisis.

Another brand who failed to comprehend public sentiment was SeaWorld. SeaWorld encouraged people to use the hashtag #AskSeaWorld on Twitter to ask about topics ranging from breeding to conservation to safety and training. Unfortunately, following the documentary Blackfish and several other animal cruelty exposes, the hashtag missed the mark entirely.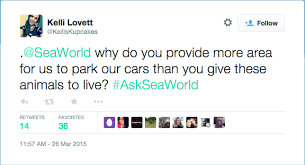 Takeaway: When it comes to reputation management following an incident, don't be naive. Think about how consumers might react and have answers ready to avoid a further PR fail. If you don't feel comfortable enough to offer live or instant responses, don't take the risk. And instead publish pre-approved statements or messages.
Enticing and informative blogs and PRs are another way to get back on your feet. These can be shared across your social media channels and will help people to move on from your PR crisis. Of course, this depends on the faux pas you have commited. If the public is raging at your brand then a press release about your volunteer work with local kittens probably won't cut it.
PR crisis management for financial services is very specialised. It's also an essential part of your online marketing efforts, so work with a team who understands this space. Improve your online reputation with high-quality content marketing from Contentworks