Is Pinterest still relevant? If you're unsure about whether adding a Pinterest account to your marketing strategy, you're not alone. As of the end of 2020, Pinterest has over 459 Million active users each month. Since its inception in 2009, Pinterest has undergone several major changes in a bid to keep up with the wants and needs of social media users. Today it's estimated to be nearing a staggering $38 billion market capitalisation. We've updated our popular 2019 Pinterest article to answer the question: Should my brand be on Pinterest? Read this essential guide, packed with stats and examples.
About Fresh Pins
Before we start looking at Pinterest, let's look at their August 2020 algorithm change. Pinterest updated its algorithm to favour fresh Pins over Repins. The buzzwords for marketers using Pinterest are now "Fresh Pins". Essentially, these are defined by Pinterest as images or videos that haven't been seen before. That means you can create several images for the same blog, listing or web page and they will be considered Fresh.
Create 3 x Pinterest images for every blog or PR
Remember your followers see your Pins in chronological order and a few great ones are better than more, lower-quality Pins
Continue to Repin others, just understand that the new algorithm is geared towards fresh content.
The following would NOT be considered "Fresh Pins"
Pinning the same image but changing the title, emojis, description or alt text.
Making small changes to an old Pin- eg -adding a different logo or filter
Sharing a Pin to multiple boards.
Deleting and reuploading old images to seem fresh.
#1 Pinterest has one of the most viable usership demographics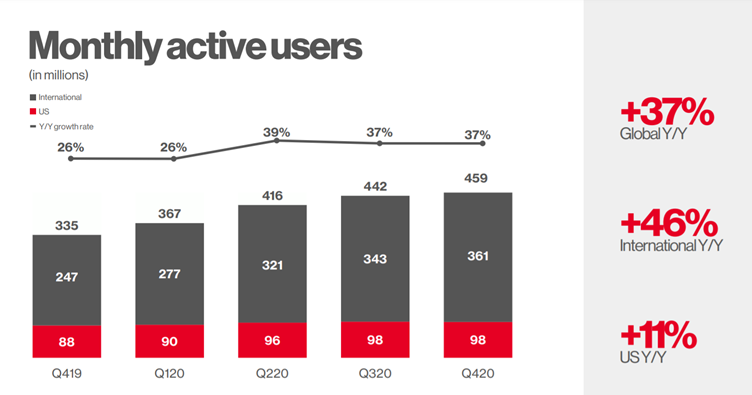 Firstly, the most important thing to mention is that Pinterest is not dead, or even dying. In fact, the platform is doing better than ever in terms of the number of users  – just take a look at the rapidly growing usership below that shows little sign of slowing down. Even the biggest platform usership isn't helpful if the users are unlikely to engage with your brand. All brands should have an understanding of what their main target audience looks like, and this will help you determine whether a strong Pinterest strategy is in your best interests. Take a look at these stats on the average Pinterest user:
More than half of Pinterest users earn at least $50,000 in a year
Men make up 40% of new signups
The median age of Pinterest users is around 40 years old
As you can see, Pinterest offers a large usership of viable consumers. They're affluent, mostly old enough to hold purchasing power (unlike swathes of TikTok users) and there's growing gender diversity, although at least 77% are still female. Of course, the viability of Pinterest as a marketing platform is dependent on your specific target market but for the majority of brands, this is a dream demographic.
#2 Pinterest users are open to marketing
Did you know that two-thirds of pins on the platform are from brands? You might be thinking this equals an oversaturated market with no potential for penetration, but quite to the contrary. The general consensus is that Pinterest needs brands to deliver quality content and that users understand this. Over 70% of Pinterest users say they find branded content on the platform to be useful.
61% say that they find new products or brands via Pinterest. This could be through personalised shopping recommendations based on user-saved pins. It could also be through the search function. 97% of top searches on the platform don't include brand-specific terms i.e. users don't already have a brand in mind when they search and you're privy to a level playing field where users are open to discovering new brands.
#3 Your competition is on Pinterest
Pinterest can be an effective marketing tool – more and more brands are jumping on the Pinterest wagon. You don't want to be left out and see your competition end up a rung above you on the marketing effectiveness ladder. It's important to incorporate Pinterest into your strategy if your target audience is compatible. Remember, each social media platform has a varied demographic and for this reason, it's always a good idea to market your brand across several channels for maximum cut-through. That means on top of your Facebook, Twitter, Instagram and Tiktok accounts, you may need to get your brand on Pinterest if you want to grow your audience to its full potential.
Conduct proper research – You should look at user behaviour and statistics before launching your campaign. Check out the latest stats and figures straight from the horse's mouth: https://business.pinterest.com/audience/
#4 Pinterest is great for video
Specifically, video ads.  CMOs know that video marketing is the hottest commodity right now. More than 99% of those who use video marketing will continue to use it throughout 2021 and a huge 85% of people want to see more video from brands. Pinterest offers a fabulous platform for video advertisers. Using the paid ad function, you're able to post ads ranging from 4 seconds up to 15 minutes, although the recommended length is 6-15. Pinterest now allows all advertisers to use 'max width' video pins which are 4x larger than standard pins. Whereas before your pin could only take up about a quarter of a user's screen.
All advertisers are now able to deliver full-width video to their audiences, making much more of a visual impact.
Video ads on Pinterest are designed to blend seamlessly among other content that a user is interested in while they scroll. It's not done in such an aggressive way as you might see on YouTube and as mentioned, Pinteresters are surprisingly receptive to marketing. In fact, promoted pins influence approximately 50% of users to make purchases. The bottom line is video ads, or even unpaid video content, has the potential to see your brand wind up with a good ROI.
Use vertical images/video – Pinterest ads work best in a 2:3 aspect ratio. Always ensure the resolution is of superb quality.
Don't be too abstract – Your brand should be front and centre. If a consumer doesn't understand the point of your ad within the first few seconds they'll simply scroll away.
Pair with punchy and relevant copy – You get up to 100 characters for the title and up to 500 for the description. Make them count since they'll help your video rank higher in searches.
CTAs/links – As mentioned, Pinterest is one of the best platforms for lead generation. Pinterest drives 33% more traffic to shopping sites than Facebook. Ensure you've got links leading to the correct landing pages and ensure any 404 errors are swiftly taken care of.
#5 The capacity for diverse marketing
Pinterest offers way more than just pins of recipes. On top of video and standalone pins, you've got what's termed as carousels – pins with more than one image, with an upper limit of 5 images. If you want to showcase several products, products from different angles, or different takes on a service, a carousel will come in handy. It's also a good way to explain the different features of a product.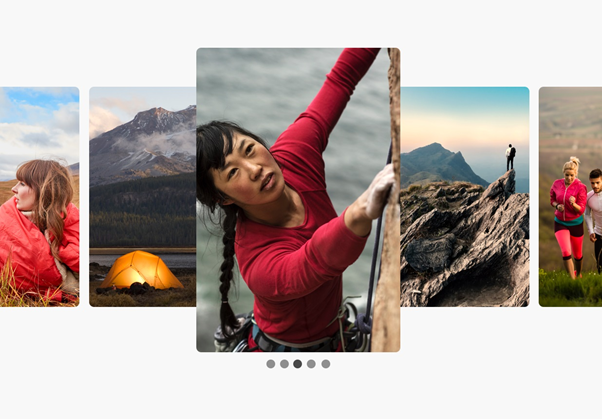 Keep it simple – Your visuals should be simple and clear. They should tell a story with a smooth transition from one to another.
Do I need to spend money on Pinterest?
There's no doubting that you can reap some of the rewards of Pinterest without spending a penny. The mere presence of a brand account that is regularly updated helps to build your brand image. You can open a business account for free (as opposed to a personal account) that can boost your brand's reach, at no cost. If you already have a personal account for your brand, you can actually migrate the content from this account to your new business account so you don't need to re-upload everything.
Benefits of a business account:
You can tag your site – With a business account, it's much simpler to tag your brand on any content you post to drive traffic to your site.
It's more professional – With any social media platform, using a personal account just doesn't come across as professional.
You can use covers – With a business account, you can upload a cover photo for maximum user impact and to maintain brand continuity through branded imagery. You can choose a static image, or you can use a video cover. Check out The Container Store's cover below (note that on mobile, where the majority of users are, the cover will horizontally fill the screen).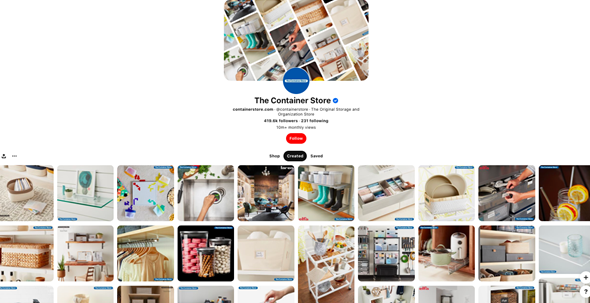 You unlock your Pinterest Shop – Above, you can see The Container Store has a 'Shop' tab. When users click on this, they're able to see what you have for sale and, when they're ready to buy, they follow the link directly to that item on your site.
You unlock Pinterest Ads – If you do decide to part with some cash on the platform, you'll need a business account to post paid, promoted ads. A small to mid-sized brand can expect to pay around 10 cents to $1.50 per click for their ad.
You're able to view metrics – A business account gives you access to Pinterest analytics and measurements. These insights allow you to hone your content and tailor it to your most fruitful followers, in turn, growing your brand. See what the analytics dashboard looks like below.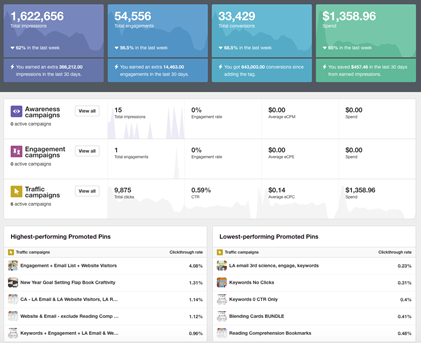 Besides all the above-mentioned tips, here are some more good-to-know things that can help you maximise your ROI.
#1 Keep up with current trends
As you probably know, the digital space changes rapidly. CMOs should be on top of the latest trends and adapting their brand's approach to emerging patterns. For Pinterest, check into the 'Newsroom' regularly where you'll find updates on hot topics, news, and 'Pinsights.'
#2 Think about visuals
Pinterest is an incredibly visual platform. Your images and videos need to be eye-catching enough to grab the attention of the user and make them want to click on your pin over the rest. See the recommended dimensions for all types of pins. Below you can see the aspect ratios your visuals need to be for each type of pin.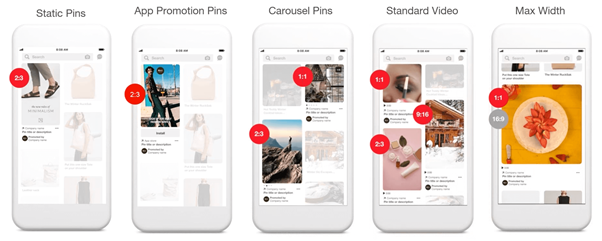 You should also think about cohesion – how do people read your Pinterest? Does it come across as cohesive or is it a jumble of contrasting concepts? See below how Bank of America uses a collage of pins as their cover, which also loosely matches the palette of their logo. Using the same colour scheme is always a good idea to get across to viewers that your brand is a cohesive, competent business.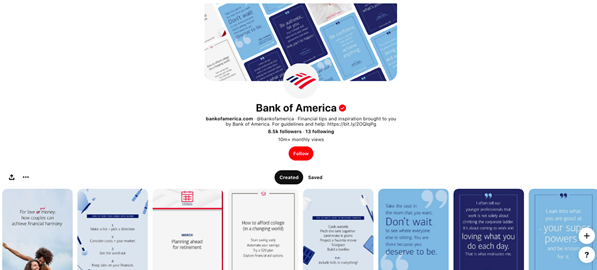 #3 'Brand' your brand's account
Your Pinterest account should incorporate your branding. Use the same images, descriptions, bios – people like consistency and it can increase your revenue as much as 23%.
#4 Pin everything!
Below is Business Insider's Pinterest. They'll often pin multiple images from the same article – because, why not? This increases the chances of a user seeing the pin/image and ultimately clicking the link – more pins, more traffic.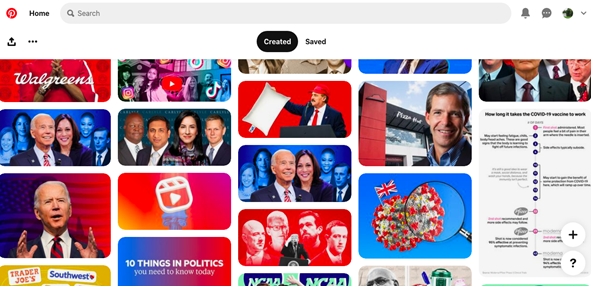 Conclusion – Should My Brand Be on Pinterest?
With visual marketing showing no signs of slowing down, Pinterest is the ideal platform to deliver maximum impact and showcase your brand. The advanced analytics allow you to stay on top of consumer behaviour and adapt to trends. Absolutely, the biggest advantage for brands is the flow of traffic that a Pinterest account can generate, topping even Instagram and Facebook. One thing to note, however, is that unlike other socials, less is definitely not more. Brands on Instagram, for example, often prefer to post only when they feel they have fresh and worthy content. With Pinterest, there's a clear benefit to posting very frequently, with more images/video (that could be sourced from the same web page) equating to more site traffic.
If you're ready to see more traffic driven to your site but you're not sure you can keep up with the optimal posting frequency, speak to Contentworks who can take care of this for you. We provide strategy, content, and social media management for Instagram, Facebook, LinkedIn, TikTok, Twitter, Pinterest and YouTube. Enjoyed reading  Should My Brand Be on Pinterest? [2021 Update] go ahead and hit share!