If you've been following our Social Media Series, you'll know that we've covered many different countries including Singapore, Germany and the UK. We've checked out internet usage stats, social media popularity, platform favourites and fun facts. Social media in the USA – the stats you need to know is next up.
An Overview of Internet Usage in the United States
First things first, let's check out how many people are digitally connected in the US. Figures from the start of 2022 revealed that of the country's 333.9 million residents, 307.2 million people use the internet. That's a whopping 92%, making America one of the most internet-savvy countries in the world. Internet usage in the USA also increased by 8.4 million (+2.8%) between 2021 and 2022.  Internet usage is also predicted to grow to 321 million internet users by 2025.
And What About Social Media?
There were also 270.1 million social media users in the United States of America in January 2022, equivalent to 80.9% of the total population. Social media users in the United States increased by 30 million (+12.5%) between 2021 and 2022.
Fun Fact: New Jersey, Rhode Island, Maryland and California are among the most connected states. Vermont, West Virginia, New Mexico and Mississippi are among the least connected states. Recent data shows that only 24% of homes receive broadband speeds, while in New Jersey 65% of homes do.
America is clearly social media connected, so let's delve into some more facts.
#1 The Average American Spends 2 Hours 14 Minutes on Social Media a Day
Americans spend an average of 7 hours and 5 minutes on the internet every single day, with 2 hours 14 minutes of this time being dedicated to social media. That's 15 hours 38 minutes every week, or almost 800 hours every year. That's over 33 full days. And when you break it down like this it's easy to see just how significant social media is in the lives of American citizens.
Fun Fact: On average, Americans check their phones 344 times per day. That's once every 4 minutes and it's hardly surprising considering the amount of notifications consumers get on a daily basis. As many as 71% also check their phones within 10 minutes of waking up. Are you guilty of this habit as it's certainly not isolated to the US?
#2 Facebook is the Most Popular Social Network in the US
Facebook is the most popular social network in the United States based on monthly active users. Digital 2022: The United States of America revealed that Facebook had 179.7 million users in the United States in early 2022 and that number keeps growing. At the start of 2022, 54% of Facebook's ad audience in the USA was female, while 45.2 percent was male.
Fun Fact: One of the most popular US brands on Facebook is Coca-Cola, with over 109 million people liking and following their social media page. In fact, Coca-Cola is within the top ten most followed pages on the platform, behind the Facebook app itself and celebs such as football icon Christiano Ronaldo. Coca-Cola stays relevant to audiences through creative campaigns such as collaborating with American influences such as superstar Ava Max. Check out this innovative, and world first AR concert and experience.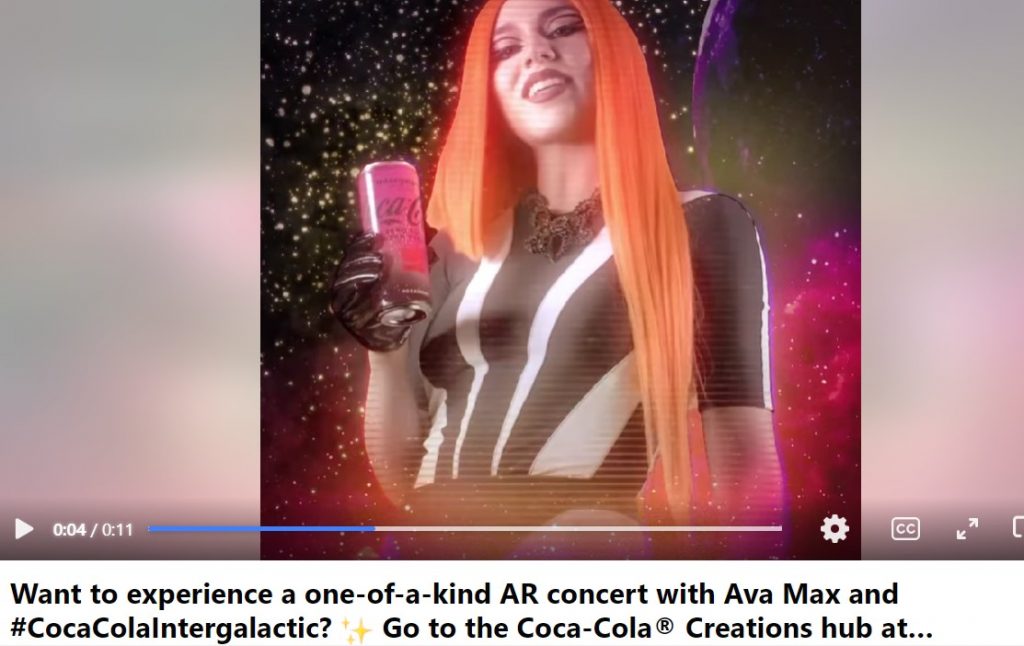 This campaign really does tick all the boxes. The idea is unique, the influencer selected greatly increases viewership and the digital-only approach makes the campaign accessible. There's also a specific hashtag making the content easy to find and a link bank to the Coca-Cola site to increase hits – perfect for SEO. Brands! It's a good idea to check out top sites across platforms to see what they're doing right.
#3 California Reigns Supreme in Terms of Facebook Numbers
California has been found to have the most Facebook users, with a whopping 2.5 million using the platform. The state of New York is quite close behind, with only 0.3 million less and Texas is there with over 1.5 million users. Reports suggest that the state with the lowest number of Facebook daily active users is Wyoming, with a user base of just over 31,000.
#4 US Has the Second Highest Number of Instagram Numbers Globally
Americans are also huge fans of Instagram, with the platform boasting almost 160 million users as reported by Statista. This sets them behind India, a country with a whopping 230 million users, but ahead of Brazil, Indonesia and Russia. In early 2022, 57.2% of Instagram's ad audience in the United States was female, while 42.8% was male.
Fun Fact: In January 2022, make-up mogul Kylie Jenner became the first woman to reach 300 million followers on Instagram, flying past Ariana Grande who had previously been the app's most popular woman. Kylie also uses loads of techniques on Instagram to get people interested in her brand, Kylie Cosmetics. Her page currently has over 25 million followers and features guides, reels and short video clips of Kylie wearing her own makeup palette colours. She's also talented at teasing new products, which sends her audience mad.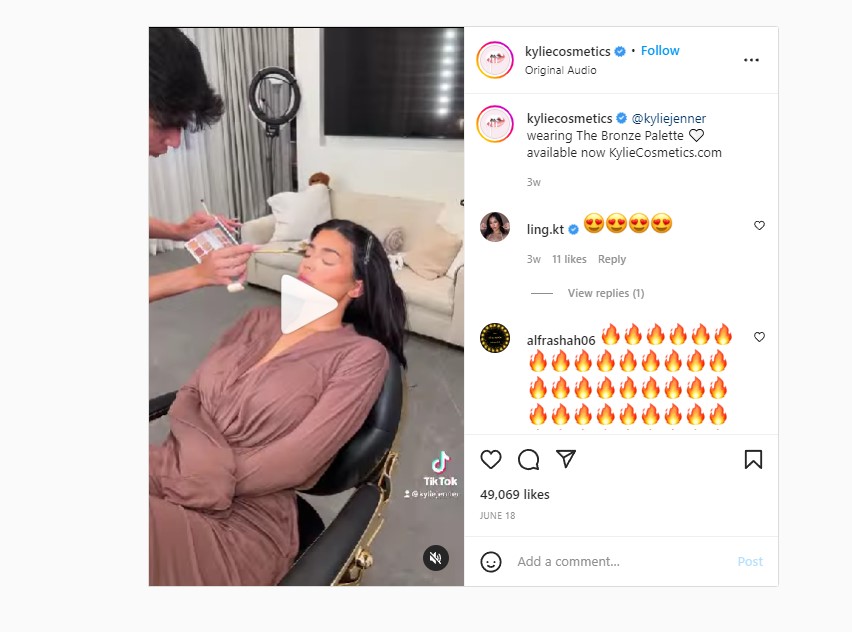 Instagram and Teens – Some Quick Fire Stats
When it comes to Instagram and teens, it's worth knowing that:
72% of teens use the platform
73% say that Instagram is how brands reach out to them regarding new promotions and products
Instagram is their favourite choice behind Snapchat and TikTok. Research shows that teens barely use Facebook.
So what does this mean for marketers? Well, if you're targeting Gen Z, Instagram over older platforms like Facebook is the place to be – as well as TikTok.
#5 Americans Go Nuts for TikTok
TikTok is among the top three social media powerhouses behind Facebook and Instagram with figures published in ByteDance's advertising resources indicating that TikTok had 131.0 million users aged 18 and above in the United States in early 2022. Reports show that 60% are female and 40% are male. 60% are between the ages of 16-24 and 26% are between the ages of 25-44. This makes TikTok a brilliant platform for brands targeting Gen Z and Millennials.
If you're planning to hit up TikTok this year, it's interesting to know that TikTok's ad reach in the United States was equivalent to 42.6 % of the local internet user base at the start of the year, regardless of age. You should also be aware that:
TikTok is now more popular than Instagram among Gen Z users, with 37.3 million to Instagram's 33.3 million.
Android users spend 19.6 hours per month on TikTok. That's a 47% increase in time spent on the app compared to 2020, when Android users were spending 13.3 hours each month. In terms of time spent, TikTok is tied for second place with Facebook. YouTube is still in the top position, however, holding users' interest for an average of 23.7 hours each month.
Those in the US spend an average of 25.6 hours per month on TikTok, slightly more than Canadian users, who spend 22.6 hours each month.
Fun Fact: American competitive dancer, Charli D'Amelio, was the most-followed TikToker with 143.1 million fans – until recently. She was unseated as the most-followed TikTokker by a comedian who never says a word. Khaby Lame, a Senegalese-born 22-year-old living in Italy, swept past D'Amelio mid-June and now has an impressive 144.9 million followers.

Among the most followed American brands is Netflix with a whopping 24.7 million followers and over 455 million likes. The brand's most popular content includes interviews with the Stranger Things cast as well as teasers and clips from the show. It's not uncommon for certain videos to swoop right past the 2 million mark, with Stranger Things reminders for Season 4 also doing phenomenally well. This is a reminder to brands of how important it is to build suspense around new releases and product launches. With TikTok targeting a younger, impatient audience, it's also important to release short video content on a regular basis.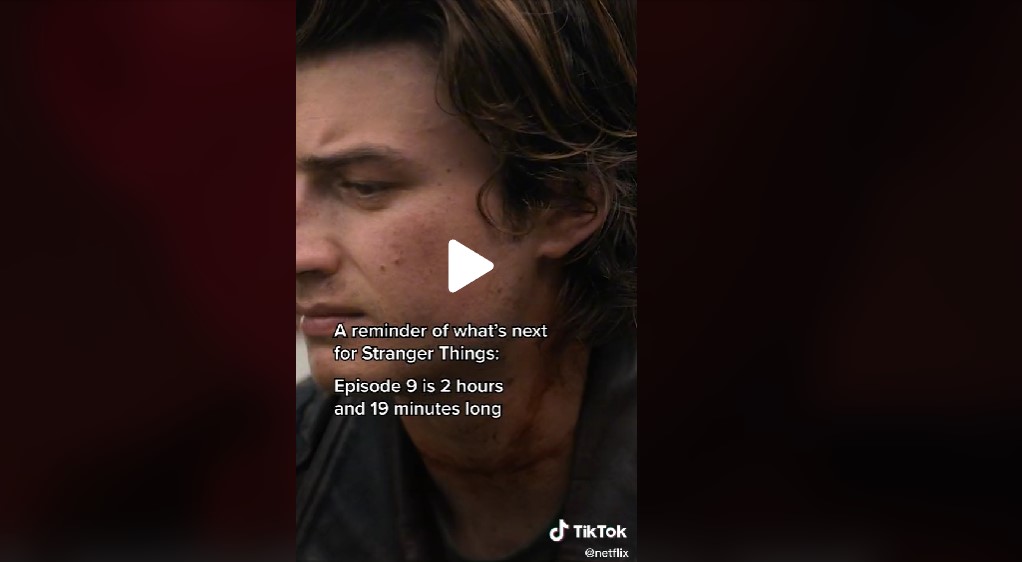 #6 One in Five US Adults Use Twitter
1 in 5 US adults or 23% say they use Twitter. The share of Americans who use the platform has remained consistent over the past several years and is similar to the share who use Snapchat (25%) and WhatsApp (23%). Interestingly, Democrats are more likely than Republicans to use Twitter. Around a third of Democrats and Democratic-leaning independents (32%) report using Twitter, 15 percentage points more than the share or Republicans and Republican learners who say the same (17%). President Biden, a Democrat, currently has 23.5 million followers. He regularly weighs into political issues online, including the recent overturning of Roe v.Wade.
#7 Americans Turn to Twitter for News
Most Twitter news consumers in the United States say using the platform has increased their understanding of current events in the last year, but around a third say it has increased their stress levels. Overall, around 7 in 10 adult Twitter users in the US (69%) get news on the site. A 57% majority of those who get news on Twitter say using the platform has increased their understanding of current events, compared with 23% of other Twitter users.
Social media platforms continue to expand their offerings with regards to filters, social commerce and marketing options. So it's important to keep up with the latest information. Contentworks is an international content marketing agency with clients across the USA and the rest of the world. Speak to our team now about social media that works for your brand. Get Socially Sorted today with the Contentworks team. enjoyed reading Social Media in the USA – The Stats You Need to Know ? Go ahead and hit share.