As a content marketing agency, we provide social media and content marketing locally and internationally. Our strategies are tailored to the needs of clients across the globe and so it's crucial to stay on-top of all the latest trends. In this article, we're delving back into social media in Germany, looking at everything from channel usage to platform favourites. We've included essential information for business owners and marketers targeting the region. So read on to learn about Social Media in Germany – The Stats You Need to Know – Revisited!
What a Difference a Year (Or Two) Makes
When we first reported on social media in Germany back in 2019, only 32 million people were active on social media, the equivalent of 46% of the country's population. This was relatively low compared to say Japan where 61% of the population were socially active. Or the UK, where 67% had a social presence. But times change. As of January 2021, the number of social media users in Germany has sky rocketed to 66 million, equating to 78.7% of the total population which currently stands at 83.84 million. But why?
Well, according to German digital association Bitkom, the usage of social media platforms by German citizens has increased strongly due to covid-19. As Bitkom CEO, Bernhard Rohleder, explains:
"In time of widespread contact restrictions, social media helps people stay in touch with friends and family, follow public events and find entertainment and distraction." He added, "Social distancing becomes more bearable with social media." Indeed, since the outbreak of coronavirus in Germany, 75% of Germans used platforms including Facebook, Instagram, Xing and Twitter 'more intensively."
Covid-19 also matured new digital experience in Germany with mobile adoption becoming more prominent. A whopping 63.36 million people now access social media platforms through their mobile phone with nearly 64% of festive purchases in 2020 made either via a mobile or tablet device. This was well above the European average of 61%. This rise in mobile prominence has been accompanied by a parallel surge in social commerce. In fact, nearly a quarter of German 18 – 34-year-olds made purchases on social media in 2020. This is a trend that's been seen globally, with 43% of Brits using social channels for shopping purposes over the past year. In turn, social channels have upped their social purchase offers with features such as Instagram Shopping making it easy to show your catalogue and drive sales.
So, What's Happening Now?
Germany's aging population (37.6% being over the age of 55) and their culturally ingrained respect for privacy resulted in slow social media adoption. However, forced lockdowns undoubtedly catapulted more people into the ever growing digital world at least to keep in contact with friends and family. So what's happening now? Let's look at some of the top social media in Germany stats.
#1 WhatsApp is Germany's Most Used Social Channel
Just two years ago, YouTube took the crown as Germany's most used social media channel. But that top position now belongs to the social messaging app, WhatsApp. According to Hootsuite's Digital Report 2021 of Germany, an impressive 79.6%of internet users aged 16-64 use the platform on a monthly basis. This is closely followed by YouTube which has a user percentage rate of 74.8%. Interestingly, Facebook only has a user rate of 60%, a figure which hasn't changed much in the past few years. Instagram dips even lower attracting just 46.9% of users. So what does this mean for social media marketers targeting this region?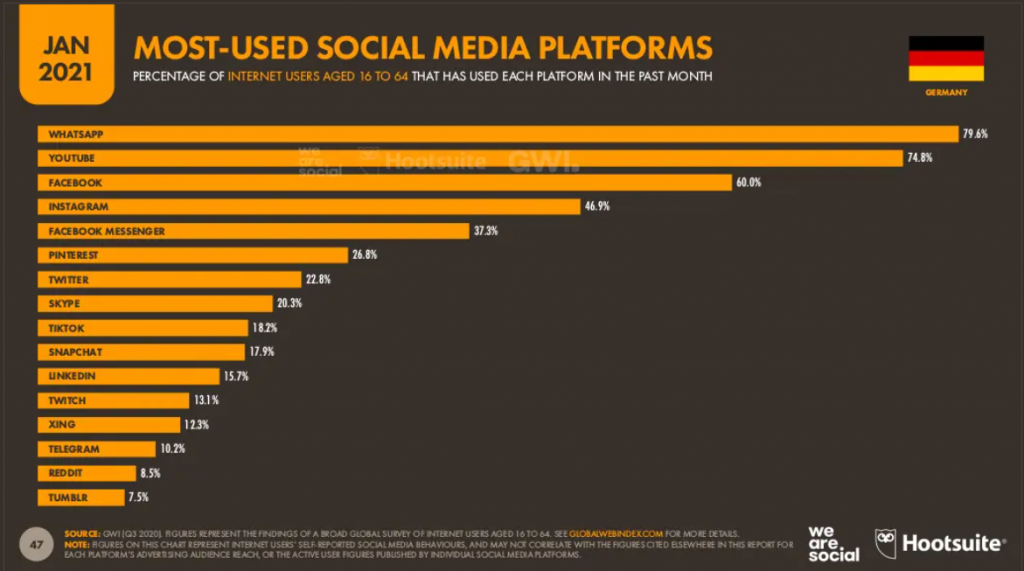 Make the Most of WhatsApp Business
With all eyes on WhatsApp in Germany, it's important to understand that it can be used for business as well as chatting with co-workers and messaging your family. It can help you connect with your customers and support them with immediate, personalised customer service. First things first, you'll need a WhatsApp Business account. After launching in the UK, US and several other countries, this is now available in Germany too.
As with normal WhatsApp, WhatsApp Business accounts can send chat messages as well as voice or video calls. A business account also makes it easy to send out welcome messages, out of offices, business news, launch updates and more. The number of messages read, can also be monitored allowing you to keep tabs of brand engagement. This service is ideal for small to medium businesses with a tight budget.
Embrace Branded Video Content
While WhatsApp takes the number one social media app title, YouTube is Germany's top video streaming app with average cumulative time spent per user coming in at 12.6 hours on the platform per month. That's double the time spent on the country's second most popular video streaming app Netflix.
YouTube should therefore be a significant part of your marketing strategy. Populating your own channel with valuable, helpful and interesting content is a great place to start. If you look at some of Germany's best known and most-trusted brands, they've a strong YouTube presence. Mercedes-Benz, for instance, regularly organises their videos into playlists in a bid to improve the overall user experience. The content is also relevant to the end-users, with descriptive, to-the-point titles for search purposes. It's also short and snappy in order to keep the attention of consumers from start to finish.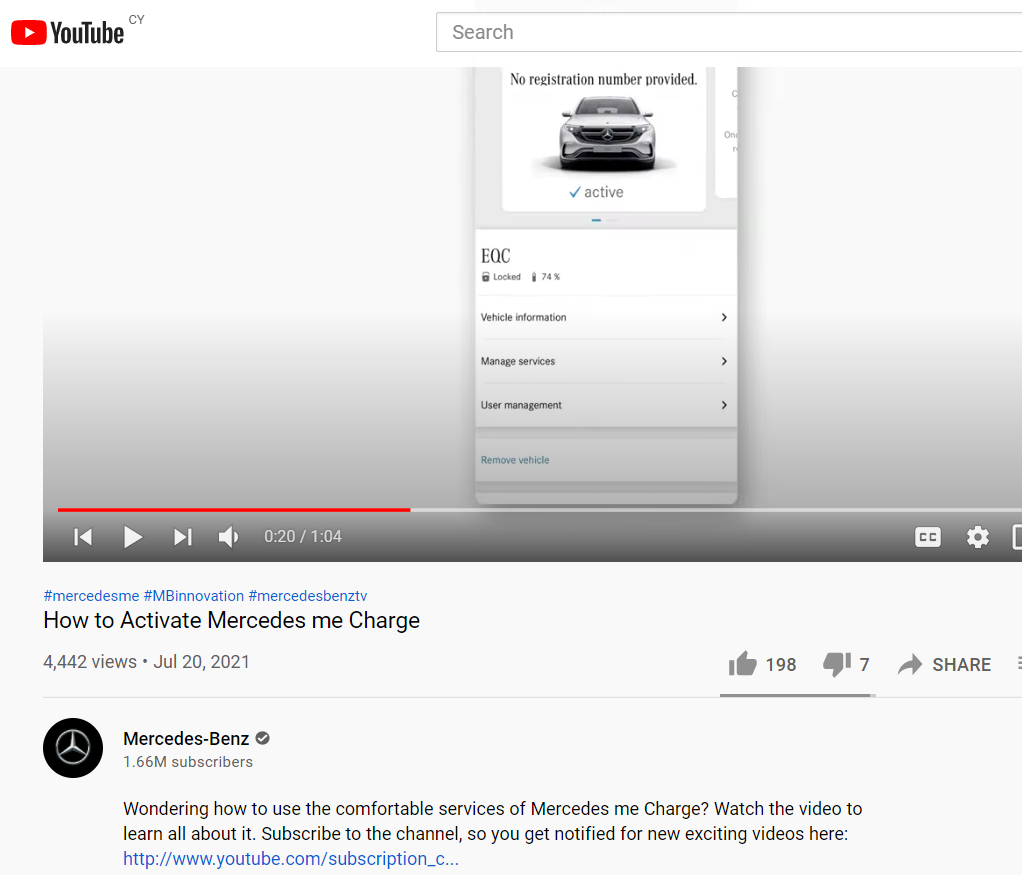 Don't Ignore Facebook
Facebook might not be leading the way in terms of popularity but it's still an excellent marketing channel for those targeting German audiences, with a potential advertising reach of 29 million according to the platform – 17 million via Facebook Messenger. With the majority (96%) of Facebook users accessing the channel via a mobile device, Facebook marketing is the perfect way to catch people on-the-go. So, be sure to research your demographic and the times when they're most likely to engage with your brand. This will allow you to post content during peek times. Interestingly, a typical Facebook users aged 18+ will click on a Facebook ad around 14 times a month. This is significantly higher than the number of times they 'like' or comment on posts.
A number of German brands are currently acing their Facebook strategy including Lidl Deutschland. This brand receives high levels of engagement by posting live video content, working with on-brand professionals/influencers and actively commenting on posts. Don't forget to pin popular posts in order to encourage interaction, promote events or draw attention to specific products or launches.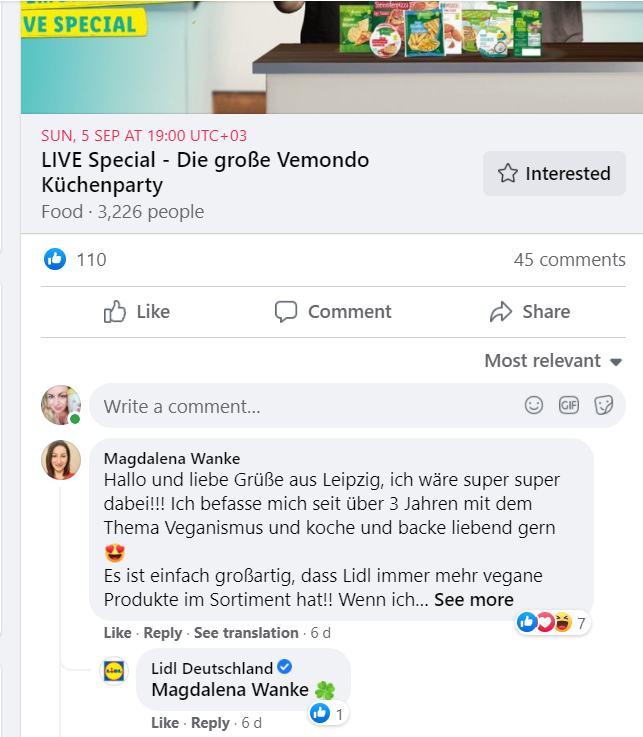 Have an Instagram Presence
While Instagram isn't as prominent in Germany as other countries, it attracts almost half of all internet users aged 16-64. There are tons of German influencers with millions of followers, from rappers to business gurus and sports people. Yep, we're looking at you Leroy Sané with your 6 million followers.
There are also popular Germany brands rocking the site, with Volkswagen using the platform to promote their ingenuity. We particular love the content around the Tiny Football Car, a Pride flag-coloured, mini electric vehicle that drove the ball onto the pitch at the start of the England Vs Italy Euro 2020 final. It's even got its own Twitter account @TinyFootballCar. And while Twitter is only the tenth most popular social channel in Germany, developing links between your platforms can help to fuel interest.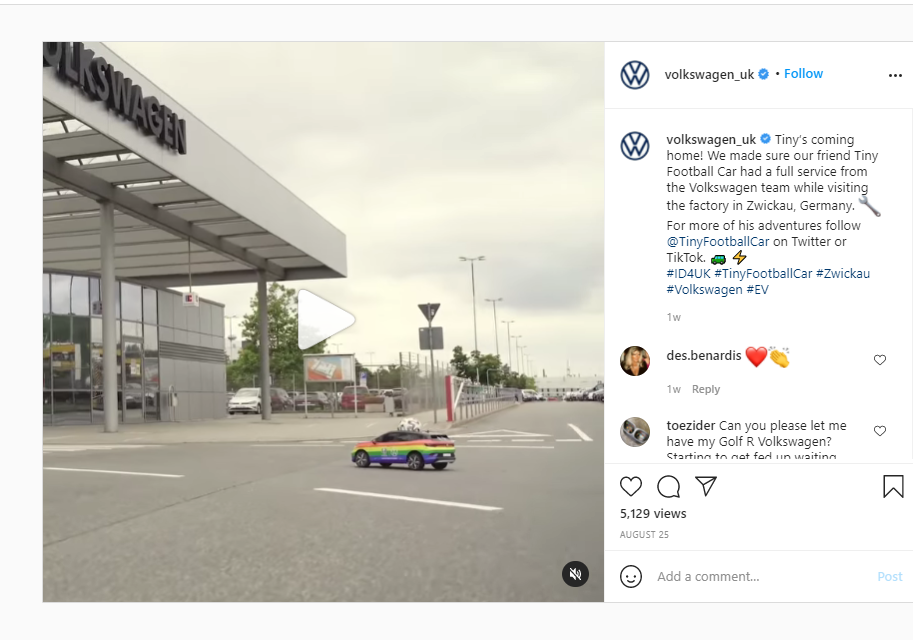 Remember, using branded hashtags makes your content easier to find and join in with. It's also a good idea to create location-specific channels so you can adapt your strategy according to each regional location you target. This might include using different languages and tones on each account as well as focusing on country-specific events, ideas and themes that will interest your audience. You can also create breakaway accounts as seen in the Tiny Football Car example as this will help to grab the attention of different followers. Many football teams, for instance, create pages for their club mascots.
#2 Xing Continues to Grow in Popularity
Although LinkedIn is huge in terms of global presence, boasting over 756 million users, the number of active users in the DACH region speaks in favour of Xing. As the leading online business network in German-speaking countries, Xing continues to see strong growth, with 19 million members in Germany, Austria and German-speaking Switzerland now enjoying the many offers tailored to every aspect of professional life.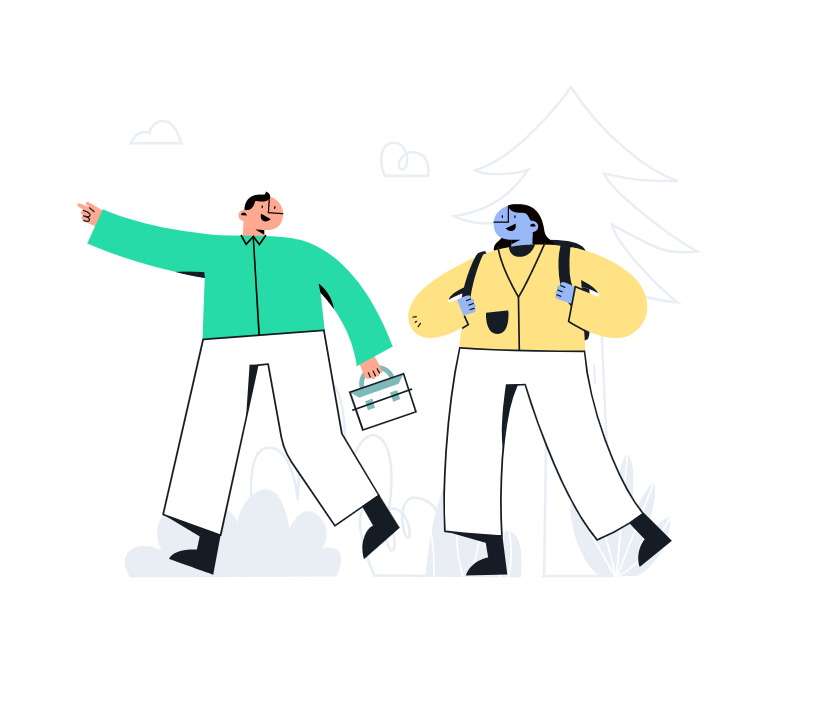 While LinkedIn attracts 15.75% of internet users in Germany and certainly has its uses for those who do business transactions locally and internationally, Xing notoriously attracts German-speaking members wishing to position themselves as industry experts. As a business targeting this region, it makes sense to have a presence on this platform. Following the results of a recent survey which revealed that 42% of people don't feel they can be themselves at work, Xing aims to move away from the old adage of 'higher, faster, stronger' and head towards a 'New Work' ideology which encourages people to be individual, relevant and happy. It's increasingly becoming a go-to for Germany recruiters.
#3 TikTok Is Going Strong
Despite a slow uptick, TikTok numbers surged during lockdown with the platform attracting an impressive 10.7 million active German users. According to a survey which took place at the end of 2020, nearly half of all TikTok users in Germany use the app daily.
Fun Fact: A German woman became a TikTok star at the age of 81! Erika Rischko posted her very first 12-second video clip to the platform during the country's first lockdown. This saw her dance the popular Cha-Cha-Slide with her husband. Since then, Rischko has uploaded more than 100 videos of herself doing exercises like planks and pulls-ups, as well as dancing, to encourage others to remain active during times of difficulty. She told Reuters:
"Move and do something! Don't just sit in a corner and mope. That's just the worst."
Well, she's not wrong! She has amassed 239K+ followers and counting as well as more than 3.4 million likes on the TikTok app.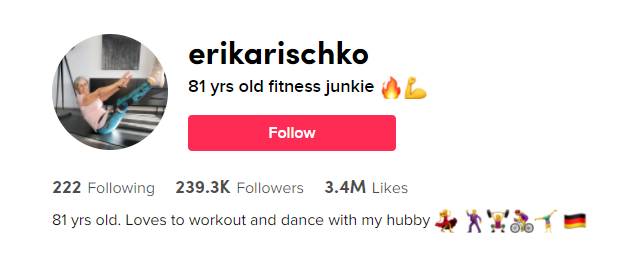 If you're going to use TikTok for your brand, remember it has a different vibe from other social channels which are typically used in a more corporate style. TikTok largely attracts a younger Gen Z audience who are looking to be entertained and connect with brands on a new, interesting and relevant level. The TikTok videos from BMW are watched millions of times and very much live up to BMW's TikTok statement "Just here to bring you some JOY." From shooting crazy BMW commercials to interacting with brand-relevant influencers, their strategy is on-point.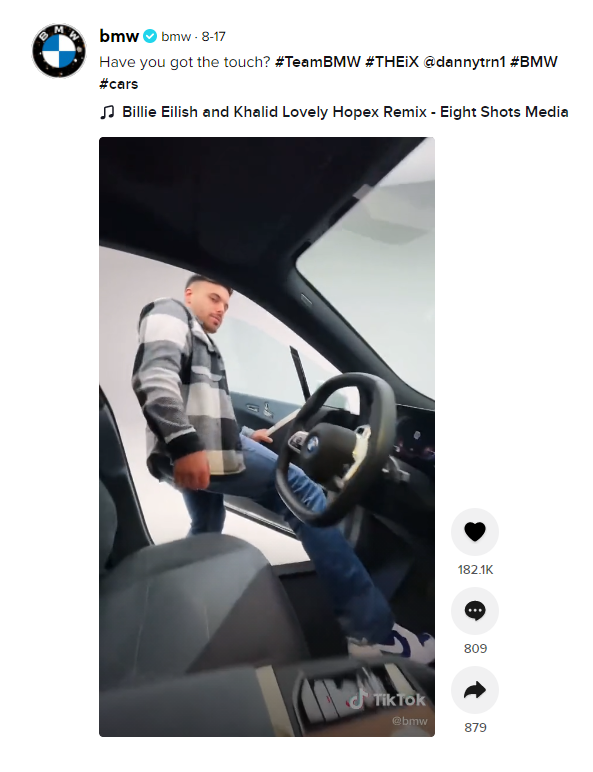 Top Tip: Remember, each social media channel requires its own marketing strategy. You need to give consumers a reason to visit each platform and a copy and paste approach simply isn't interesting. Get to know where your demographic hangs out and understand the style of the platform you're using. From there, you can get innovative with your content offerings. Don't forget to check out the competition and suss out what kind of content gets the most engagement. Exclusive competitions are a great way to up follower numbers on a new channel.
Just for Laughs…
Here are a few quick-fire stats, just for fun.
The "laugh out loud" face is officially the world's most popular emoji, according to researchers from Adobe who surveyed 7,000 users across the United States, the United Kingdom, Germany, France, Japan, Australia, and South Korea. The "thumbs up" emoji came in second, followed by the "red heart" emoji.
The top beauty influencer on Instagram in Germany is @bibisbeautypalace with 7.7 million followers.
Maria Nasemann is one of the countries new age 'sense-fluencers'! She focuses on sustainability, posting about sustainable fashion.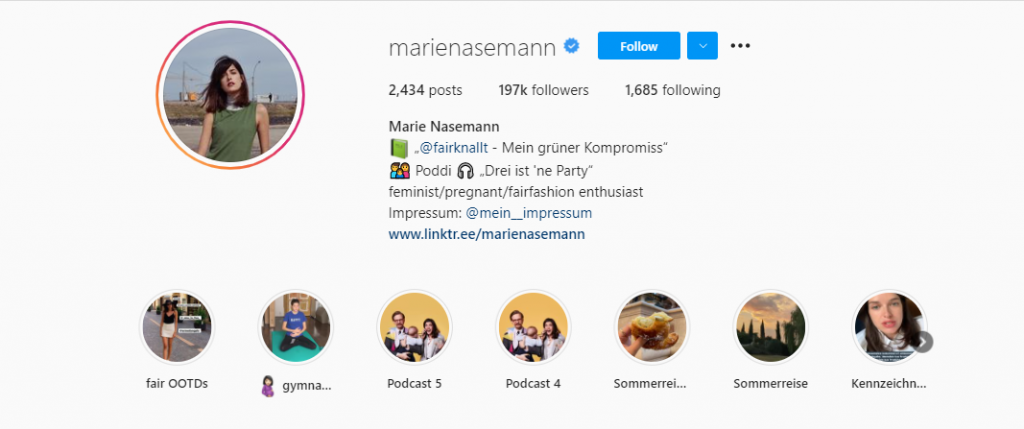 Here at Contentworks, we love social media marketing and have worked with brands from the finance, fintech and lifestyle sectors. Whether you're located in Germany, Europe or further afield, we can help you craft the perfect strategy for your target audience. We also provide a wide range of services including content writing of articles, PR, branding, e-books, whitepapers, social media management, financial market analysis and more. Let's get started.
Enjoyed reading Social Media in Germany – The Stats You Need to Know – Revisited? Go ahead and hit share.