Headquartered in Cyprus, Contentworks is a marketing agency that provides social media and content marketing to brands both locally and internationally. Social media in Germany – the stats you need to know is essential reading for business owners and marketers targeting the region.
Not everyone is addicted to Facebook. Or takes selfies for Instagram *gasp*. Indeed, Germany is a modern, progressive country with surprisingly few social media users in comparison to the overall population and internet penetration. Surprised? Let's delve a little deeper.
A Social Media Overview
The population of Germany in 2019 is 82.3 million. 79.13 million people use the internet (96%). Yet only 32 million are active on social media (46%). When you consider 61% of the population in Japan and 67% of the population of the UK are active on social media, the German stats are low.
There are also only 30 million mobile social media users (36%). This compares with 86% in the UK. While social media usage is skyrocketing in other countries across the globe, active social media usage including via mobile has not changed in Germany from January 2018 – January 2019.
General internet usage is up by 4 million people but the average user only spends 1 hour 4 minutes a day online in Germany compared to the 3 hours 35 minutes people spend online in Japan.
Why Is Usage Of Social Media In Germany So Low?
So, why aren't more German citizens on social media? Well, there are two main reasons social media usage is lower than other global countries.
Reason #1 37% of Germans are over 55 – a demographic that's less likely to use social media. That said; over 80% of German millennials (the most active age group) use social media several times a week and that number is sure to keep on rising.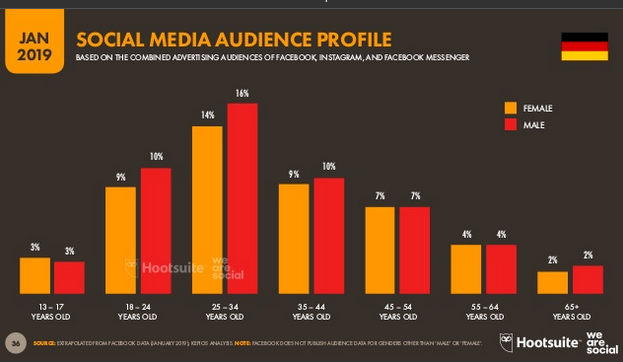 Reason #2 Germans are concerned about privacy and are reluctant to share personal information online. 34% also believed they have been exposed to misleading articles and fake news with 16% citing offensive messages as a reason for staying off platforms. Indeed, 87% of the German population approve of social media laws passed in 2018 which state firms need to remove controversial content within 24-hours or be fined.
Marketing takeaway: It's clear that social media isn't as popular in Germany as in other parts of the world. But that doesn't mean you should give up on your marketing strategy, oh no! You still have a target market of 32 million. But you need to know where they hang out and which platforms to target based on your demographics. Read on for some top facts.
#1 YouTube is Germany's Most Popular Social Platform
Germans love video, with 81% of internet users watching video content online. This is up from 59% in 2017 and 72% in 2018. YouTube has benefited significantly from this growth and is now the leading social media platform in Germany.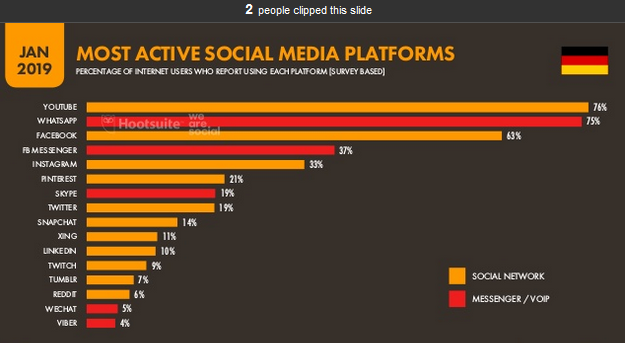 The growth in video popularity can be attributed to a growth in smartphone users and improved internet mobile connection speeds which are now 20% faster. Fixed internet connection speeds are 31% faster too making it much easier to stream video.
So, what are German's watching via YouTube? Well, it appears they love to be entertained, with music, gaming and reality shows topping the most watched list. Kontor.TV, for instance, has over 5 million subscribers while YouTube personality Gronkh has 4.6 million subscribers.

Bianca Classen's BibisBeautyPalace channel also has 5.6 million followers. As a German fashion and beauty vlogger, Bianca regularly posts videos including product trials and reviews. It's not unusual for videos to reach over 1 million views. But why? Well, Bianca keeps her material on brand. She focuses on what consumers want to know and delivers her messages in a quirky, upbeat tempo. All marketers should be sure to produce content that directly appeals to their follower base.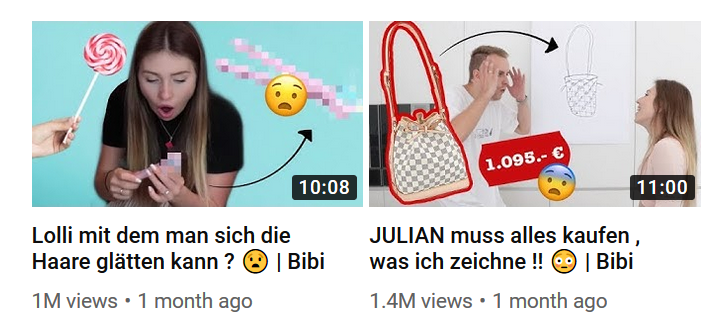 Top Marketing Tip: Video marketing should definitely form part of any Germany-based or target content strategy. That said; it's important to note that live video via tools such as YouTube Live is not as popular in Germany as in other parts of the world, falling below the global average. While live video shouldn't be discredited as it's a growing market, it's worth varying your video marketing approach for the best outreach.
#2 63% of Social Media Users Have a Facebook Account
An omnichannel marketing approach is one of the best ways to boost outreach and attract more followers. So, as well as a YouTube presence, you should be on Facebook too. 63% of social media users have an account on this platform. 19% of these users visit once a day. This figure rises to 36% for the 14-29 demographic. And with an audience of 32 million people, Facebook is loaded with tantalising advertising potential. If Facebook marketing is done well, German consumers will respond. An impressive 63% will switch to your brand long-term if you localise your content for the German market. This means.
Writing in German. Not just a basic translation but getting the tone right too.
Knowing what your consumers want through extensive research. Germans don't like dramatic claims, for example, and prefer an honest, more modest approach. They also like intelligent humour.
1/3 of German internet users also watch Facebook videos, so it's worth investing time in creating video content for this channel too (and not just YouTube).
Remember, the majority of videos are watched without sound, so always provide subtitles.
The most popular Facebook pages in Germany are:

Top Marketing Tip: Hashem Al-Ghaili is a science communicator dedicated to sharing his passion for science, technology and nature. He does this via inspirational and unique video content which taps into German's love of video as an education medium. As a marketer, or someone who wants to attract a large fanbase, it's important to listen to trends and produce content that appeals. Check out the hits below – 67 million views. WOW!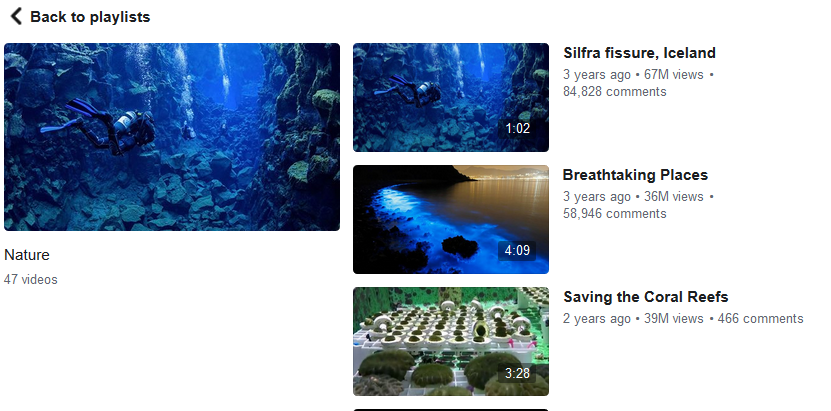 #3 Instagram is Popular with Gen Z
YouTube and Facebook reign supreme in Germany. But there's also a market for image sharing sites such as Instagram and Snapchat, with Instagram being the leader of its class. 48% of German internet users aged 14-19 use Instagram every single day. So, if you're targeting a Gen Z audience and have a brand that comes across well via a visual-dominated platform, this could be right for you. Remember also that Instagram now has the Stories feature allowing you to bring products to life in a unique and engaging way. You can also take your followers on an authentic journey by creating multiple Stories.
So, who's popular on Instagram in Germany? Well bibisbeautypalace is again topping the list with a whopping 6.6 million followers.
As wells as wowing her followers with pics of celebs. She also documents her own personal pregnancy and motherhood journey which adds authenticity to her account.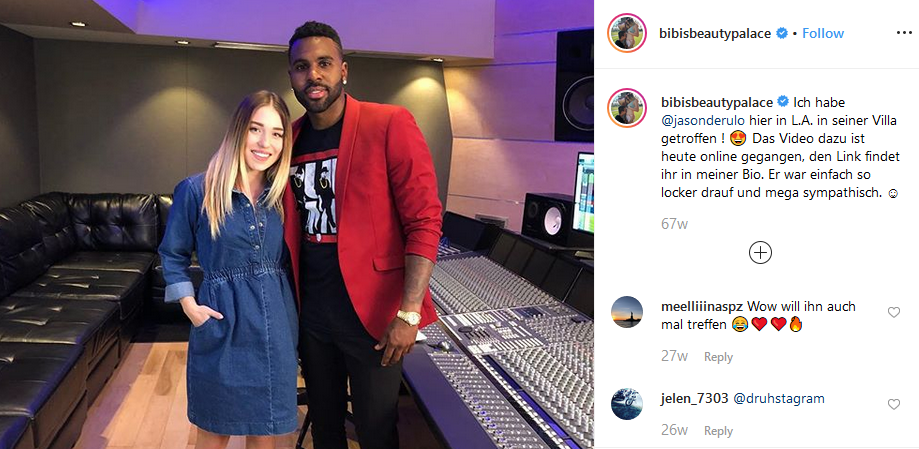 Top Marketing Tip: Consumers generally don't like pushy marketing content. They enjoy authentic content that helps them to connect with a brand. Bianca of bibisbeautypalace connects to her audience by sharing vulnerable and special moment of her life – as well as moments of stardom and her usual fashion-inspired content. This allows her to develop a stronger, more human connection with followers. She also uses Stories to step away from static graphics and make her posts more relatable.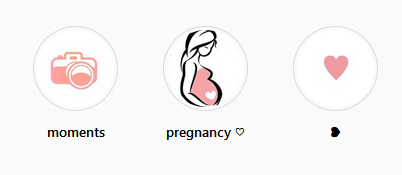 #4 Only 19% of Internet Users Are on Twitter
Twitter is huge in countries like Japan with 35.6% of the population using it. In comparison, only 19% of social media users in Germany are on the microblogging site. But there's a good reason for this. Twitter has a 280-character limit. And German is a language known for its long words. This means Germans have a hard time saying what they want to say with so few characters. Interesting stuff! Even those that use the site often do so to find out breaking news or political information, rather than tweeting themselves.
Top Marketing Tip: If you're targeting a German audience, Twitter should not take up the majority of your social media efforts. Focus on YouTube, Facebook and Instagram. If you have time, there's no harm setting up a Twitter account. But fill your feed full of useful information that leads back to specific landing pages in order to increase conversion. And be aware that if you're using the German language, you'll be limited to what you can say.
The social media profile of Germany is both fascinating and surprising. Marketing must be carried out carefully across numerous relevant platforms in order to attract followers and increase ROI. If you want to get Socially Sorted today, contact the Contentworks team.