TikTok is an amazing way to grow your strategy. With 689 million global active users as of January 2021, it ranks as the 7th most used social network in the world and is now available in more than 200 countries. There are around 100 million monthly active users of TikTok in the United States alone and with users spending up to 89-minutes on average each day on the short-form video app, it's certainly worth having a strong presence on this platform. But how can you use TikTok to your advantage? If you see this new kid on the block as 'just another social media platform' think again. With over 2 billion downloads and the power to catapult brands into the spotlight, it's a force to be reckoned with. Here are 7 Expert TikTok tactics (try saying that fast 3 x) from our team.
#1 Know Your Target Audience
There are millions of people on TikTok, but your content won't appeal to all of them. So it's important to know your target audience as this will allow you to create content they want to see. The main goal is to attract followers that are genuinely interested in what you do.  This group will be more likely to seek out information about your products and services. Remember, you're on TikTok for a reason, so avoid getting swept up in the razzle dazzle and keep your eyes firmly on the people that matter.
Think carefully about what your ideal customer looks like. What are their interests? Which creators, trends and topics are they already engaging with and what might they want to see from your brand? Keep in mind that while TikTok is predicted to have a larger number of Gen Z US users than Instagram by the end of 2021, it's not a Gen Z-exclusive platform. The adoption of TikTok by millennials is growing and older age groups should not be ruled out.
Top tip: If you're new to TikTok, check out the channels of competitors with a similar demographic and look at the engagement rates of each post. This will give you an idea of what sort of content to include in your TikTok content strategy.
#2 Create Niche Content for Your Audience 
You're not trying to be everyone's BFF. So it's perfectly acceptable to create niche content that's tailored to the likes and interests of your target audience. Think about what you want to achieve as this will inform your content strategy. If you're looking to launch a new product, for instance, previews and teasers work well as they help to create excitement. Such content is also ideal for the short-form video content that TikTok promotes. Take a look at PlayStation which gives a sneak peak of the upcoming #AmongUs game coming to PS4 and PS5.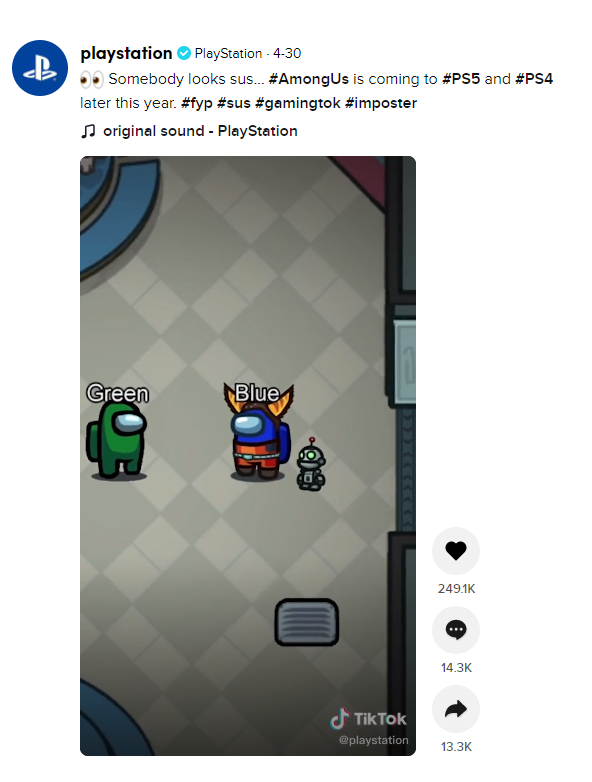 Top tip: Use the right hashtags. These help your content get more visibility. Anyone searching for content on a specific topic or area of interest can discover and follow. From a business perspective, this is ideal as hashtags help your content to reach the right people.
#3 Discover The Right TikTok Influencers
If you're looking to create an engaged community and audience around your brand, TikTok is the place to do it. With studies showing an engagement rate of nearly 18% with micro-influencers on the platform, TikTok has a significant lead on Instagram's 3.86% and YouTube's 1.63% engagement rates. Engagement for mega-influencers also comes in at 4.96% which is also higher than other channels.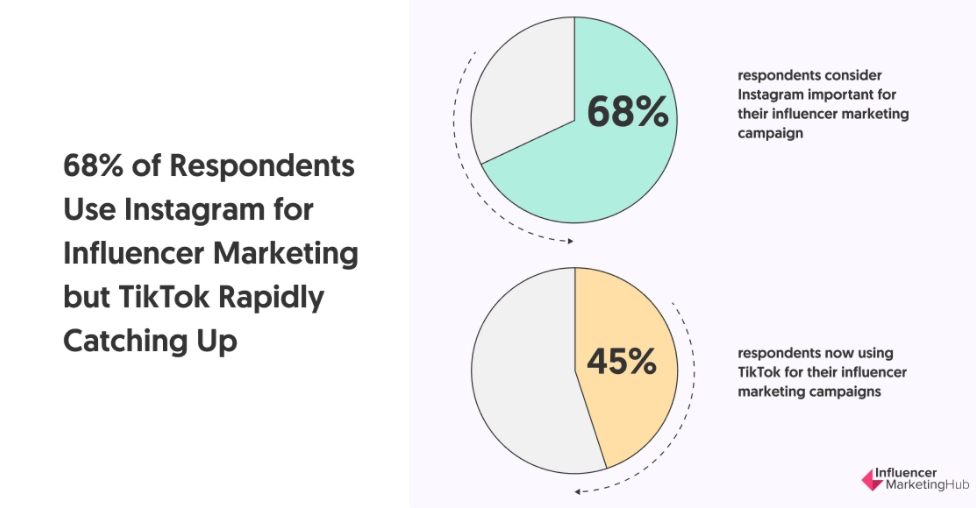 There are some fantastic examples of influencer marketing happening on the platform at the moment. Beauty brand Sephora, for instance, has created their very own #SephoraSquad (note the branded hashtag for search relevance). This is a different kind of beauty-influencer program made up of a crew of unique, unfiltered, sorry-not-sorry storytellers with a diverse range of followers, points of view and interests. This is very much aligned with Sephora's inclusive and edgy brand image, with the Squad helping to boost brand awareness and promote a wide range of products from different angles.
Check out the below video from #SephoraSquad member @samuelrayy who himself has 249.9K followers. It's quirky, different and offers a live demo of beauty products for increased appeal. The beach setting also adds a summer vibe to this campaign.

Top tip: When it comes to influencer marketing on TikTok, be sure to partner with individuals that are a good match for your brand as this will attract like-minded people to your platform. Samuel Rayy, for instance, is constantly displaying experimental makeup techniques and forms of visual expressionism and therefore it's no surprise to see him flaunting makeup with a filter on the Sephora channel. Interested in learning about finance influencers on TikTok? Check out our article.
TikTok is great fun and there are tons of influencers you can team up with. but remember your brand, your target audience and what you're there to achieve. Pairing up with a top hiphop artist when you're a serious investment brand, won't necessarily work.
#4 Take Part in Challenges
A TikTok challenge is a great way for brands to attract a whole load of user-generated content and to get views on their branded hashtag as well as challenge videos. A successful challenge can also boost brand awareness and help to create a positive brand image among followers. Brands can leverage TikTok challenges by participating in an existing one just like New Zealand's official tourist board did when they created their very own 27 Videos Challenge to highlight the beauty of the country. They can also create their very own branded challenges.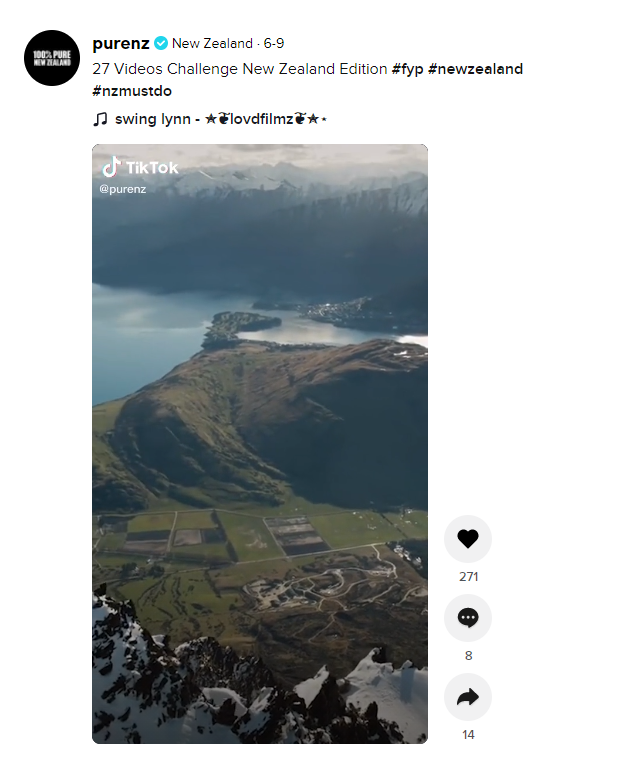 Chipotle is the King of TikTok challenges. So it's perhaps no surprise that they launched the #Chipotle Royalty challenge which encouraged users to prove why their Chipotle order was the best among more than 4 million possible combinations. The prize? A chance to win $10,000 and get their favourite food combo on the menu. The hook? David Dobrik, a YouTuber, Chipotle superfan and brand ambassador of the burrito chain who has a whopping 25.7 million followers, therefore ensuring maximum outreach.
Remember, a Branded Hashtag Challenge supercharges engagement, creating connections that drive real impact. Throwing an influencer into the mix also ups engagement.

Top Tip: Make your TikTok Challenge as simple as possible. You want maximum engagement, so make sure that any props are easy to come by. Also, challenges set to music tend to perform well. E.L.F Cosmetic's #eyeslipsface challenge was set to original music and became the fastest ever TikTok campaign to reach 1 billion views. The song hit #4 on Spotify's Global Viral charts and people added it to 30,000 Spotify playlists. If you're not ready to create your own music, choose tunes that are catchy and perfectly match the rhythm/essence of your challenge.
#5 Delve Deeper into the TikTok Algorithm
As a brand, the ultimate goal is to appear on the 'For You' page of users. This means that the content you're producing is right up their street. To do this, it's important to understand the TikTok algorithm as best you can and to create content that'll be more easily viewed.
Here are several factors that influence the TikTok algorithm:
Hashtags
Hashtags are an important part of any TikTok campaign. Viral content showing on the For You page, typically features hashtags such as #Foryou, #ForYouPage, and #FYP, but this doesn't guarantee you a spot on the For You page. While knowing exactly which hashtags to use can be difficult, it's a good idea to check trending hashtags via the Discover Tab to see if they're aligned with your brand. Hashtags gaining a lot of traction will have a fire symbol next to them. But don't just use trending hashtags for the sake of it. They must have some relevance to you in order to appear authentic.
TikTok Captions
When producing captions, make sure they're short, sweet and contain all the relevant hashtags. TikTok is a mobile-first platform so snappy content tends to yield better results. To make captions more engaging, you can consider asking a question, making a joke or adding a touch of mystery to the copy with a Part 1 series strategy – this implies there's more to come. Want to read more on captions? Our Director Charlotte discussed them over at Agorapulse.
Trending Songs & Sounds
Use trending songs and sounds to your advantage. Using the right music at the right time can result in a quick bump in likes and views. To find trending music, you can scroll through what's trending via the Video Editor. To find the top sounds your audience has listened to in the last seven days go to your Analytics tab (only accessible for TikTok Pro Accounts) and under the Followers tab, scroll down to see the music your audience is listening to!
#6 Post Content When Your Audience is Active
When it comes to expert TikTok tactics, posting when your audience is most active is a sure-fire way to get your content seen. And, thanks to TikTok's Pro Accounts (highly recommended if you want to take your TikTok marketing journey seriously), you can tap into some juicy audience analytics that'll help streamline your strategy. TikTok will give you a host of useful information to help you gain a better understanding of your personal best time to post, indicating where your users are based and when follower activity is at its highest. This will allow you to take into account things such as audience time zones.
You can also use analytics to delve deeper into your top performing posts. Check out when and where they were viewed to help you launch similar or related content at the right time.
Top tip: Make the most of TikTok Scheduling. This allows you to plan and schedule TikTok posts in advance and is a great way to create a consistent TikTok posting schedule. It'll also help you to grow brand awareness and increase followers.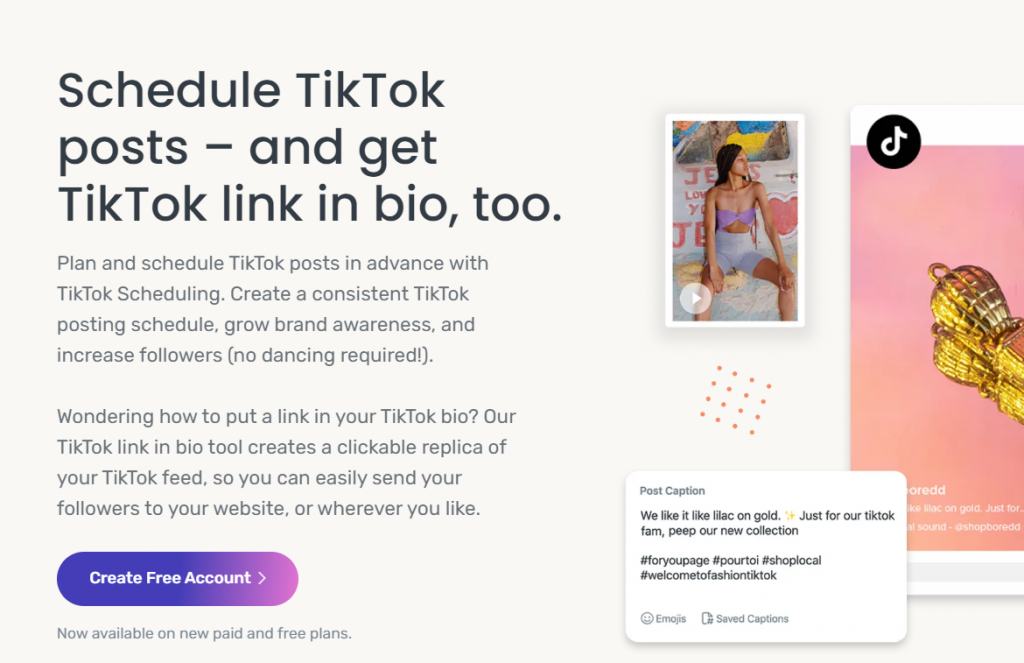 #7 Try New Tools and Features
If you notice a new tool or feature pop up on TikTok – try it! New tools could play a role in getting more engagement on your videos due to an algorithm influence, so make sure you're proactive and don't get comfortable or complacent with your existing strategy.
New Features for 2021:
Green Screen Duet
 New features for 2021 include Green Screen Duet. This combines two popular TikTok features. Duets, which allows users to create chains of co-created content. And Green Screen, which lets users record videos with custom backgrounds. Here's what TikTok has to say about this feature reveal:
"With Green Screen Duet, users will be able to use another video from TikTok as the background in a new video. As with all Duets, the creator of the Duetted video is credited in the new video's caption with a link that directs to the original."
For brands, this paves the way for some pretty epic collaborations with companies on similar wavelengths. The creatives from one company can accompany the voice over from another brand to boost brand awareness and follower interest.
Music Visualizer
In April 2021, TikTok also announced Music Visualizer. This is one of many interactive and responsive musical effects designed to add a new dimension to expression and creativity. This is important for brands who want to keep up with the latest trends, particularly when impressing an audience that demands (and is familiar with) constant change and innovation. The new effects of Music Visualizer are powered by real-time and interactive music processing technologies. The result is visual movements and transitions that move synchronously to the beat of any song from TikTok's sound library. Find out more here.
TikTok Rules and News Marketers Need to Know
Like all social media platforms, TikTok has its own set of advertising and marketing rules. If you're in the finance space, there are some updates you should be aware of. For example, advertising financial products on the short-video platform is now prohibited in a bid to crack down on scams and bad advice. The rules, which are part of the brand's broader content policy, state that promoting all financial services and products is banned. Examples of banned products listed by TikTok include loans, credit cards, buy now pay later (BNPL) services, cryptocurrency, forex trading, and get rich quick schemes. That doesn't mean your finance brand can't be there. It means it cannot discuss financial products.
TikTok has also recently announced it will automatically remove content types that violate policy over minor safety, adult nudity and sexual activities, violent and graphic content and illegal activities and regulated goods. TikTok added that it will send a warning in the app upon first violation. However, in cases of repeated violations, the user will be notified, and the account can also be permanently removed. With all this in mind, it's in a marketer's best interest to follow all listed regulations and avoid marketing banned or restricted products and services.
Let's get your brand on TikTok. We can provide strategy, ongoing guidance and scripting for your organisation and its thought leaders. TikTok is a fun space for marketers to showcase their brand in a new light and we can help you take the next step. Enjoyed reading 7 Expert TikTok Tactics From Our Team? hit share and be sure to follow us.