Singapore has the highest urban population in Southeast Asia with 100% of natives living in the urban part of the island. The city-state is meticulously organised. Efficient, clean and renowned for its high-tech lifestyle, being connected is considered normal whether you're strolling around Gardens by the Bay or taking the cable car across Sentosa Island. Following on from our successful Social Media in Cyprus blog, here's a detailed look at tech and social usage in Singapore. Social Media In Singapore – The Stats You Need To Know.
An Overview of Technology Usage in Singapore
Wherever you turn in Singapore, you'll spot technology usage in action. While the population stands at 5.83 million, there are 8.37 million mobile subscriptions. An impressive 95% of inhabitants use a mobile phone which equates to 91% being smartphone users. 71% of Singaporeans also use a laptop or desktop computer while 42% own a tablet.
There are 4.92 million internet users (84% of the population) and 4.58 active mobile internet users (79% of the population). 93% of people use the internet every single day with well over half (64%) making the most of online services such as mobile banking. 49% of both men and women have a credit card with 57% of women and 56% of men making online transactions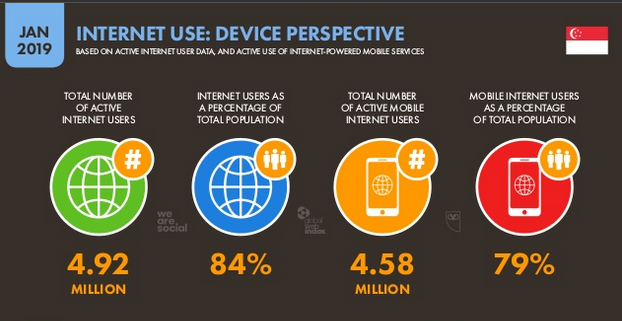 So, if you're appealing to the Singaporean market, how can you put this information to good use?
Have a strong online presence to tap into your connected audience
Optimise your content for web use. The majority of people surf the net via their mobile or smartphone devices and will therefore expect easy-to-load content they can access on-the-go.
Improve your online shopping methods to appeal to those using online payment methods. Make sure your processes are simple and your calls to action are as clear as possible.
Now, let's dig into some social media stats for Singapore and look at the marketing takeaways for each.
#1 There are 4.60 million active social media users
There are 4.60 million active social media users in Singapore which works out to 79% of the community. The number of active mobile social media users is 4.20 million (or 72% of inhabitants) showing how just 7% are accessing social sites from elsewhere and emphasising the importance of mobile search.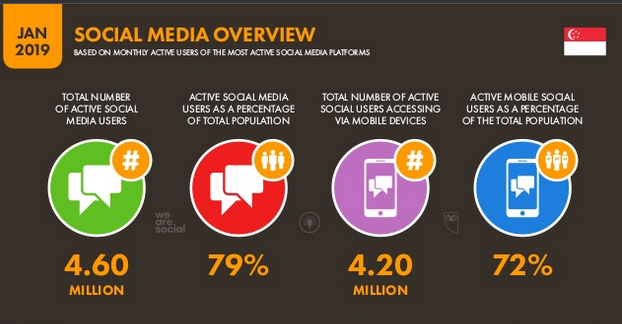 What's more, the average time spent using social media on any device per day is 2 hours 8 minutes. This is roughly on par with the global average of 2 hours and 16 minutes.
Top takeaway: Use these stats to your advantage. Potential consumers are sitting on their phones for long periods of time, so it's essential to:
Hone your SEO strategy – make yourself as easy to find as possible by incorporating relevant keywords into fresh, original and regularly updated content.
Be present and engaged on social channels. With such a large percentage of the population active on popular platforms, make a proactive effort to improve your social presence.
#2 The average number of social media accounts per person is 8.8
That's mind-blowing! Not only are there 4.60 active social media users in Singapore, but the average number of social accounts per person is 8.8 with the three most popular platforms being YouTube, WhatsApp and Facebook. These are followed by Instagram and Facebook Messenger then Twitter, LinkedIn and WeChat. Facebook also has the largest potential advertising audience in Singapore at 4.30 million with Instagram having an advertising audience of 2.2 million.
So, what does this all mean for businesses and those looking to spread brand awareness?
Top takeaway 1: Know where your audience hangs out. There's no point spending a significant portion of your marketing budget on LinkedIn if your fanbase is checking out video content on YouTube. Research such as the above from Hootsuite is like gold dust for marketers giving insight into the nation's behaviour. But, it's always important to monitor your own data and campaigns to be sure you're targeting your audience correctly. As well as the most popular sites, you should also think about outreach and where you'll get the biggest audience in order to tailor your campaign spread correctly.
Top takeaway 2: Target multiple social accounts. Everyone is flicking between sites. So, an omnichannel campaign is the best way to reach as many people as possible. The key thing to remember when targeting multiple sites, however, is brand consistency. While producing a video for YouTube is great and repurposing facts for Facebook is also bang on, remain in control of your brand's tone of voice. This helps to create a feeling of authenticity which consumers can relate to.
#3 Millennials are leading the social media trend
It probably comes as no surprise that millennials are leading the way when it comes to social media use. These so-called Digital Natives are engaged across multiple platforms and make up the majority of users across Facebook, Instagram and Facebook Messenger specifically. 50% comment/like Facebook posts daily whereas 1 in 10 learn of new products via social advertising.
Millennials, highly competent with new tech, are forcing companies to up their game regarding marketing. They're impatient and unafraid to jump ship if a process is too long or complicated.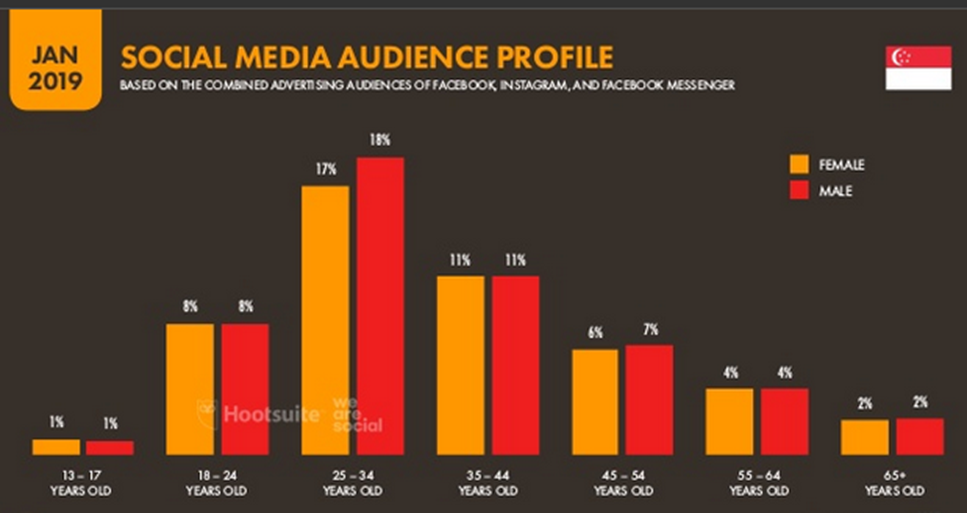 Top takeaway 1: Narrowing down your market's biggest hangout place is essential. If you're targeting millennials, Facebook, Instagram and Facebook Messenger provide a great way to tap into your fanbase. Other tips for millennial-centred marketing include:
Encouraging user generated reviews. Millennials prefer genuine content over banner ads.
Reward consumerism. 3 out of 4 expect more personal rewards from brands.
Get straight to the point. Millennials are used to having things at their fingertips. Make the most of subscriptions as this is a great way to meet constant demands.
And if you're not targeting millennials? Fear not as there are many other ways to spread brand awareness such as making the most of YouTube.
#4 YouTube is a marketing winner!
Singaporeans love YouTube. Indeed, half of all YouTubers in Southeast Asia (SEA) across multiple demographics are YouTube enthusiasts making video content a must. SEA's YouTube enthusiasts drive 20% of all video consumption across the world, so it makes perfect sense to budget for a YouTube marketing plan.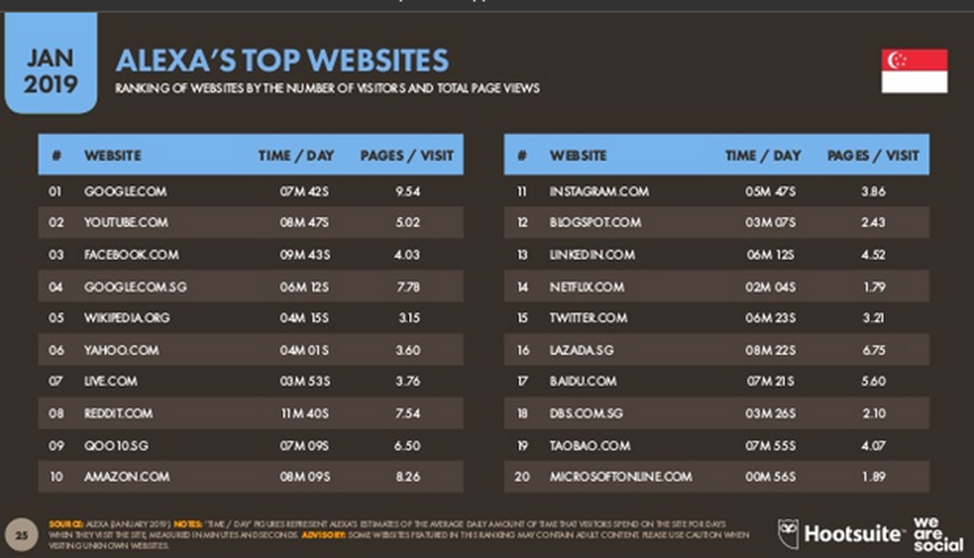 Newsflash: YouTube enthusiasts in SEA countries including Singapore are also heavy users of ride sharing, online streaming, and e-commerce services. YouTube enthusiasts are high-value app users making online purchases 1.6x more frequently than regular YouTube users and spending up to 60% more. They are also 87% more likely to subscribe to video on demand (VoD) services and 75% more likely to subscribe to music streaming services. Therefore, knowing your market and demographics can help you sculpt a campaign to promote the products/services being offered.
How to use YouTube to your advantage:
Post relevant content, regularly
Be informative and factually correct
Stay on brand to help build loyalty
Create your own channel
Optimise your video around relevant keywords
Be engaging. Increasing retention is great for SEO
In the words of YouTube: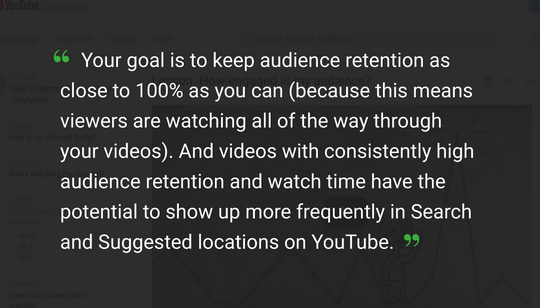 #5 21% of people use social media for business purposes
21% of social media users do so for professional purposes and therefore may be scanning sites for opportunities or networking. This stat also shows how quickly social media is infiltrating the professional world with almost a quarter of Singaporean inhabitants using social platforms throughout the working day.
Top takeaway: Post content that offers valuable insights to businesses. Be factual, present and engaging in a way that makes B2B as well as B2C connections more likely. Of course, every business model is different but if you're looking for B2B clients, it's worth knowing the high percentage of companies with an active social engagement that you can tap into. Ensure your Linkedin strategy is on point with employee advocacy, behind the scenes and recruitment posts.
Contentworks is an international content marketing agency with clients in Singapore and the rest of the world. Speak to our team now about social media that works for your brand. Get Socially Sorted today with the Contentworks team.