Knowledge about earnings, savings, trading portfolios, investments and financial planning is crucial. But we weren't taught much of it at school and many people lack basic financial literacy. Money-related decisions can have a big impact on someone's life. So, when it comes to content marketing for your financial brand, it's important to consider financial education. As a leading content marketing agency providing tailored solutions to clients in the finance sector, we're constantly helping companies adapt their strategy to better inform consumers. So, we're assessing the world of financial education and looking at how you can provide real value to your audience.
Financial Literacy: The Current Landscape
We delved into financial literacy last year revealing how 9/10 consumers in the UK feel they're uneducated in terms of personal finance. And that 67% of Brits also don't feel equipped to make the best financial decisions for themselves. We also revealed that U.S. financial literacy sits at a worrying 57% and that 72% of people avoid investing in stocks, shares or investment funds. On top of that, 1 in 5 don't even know how to invest.
It turns out that over 20% of Americans polled by the National Financial Educators Council also don't feel they have anyone they can trust with a finance-related questions. 45% of people feel that dealing with financial issues has a negative impact on their health.
That's a lot to take in, but we need to.
An Increased Demand for Financial Education
The pandemic has dramatically highlighted the need for financial education, with 63% of American adults believing financial education should be a top priority in schools, over health and wellness education.
COVID-19 has also impacted financial habits and pursuits with FX market trading volumes up by 300% during the first few months of the pandemic. IronFX reported a month-to-month growth of 25-50% in forex accounts, while Robinhood saw 4.3 million daily average revenue traders in June. Of course, new traders also meant a lack of experience, with TD Ameritrade stating that visits to instructional trading content quadrupled during the 2020 pandemic spike. This, along with financial literacy stats revealing huge knowledge gaps, should be a prompt for businesses to get their educational content in order.
To back this point up further, only 16.9% of investors who have bought crypto "fully understand" the value and potential of cryptocurrency, while 33.5% of buyers have either zero knowledge about the space or would call their level of understanding "emerging." With a Cardify survey revealing that 40% of all crypto purchases come from new investors, creating educational content around cryptocurrencies could help your brand become an attractive option for those looking to boost their portfolio.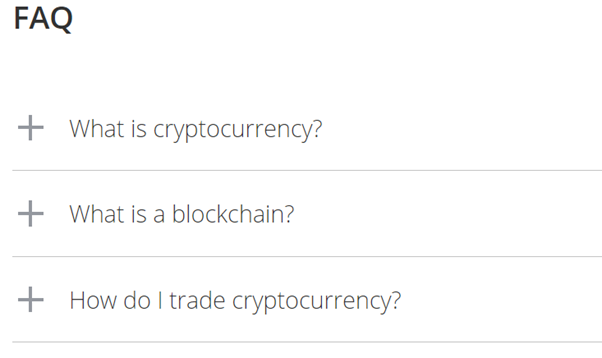 Crypto Fact: Investment volumes in January 2021 were 23 times higher than they were in 2019, according to Cardify, with the average purchase size growing to $1,212, compared to just $432 at the same point in 2020. Withdrawals, or selling crypto assets, made up 26.8% of transactions, a drop from the 43.1% they represented in 2019 when one Bitcoin was worth just over $3,000.
The Benefits of Financial Education
So it's clear there's a need for providing financial education to consumers. But what's in it for you? Here are the benefits of revamping your content marketing strategy.
Explanation of services. Often, consumers might see you as a trading platform or an FX brokerage but have very little idea about the services you offer. With educational content, you can showcase what you do with a client-focussed attitude. TD Ameritrade's focus, for instance, is creating goal-orientated investing portfolios. This is highlighted through their Immersive Curriculum which provides courses and lessons around related topics such as how to build a retirement-focussed portfolio. As well as providing an introduction as to what retirement planning is, each lesson contains step-by-step instructions to fully inform the consumer.

More time with your brand. The more time prospective clients spend with your brand, the better, as they're more likely to form a stronger connection. Providing a well-populated educational hub will set you apart as thought leaders and encourage people to visit your site when they need financial information.
Site ranking benefits. Educational content that people engage with can also have SEO and site ranking benefits. Google prioritises the user experience and therefore 'dwell time' helps to indicate whether a site is valuable or not. The longer the dwell time, the better the content (in theory) and this can boost you up the SERPs.
Improved outreach. Educational content also allows you to focus on specific target audiences from newbies to advanced traders. TD Ameritrade's 'Webcasts for investors of all kinds' offers content to specific audience groups. Content is tailored and promoted to various demographics to ensure it remains relevant and meets the needs of the consumer. Appropriate content can then be pushed through targeted marketing campaigns to improve outreach and engagement.

Social media engagement. Producing educational content is a great way to populate your social media channels with information that will engage your target audience. Exness, for instance, created a quiz about finding the right trading account. This was posted to social media with a link back to their website which encouraged consumers to 'take the quiz.'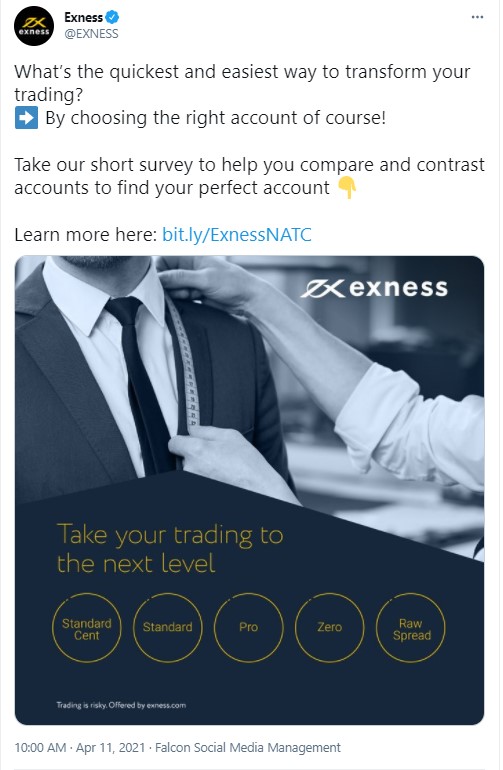 Top tip for financial marketers: Use calls to action to drive people along the sales funnel. Wording such as 'learn more here' or instructional commands such as 'take the quiz' or 'click to know more' evoke curiosity and get people excited. It's also important to give consumers an engagement incentive. What's in it for them? Can they grow as a trader or become better equipped to handle the markets? Perhaps you are offering an incentive to get involved. Make the benefits of your calls to action as clear as possible.
Nailing Financial Education for Your Brand
Creating an educational centre has benefits for both you and any current or prospective clients. So, what else can you do to keep the knowledge flowing?
Interactive Webinars
It's one thing studying FX and the financial markets, learning the tools available and swatting up on strategy. It's another watching a live trading session in action. Being able to watch live trading and ask questions via interactive webinars is a great way to learn 'on-the-job', which is why brands such as FP Markets offer such content to registered users. Offering exclusive content to those who sign up is also a great way to gather opted in data.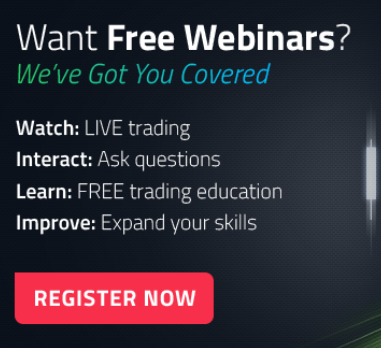 Fun Fact: The desire for remote connection continues to soar. Webinars have become increasingly popular with 62% of marketers using webinars as part of their strategy in comparison to just 46% in 2019.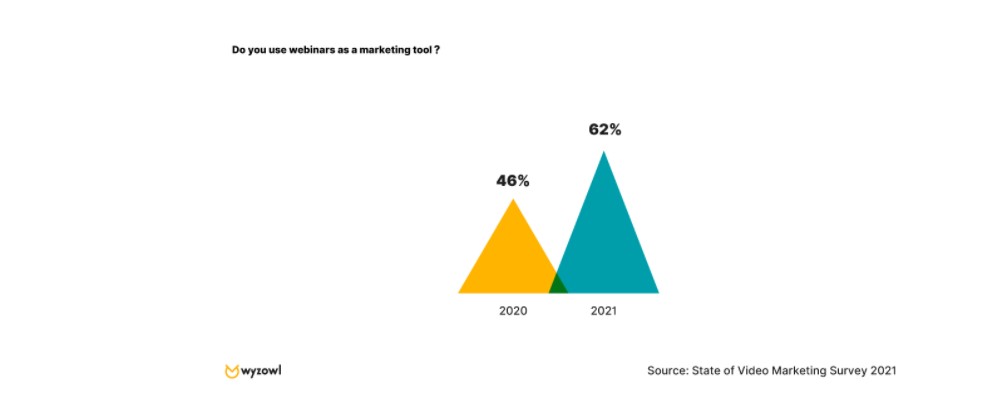 Question and Answer Content
New traders come with a host of questions. So, it's a good idea to divide your service pages or educational hub content into question and answer sections. This makes it easy for people to get the answers they need quickly without having to scroll through content they already know or aren't interested in. What's more, question and answer content can help you feature in Position 0 as a Featured Snippet. Google is constantly on the lookout for Featured Snippets which are most relevant to a user search query. Therefore by creating short responses to frequently asked questions in your sector, you give yourself a better chance of ranking.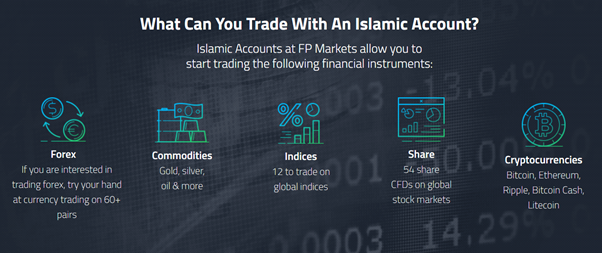 Provide a Glossary
One of the easiest ways to improve your educational hub is to create a glossary of important trading, FX and market terms. This will prove useful to traders looking to refresh or expand their knowledge. Trading jargon can be complicated at times but having relevant words in the same place will make life easier for clients. You should explain each term or word at the right level for your target audience, and make it as fun or relatable as you like.
Video Content
Consumers love video content. In fact, by 2022, online videos will make up more than 82% of all consumer internet traffic – 15 times higher than 2017. According to Wyzowl's State of Video Marketing Survey, 94% of marketers agree that videos have helped increase user understanding of their product or service, with 43% reporting that video has reduced the number of product support calls their company has received. Similarly, Explainer videos have seen huge success. An overwhelming majority of people (94%) report watching explainer videos to learn more about a product, with 84% being swayed to make a purchase. So how can you create an educational video strategy that works?
Well, there are many things you can do but it's a good idea to answer questions. Try turning live Q&A sessions into video content or conduct surveys/polls to find out what people want to know. You can look at search data to see how people landed on your page or shape your video series around important key words that'll improve SEO rankings. When you write your video description, be sure to address pain points.
Videos can populate their own section of your educational hub or be woven into articles to enhance the clarity of specific topics such as leverage, buy/sell, withdrawals and key events. They can also be repurposed for social media.
News and Analysis
Keeping up-to-date with the latest news and market moves is essential for traders. The market can respond dramatically to political and economic situations. Even tweets from prominent individuals can cause currencies and company values to fluctuate (Trump and Elon we're looking at you). The pandemic has brought about considerable market volatility, so keep people informed with regular news articles.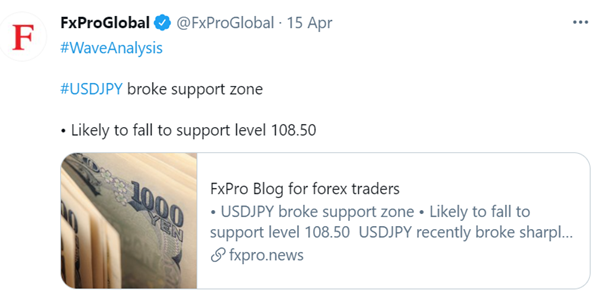 You can also post regular teasers on social media linking through to more detailed analysis. Consider weekly crypto roundups, morning and evening market overviews and monthly reports to ensure you become a go-to hub for the latest insights.
Hosting a podcast is another great way to keep consumers up-to-speed with the latest market developments. Podcast listenership has increased significantly in recent years with 80 million Americans listening to podcasts weekly. This figure is set to climb to 125 million by 2022 with podcast audiences being more diverse than ever before. Incredibly, there are over 1,950,000 podcasts and 47 million podcast episodes as of March 2021, so this is certainly an educational tool worth exploring.
Here at Contentworks, we're dedicated to provided high-quality financial education content. Find out more today and speak to us about articles, e-books, social media posts, video scripts, PR material, website content and more. Our expert team is fully clued up on the regulations of the finance sector and will help you devise compliant content that won't bore your readers.