Does your finance brand need a podcast? Or will you just be adding to an already enormous workload? It's not easy deciding, which is why marketers tend to drink an awful lot of coffee. Jokes aside, navigating multiple channels without losing sight of what you want to achieve can be overwhelming. So, we're delving into the podcast world in more detail. Join us as we check out the industry latest and find out whether this audio medium could benefit your finance brand. Does your finance brand need a podcast? Let's look.
What's Going Down In Podcast World?
As with any marketing decision that could affect your ROI, it's important to be in-the-know. And that means cluing up on the most recent podcast stats. Thankfully, we've done the hard work for you. So here's the juicy gossip.
There are over 1,950,000 podcasts and 47 million podcast episodes as of March 2021. It's no longer a small industry, but one that's gained rapid momentum.
As podcast listening grows, ad dollars are following. Pricewaterhouse Coopers estimated podcast US ad spend was $800 million in 2020, and will more than double to $1.7 billion by 2024, an annual growth of nearly 20%.
A survey from Westwood One (the largest audio network in America)and Advertiser Perceptions found advertisers are increasingly using podcasts as a part of their media strategy. In 2015, 10% of marketers said they would likely advertise on a podcast over the next six months. When asked the same question in 2020, the number spiked to 37%. Long-time podcast listeners have noticed more ads with longer ad breaks.
With 60% of podcast listening done at home, adoption was especially notable during the pandemic. According to The Infinite Dial 2021, 80 million Americans listen to podcasts weekly with a 17% YoY increase. This figure is set to climb to 125 million by 2022 with podcast audiences being more diverse than ever before.
Edison Research found persons age 13+ spent 6% of their audio time with podcasts in 2020, up from 2% in 2014. This marks an all-time high for the rapidly-growing, on-demand audio medium.
According to Edison Research SVP, Tom Webster, "Podcasting has become the greatest companion medium. Not only can you take it with you while you do other things, but we also see people turning to podcasts for a sense of community and connection during a very stressful time." He is, of course, talking about podcast consumption during the pandemic. He also sums up the need to disconnect from stressful social media and intrusive ads on channels like YouTube.
Lockdown Aided Podcast Popularity
Listening for hours on Spotify doubled in the fourth quarter of 2020, as locked-down listeners in need of entertainment tuned in to Michelle Obama and the Duke and Duchess of Sussex, driving a 24% YoY increase in paying subscribers. The audio streaming company, which now has 155 million paying customers saw its total monthly user base grow 27% YoY to 345 million. Spotify is attempting to become consumers' go-to place for podcasts, investing nearly $1 billion into the segment.
Much of the social content shared by the audio streaming service is podcast related. It's also worth noting that podcasts aren't just a Western trend. A survey of the MENA podcast industry revealed the following:
Key takeaway for marketers: The world of podcasts is expected to grow in popularity and consumers are interested in branded content of this kind.
So, with people craving audio content, let's take a look at some of the best financial podcasts already out there.
Top Financial Podcasts
If you're wondering if your finance brand needs a podcast (or not), it's a good idea to see what's already working. Here's a selection of podcasts from financial brands and influential people from the sector that really caught our eye.
#1 Women on the Move – JPMorgan Chase
First on the list is Women on the Move. This is JP Morgan Chase's commitment to fuel female ambition and advance financial equality. As a female-led content marketing agency, this is music to our ears. The podcast aims to 'inspire listeners and share insights from some of the most notable leaders working to secure an equal future for women in the workplace.' It's hosted by Sam Saperstein, Head of Women on the Move at JPMorgan Chase.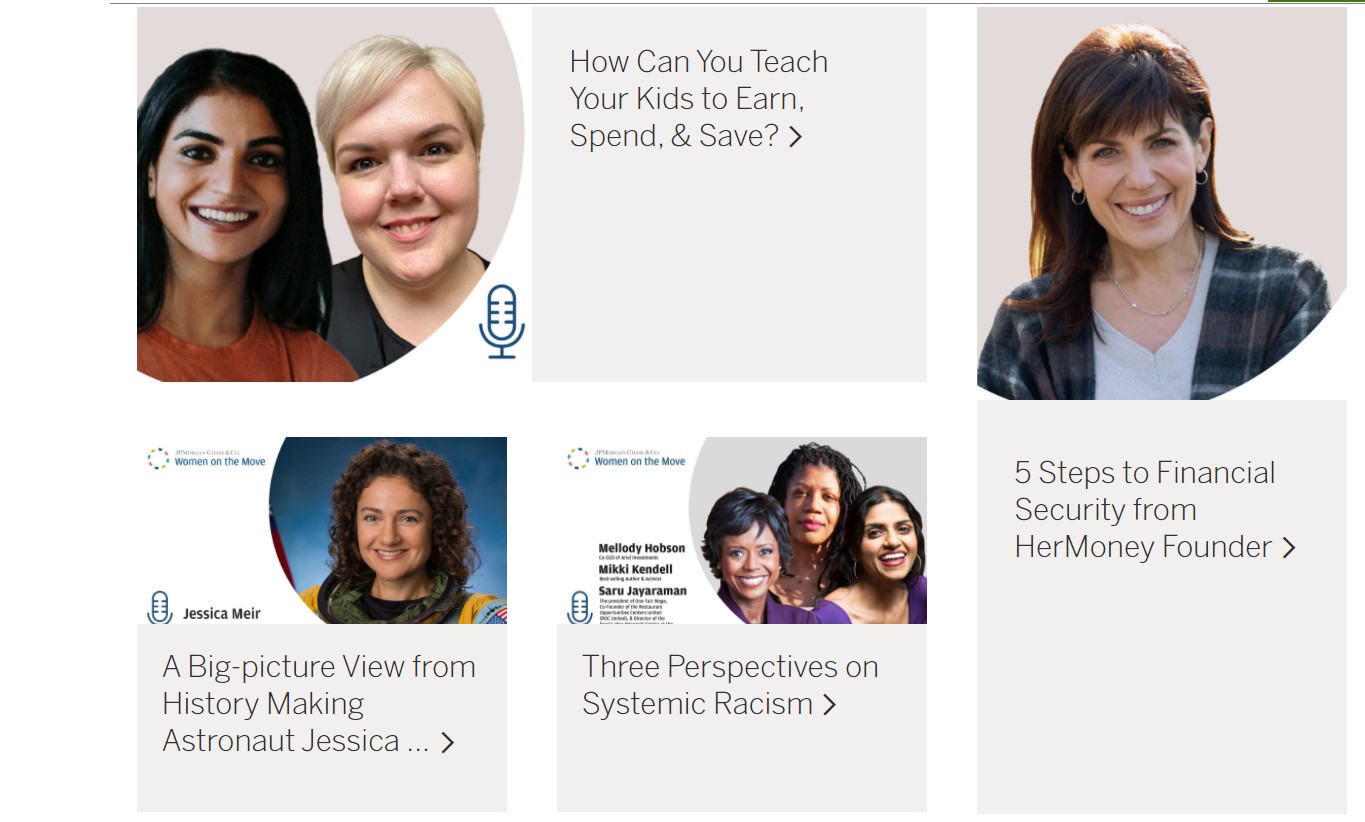 What we like about this podcast:
If Women's Month has taught us anything it's that more work is needed within the finance and fintech world to ensure women have equal opportunities. Indeed, a recent study from Deloitte revealed that less than 30% of the UK's fintech workforce is female with only 14% represented on fintech boards. So podcasts like this give women a voice and normalise female insights within this sector.
Top tip for marketers: Your finance brand could benefit from a podcast if you have a specific topic you want to cover in more detail. The subject matter should be relevant to your brand and allow you to delve into deep and interesting conversations.
One of the best ways to attract a wide audience is to feature influential guests and thought leaders who can share their story and give your podcast an authentic vibe. If you're floating around vague ideas and don't have a specific focus, it might be better to bench the podcast idea until you've streamlined your strategy. As with all other marketing strategies you need to know and understand your target audience, set goals and draw up some KPIs.
New episodes of the podcast launch weekly on Tuesdays and Thursdays. It's also available on all the main podcast channels from Spotify to Google Play Music, Pandora, Stitcher and Apple Podcasts.
Top tip for marketers: Forget launching your own finance-related podcast if you're not prepared to pack it with fascinating content on a regular basis or to create a go-to series that's relatable and east to add to. A podcast isn't about creating a single audio clip that you can tick off your to-do list, especially if you want it to drive business or brand awareness. Instead, it should be a longer-term commitment.
It's well promoted. JPMorgan Chase has a special hub dedicated to 'Impact' and 'People'. The Women on the Move podcast is an integral part of this.
The podcast encourages user to subscribe and leave reviews. User-generated content is a great way to get others interested in what you have to offer.
#2 Morgan Stanley – Thoughts on the Market
Morgan Stanley's Thoughts on the Market podcast available on Apple Podcasts and Spotify offers 'perspectives on the forces shaping markets.' This makes it a go-to for traders and investors looking for the latest information. It's also easy to share via social media and appeal to multiple industries.

What we like about this podcast:
It covers fascinating and relevant topics. The titles summarise the content nicely and each podcast comes with a detailed description so you can make a quick-fire decision about whether or not it interests you. Questions are used to draw in the listener and make the content more clickable.
Top tip for marketers: Aim to answer questions your audience will be interested in as this will give them a reason to regularly stream your content. If you're not sure about who your audience is or the sort of queries, they might have about the finance sector or your business model specifically, it's time to go back to the drawing board. Create a buyer persona, know who you want to attract and then strive to create content that appeals to their mindset. Remember, if you're aiming at Millennials who make up the bulk of traders, attention spans are short and therefore your podcasts should contain fun, factual content without unnecessary waffle. Think about how your podcast fits into their lives. Will they be in the car commuting to work or perhaps cooking an evening meal.
A number of listening options are available, with Morgan Stanley embracing the latest technology. Underneath relevant podcasts they write things such as 'the most recent episode is available n Amazon's Alexa. Just ask Alexa to 'Enable Morgan Stanley' or to 'Add Morgan Stanley to my Flash Briefing.'
#3 NatWest – Adapting to the 'New Now'
In an effort to help businesses reboot following the pandemic, NatWest invited journalist and TV presenter Steph McGovern to speak to founders and CEOs from multiple industries to get their advice on key business issues. This resulted in an 'Adapting to the New Now' podcast series which focuses on issues such as business future-proofing, taking business online, developing a financial recovery plan, reaching a new audience, getting your confidence back and more.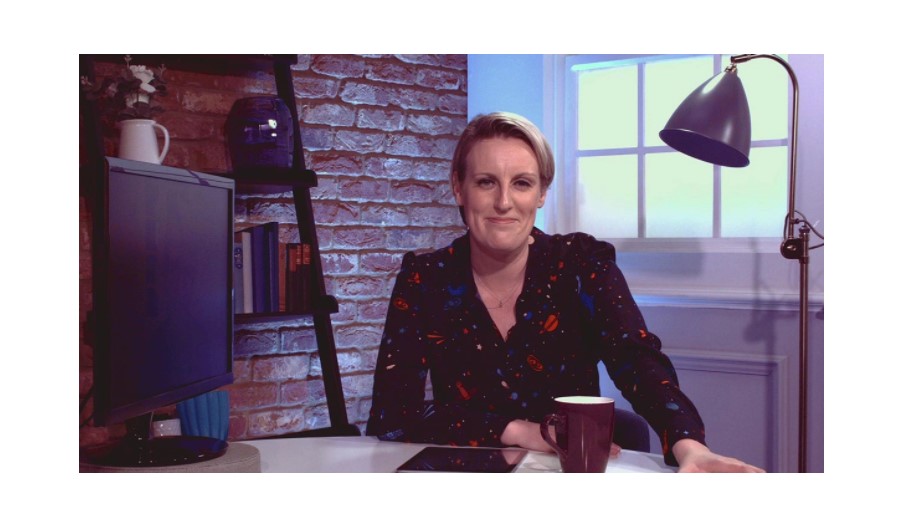 What we like about this podcast:
It's fronted by a popular TV personality. This creates a sense of security and familiarity helping audiences to feel confident tapping into new content. This is particularly true if they're new to the podcast world.
Top tip for marketers: If you're thinking about setting up a podcast, ask yourself why people should listen to you. Do you have any way to hook an audience? Perhaps a member of your team has a large following on Twitter or is already well-known for posting popular articles on LinkedIn. Can you work with an industry-related influencer or team up with a well-known brand? If you're a small, unknown business then it's perhaps a good idea to perfect your social and business portfolios first. You should make sure your website and all other social channels are up to scratch before you venture online as this will help you appear credible to listeners.
All podcast titles are relevant and timely. Hosted in 2020, the content streamed was relevant to the pandemic climate. If you're going to host a finance-related podcast, it's important to make sure it's factually correct and inline with the mood of the nation. Forex trading, for example, rose in popularity during the first lockdown as more people searched for things to do at home. Such information could be used as a springboard to generate content ideas such as interviewing day traders.
Each podcast was short and sweet. The average length of a podcast is about 38-minutes. Anything more and you risk losing your audience. This podcast was accessible during breaks from work and lunch hours with episodes ranging from 9-20 minutes.
#4 So Money with Farnoosh Torabi
As America's leading personal finance expert, Farnoosh Torabi's So Money podcast offers candid conversations about money with the world's top business minds, authors and influencers. On a related side note we love the branding and style of this podcast. Farnoosh has nailed the colours, image and vibes of this podcast. Something you need to think about to help you achieve success.

What we like about this podcast:
She totally namedrops – and rightly so. So Money has featured many well-known personalities, and this is made loud and clear.
Farnoosh hosts a regular piece on a Friday called #AskFarnoosh. This tackles listeners' biggest money questions and gives people a reason to tune in.
Topics are relatable and necessary. Farnoosh adds value to listeners which is something all good podcasts need to do.

Top tip for marketers: Give your listeners a reason to come back for more. Setting a specific day of the week aside for a specific topic or a question and answer session is a great way to build your following. People enjoy consistency and will know roughly what to expect from your show.
Do I Need a Podcast?
As you can see, there's a lot to think about. While having a podcast for your finance brand isn't compulsory, it can help you tap into the audio content trend. But this is only beneficial if you can make an impactful contribution that'll do your brand benefits.
Here's a final rundown of things to discuss at your next marketing meeting.
Do you have something interesting to say? Will your content be unique? What angle will you take? Will you have any regular features? Will it be easy enough to reach out to special guests, influencers, celebrities or thought leaders? Are you established enough to have a credible viewpoint? Are your other channels streamlined?
Do you have the time to commit to a regular podcast or should you create a shorter series to see how it works out? Will you need to outsource the task and if you bring it inhouse do you have the right personalities to script and host it?
Do you have a recording studio or a soundproof space? Podcasts are all about audio quality and so you can't have people coughing away in the background.
Do you have good social media marketers to promote your content? If you can't get the word out there then it'll go to waste. Again, do your social media marketers have time to take on even more work?
Want to learn more about the practicalities of setting up a podcast? Our Director Charlotte authored a killer article at leading tech site Agorapulse. Check it out here.
Ready to get started? Our expert team can help you research, plan and even script your finance podcasts. Contact us to get started.