Following influencers in the cryptocurrency space is a sure-fire way to stay in the know on the industry and latest trends. Contentworks Agency provides content and social media marketing to clients in the finance, forex, blockchain and crypto spaces so we know our influencers. Here, in no particular order, is our pick of 30 crypto influencers you should be following.
Co-founder of Ethereum, Vitalik Buterin, started his own cryptocurrency after finding what he determined to be limitations of Bitcoin. Vitalik has amassed 1.2 million followers on Twitter where he likes to share his knowledge on Ethereum and cryptocurrency in general.
Another crypto innovator, Charlie Lee, is the founder of Litecoin as well as a key player in the creation of several other currencies. He's nearing a million followers on Twitter where he posts regular musings on Litecoin, Bitcoin, Coinbase, and others.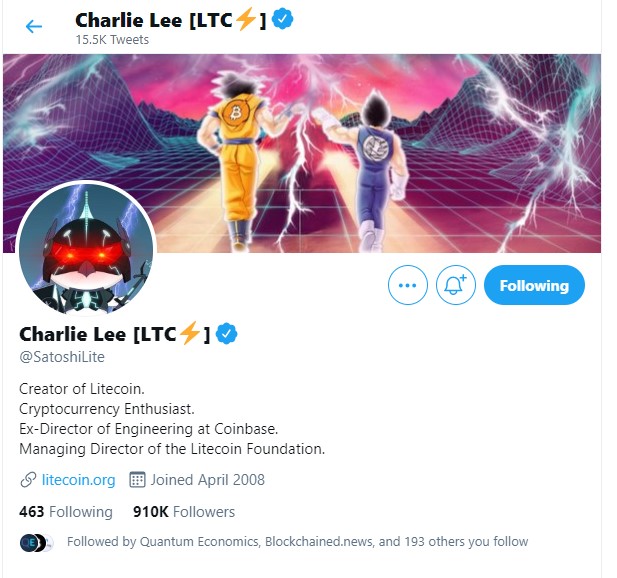 Adam Back is the co-founder and CEO of Blockstream as well as the creator of hashcash – the proof-of-work system used by Bitcoin. He posts frequently to Twitter about Blockstream and related topics, where he has a couple hundred thousand followers.
Alena Vranova co-founded Satoshi Labs in 2014, the organisation that claims to have created 'the original cryptocurrency hardware wallet.' She posts religiously to Twitter where she shares predictions, thoughts, and memes.
He's the world's first investor in Bitcoin startups and was once imprisoned for selling explosives on eBay. Today, he's worth approximately $500 million thanks to his savvy investments. He takes to Twitter to express his (often courageous) opinions on Bitcoin and the crypto market. Fun fact, we saw Roger at Decentralized in Athens and he was awesome!
Andreas Antonopoulos is a well known Bitcoin advocate, author of Mastering Bitcoin, and an esteemed tech entrepreneur. He's also a host on the podcast 'Let's Talk Bitcoin.' You can also find his detailed and informative talks on YouTube, perfect for both experienced and novice Bitcoin investors.
Brian Armstrong is the chief executive officer and co-founder of Coinbase, the largest cryptocurrency exchange in the United States. He gives updates regularly about Coinbase on Twitter.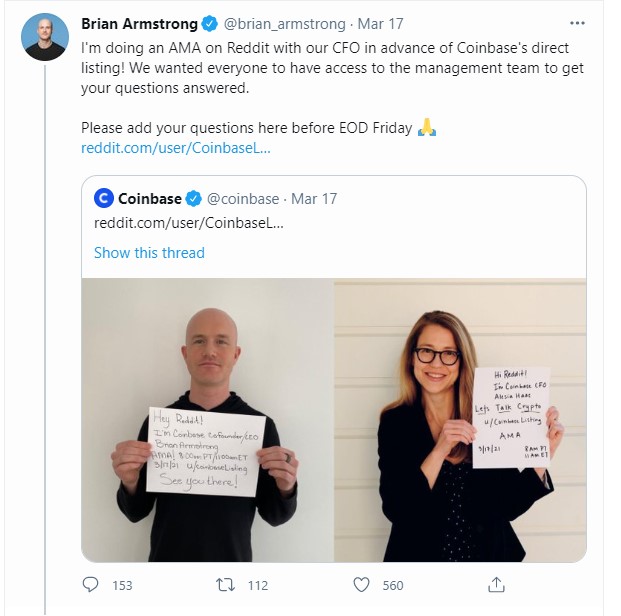 CEO and founder of Digital Currency Group, a group recognised globally for building, supporting, and investing in companies all around the world. He posts selflessly on Twitter about a range of cryptocurrencies.
Ari Paul is the chief investment officer, as well as a co-founder of BlockTower Capital, a company that started in 2017 as an investment firm, managing a portfolio of crypto assets. Ari Paul is also the author of 'The Cryptocurrency Investor' blog. He posts a range of crypto-related content on his Twitter account where he has well over a hundred thousand followers.
Ameer Rosic is a marketing expert, serial entrepreneur, co-founder, and investor of Blockgeeks Inc. Some of his philosophical videos on both crypto and non-crypto topics can be found on YouTube.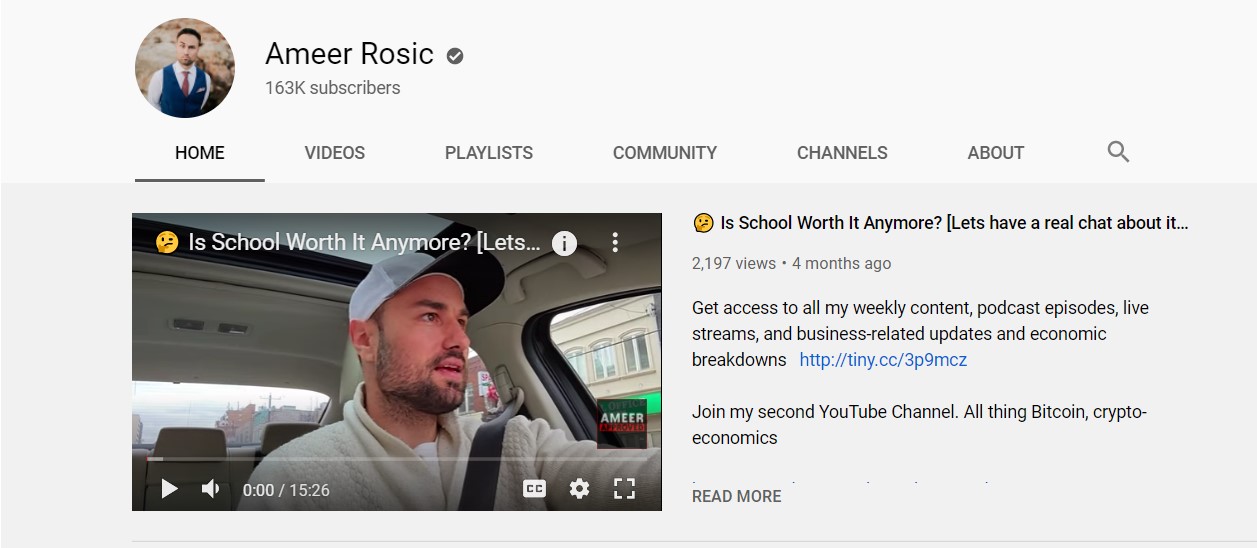 Brendan Eich is credited for being the creator of the JavaScript programming language, as well as a co-founder of the Mozilla Corporation, the Mozilla Foundation, and the Mozilla project. Recently he's been focussing much of his attention on cryptocurrencies, in particular Bitcoin. He retweets a lot, making his profile a convenient way to read a collated collection of tweets relating to the industry.
Clay Collins is the CEO and founder of Leadpages as well as co-founder and CEO of Nomics. He has a podcast dedicated to crypto, intended for both full-time and occasional investors. He also takes to Twitter, sharing essential facts on crypto. His daily, customisable newsletter is a convenient way to get frequent updates on topics most relevant to you.
Charles Hoskinson is an esteemed mathematician, co-founder of Ethereum, and the founder of Cardano. He tweets frequently on cryptocurrency, offering his thoughts and predictions.
Chris Burniske is a cofounder of the New York venture Placeholder, which specialises in crypto assets. He often tweets about the authentication and originality of cryptocurrency.
Erik Voorhees saw the potential of crypto while it was in its infancy and has been a key player in the market since 2011. He's currently the CEO of ShapeShift. The crypto community views Voorhees as a top influencer. Check out his Twitter account where he posts insightful updates, thoughts, and predictions.
Chris Dixon is an American investor and internet entrepreneur. He has over half a million followers on Twitter where he tweets frequently on programming, philosophy, history, startups, investing, and cryptocurrency.
Dave Balter is a co-founder and CEO of the skills assessment company Smarterer. Presently, Dave is involved in Flipside Crypto as a managing partner, a company that provides data solutions and investment clubs for cryptocurrencies. Balter believes that his ego is an essential part of his personality and success. He recently released his book titled The Humility Imperative – Effective Leadership in an Era of Arrogance. Find him on Twitter where he posts about cryptocurrency and other topics.
Don Tapscott has authored no less than 16 books that are widely read throughout the world. He focuses on the impact that technology is having on businesses and society at large. Many of his concepts are being used in the business world today, and both government and corporate leaders have heeded his advice. He's currently the executive chairman and co-founder of the Blockchain Research Institute and provides talks on the need for digital assets, cryptocurrencies, and blockchain. He also posts to his Twitter account frequently where he has over 100,000 followers.
Elizabeth Stark is a blockchain entrepreneur and crypto startup advisor. She's currently involved in an effort to solve the Bitcoin scaling problem.  She gives talks on Bitcoin and other topics and usually posts the links on her Twitter account.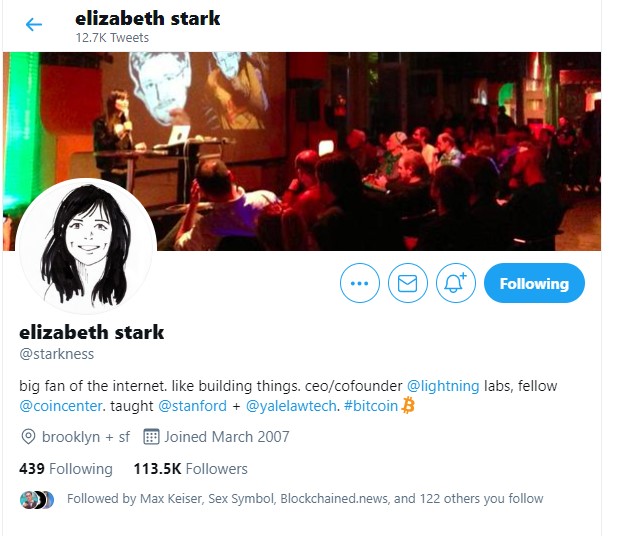 Francis Hunt is a teacher, technical analyst, and trader. He founded Hunt Volatility Funnel trading with the help of over 30 years of experience in the financial market. He's referred to as the market sniper, the crypto sniper, and the reset sniper. He posts talks and tutorials on YouTube about trading and cryptocurrency. This influencer's YouTube is the perfect place to find quality market predictions.
Garry Tan is a partner in Initialized, an investment firm. He's invested big funds into Coinbase Instacart and other startups. He posts updates that have the potential to move the market on both Instagram and Twitter.

Ian Balina is a Blockchain entrepreneur and investor. He's been featured in the Wall Street Journal, CNBC, The Street, Entrepreneur Magazine, Forbes, Huffington Post, and INC for his work in entrepreneurship, cryptocurrencies, and analytics. He posts informative videos to YouTube on the intricacies of various cryptocurrencies.
Jeff Kauflin writes about blockchain technology and investment, leading the fintech coverage at Forbes. He gives great updates about various cryptocurrencies on his Twitter page where he has over 10,000 followers.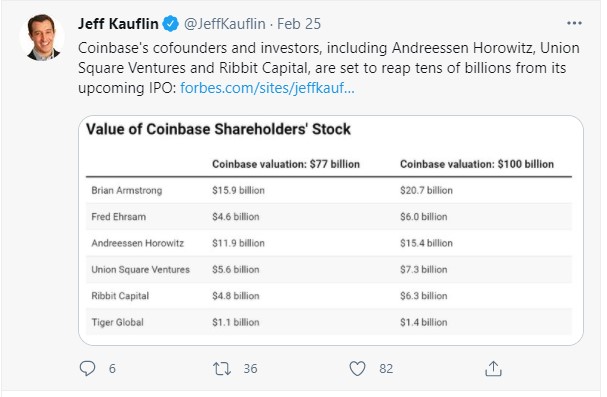 Jimmy Song is an author and developer who has contributed massively to open-source Bitcoin projects since 2013. He gives comprehensive talks on YouTube about Bitcoin on his 'Bitcoin Fixes This' series. He posts new episodes weekly.
An investor and financial analyst that has been working in the technology and cryptocurrency sector for years, Joseph Young tweets on a wide range of topics but frequently about Bitcoin to his 130,000 followers.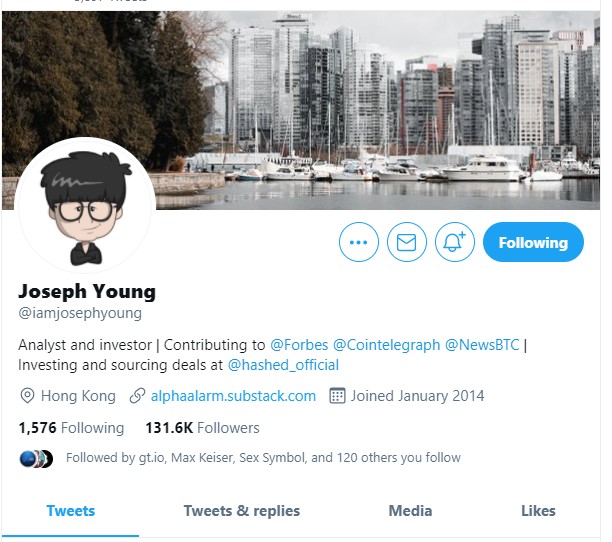 Tim Draper founded the investment firm Draper Associates, which finances 'extraordinary projects.' He and his family take part in a unique reality TV programme – Meet the Drapers – where contestants invest in competing startups. His Twitter account boasts 170,000 followers where he shares a whole host of information and recommendations about crypto.
Fred Ehrsam co-founded Coinbase with Brian Armstrong and is also active in several other cryptocurrency ventures. He takes to his Twitter feed to share personal insights into crypto investment where he has 120,000 followers.

Horowitz penned the book The Hard Things About Hard Things and other best-selling financial and business advising books. He's established himself as a crypto analyst and investor and is the co-founder and partner of Andressen Horowitz. He's amassed over half a million followers on Twitter, where he posts a mixture of personal opinion and market analytics.
Daniel Jeffries is a public speaker, futurist, and author. Check out his blog and podcast, focusing on cryptocurrency, fintech and even artificial intelligence. You can also get facts, predictions, and explanations of cryptocurrency on his Twitter.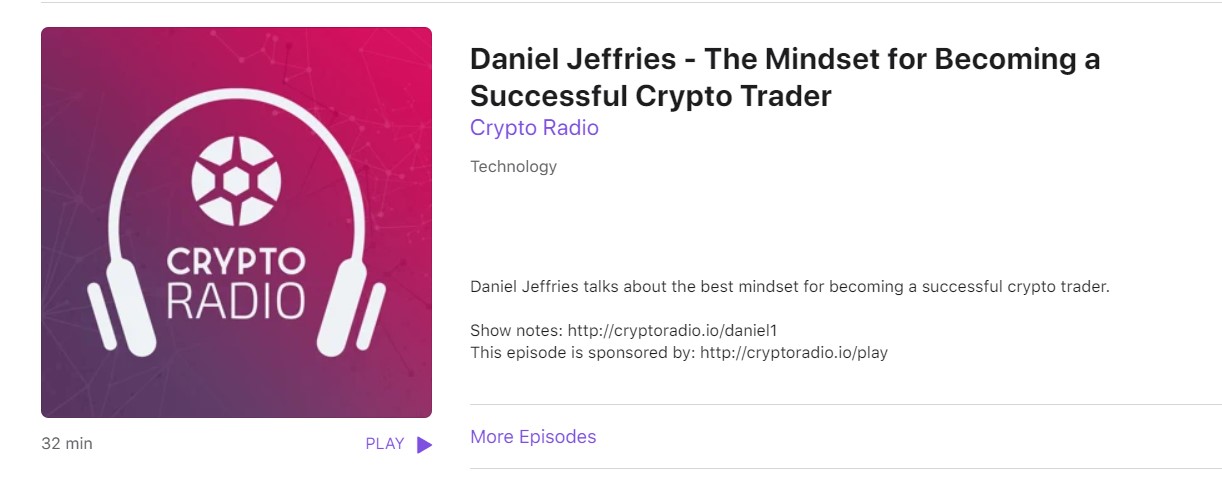 Dan Morehead, CEO and founder of Pantera Capital, has over 25 years of experience in the management of global macro funds, investment advisory services, and macro trading. Pantera Capital focuses solely on Bitcoin and other digital currencies. He updates his Twitter very frequently where he's amassed 75,000 followers.
Top cryptocurrency hashtags to use in 2021
Ready to kick start your own crypto finfluencer career? Here are the top crypto hashtags that are guaranteed to get you good engagement.
#bitcoinusa #cryptocurrencies #bitcoinmining #forexlifestyle #investing #bitcoincash #crypto #cryptotrading #bitcoin #cryptoworld #cryptocurrencies #btc #cryptoinvestor #invest #ETH #LTC #XRP
You can also check out our article on crypto hashtags right here. 
Enjoyed reading 30 Crypto Influencers You Should Be Following? Go ahead and hit share. Speak to the team at Contentworks to learn how we can help your brand get noticed in the crypto space.