Marketers, listen up. While ranking #1 in Google is great, there's something even better. Google snippets. These appear at the very top of Google's search results and instantly steal the limelight from other pages. If you're not sure where to start, we're here to help. As an experienced content marketing agency , we can catapult you to snippet success. Let's answer the question How Do You Get Featured on Google Snippets?
What is Position #0 ?
Position 0 is the new position 1 when it comes to Google. Not sponsored either, but organic. Position 0 also known as a featured snippet appears at the top of the SERPs (search engine results pages). Because it's positioned above the normal search results, including position 1, it's known as position 0. It's essentially a snippet of an answer to a user's question that Google has deemed to be the best one. Sounds ludicrous but there's a new sheriff in town and that's position 0. It's been in focus for some time, but with voice search expected to account for 50% of all searches in 2020, the search landscape is changing. And so should you.
Before we rush ahead. Let's ensure we've covered the basics. Essentially:
The main goal of featured snippets is to deliver answers to queries quickly. As you can see from the example below, the snippet will appear directly under the query. And if you play your cards right and answer questions bang on, you can rank above top sites such as government websites and those gaining #1 SERP positions.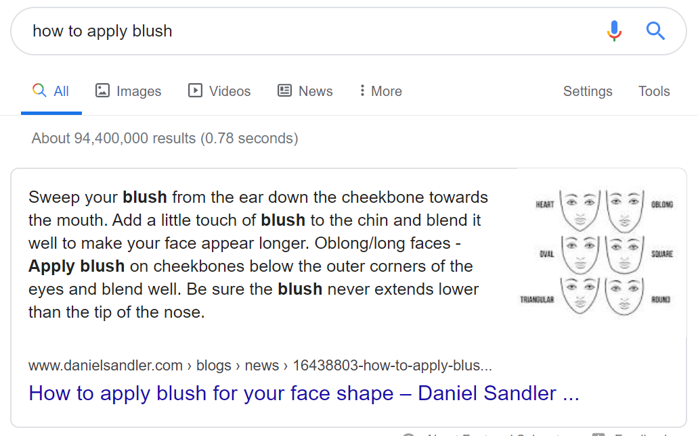 Top 10 keywords for voice search include question words such as how, what, why, where and when. Indeed, voice search queries tend to favour more contextual, natural phrases and long-tail keywords over prior, short-tail search language. So, a typed Google search like "Facebook CEO" is more likely to be "Who is the CEO of Google"? through a voice search. This brings question-related content into focus for Google snippets.
More than 40% of all voice search answers are pulled from Google snippets.
What Kind of Featured Snippets Are There?
In order to perfect your Google snippet marketing strategy, it's important to know the various types of snippets out there. This will allow you to tailor your content according to the type of business you are. And of course the sort of queries people are likely to make.
Paragraph snippets deliver a couple of sentences of text answering a specific search query. Searched keywords usually appear in bold to help confirm their relevance.
List snippets showcase answers in bullet points or lists. These results work best for queries that require a step-by-step answer and are carefully sourced by the Google algorithm. This looks for the most relevant pages within its index.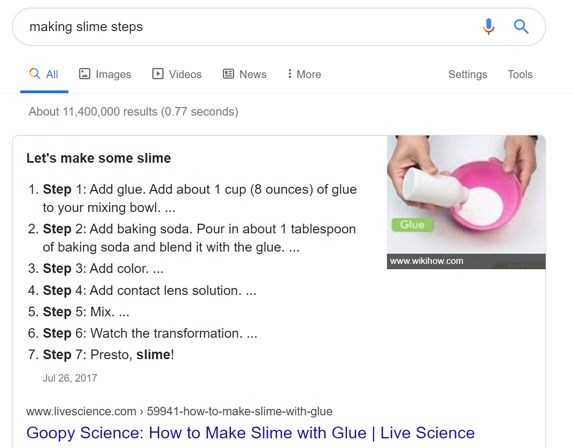 These often appear for how-to searches when Google understands that visuals are necessary in order to aid comprehension.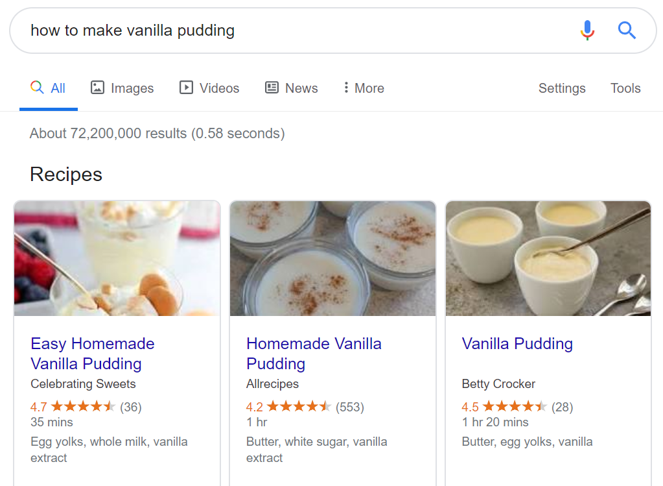 Table snippets are suitable for answers that require an accumulation of data. While they don't often appear as much as the other snippets, it really depends on the type of searches you make on a daily basis as to how many tables you'll see.
How Do You Get Featured on Google Snippets?
Now you understand the whole snippet gig, it's time to find out how to make them perform for your brand. Here are some useful tips:
Aim to answer questions that are relevant to your audience
Google snippets is all about answering queries promptly and correctly. So, to be in with a chance of gaining #0 you need to answer questions that are relevant to your audience. And this is where analytics can help. Delve into your data to see what people are searching for. You can then:
Structure content on your pages that provides short, concise answers to specific questions that you know are likely to be asked.
Create unique explainer pages or blogs posts that go into specific detail about a topic related to your brand. You can also use question headers directly throughout your content so that Google doesn't have to work too hard to see you're a good catch and are definitely worthy of position 0. In short, make it super easy for the search engine to find your content based around what people are likely to search for.
"Let it go, let it go." Short-term keywords are important yes, but don't be afraid to let loose with longer tail sentences. This might seem completely unnatural but it's how the industry is moving.
Find the right keywords. Use tools such as Google Analytics to find out what keywords people are using and form answers to questions around these keywords.
Top tip: When doing keyword analysis, don't forget to look at the 'people also ask' section or PAA, as this will give you some good keyword-rich questions to focus on.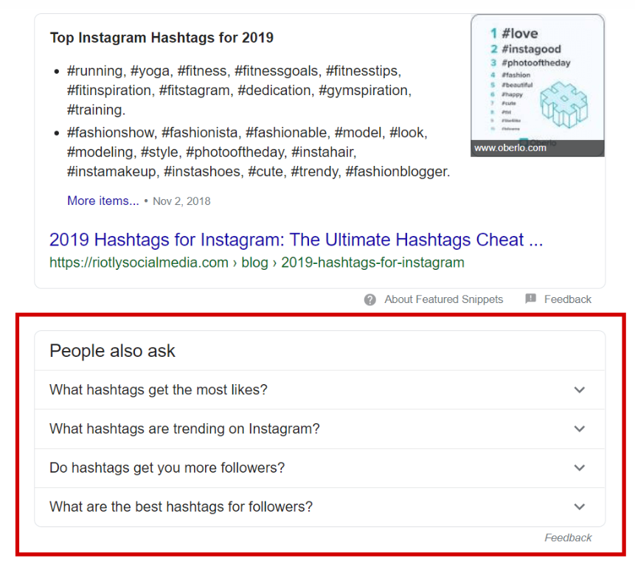 Optimise for the right type of snippet
We've already covered snippet types. So, think about the sort of snippet you think you'll rank for. If you run a cookery website, you may want to cater to people who want to know 'how to' make certain dishes step by step. This could mean creating a wide range of recipe pages with bullet point lists and optimised headings that'll scream to search engines, 'pick me, pick me.'
Similarly, if you want to rank for how-to videos, you've got to make them. Focus on implementing a how-to section into your website with videos galore. Try to keep your videos accessible thought. Under 6 minutes is advisable.
Want to appear in paragraph snippets? Then know the average snippet length is 52 characters. Therefore, your content should be nicely divided into informative paragraphs Google can easily grab and present for a specific query.
How Do You Get Featured on Google Snippets – Top Takeaways:
Structure your content around research. Knowing the stats will make your job a lot easier.
Keep your content as simple as possible. Remember, you want to answer questions, not boggle brains with complicated jargon.
Present your information in a clear and concise form. Use question headers, bullet points, video content and tables to make your part of the web as useful as possible.
Add quality, optimised imagery
Images increase search visibility because they naturally attract the eye. This gives SEO content a competitive edge. So, be sure to add high-quality optimised images to your content. If Google recognises them to be relevant to a specific query, they're likely to include them in the features snippet. That means naming your images and optimising them to match your content. bonus points if you can brand them but it isn't always necessary.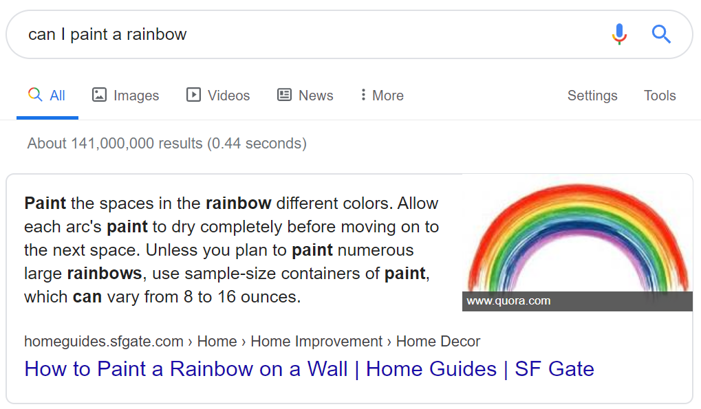 Don't Neglect the Rest of Your SEO
According to research from Ahrefs, 99.58% of featured pages already rank in the top 10 of Google. You can make your way to position #0 by simply formulating an optimised, well-informed answer. This means that to stand the best chance of featuring in a Google snippet, you should work on your entire SEO strategy and aim to perform well in the SERPs.
Top tips for content marketers include:
Accurate keywords research through tools such as KWFinder Soolve, Jaxxy, Google Search Console and more.
Producing fresh content that's relevant to your target audience. Think about the structure of your site and how you can tailor content to answer questions.
Reduce load speeds by properly optimising images.
Use headers and titles throughout your content, properly optimised for your business.
If you liked reading How Do You Get Featured on Google Snippets, hit the share button. Why not contact Contentworks for content marketing that works hard for your brand. We've achieved position zero for hundreds of clients through articles, whitepapers, PRs and videos.