What started off as a photo sharing website has since become a popular marketing platform that top brands can't resist. We're talking about Instagram. This social hub has just celebrated its 10th birthday and with 1 billion+ active users, its aged pretty well. What's even more exciting is that Instagram refuses to get old  Instead, it's constantly adding new features. So, Instagram marketing for 2021 – here's what you need to know.
First Up – an Instagram Overview
Before we get stuck into all the juicy new stuff, it's important to know why Instagram marketing is relevant for 2021. So here are some handy stats to get your teeth into:
Instagram has over one billion monthly active users. That's huge!
Instagram Stories are used by 500 million people every day. One third of the most viewed Stories are from businesses showing how consumers crave brand content.
50% of Instagram businesses create one story during a typical month. So if you're not investing in this marketing type you could be falling behind your peers.
54% of people surveyed by Facebook IQ said they'd make a purchase either in the moment or after seeing a product or service on Instagram.
Instagram is the most popular social media platform for UK consumers with 46% of them saying it's the app via which they consumed the most content during the Covid-19 pandemic.
According to a survey of 3000 consumers by Bazaarvoice's Influenster, the most popular forms of social media content during the pandemic were influencer content (45%) and shopping content (39%). 25% of customers said they actually prefer shopping on social media, with 92% of those shopping from Instagram and 29% from Facebook.
Speaking of the Influenster survey Suzin Wold, Bazaarvoice's SVP of marketing, said:
"This data reveals that social media is playing an increasingly important role in brand engagement and consumers' purchase decisions. With 82% of UK consumers using social platforms more since the pandemic started, it's vital for retailers to respond to this behaviour shift and ensure their social media presence meets consumer expectations."
So what's new? And how can you use feature updates to your advantage as a brand? It's clear Instagram is big news for marketers. Especially if you're aiming at Millennials or Gen Z as almost 2/3 of users are under 35. But what's popping in this social realm?
Instagram Has Gone e-Commerce Mad
e-Commerce is now huge on Instagram with social shopping set to be all the rage in 2021. Here are some of the recent developments.
Shop Tab
Users can now discover shoppable products straight from the navigation menu making it easier than ever to shop from brands. Considering 70% of shopping enthusiasts turn to Instagram for product discovery, this is a good idea.

Instagram Checkout
Every month, 130 million people now tap on an Instagram shopping posts made awesome by product tags in feeds, product stickers in Stories and a shopping destination in Explore. Check out this post in feeds which directs consumers to relevant product lines.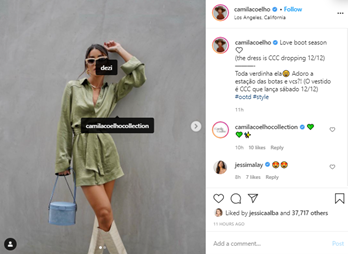 But the platform has recently gone one step further with Instagram Checkout now available for all eligible businesses and creators in the US. Thanks to this innovative rollout, users can make a purchase without even having to leave the app. This essentially creates a streamlined, 2-tap process which converts Instagram followers into loyal customers.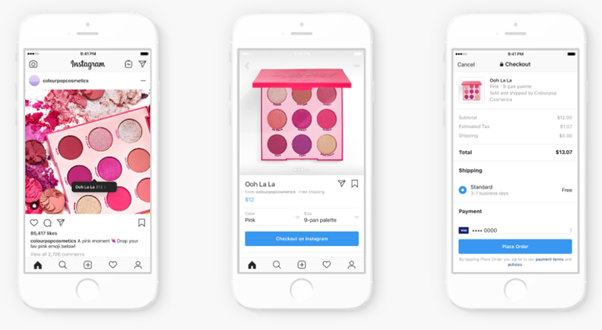 You can read the finer details from Instagram here. But here's a rundown of the benefits:
Instagram Checkout enhances the user shopping experience by making the purchase simple, convenient and secure.
Consumers no longer have to navigate to the browser when they want to buy and can safely store their payment details on Instagram for future purchases.
Not sure how this can benefit your business? Let's hear from REVOLVE, one of the first companies that gained access to Instagram Checkout last year before its mainstream US adoption. Ryan Pabelona, Director of Performance Marketing said:
"We're incredibly excited to partner with Instagram and be amongst the first to offer in-app checkout to our followers. At our core, REVOLVE aspires to create a seamless, elevated shopping experience for our customer. With Instagram's new checkout interface, we're able to better serve our millennially-minded audience by providing a new, fast and easy purchase method on a platform where they are already engaging with our content and discovering our products."
Top tip: Keep an eye on extended Instagram Checkout rollouts. Those eligible to date can open up a Shop with checkout on Instagram using Commerce Manager or via integration with platform partners like Shopify and BigCommerce. Instagram also promises to support more platform partners soon.
Shopping From Instagram Creators
We weren't joking when we said Instagram has gone e-commerce mad. The social platform is going the extra mile to ensure shopping online is a hassle-free process. Instagram's Shopping from Creators has endured rigorous beta testing of late but it's already causing a stir when it comes to driving sales on social. The feature allows creators and influencers to tag brand products in their posts, creating an exciting new way for users to shop straight from Instagram. This should be music to the ears of brands investing in influencer marketing as it makes partnerships even more profitable. Followers can view the tagged product and buy it using Instagram Checkout.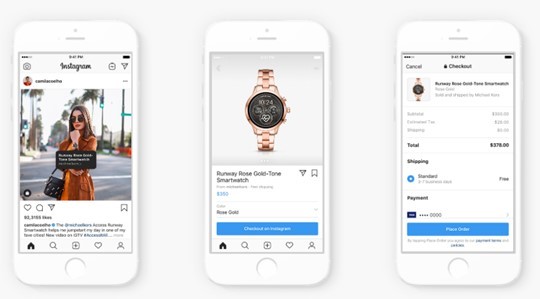 Brands can benefit from paid partnerships this way but may also get an increased number of organic mentions. As artist Camila Coelho said:
"What I share on Instagram is a window into what inspires me, especially when it comes to my personal style. I'm constantly posting photos and videos in my favourite fashion and beauty looks because I want to share what I love with my community. My followers are always asking in comments and DMs about what brands I'm wearing or where to buy certain pieces – shopping tags will make it so much easier to give my followers the information they're looking for with a single tap. The days of screenshotting, saving to your camera roll and scavenger hunting to find my go-to products are gone."
Shopping is Coming to Instagram Reels Globally
Instagram introduced Reels earlier this year. This makes it possible for creators to record and edit 15-second multi-clip videos with audio to further improve consumer engagement. With whopping numbers of views on each of their Reels, brands like Sephora France are already nailing this new feature.

Humorous videos of new product launches are proving particularly popular.
What's really cool is that shopping is also being rolled out to Reels . This will allow businesses and creators to tag products when they create Reels and viewers can then tap on each tag to buy or save each product. A branded content tag is also available to influencers who are paid for their posts.
Instagram Expands Shopping on IGTV
In October, Instagram announced the global expansion of its Instagram Shopping service across IGTV. The product, which lets you watch a video then check out with a few taps, offers creators and influencers a way to directly monetise their user base on Instagram. That's all while also giving brands a way to sell merchandise to their followers. In the future, Instagram says its shoppable IGTV videos will be made discoverable on Instagram Shop, as well.
Instagram Launches Live Shopping Tool
Live shopping has already made waves in China on platforms like TaoBao. The market's worth a whopping $170-billion. Now, Instagram has launched its own Live Shopping tool, giving platform users the chance to get a piece of the delicious e-Commerce pie.
With Live Shopping, you can:
Share recommendations and reviews
Give product demos
Answer consumer questions
Showcase new products
Collaborate with other creators
Top tip for marketers: To make the most of Instagram Live Shopping, you can simply:
Tap the camera icon in the top right corner
At the bottom of the screen, toggle to Live
Tap Shopping
Choose the products or the collection you want to feature
Tap the broadcast button to go live!
Once you're rolling, you can pin one product at a time to the screen
Instagram is Branching into Extended Content Types
It's been one heck of a year for Instagram. They've been extremely busy as while e-commerce has taken centre stage, the platform has also launched Instagram Guides. This new feature offers brands a new way to share content on the site. Guides allow users to follow a curated flow of posts with commentary – which is great for step-by-step guides, tips and recommendations. This was first rolled out to health and wealth advocates in light of the Covid-19 pandemic. But now it's being rolled out to all users as Head of Instagram Adam Mosseri announced on Twitter back in November.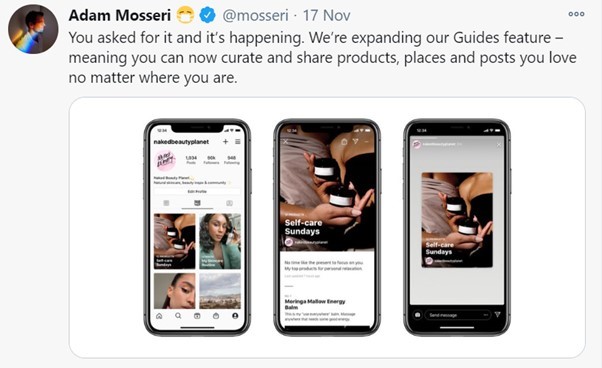 How will brands work with Instagram Guides?
Instagram Guides will mean a few things for creators and brands. Firstly, they will now be able to lead consumers straight to long-form content on their Instagram page, eliminating the need for navigation away from Instagram to a third party site.
This all sounds great. But creators and brands will need to put a bit of extra thought into their Instagram marketing strategy. If you're used to navigating users to their blog or directly to product pages from their content, you'll need to think about how to work with creators or make your own Guides in order to keep up with this new trend.
Sponsored Guides
Going forward, Sponsored Guides are sure to be popular. This is where a brand works with a creator to create a Guide that features a particular product. For example, a fitness brand might work with a fitness creator to pull together a fitness Guide for users, in paid partnership with the brand. The same could apply to food retailers partnering with well-known chefs or popular food influencers to create menu or dinner party Guides.
Product Placement in Organic Guides
We're also likely to see product placement in organic Guides. Brands will work hard to get their products and services in other Guides in order to raise brand awareness in a more subtle way. For example, a tourist board might ask for their county to be involved in a travel creator's 'Best Place for Surfing' Guide. This will work as authentic promotion via a third party, via Instagram. Clever huh?
Instagram Has Embraced AR Filters
Instagram's augmented reality filters have become a viral content marketing tool. People use these filters because they are fun. And therefore if you can weave them into your marketing strategy, you're likely to generate audience interest. From the traditional dog face filers to the floral crown, the fun aspect makes AR filters sharable. So why not get all eyes on your brand by embracing the latest technology?
AR filters for brands have many benefits. These include:
Increasing brand awareness. For example, consumers can see what a new lipstick might look like on them using a filter.
Increasing brand engagement. AR filters are a good way to interact with your audience and boost engagement. You could encourage people to tag you in their Stories when they use the filter to enter a competition.
Helping you stand out. Showcase what makes you unique.
Enjoyed reading Instagram Marketing for 2021 – What You Need to Know? If you did then hit share and follow us over on the Gram. Or both! Get Socially Sorted with Contentworks. We offer complete social media management, strategy, consulting and compliance savvy posting for the finance sector.