Instagram has been around for ten whole years this October. While once just a photo-posting app, Insta is now a go-to source of income for businesses and a creative hub for artists, writers and photographers. But it's essential to have the right strategy if you want to get noticed. So, let's delve into the world of Instagram marketing and how you can make an impact.
Instagram Marketing Stats Your Business Needs to Know
Instagram isn't just about posting selfies and holiday snaps. It's an avenue for businesses to increase brand awareness and make their products shoppable online. In light of the covid-19 pandemic, having a strong online presence is a must. But how can you justify an Instagram strategy to yourself – or your boss? Here are some Instagram marketing stats to help you out!
Instagram has over 1 billion active users and is the 7th most visited website in the world. That's a pretty big deal, especially if you're looking to boost brand awareness as Instagram's potential advertising reach is 849.3 million.
35% of people on Instagram are between 25 and 34 years old. So, if you're targeting millennials, this it a significant platform for you. Gen Z are also huge Insta fans.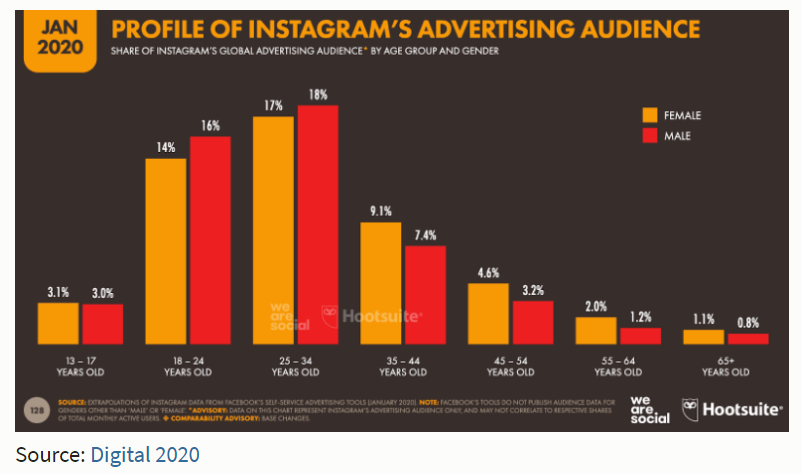 200 million Instagram users visit at least one business profile daily and spend an average of 28 minutes on the platform. So, the goal should be to keep them hooked on your brand for as long as possible.
92% of all Instagram users say they've followed a brand, clicked on their website or made a purchase after seeing a product or service on Instagram. UK shoppers are 79% more likely to discover new products on social media than they were just two years ago.
One third of the most viewed Stories are from businesses with 62% of people becoming more interested in a brand after seeing it in Stories.
The average follower growth rate for a business account is 2.5% per month
The average business posts to Instagram 1.7 times per day and posts 13.1 Stories per month. So, if you're not doing this, you're missing a trick.
Benefits of Instagram Marketing for Brands
The stats are pretty impressive, right? So, if you decide to hit up Instagram marketing – what are the benefits?
#1 Build Trust And Authenticity
Consumers are crying out for authentic marketing they can trust. They're tired of fake promotions such as Fyre Festival and are looking for a genuine connection with brands. With the right strategy, you can draw your consumers closer and keep them coming back for more. But how? Here's what you can do.
Work with micro influencers
Instagram is the number one social media channel for influencer marketing. It's where celebs and macro influencers with millions of followers are paid big bucks to promote products and services – but how much do they really care about your brand? Since the disaster that was Fyre Festival, people have become a lot more aware of scandalous or simply dishonest partnerships. So, what can you do instead?
Well, how about teaming up with micro-influencers? The premise is simple. Find someone who's a good match for your brand and eager to shout about what you do to their loyal followers. Micro influencers with between 1,000 and 100,000 fans tend to understand the importance of organic marketing and have a very dedicated fanbase. They've also the highest engagement rate at 8.8% and bring authenticity to your influencer marketing efforts. In other words, don't sell yourself out by working with a celeb who might make one post and charge the earth.
Skincare and beauty brand Glossier regularly teams up with micro influencers that are connected to the fashion world in order to showcase their products.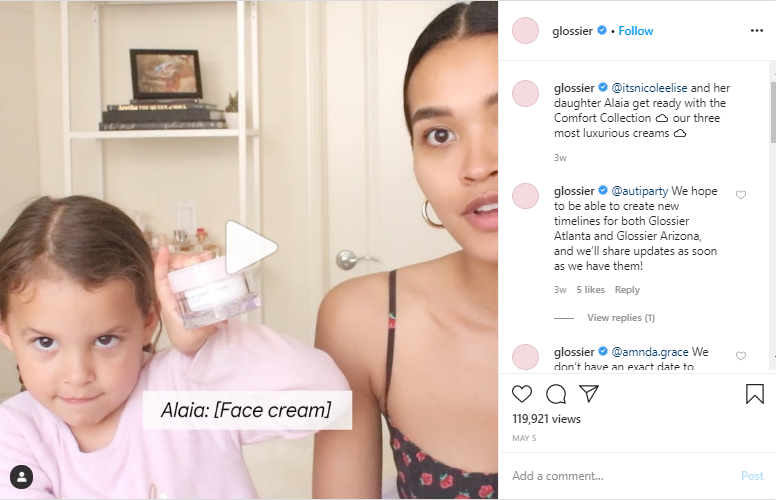 Why we like this:
At micro and nano level there's stronger engagement, better costs and tons of opportunities.
Influencers that match your brand will have followers that are more likely to be interested in your product, helping you to talk to the right people.
A micro influencer is more likely to respond to fan comments than a celeb.
Go behind the scenes
One of the easiest and most fun ways to built trust and credibility is to go behind the scenes. And there are many ways to do this on Instagram. From 'Live' videos to showcasing your company using the Stories tool, there are lots of options. Stories get a whopping 500 million views a day. So, being part of this landscape is important. Putting a face to your brand helps people to see that you're comfortable being in the spotlight which can put their mind at ease. It also gives your marketing a less corporate, more personal twist which is crucial  in a world where banner ads and pushy messages are more than tiresome.
Morgan Stanley have an 'Interns' Stories tab which they use to update their 223K followers regularly. They also showcase their involvement at events by going live.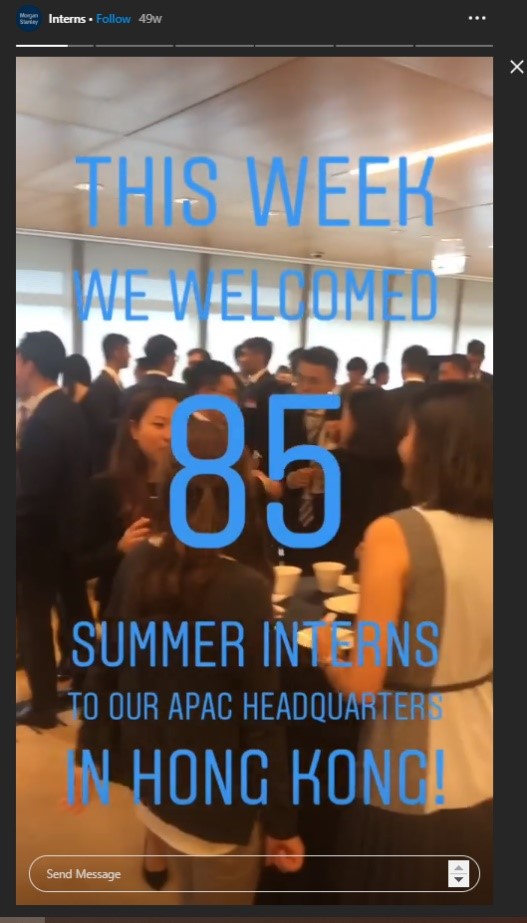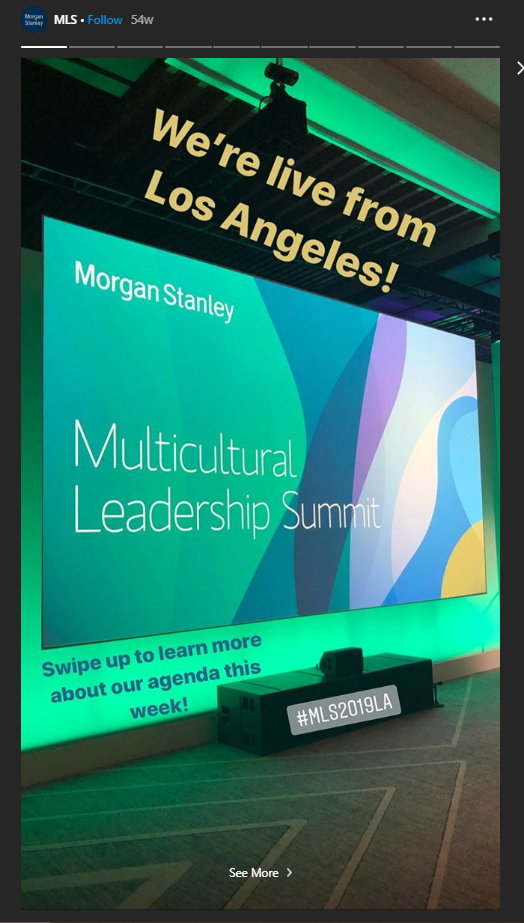 Top tip for Instagram marketers: U.S. marketers spend about 31% of their Instagram budget on Stories and the other 69% on newsfeed. That's a mix of about one third Stories and two thirds newsfeed. It's a good balance to consider when planning your own Instagram advertising mix.
#2 Offer Sneak Peaks and Explainers
Whether you want to drum up excitement about a new product or explain a product in more detail, Instagram is the place to be. Ways to do this include:
Heading to Stories. These have an 85% completion rate with the average number of story frames being 5.2. Longer stories also have greater reach, so think about your aim whether it's a sneaky peak or explainer and craft your content accordingly. Kylie Jenner is very good at introducing her new product ranges on Instagram.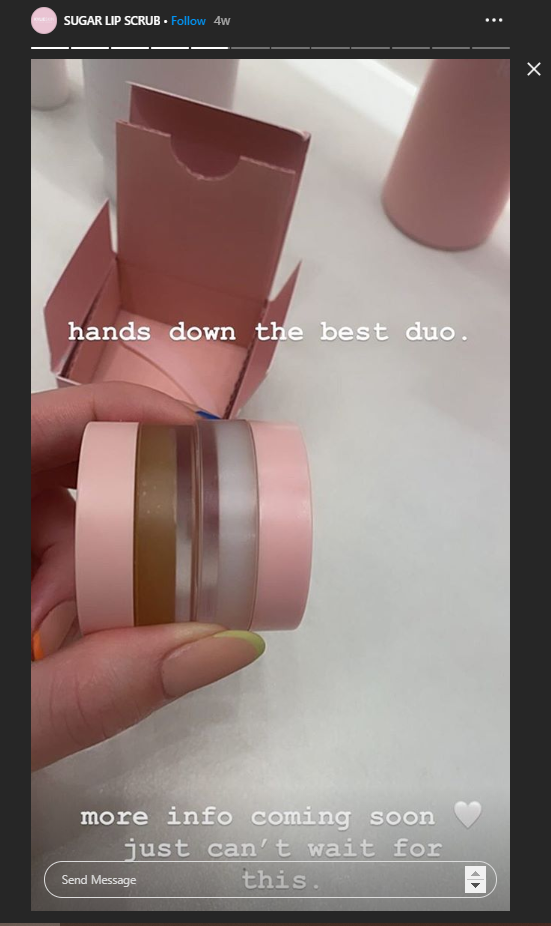 Creating how-to videos
These are the most popular video type on Instagram. Think about what kind of fun, quick, easy-to-implement instructions you could convert into a short Instagram video. The cookies and ice cream dome how-to posted to @buzzfoodtasty received a whopping 1.5 million views with a link in the bio leading followers to the full recipe.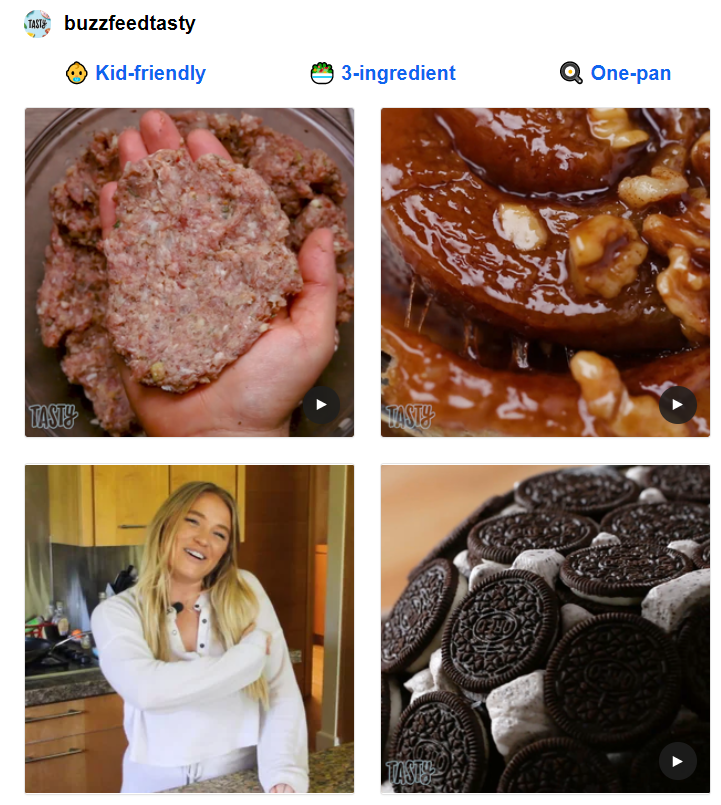 Top tip for LinkedIn marketers: Video gets better engagement than photos on Instagram:
average engagement rate for video posts: 1.87%
average engagement rate for photo posts: 1.11%
average engagement rate for all post types: 1.49%
#3 Embrace Instagram Takeovers To Create Excitement
One of the best ways to drum up excitement on Instagram is with an account takeover. This could involve working with a local influencer to grow your audience. After all, influencer fans are sure head to head over to your account to see what the fuss is all about. You could even ask a specific colleague to do the takeover and promote it across their social pages.
Kimberly Drew, curator of "black art and experiences" and creator of the popular Tumblr blog "Black Contemporary Art" took over Prada's Instagram account. This gave the Prada account an interesting twist and emphasised the power of shared experiences.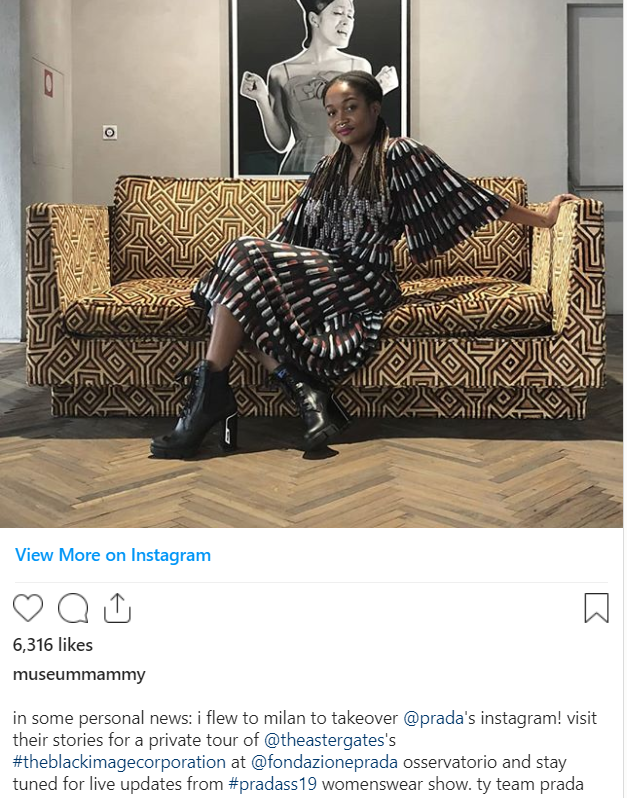 5 Instagram Marketing Features To Use
So, we've looked at the stats and the benefits of being on the platform. But which features and tools will help your campaign shine? Here's our top 5:
#1 Shoppable Posts
Thanks to Instagram's shoppable posts feature, users can complete their buying journey, from discovery to checkout, without ever leaving the Instagram app. Giving people the ability to shop natively within the app makes a huge amount of sense. So connect a shoppable catalogue to your account and start tagging products to boost your ROI. Learn more here.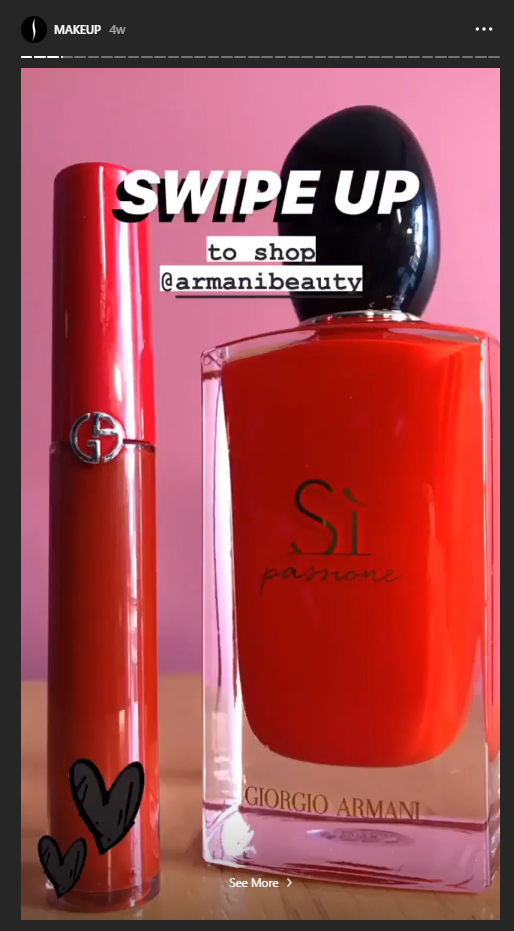 #2 Call to Action Buttons
You can now add specific call to action buttons on your Instagram posts. These include things like Book – an appointment, Reserve – for restaurants, Get Tickets – for events, Gift Cards – for business partners, Get Food – take-outs, Donate – share a Facebook fundraiser link for a business. Learn more here.
#3 IGTV
IGTV is Instagram's way of disrupting the traditional TV experience and updating it for a modern, mobile experience. Unlike Stories which require multiple frames to get your message across, IGTV videos can last up to an hour for larger accounts. This is ideal if you're live at an event or want to explain products in more detail.
#4 Instagram Stickers
Instagram Stickers are dynamic graphic elements that can be added to both image and video stories. Some are animated, some are clickable, and others even allow users to interact directly with the most. They make stories more engaging and promote user engagement.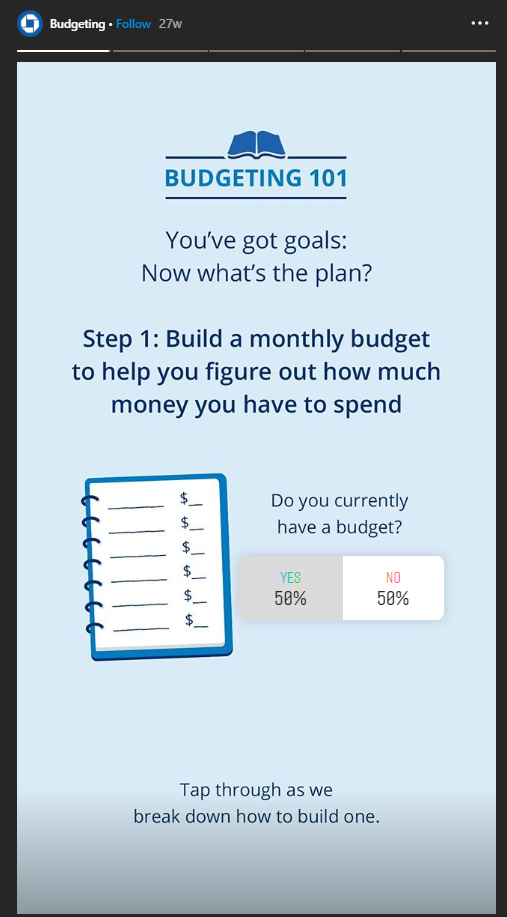 #5 Shopping With AR Features
Augmented reality gives consumers the chance to enjoy a more immersive user experience. Kylie Jenner's AR lipstick feature helps you to see what you'd look like in each lipstick shade which is likely to make you want to take the next step in the purchasing funnel.
If you're looking to get Socially Sorted and improve your Instagram presence, contact the Contentworks team today. We adapt our approach to suit every brand and will help perfect your digital strategy through regular posts, increased engagement and frequent reporting. We can also provide blogs, articles, PR, video scripts, e-books and more.