Whether you're walking down the street, commuting or at a music concert, you're sure to see people tweeting, Instagramming or chatting on WhatsApp. They may also be streaming videos or glamming up pics using the latest filters. The question is; how much does social media really impact life in the UK? We've covered Cyprus and Singapore. So now it's time to look at social media in the UK – the stats you need to know.
An Overview of Technology Usage in the UK
Out of the 66.77 million UK inhabitants, 63.43 million use the internet – that's 95% of the population. There are also 71.67 million mobile subscriptions indicating that many people have more than one number.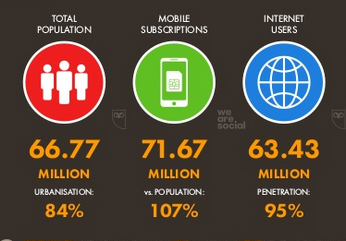 The majority of people in the UK use technologically advanced devices with 92% owning a mobile phone. 77% of mobiles used are smart phones providing instant access to the internet. 74% use a laptop or desktop computer while 53% of the population have a tablet. Streaming internet content to the TV is also popular with almost a quarter of UK adults owning a device to make this easier. And when it comes to wearable technology, devices such as smartwatches from top brands like Apple and health monitoring devices such as Fitbit have infiltrated 9% of the population.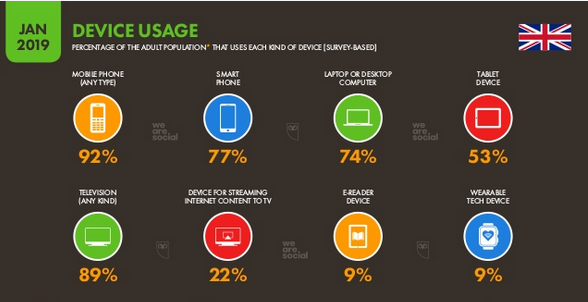 What's also interesting is that fintech is surging ahead with 81% of UK inhabitants making online purchases and/or paying bills online. It's all about convenience and ease of use with millennials preferring to shun traditional banking services for app-friendly alternatives.
Top takeaways for marketing brands
Have a strong knowledge of your demographic. With the majority of people connected in some way, it's really important to find out where your followers frequent and to place content in the right locations.
Recognise the importance of mobile. Consumers are becoming increasingly impatient and demanding. They want information and services on the go. Therefore, your content must be fully optimised for web use!
Now, let's dig into some social media stats for the UK and look at the marketing takeaways for each:
#1 There are 45 million social media users in the UK
There are 45 million social media users in the UK which equates to 67% of the entire population. Of these users, 96% have visited a social network or messaging service in the past month with 77% actively engaging or contributing to social media during this period.
Top takeaway 1: Find out the most popular social networks for your demographic and use this to your advantage. The more you put relevant content in front of a relevant market, the more likely you are to improve acquisition rates.
#2 There are 39 million mobile social media users in the UK
A whopping 86.6% of social media users in the UK access social sites via a mobile device. That means only 6 million people do not access the internet on-the-go. Mobile social media usage across the globe has also experienced a 10% rise since 2018 with a +297 million increase in those taking to social media platforms via mobile devices. But what does this mean for brands?
Top marketing takeaway 1: Mobile usage is increasing. So, to keep up with trends and avoid falling behind other brands it's essential to optimise you content for mobile. If your site is slow to load or completely illegible via a handheld gadget then consumers are likely to bounce and go elsewhere. This is not good news considering high bounce rates are not good for SEO – or your ROI!
Top marketing takeaway 2: 70% of internet users watch video on mobile platforms. And with video set to account for 80% of all internet traffic by 2020, it's really important to tap into mobile video marketing. Short, sharp video clips with a clear call to action are a great way to hook in your target audience.
#3 YouTube and Facebook most active social platforms 
According to a 2019 digital report, the most active social media platform in the UK is YouTube, closely followed by Facebook and Facebook Messenger. This is significant as it shows where the British public feel comfortable spending their social media time.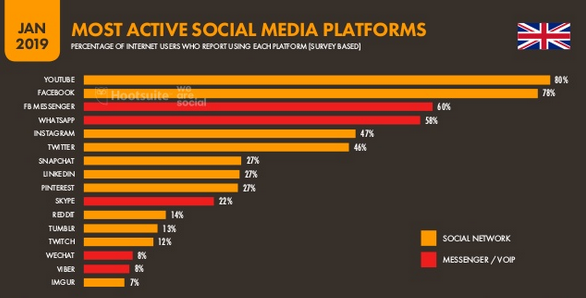 Top marketing takeaway 1: As a brand, it's really important to know the latest stats and to compare them to your own research to see if you can make improvements. For instance, if your Facebook campaigns aren't converting as well as they could be, there could be an issue with your campaign or messaging.
Top marketing takeaway 2: As messenger services such as Facebook Messenger are so popular, don't be afraid to incorporate such services into your marketing strategy. Offering instant help and communication to consumers is highly valuable in today's fast-paced world which s why chatbots are proving to be popular.
#4 UK users spend 1 hour 50 minutes on social media per day
Social media is undoubtedly addictive. Research shows that on an average working morning, Brits sends three emails before even getting out of bed. They'll also spend 6 minutes on social media before throwing back the covers and starting the day! Indeed, the average UK social media users will spend an impressive 1 hour 50 minutes on social media per day.
Marketing takeaway 1: Brits have a lot of time for social media. They often check their favourite platforms first thing so why not use this to your advantage with targeting marketing at specific times of the day. To make this even more beneficial, research when your audience is online and when they are most likely to view your content as that is when you can roll out significant campaigns.
#5 Only 13% of UK internet users use social media for work purposes
While more companies are becoming aware of their need for social media gurus, only 13% of UK internet users use social media for work purposes. As more employee advocacy programmes launch, encouraging staff members to utilise social media, it's thought this figure may rise substantially.
Marketing takeaway 1: As a company, don't think that social media is for others. One of the best ways to get ahead is to adopt a multi-channel social approach that increases brand awareness. Incentivise staff to share but never force them. You really don't want to be "that" company.
Did you enjoy reading about social media in the UK? Tweet us and let us know your thoughts or share your favourite stat. Talk to our team now about content and social media marketing for your business.