As a content marketing agency passionate about tailored marketing solutions, we're all about demographics. If you want to relate and connect with your audience, you need to be talking to the right people on the right platforms. You wouldn't try to promote your latest juicy cheeseburgers to a community of vegans would you? We've talked about marketing to millennials. As this is one of our most popular articles, we have updated it for 2022. Now, let's look at marketing to Gen Z.
Marketing to Gen Z – Meet Your Demographic
The coolest kids on the block are extremely value-conscious and largely driven by innovation, technology, and social media. However, they are drawn to different values and have way different expectations and spending habits than Millennials. Speaking of spending habits, some of the Gen Zs have purchasing power while others don't but still influence household spending (food, drinks, gadgets, and clothes included), big time.
With this in mind, here's marketing to Gen Z in a nutshell:
According to Pew Research Centre, 1996 was set as the last birth year for Millennials. This means anyone born from 1997 onwards is part of the 'new' Gen Z demographic. There's been a bit of difficulty deciding when Gen Z ends, but the consensus is somewhere between 2012 and 2017.
According to Gen Z Planet, Gen Zs have an enormous spending power of over $360 billion globally.
There are more than 2 billion Gen Zs around the world (that's 26% of the population).
Nearly 99% of them own or use a smartphone, 85% of them use social media to research products, while Instagram is their go-to platform for these kinds of things.
71% of Generation Z watch 3 or more hours of video per day, which is one of the reasons why 60% of them use TikTok on daily basis. Facebook is one of the least popular social media platforms amongst these generations.
How's Marketing for Gen Z Different From Marketing for Millennials and Boomers?
Obviously, the Gen Z team is nothing like other generations. After all, the same marketing strategies won't work for a 50-something and a 20-something simply because they are shaped by different factors, have different spending and saving habits. They also have different outlooks toward money and technology. Whilst we are not down with stereotypes, here are some of the marketing preferences for the different generations:
Baby boomers respond well to telephone calls, up-selling, and cash-back programs, and, surprisingly, don't respond well to discounts (yup, they actually like treating themselves and don't mind spending some extra bucks).
Gen X responds well to direct mail and e-mail marketing, prefers Pinterest and Facebook, and ethically-produced products that are good for both society and the environment. they are increasingly resentful of data and privacy abuse.
Millennials keep their eyes on customer reviews (Yelp, TripAdvisor, and similar websites) but also follow Facebook and Instagram trends. They are more likely to be on all the social media networks than Gen Z.
Gen Z is a progressive, tech-savvy, ethically diverse, and very social-minded group of peeps. That's exactly why brands should create tailored strategies and content that will click with the younger crowds and make them interact with it. Since this generation truly has different social preferences and online behaviour, tracking their buying journey may seem like a guessing game, while it's actually not. You need to get your messaging right, make your purpose clear, be authentic, and offer amazing customer service –  it's simple as that.
Which Platforms Reach Gen Z?
Gen Z is the generation of Instagram Stories and Reels, YouTube Shorts, and TikTok dance videos. So, social media is the absolute best tool to use to reach the younger population. According to Digital Information World, Facebook, Pinterest, Twitter, and Reddit are just trailing behind while the number of Gen Z users on Snapchat, Instagram, and TikTok is about to skyrocket. It is expected that the number of Gen Z users on TikTok reaches 48.8 million by 2025!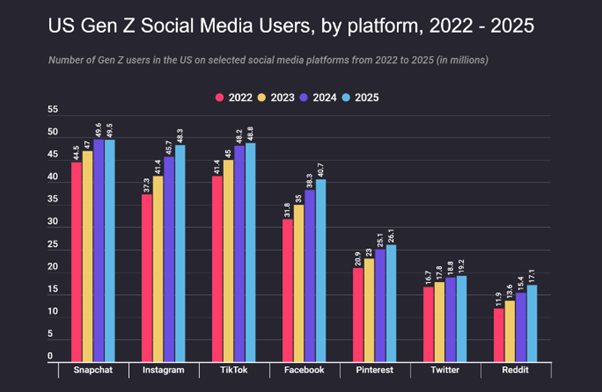 Example – Chipotle
Chipotle is one of the Gen Z-approved brands. This Mexican grill counts 1.7 million followers on TikTok and over 36 million likes. Their content features a culture of informality, and that's exactly what the younger generation appreciates.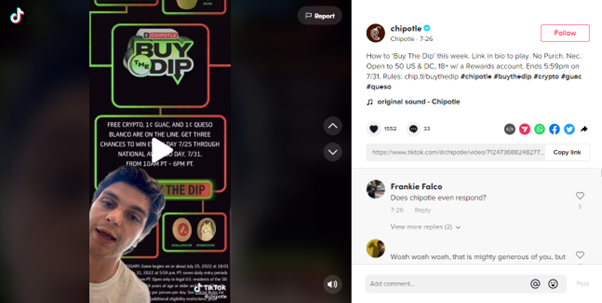 In July this year, the campaign "Buy the Dip" kicked off. It all started as a joke since Chipotle's customers are going nuts about their guacamole dip. However, buying the dip is also a popular crypto-related term. Knowing that Gen Z is all about crypto and NFTs, Chipotle hopped on the trend, and reached the right audience. They even launched a game you can play to either earn free crypto or get a free dip. This particular video got almost 1 million views.
Why this worked:
Chipotle showed up on the platform where there are a lot of Gen Zs already,
They tapped into their target audience's interests perfectly and created a short-form user-generated video,
They used the non-branded hashtag #buythedip which is popular on TikTok and mainly used by the crypto bros (especially younger ones).
Now that you get an idea of what it takes to make the generation of digital natives tick, let's talk more about Gen Z marketing strategies.
#1 Short Video Content Is the Way to Go
More than 40% of Gen Z prefers bite-sized video content, Reels and TikTok videos in the first place. 27% of them find carousel posts appealing while 12% of them enjoy in-feed images. Monzo, a platform trying to make banking better for everyone, totally gets Gen Z's appetite for engaging short-form video content.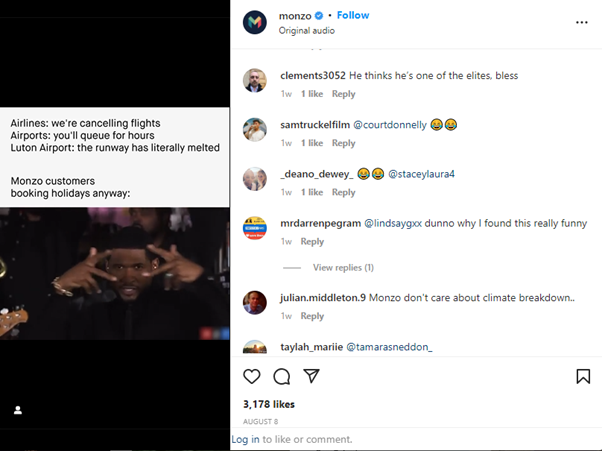 They publish Reels all the time, and most of them are focused on low-budget travel tips or making fun of cancelled flights, airport queues, and travel disruptions in general. This post got over 33,000 views and 3,178 likes, organically. Gen Zs love good deals, they are hopping on trends, and have a specific sense of humour Monzo managed to capture in their posts.
#2 Leverage Influencer Marketing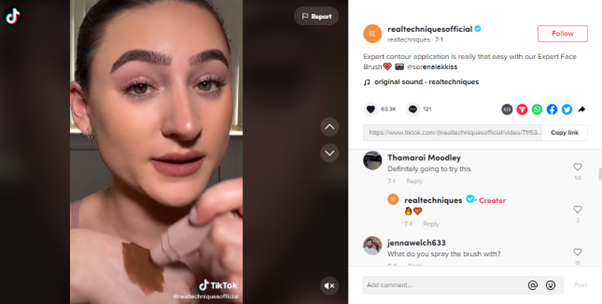 Real Techniques is a popular beauty brand. Yet, they wouldn't be so popular if there wasn't for TikTok and their influencer marketing strategy. Real Techniques collaborated with a couple of beauty gurus and Instagram/TikTok influencers such as Victoria Lyn and Serena Lakkis (shown in the video above). The TikTok video was seen 1.5 million times. There are several reasons for that. The brand has a large following (99k at the time of writing) and influencers they work with have large followings as well. Serena, as an example, has 868.3k followers and her content has generated 23.4 million likes so far (wow, right?).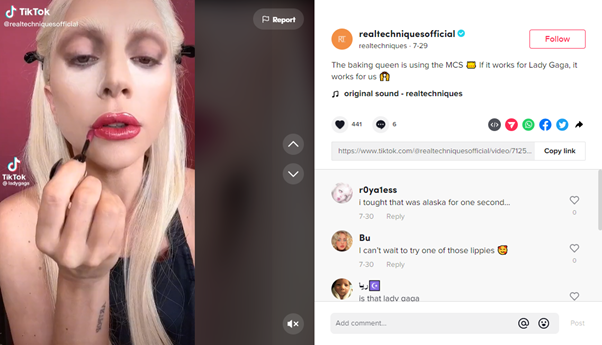 Lady Gaga is also featured on the Real Techniques' TikTok account for using their baking powder and lipsticks. This is just another proof that Gen Z loves brands that collaborate with modern-day icons, influencers, and pop stars.
However, keep in mind that Gen Z connects with brands that partner with celebrities or influencers who genuinely like and use their products. 44% of them mostly stop following or buying from brands that seem to inauthentically partner with promoters.
#3 Advocate for Human Rights, Diversity, and Inclusivity
Gen Z audience is very receptive to brands that have set their values straight. 20-something folks actually love brands with a great purpose, such as Parade, an underwear company that strives to redefine "sexy" and make underwear comfortable for all types of bodies.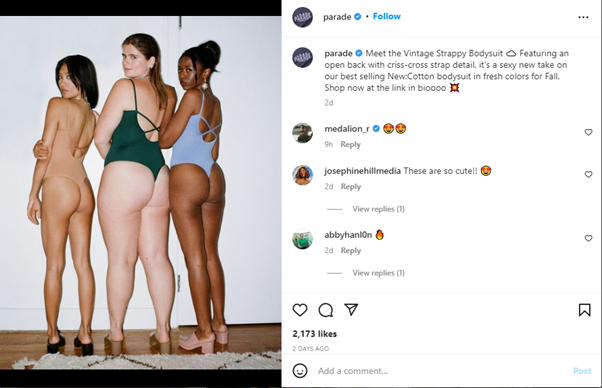 Parade is a community-first and body-positive brand that focuses on self-love and self-acceptance and normalizing hip dips, stretch marks, and body hair. They are also vocal about LGBTQ and social rights and advocate for the decriminalization of sex work.
Most of the brand values Gen Z really feels connected to are related to societal challenges – sustainability, diversity, world hunger, etc. They also love brands that maintain a strong sense of individuality and more than 89% of Gen Z makes buying decisions based on how environmentally and socially conscious a brand is.
#4 Stop Trying to Be Picture-Perfect and Be the Real You
Gen Z doesn't care about aesthetics as much as they care about creativity, humour, and authenticity. That's why there are so many TikTokers among Gen Z. Dance videos, makeover videos, lip syncs, and numerous challenges – there are so many ways for a brand to go viral and reach its target audience.
The TikTok culture is different from everything we've seen before and it takes some time to get a grasp of lingo, trends, sounds, and everything else that is being pushed on the platform, but once you do, you'll be able to generate videos without feeling overwhelmed. And yes, you can easily hop on the latest TikTok trends, even as a small business, but you should know what to do and what to skip. Your goal should not be to try to make as many purchases as possible and post ad-like videos but to make funny and engaging content that will make Gen Z laugh and learn at the same time.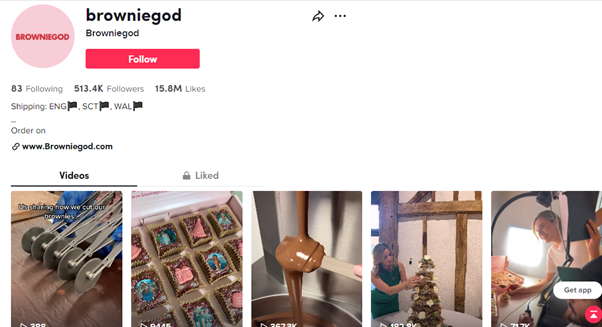 Browniegod, has more than 513k followers on TikTok. How did they do that if TikTok's all about dance videos? Well, Browniegod constantly publishes content that shows what it looks like to actually run a business. From sharing the simple brownie-making and cutting process to filming their workers as they wash trays, gossip, or eat Nutella straight from the jar, the brand really makes it easy to connect with the people behind it that are just being true, genuine themselves.
#5 Don't Be Afraid To Go Live!
Gen Z likes innovation. That's probably why live commerce shopping started booming during the lockdowns. Livestream selling on TikTok ticks all of the boxes for Gen Z. In fact, more than 40% of Gen Z have purchased at least one item by watching livestreams on TikTok. Livestreams provide a great opportunity for brands to showcase their products in real-time and interact and engage with young, tech-savvy customers. On the other hand, customers can buy products without leaving the app by simply pinning them and adding them to shopping carts.
Cider is a UK-based clothing brand (loved by many Gen Z females) that has been using the live shopping feature like there's no tomorrow. TikTok actually lets you schedule the stream and announce it to get more people interested. Cider also offered a discount of 30% and free shipping to everyone who decided to join, which turned out to be a great incentive for Gen Z that is largely and easily affected by FOMO (fear of missing out).
Bonus Gen Z Marketing Tips
Gen Z sees social media as a way to connect with like-minded individuals. Your task is to build a digital community and open yourself up to real people (and not just influencers and celebrities) who will eventually become your brand ambassadors. Make bonds with people who support your brand's values – thought leaders, artists, and activists and you'll tap into their audience without coming across as transactional. You can also host online events, collect feedback from customers, and reward the most loyal ones in some way. This way, you will build brand trust and earn much respect from your Gen Z audience.
Don't shy away from your content marketing (blogs, PRs, video and even whitepapers). Contrary to popular belief, Gen Z do still like to read! You just need to make your content appealing. Blogs should come alive with screenshots, videos and gifs. You can also utilise layouts that are easy on the eye like bullet points, listicles and audio options. This won't alienate other generations from your blog. It's a win win for everyone.
If you need Contentworks to help with producing content for your Gen Z audience, get in contact with our team. We provide a range of content to suit all generations and finance and tech subsets.  Loved reading Marketing to Gen Z – The Essentials – Updated for 2022? We think you might also enjoy reading about marketing to teens in the finance space.