The Gen Z age group currently occupies one-quarter of the global population. That translates to two billion Gen Zers worldwide, a figure you don't want to overlook from a marketing perspective. Born anywhere from 1997-2012, a huge chunk of this demographic are already teens or fully grown adults, meaning they face real-world situations on a daily basis – including financial challenges. From trading forex and navigating crypto to taking out credit cards, budgeting effectively and managing household bills, these digital natives require financial management solutions. So, how can you market your finance product to teens?
Let's take a closer look…
Is It Worth Marketing to Teens?
Absolutely. Gen Z consumers are demanding and unafraid to raise the bar when it comes to more flexible ways of paying. They know what they want. And they're driving the industry forward. Gen Z can encourage you to give more. But in order to deliver the best possible campaign, it's important to understand what it is to be Gen Z in 2022.
Here are some useful statistics as well as tips on how to tap into the Gen Z mindset.
#1 Buy Now Pay Later Services Hugely Popular
Nearly half of 16 – 25 year-olds in Britain used buy now, pay later (BNPL) services last year to help spread the cost of expensive fashion items and tech, according to a 4,000-strong survey by Student Beans. Unphased by lingering debt and IOU-style purchases, Gen Z has become the driving force behind BNPL brands such as Klarna, Clearpay and Laybuy, all of which help Gen Z 'afford the items they want to buy most.'
BNPL providers are also using clever marketing techniques that appeal to the Gen Z market. For example, Clearpay uses fresh-faced models of all ethnicities, shapes and sizes that represent the Gen Z brand. After all, Gen Z wants to see more people that look like them in marketing and advertising campaigns. The brand also releases marketing messages that are not only seasonal but targeted to their Gen Z audience. Check out the uni-themed snippet below.
Top Marketing Tip: Knowing the needs of the demographic you're targeting will help you to prepare suitable visuals, snippets, articles, e-books, videos and other content types. These can then be rolled out throughout the year at critical times, such as the start of term.
A note about responsible marketing
Klarna landed itself in hot water recently. The buy now pay later service's Instagram influencer campaign was scolded by the advertising watchdog for encouraging spending on non-essentials during lockdowns. Influencers Bradley Harper, Claire Menary, Aisha Master and Yasmin Fatollahy were paid to post on behalf of the lender. The posts all included the hashtag #klarnait.
One post by @masteramas promoted a £139 facemask which was referred to as a 'great investment mask, made easier with @klarna.uk'. The ASA said that this ad encouraged consumers to purchase a relatively expensive beauty item which was likely to go beyond the usual spending habits of many. It also pointed to use of the word 'splurge' in the same post.
#2 Peer-to-Peer Platform Popularity on the Rise
The use of Peer-to-Peer (P2P) payment services are on the rise for both the Millennial and Gen Z generation. This payment space has grown significantly over the past two years, with 32% of Americans using P2P more now than before. This opens up many opportunities for brands to introduce and market app features that allow consumers to send money to other people by searching their phone number, email address or username. The process is typically quick and free which explains its appeal.
The most common P2P platform among all generations is PayPal, but Gen Z also uses Cash App (46%), Apple Pay (44%), and Apple Cash (27%) more than other generations. Other P2P brands used by Gen Z include Venmo at 40%, Zelle at 29% and Facebook Pay at 14% according to a recent Gen Z payment trends report. With the popularity of P2P platforms in mind, let's look at how brands are keeping their teen audience hooked.
Cash giveaways. Almost half of Gen Zs (46%) live paycheck to paycheck and worry they won't be able to cover their expenses. So, what better way to pique the interest of this demographic than with cash giveaways. P2P brand, Venmo, linked their cash incentive to the American football season for added appeal, encouraging users to 'follow and drop their Venmo handle'. This is a great way to spread brand awareness and encourage engagement. Check out the distinctive Venmo branding and recognisable colour scheme throughout the short video too. Remember, it takes consumers an average of seven interactions with your brand before they start to feel comfortable with it. So be sure to keep your visuals and messaging are consistent to avoid confusion.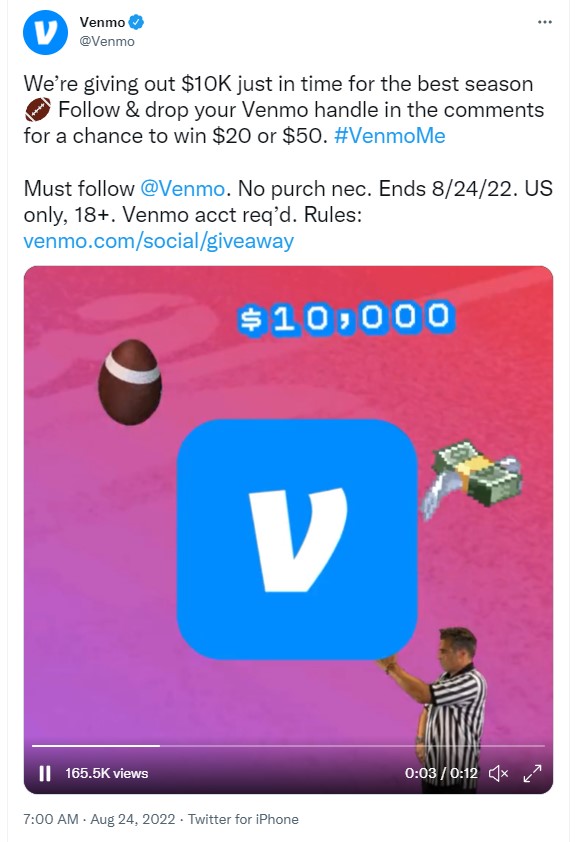 Social proof. While P2P platforms are popular with Gen Z, Millennials have been adopting this kind of payment type quicker. So there's room for brands to improve on how they entice and engage with Gen Z consumers. Social proof is a great way to show others what they're missing. So, why not ask for reviews and share the best ones online? You could also use social listening tools to identify positive comments that you can then share across platforms. Digital payment network, Zelle, does this well.
TikTok videos. Head over to TikTok, a hugely popular platform with Gen Z, and you'll also discover payment apps using a host of marketing techniques. Cash App recently shared a video with their 299K followers showing just how simple it is to use Cash App Pay deals. With a text style format, the brand promoted their contactless payment method in a way that resonates with the Gen Z demographic.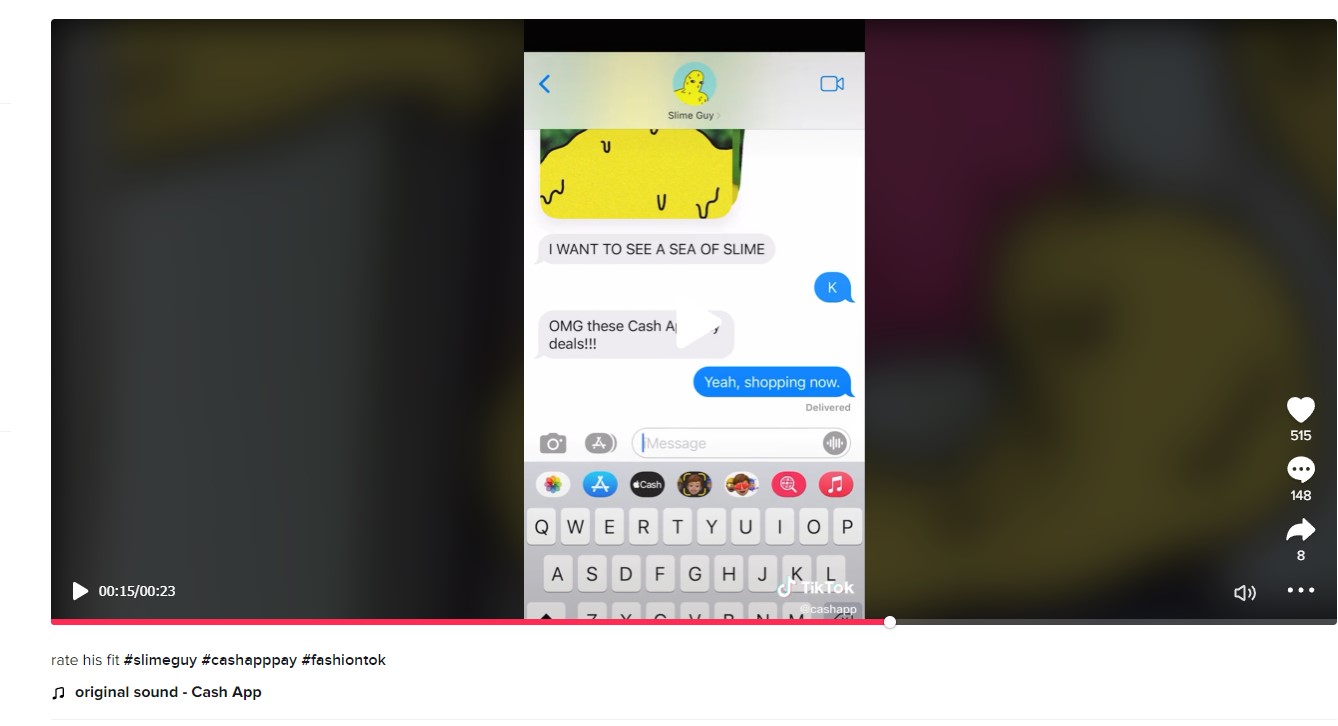 Top Tip for Marketers: Utilise the right channels. There's no point ploughing your marketing budget into a Boomer favourite such as Facebook if the majority of your audience is on Instagram, TikTok and Snapchat. Use data to understand where your audience hangs out and go from there. While it's common knowledge that teens rave about TikTok, did you know that 40% of Gen Z users prefer using TikTok and Instagram for search over Google? It's this sort of sweet, sweet info that'll help you hone your keywords, write detailed snippets and streamline your overall strategy. When brainstorming, also think carefully about what teens do on a daily basis such as texting so that you can incorporate social elements into your campaign. This will help to draw your audience closer.
#3 Gen Z Hungry for Financial Literacy
Gen Zers want to improve their financial know-how and are hungry for more information on building wealth and making better financial decisions. A whopping 93% of teens believe they need financial education and skills to achieve their life goals, so they're constantly on the lookout for easy-to-digest information and fast-paced financial tips. Impressively, teens ranked having a well-paying job as their number one financial life goal. At number two was having money saved, three was owning a home, four was owning a vehicle and five was having no debt or student loans. This desire for information opens up huge opportunities for brands targeting this demographic. Let's check out what the finance realm is offering in terms of educational marketing…
Educational blogs targeting children, teens and parents. Let's not forget that a large chunk of the Gen Z generation are still children. Many might only be ten years old while others will be in their teens looking for increased independence. Prepaid debit card provider, GoHenry, has tapped into this market with a service that allows kids to enjoy all the fun of digital payments responsibly. With regards to marketing, GoHenry releases simple, educational blogs which help to promote their product while building financial literacy.
Money saving tips and practical, everyday information. A huge part of financial literacy is knowing how to budget. So, companies like Step, take to platforms like TikTok to share money-saving tips with very specific hashtags such as #teenbanking. This video about gas prices, for example, is relevant, interesting and specifically targeted to the Gen Z audience. They also share hacks on how to get free donuts, discounts on McDonalds and other tasty treats.
Working with influencers to share important messages. Step also regularly works with high-profile influencers to help retain the attention of their audience. Not only are teens likely to click on influencer content, but the brand awareness garnered through influencer involvement can land you a load more followers.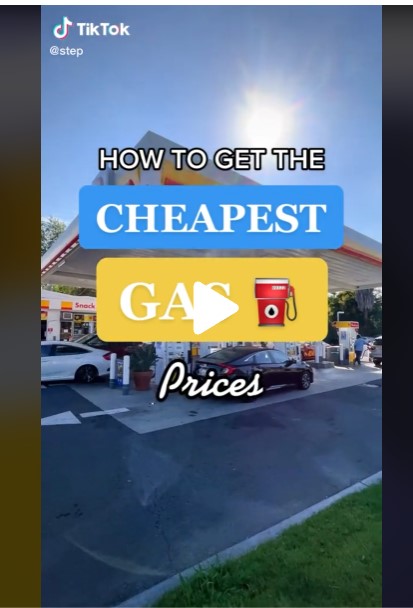 Top Tip for Marketers: Don't feel like you have to work with mega influencers. Micro influencers can be great for brand engagement too, particularly when chosen carefully. When it comes to financial literacy and engagement, find influencers who regularly share useful and age-appropriate content with their followers. Finding the right creator on TikTok can be as simple as sifting through hashtags like #FinTok or joining the TikTok Creator Marketplace and searching finance accounts.
Building education centres. Many brands don't just market to teens. This might be a sub-section of your business. So how about creating an education centre that's broken down into different topics and is as easy to navigate as possible. You could even create a tap for Gen Zs that's packed with things for that particular graphic. Think about creating explainer videos, e-books, how-to content, tutorials, webinars and more.
What Else Works for the Gen Z Audience?
Marketing to Gen Z is definitely worth your time. There's no doubt about it. But what else can you do to really get this group of demanding tech experts on your side? Let's delve deeper.
#1 Ethical Marketing Initiatives
It's been suggested in recent years that ethical banking is being predominantly driven by Gen Z and this is hugely significant considering the spending power of this group is expected to surpass that of Millennials' in the next 10 years. With Gen Z wealth forecasted to grow by 400% over the next decade, this newly dominant group has impressive power to demand an ethics-first approach. Products have already been launched with a far more ethical approach than in previous years, particularly in Europe. For example, Bunq is targeting Gen Z with current accounts that link spend to planting trees, while Klarna boasts a CO2 tracking app. Failure to keep up with this new demand could potentially impact business success.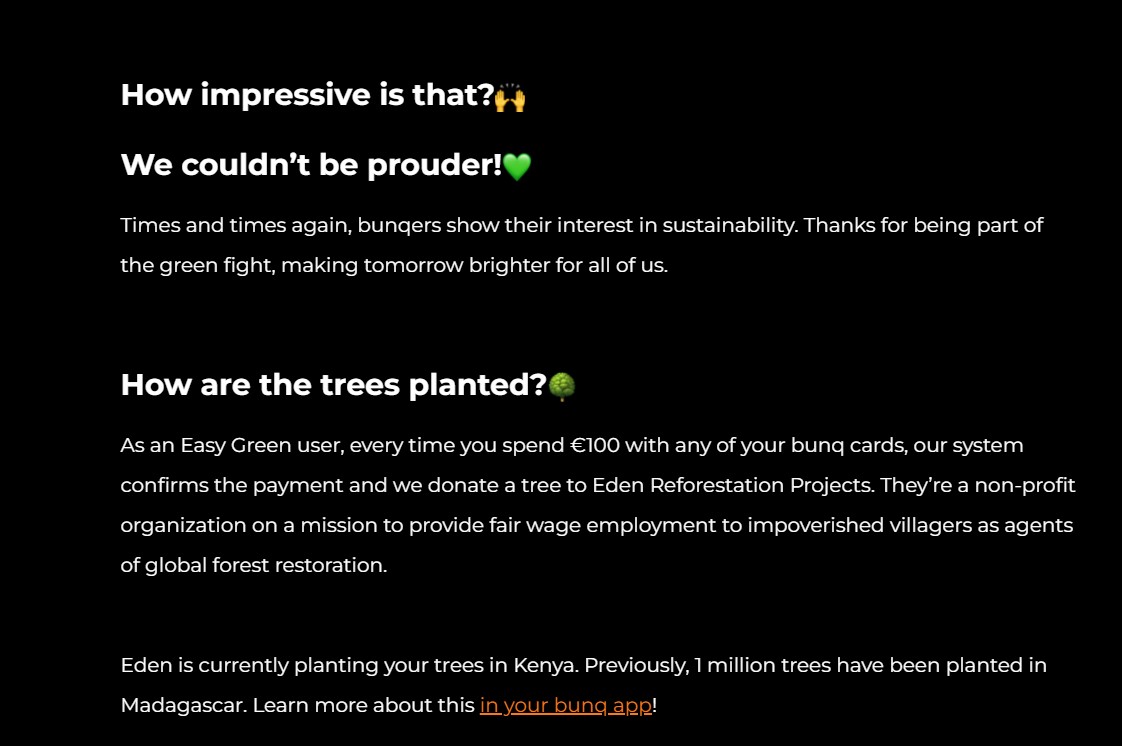 Top tip for Marketers: If you've got an initiative that's Gen Z-friendly, blog about it, share your ideas on social media, post videos of what you're up to, go behind-the-scenes, interview partner companies/collaborators and share the results. Keep the energy levels high and use content marketing techniques to stand out from the crowd.
#2 Embrace Short-Form Video Content
Gen Z have short attention spans. They want information, like yesterday. So use platforms like TikTok and Instagram to your advantage as well as YouTube Shorts. Teens watch an average of 91 minutes of TikTok every single day. This compares to 56 minutes on YouTube. So embracing bite-size content that's fun and perhaps interactive could work wonders. Your videos can be weird and wonderful. Gen Z has come to expect this even from otherwise straight-laced brands like Fidelity Investments. Just make sure your messaging is clear and try to include subtitles so that people can watch and understand your videos even with the sound off.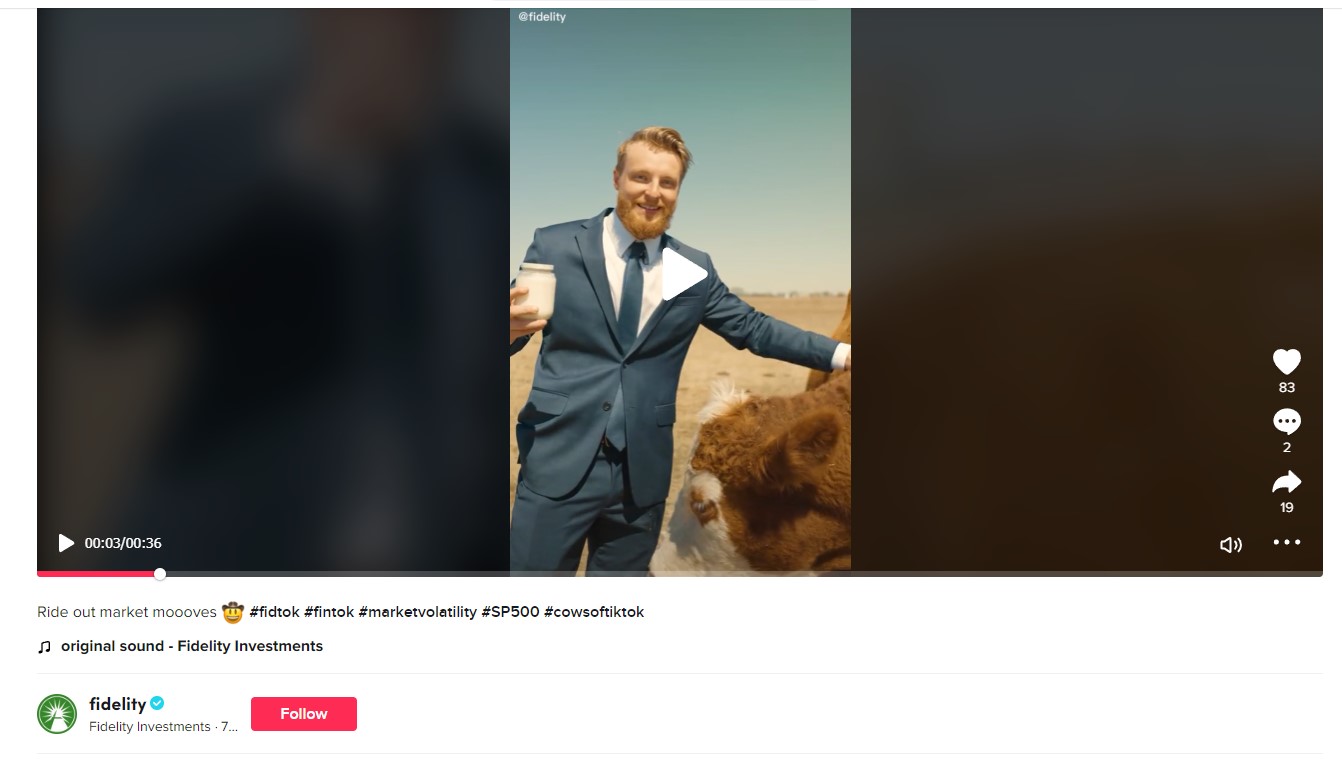 Top Tip for Marketers: Many brands like to take a slightly different strategy on TikTok, communicating through their brand mascot or using animation. This helps to differentiate TikTok from other forms of marketing communication and gives users a reason to visit your brand on that particular channel.
Remember that when marketing to teens, you need to be responsible. Advocating for get rich quick schemes or portraying unrealistic images of wealth isn't cool. Plus, it could land you in a heap of trouble with your regulator. If you're looking to nurture the next generation of investors or traders, talk to Contentworks Agency. Our expert team will set you off on the right foot and come up with a tailored strategy for your brand.