Your CEO probably won't go viral on TikTok, no matter how hard you beg (or dance). And your content won't trend on any channel if it's boring, overly promotional or copied. Many brands approach us asking us to make them go viral on TikTok. But the truth is, you've really got to understand how platforms work and be open to content suggestions that give you a better chance of getting noticed. Here are 5 ways brands go viral on TikTok
Viral Content isn't Based on Follower Numbers
First let's address one of the most common misconceptions about TikTok content. It does not matter how many followers you have. Gasp.
The TikTok algorithm uses the videos people engage with to decide what content they might like to watch in the future. That's why if you watch a cute video of a bird dancing to Elvis, you're likely to be served more adorable animal content. The TikTok algorithm does not factor in a TikTok profile's follower account or prior engagement numbers. This means you're just as likely to see a post with a few million views as a video from a brand-new user. This is good news for brands as company accounts don't need a huge following to enjoy viral success. And they don't need to have had a presence since the platform's popularity spike in 2020. Starting today is good enough.
So now that's cleared up, let's look at some top viral strategies.
#1 Follow Trends
TikTok trends are huge, with TikTok's young demographic joining in with all kinds of weird and wonderful challenges that quickly cause a buzz online. From Zoom Meeting Mishaps to Dating in your Thirties, there have been many TikTok trends already in 2022. Trending posts already enjoyed 1822.7 billion views to date.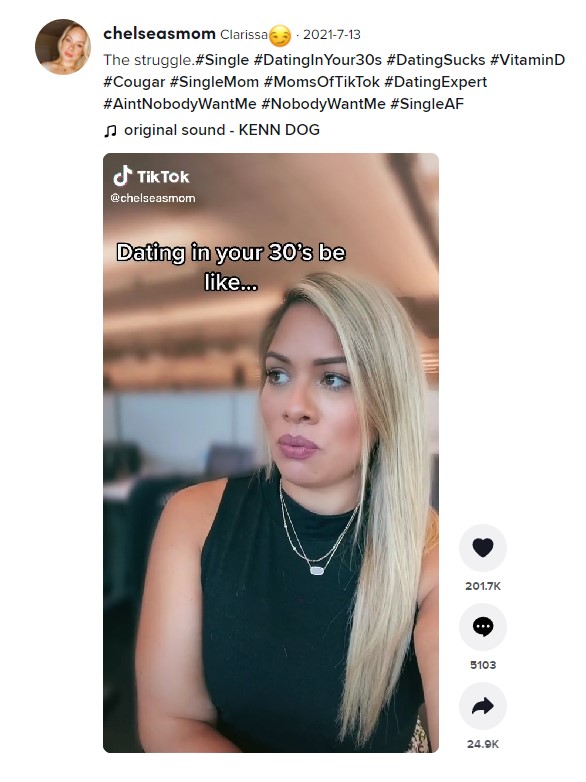 So, if you want to 'go viral,' it's a good idea to see what's hot in the TikTok space through hashtag research and to get involved quickly before it's all over. TikTok trends can be fleeting. But the more users engage with a trend, the more the app promotes videos that play into it. So if you're there with relevant content, TikTok is likely to present it.
Contentworks Agency Creative Director Charlotte says
"The problem with big brands, especially finance brands, is the time they take to action a creative idea. It needs to pass so many department heads, compliance and then legal before it can even be created. When it comes to TikTok, that is a huge barrier to success because the trend is over by the time you get there. Speed up the approvals process by streamlining decision makers and emphasising the importance of fast approvals for social media."
Ryanair is one brand that's managed to turn trends into viral moments. Check out this video of one of their planes moving towards one of their instructors. It might look simple enough, but the video is overlaid with a viral song called Walk by Saucy Santana which was blowing up on TikTok at the time. Through careful trend analysis, Ryanair were able to garner 1.2 million likes for this one video. Notice the hashtags #foryou and #foryoupage. This is usually where trending content is presented and is Ryanair's way of telling TikTok that hey, our content is ready and waiting for savvy trend followers. The For You page is also a good place to get an idea of what trends are popular at any given time.
#2 Use Humour
A recent survey revealed that 'globally, an average of 31% of TikTok users included "lifting my spirits" as one of the top three reasons for returning to the TikTok platform again and again.' What's more, 'Entertainment' and 'Pranks' are two of the most popular content categories on TikTok. So it makes complete sense to produce comical content that might appeal to your target audience. The stats show that people love it and remember, the more they watch funny videos, the more TikTok will search, pull and present similar videos to them.
Chipotle is one brand that repeatedly uses comedy to their advantage, racking up millions of post views and likes on a regular basis. Their posts often consist of a simple video with a hilarious caption and are accompanied by hashtags that make it easier for the algorithm to identity their category such as #comedy, #funny and #viral. Don't forget to hashtag up your posts, it shouldn't be a guessing game as hashtags are one of the TikTok algorithm's ranking signals.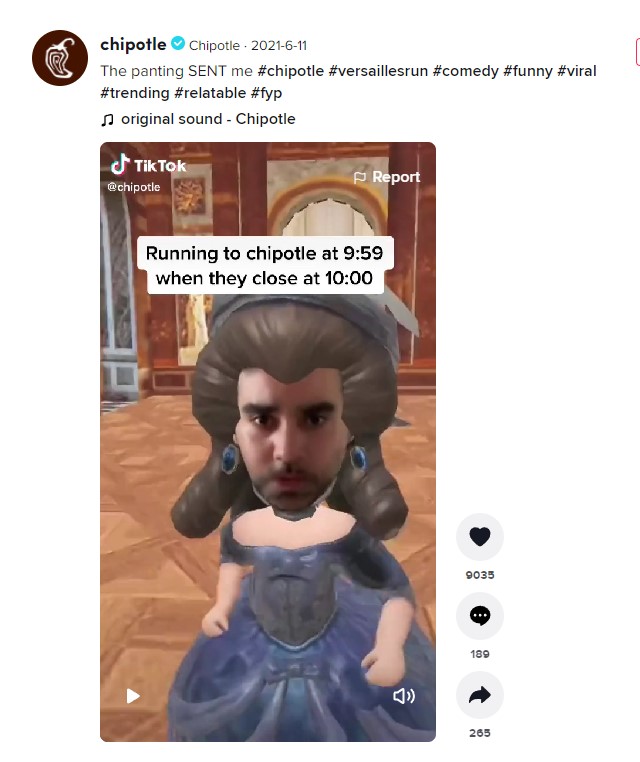 #3 Keep your Videos Short
TikTok allows you to create videos that are 15-seconds, 60-seconds or 3-minutes long. But research shows that customers get hooked in the first three seconds of the video. And if they're not interested, they'll move on. So when planning a video post for this platform, think about putting your call-to-action or key message right at the start.
There are other benefits to producing short videos. For example, if you set yourself a 15-second time limit, there's no room for waffle or boring content. This means the standard of each video you create is likely to be a lot higher due to its punchier, more creative nature. Remember when Twitter went from 140 to 280 characters? Then they added threads. Many users say that a lot of creativity was lost by expanding the character limit.
Top Tip: Opening a TikTok video with a powerful emotion such as surprise creates a 1.7x lift over content that starts with a neutral expression. So cut the intros and delve straight into the action. Check out this example from Dunkin which is instantly amusing. A simple caption is used to give the video context without eating into the video running time.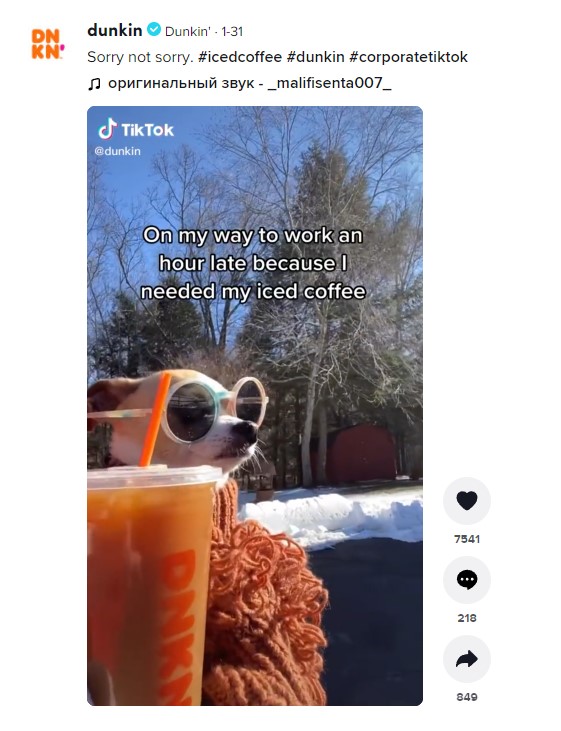 This example of someone playing around with sprinkles is also a great example of no-nonsense content that sparks curiosity and intrigue from the very beginning. Remember, the main goal of TikTok is to stop people from scrolling. So your video really needs to stand out. Don't forget to include hashtags such as #oddlysatisfying as this makes it more likely to appear to people who love this kind of content. Indeed, #oddlysatisfying has a whopping 62.2B views on the platform. You can even research trends like this to see which match your brand the best and use them to fuel your video ideas.
#4 Engage with Other TikTok Users
TikTok is a social media platform, not just a video streaming tool. So don't forget to engage with your audience. This is great for developing relationships and drawing people closer to your brand. It's also a great way to get your content seen as TikTok's algorithm has been designed to reward all kinds of community interaction.
When coming up with a TikTok strategy think about how to get people to engage. You might want to include a call-to-action or some kind of prompt to share your content in the caption. You can ask questions or even post controversial content that'll get people talking. TikTok also offers some unique ways for you as a brand to interact with other TikTok creators, such as Duets, Stitch and video replies to comments.
Stitch is a tool that allows you to clip and integrate moments from other TikToker's content into your own. This is ideal for collaborating with your favourite creators. Duets, on the other hand, allows one user to record a 'duet' with another user by commenting alongside the original creator's video in real time. Gordon Ramsay has been making great use of this tool to critique TikTok recipes. This Duet video ripping apart chicken nugget parmesan rolls has attracted a whopping 2.3 million likes.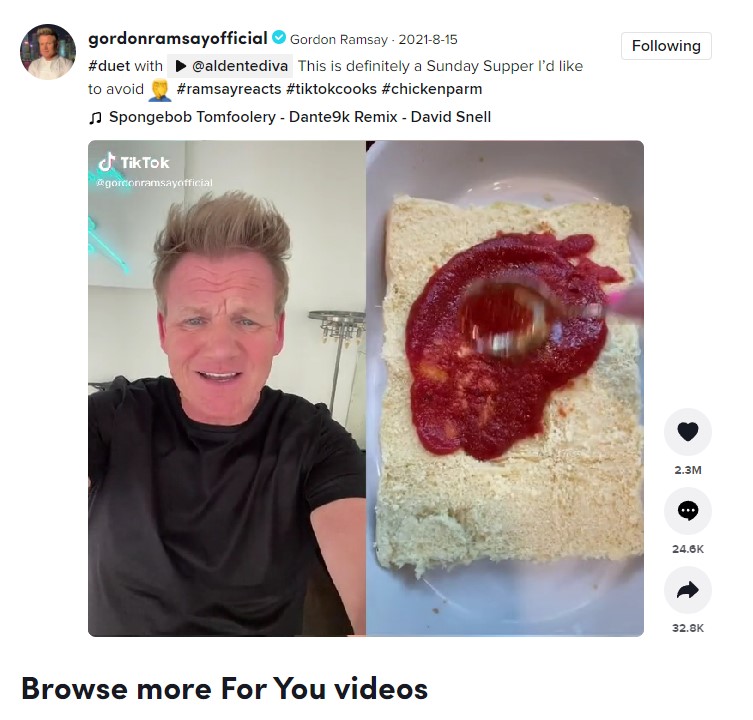 #5 Understand Your Audience
If your content stands any chance of going viral, you need to promote active engagement as previously discussed. This means analysing who your audience is and what they want to see. Are you targeting a young Gen-Z fanbase or are you more a Millennial type of brand? If you're targeting Gen Z then your financial services content needs to be extra responsible and not encourage risk free trading or gambling.
Knowing who you're talking to will also help you to identify the best time to post as you'll be able to figure out when your audience is most active online. While posting at the right times won't necessarily make your content go viral, it will put your videos in front of more people. More post views typically means more engagement (if your content is good) . This should please the algorithm and make your content more viewable to people with similar interests. And breathe.
When it comes to developing a loyal audience, it can also be good to focus on a specific topic or theme. The more your content appears in a specific community, the easier it is to get views from a core audience and improve the video's performance on the For You page. Millennial-focussed Monzo Bank, for instance, is great at producing timely, relevant and engaging finance-related content that appeals to a younger audience.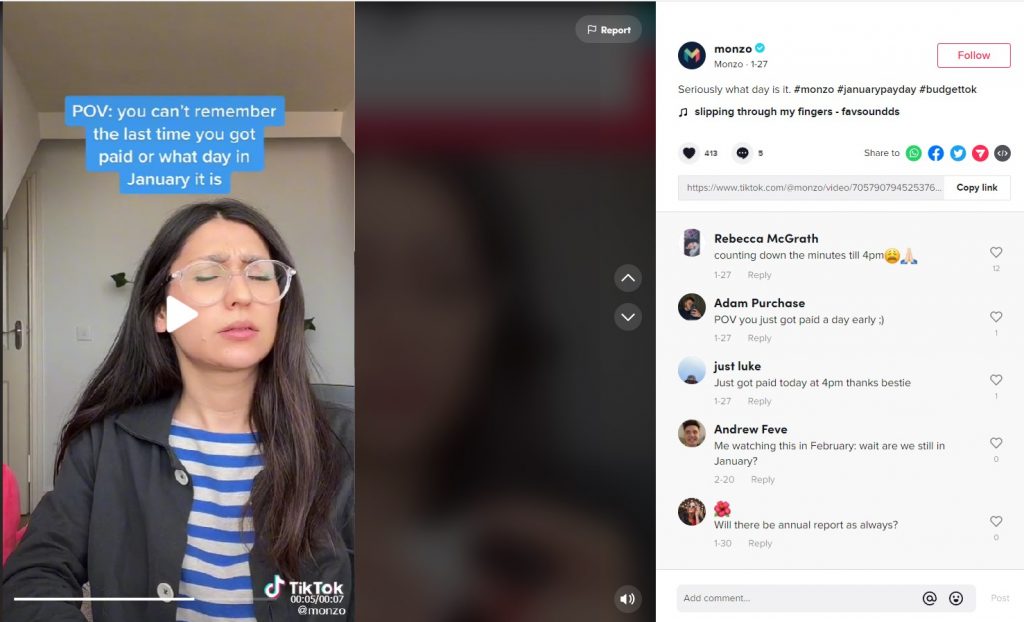 Top Tip: If you decide to focus on a specific topic or theme, be sure to conduct some hashtag research. Check out competitor posts to see what kind of hashtags they use and then look at how many views each hashtag got. This will give you a good idea of what people are searching for and what you should be talking about. Remember, the more that people click on a specific type of content, the more TikTok will hunt to find similar content they might like. The algorithm works like this to ensure users keep scrolling. So it's a good idea to know what video types get people hooked and how to make yourself relevant through careful hashtag use. Monzo Bank used #JanuaryPayDay which has 308,000 views on the platform and caters to a very specific audience group.
If you're looking for a TikTok strategy tailored to your brand, talk to our team. We have created winning TikTok scripts and creatives for our clients in the finance and tech spaces.