Some brands have funny bones. And that's good news considering 40% of consumers follow social media accounts specifically to be entertained. Since covid-19 hit and the world got a little gloomy, 58% of consumers want to see more content that make them laugh.  Here's our pick of the top 10 brands that do humour in social media marketing. Love this post? Check out our 2023 funny brands list!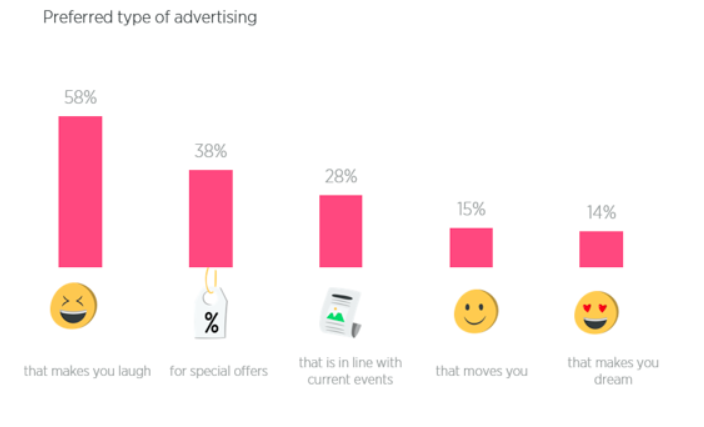 Adding Humour To Your Content Marketing Strategy.
It's harder than you might think. Something you consider humorous could attract a bunch of negative comments. So, be sure to have your memes and one-liners approved by a diverse marketing team. DIVERSE! One thing you can do is to check out funny trends and make them unique to your brand as this shows you're relevant and willing to keep up with social media banter. Notoriously cheeky (excuse the pun) brand Charmin did this excellently with the #DollyPartonChallenge.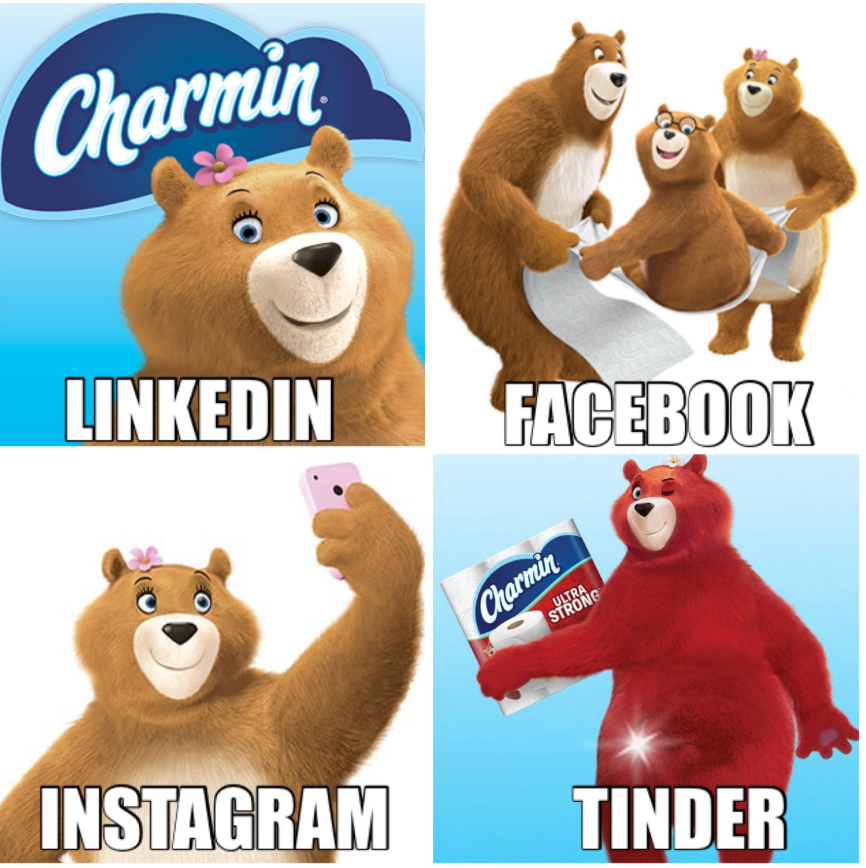 Humour isn't for everyone. If you're going down the funny route on social media, make sure it fits your brand image. If you're extremely corporate across all other social media channels and your website, but a barrel of laughs on Twitter, your fans might end up confused. Stick to what makes you, you!
Avoid anything offensive in an attempt to be funny. Social media is a sensitive place at the moment. Even if you're trying to join in with topical subjects such as Pride Month, Covid-19 or Black Lives Matter in a positive way, it could backfire if you're not highly vigilant.
Teasing your consumers unnecessarily is a no-no. Chase bank found this out the hard way after posting a tweet that seemed to call out its audience for bad spending habits. The situation got a whole lot worse when presidential candidate in 2019 Elizabeth Warren tweeted a very on-point reply. The lesson? Read the room, know what climate you're operating in and approach with caution.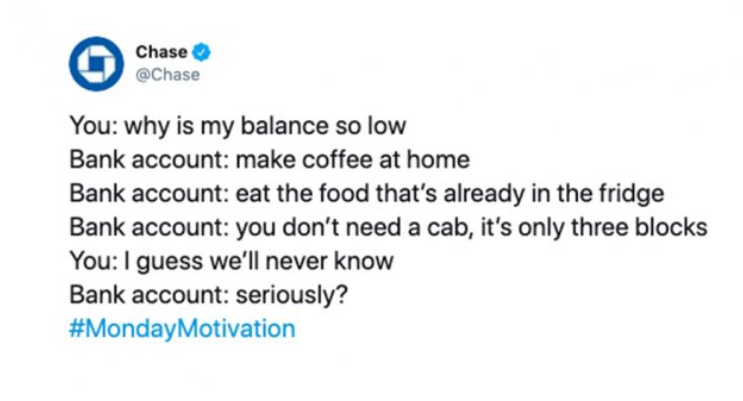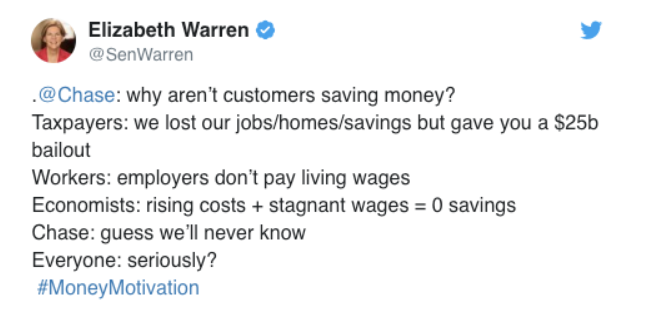 So now for the funny stuff…
Popular smoothie company Innocent Drinks regularly lights up Twitter with relevant humour. Throughout the covid pandemic, the brand has been tweeting highly relatable Daily Reminder posts in an effort to make people smile, stay in the spotlight and remind people they're not alone in the lockdown struggle.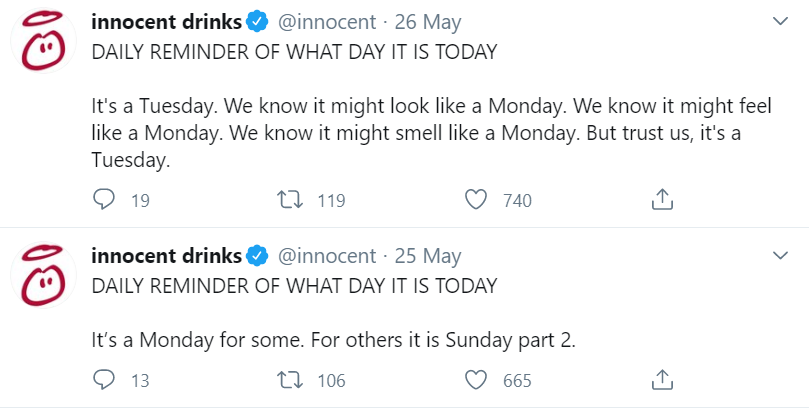 While posting daily is a great way to spread brand awareness, Innocent Drinks also encouraged engagement by hosting a funny lockdown competition based around doing useless things on your sofa. Creative and on trend, Innocent Drinks upped their corporate responsibility game by donating money for each video to Age UK and rewarding their favourite videos with free smoothies. We like.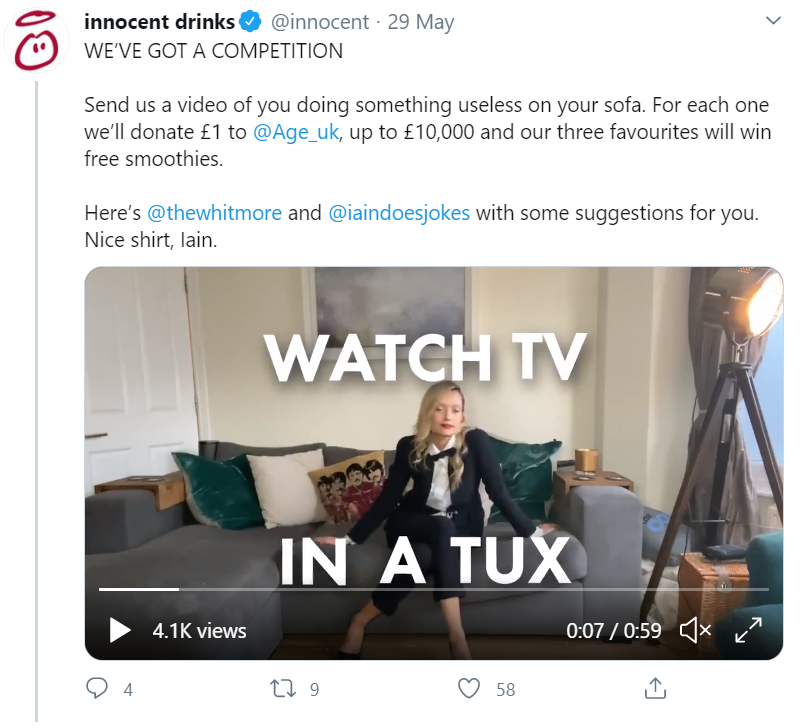 Why Innocent Drinks rocked our pandemic world:
They went for more than just the hard sell and offered charity initiatives
They made us all feel bonkers which helped ease the boredom
They led by example, offering ideas in video form to increase interest
Ah Wendy's. We can always rely on you for a chuckle. Far more than just a fast food chain, Wendy's has totally nailed their brand image. And it involves a whole load of sarcasm and wit. As well as joking with fans and posting some pretty quick-fire comment replies, Wendy's also came up with a recent social distancing campaign based around the concept, "If we can't hug, we might as well nug." You can check it out here. Funny and cute, the 'not a single string attached' tagline also added to the light-hearted nature of this campaign which in itself was a great way to draw people to their drive-through.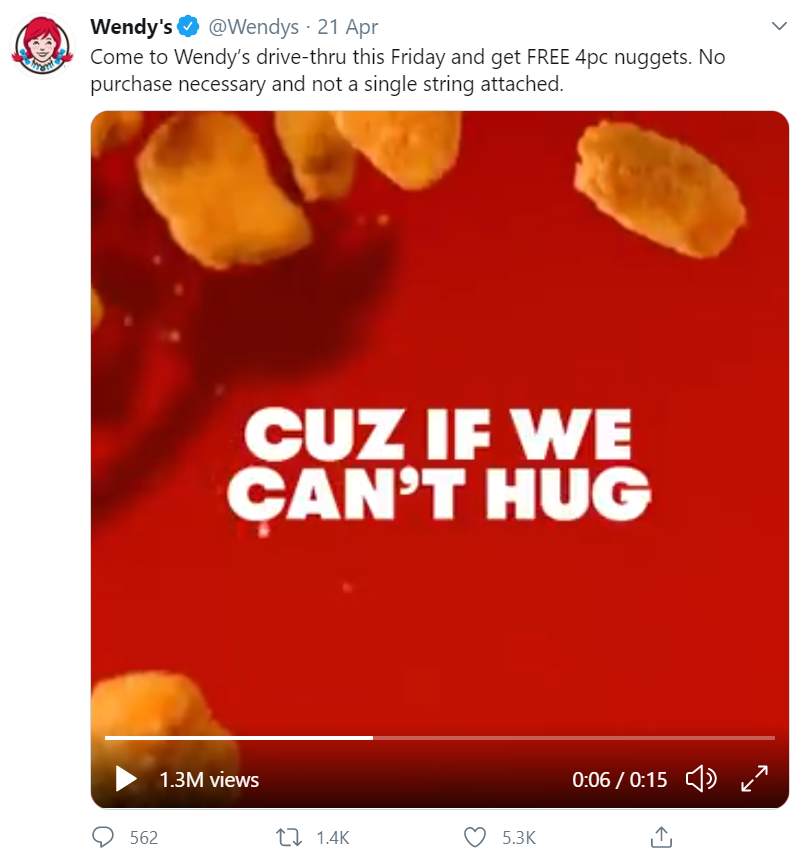 Why Wendy's rocked our world:
Marketing is about adaptation. With indoor spaces closed during the pandemic, Wendy's got creative and decided to promote their drive-through with a free offer and some genius wordplay.
Video content will dominate over 80% of all internet traffic by 2021. It's a great way to grab attention with the video campaign receiving over 1.3 million views.
Wendy's is a salty, snarky brand that regularly teases Burger King, McDonalds and KFC. And they play back. We just love them!
We don't want to keep on about covid-19, but let's just say that Netflix doubled their expected tally of new subscribers during lockdown. This was partly due to epic shows like Tiger King and Love is Blind, but also down to their exceptional social media efforts. With 8.2 million followers on Twitter alone, Netflix used humour to poke fun at the year 2020 while simultaneously promoting the hit series You. Nice touch.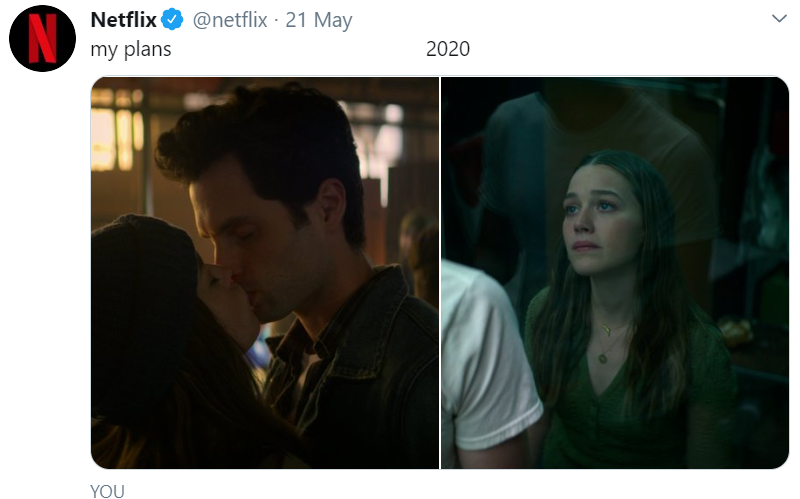 The brand also encouraged epic engagement with the below tweet. Not only did it prompt a host of funny responses, but it also allowed Netflix to promote their extensive movie listings to fans. Good effort, especially during a time when social media and movie consumption was at a lockdown high.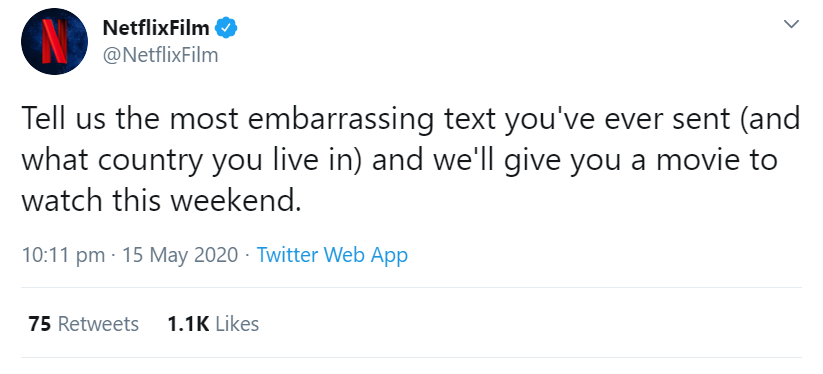 Fun Fact: Netflix had to hire 2,000 customer support staff to handle the increased viewership.
 Like Netflix, Skittles is all about witty engagement. Their requests for organic content and replies are often basic, but the interaction keeps coming. This goes to show that huge marketing campaigns aren't always needed to boost engagement. It's all about interacting and Skittles is renowned for keeping things light and breezy where possible.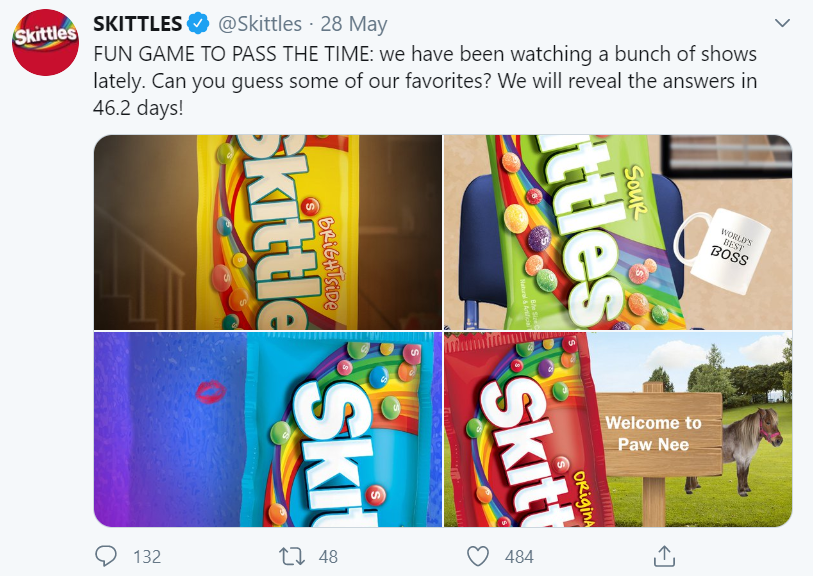 Skittles doesn't take life too seriously. They're unafraid to laugh at themselves and regularly create amusing campaigns to brighten up the day. This ad for their yoghurt covered confectionery is particularly delightful with casual language thrown in to loosen the mood and get people interested. Who doesn't want to see a dancing bag of Skittles with a top hat and cane after all?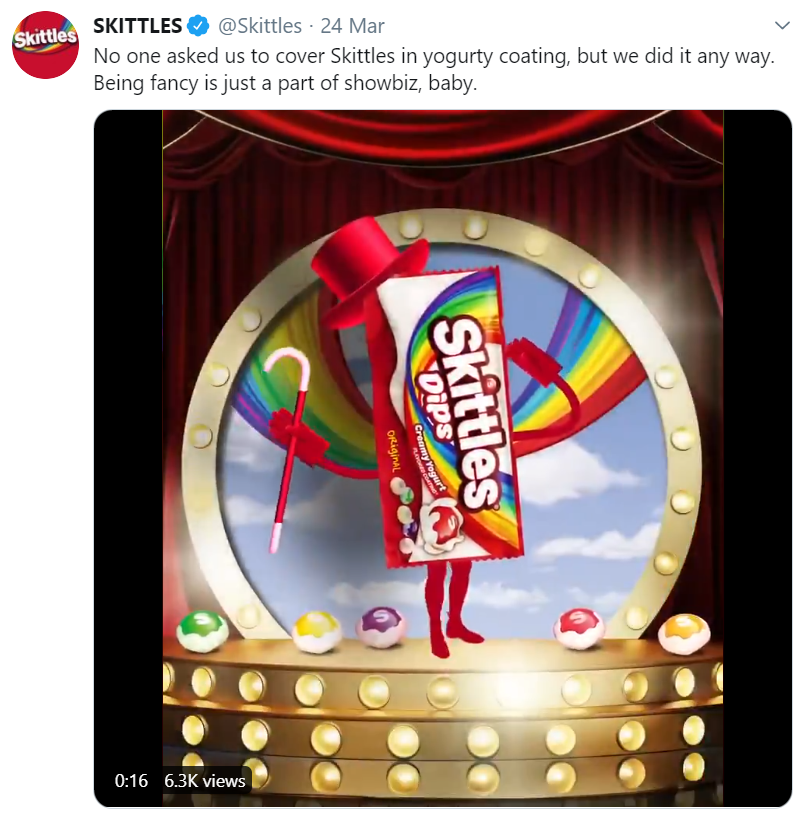 What Else? We loved Skittles take on pride too. Skittles launched limited-edition Pride Packs, which featured a colorless packaging design and colorless candies inside, to illustrate "only one rainbow matters" during Pride Month. The Pride Packs were part of Skittles' "Give the Rainbow" campaign. As part of the launch, the brand also announced a partnership with GLAAD, the world's leading LGBTQ+ media advocacy group. During June, $1 per pack purchased was donated to GLAAD, up to $100,000. Could we love them more?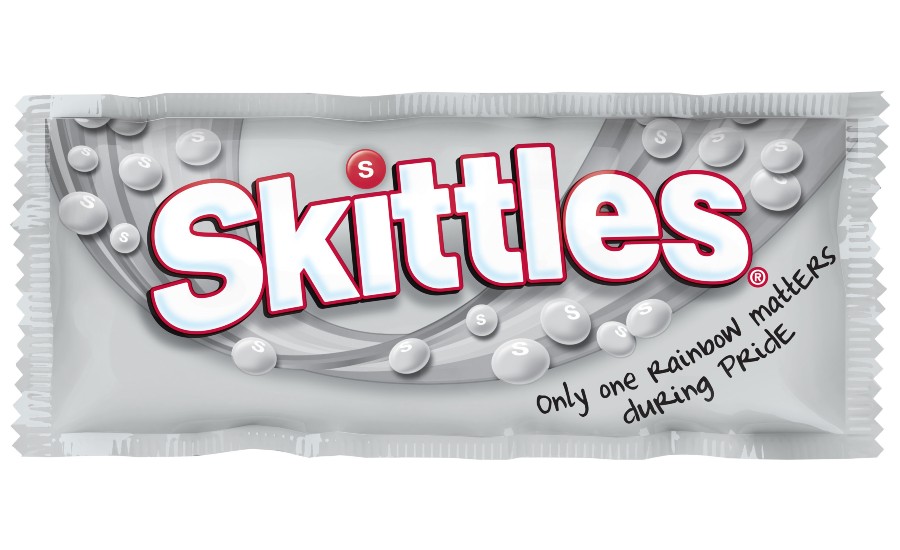 Oreo ticks many of our boxes when it comes to doing humour on social media. Oreo uses many different techniques to keep their social account interesting.
From posting simple yet funny and highly relevant imagery….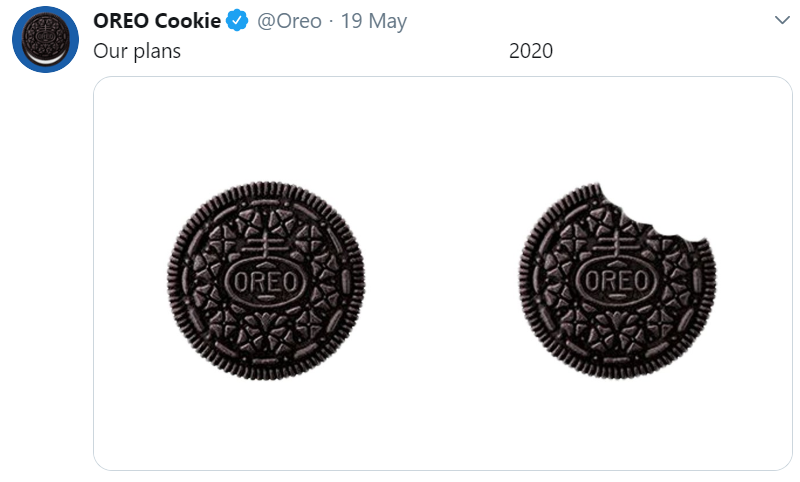 To resharing mouth-watering, user-generated content with amusing captions, the brand ensures their page is visually appealing, interesting and laughworthy.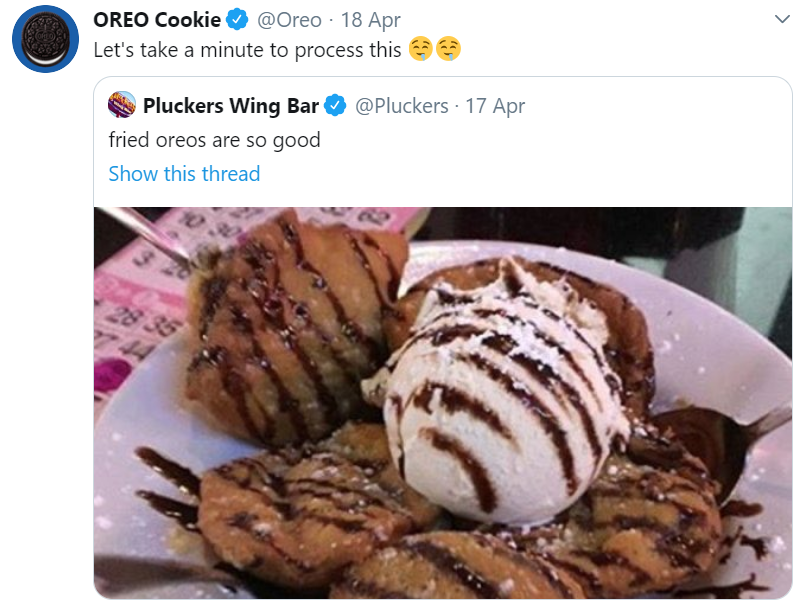 Silly and entertaining challenges such as the #CookieWithACause challenge on TikTok also shows how Oreo takes corporate responsibility seriously – without losing their funny streak.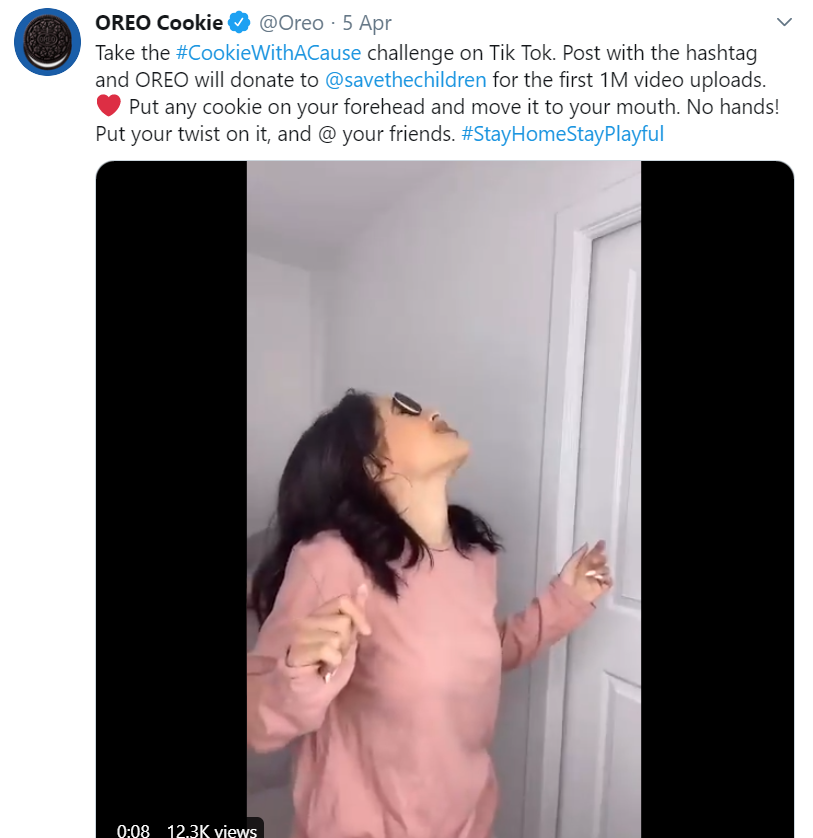 Why the OREO TikTok challenge rocks our world:
This is a great example of using relevant trends to promote your own products. It also plays on the popularity of TikTok which has over 800 million users worldwide.
It's silly and fun with the #StayHomeStayPlayful hashtag making content easier to find while emphasising this challenge as a fun lockdown activity.
TikTok is the most downloaded app of Q1 2020 and it's exactly the right space for Oreo.
As an innovative peer-to-peer lending company, Zopa is all about keeping people up to date with financial solutions, loans and investments. They target millennials, meaning their content must be interesting and informative to hold the attention of Digital Native consumers. With the help of fun imagery, stats and questions, Zopa sets themselves apart as industry leaders prepared to address key topics in an easy to understand way. Who said finance had to be dull?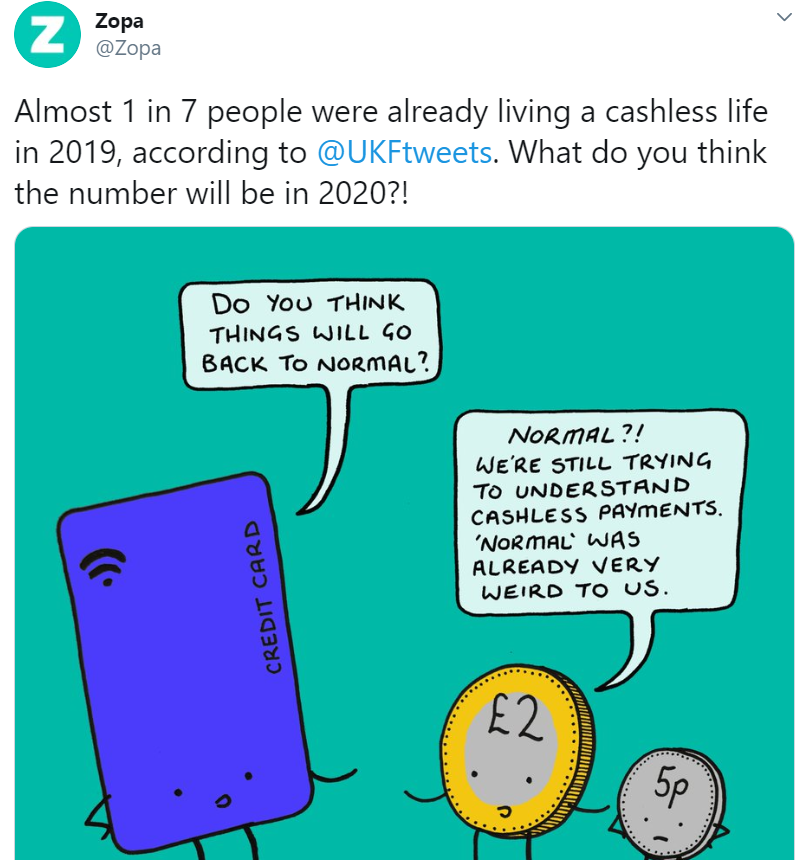 Klarna is a Swedish bank that offers online financial solutions such as digital payments for businesses. The brand's 'I wish I'd bought it with Klarna' series presents amusing events which involve online shopping disasters. The whole purpose is to promote Klarna's Pay Later scheme which allows consumers to pay when they're happy.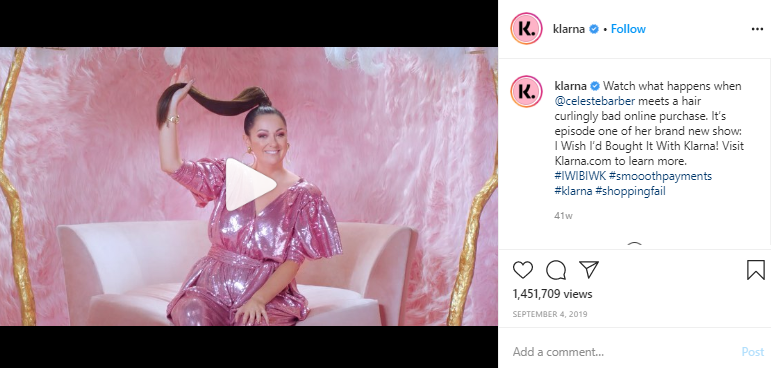 Why this rocks our world:
Klarna is well-known for working with celebs including Snoop Dogg and with funny girl Celeste Barber on-side the brand is punching high. As an Australian comedian, Barber has a whopping 7.2 million followers on Instagram which instantly boosts Klarna's appeal.
We love a bit of retro sparkle and a high pony.
Klarna nails the sweet spot between humour and FOMO
Dubbed the 'most fun outdoor retailer on the planet' Moosejaw is all about the light-hearted banter on social media. The account holder even directs 'customer service issues' back to the website noting that he can't be trusted. At least he's honest. Of course, a good complaints management system is a must, but this is one way to ensure you don't crowd your social pages with retail questions – or worse.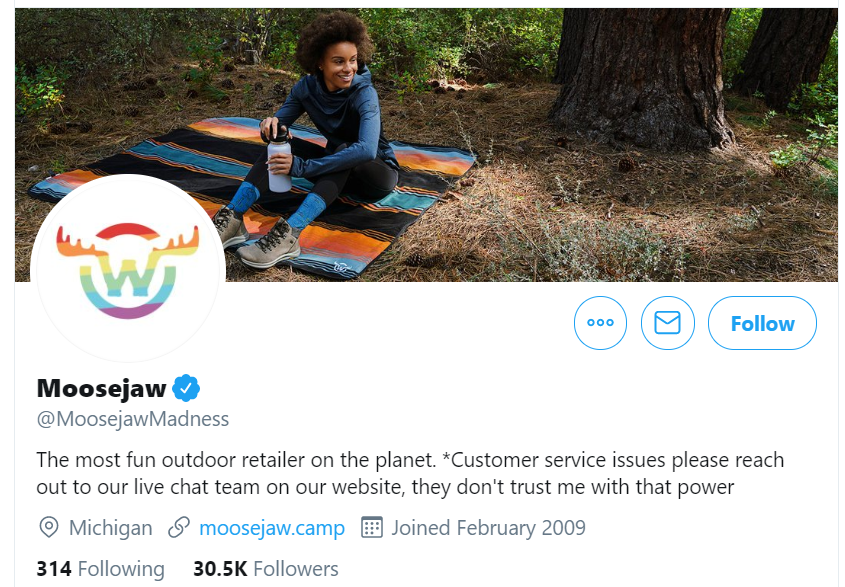 Message clear, Moosejaw then goes on to write some pretty amusing content to entertain the 30.5K fans which follow this brand on Twitter.


Top tip for marketers: Often, it's not about the big sell or the pushy marketing content but building your brand identity. Moosejaw jumps straight in explaining their vibe.
Asos is a brand that knows how to respond to the mood of the nation. From laughing about retro trends to making light of lockdown fashion problems, they know how to have a laugh. ASOS is all about using imagery to make their content as witty as possible.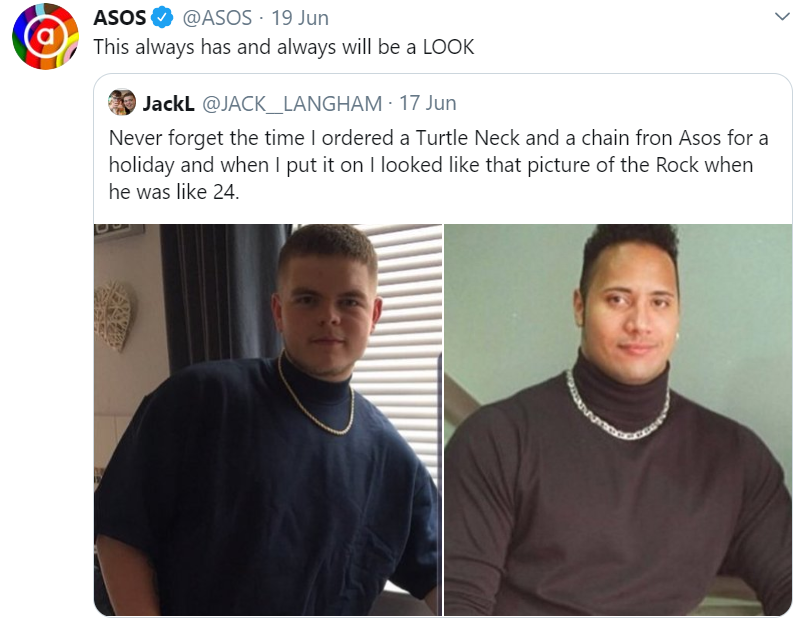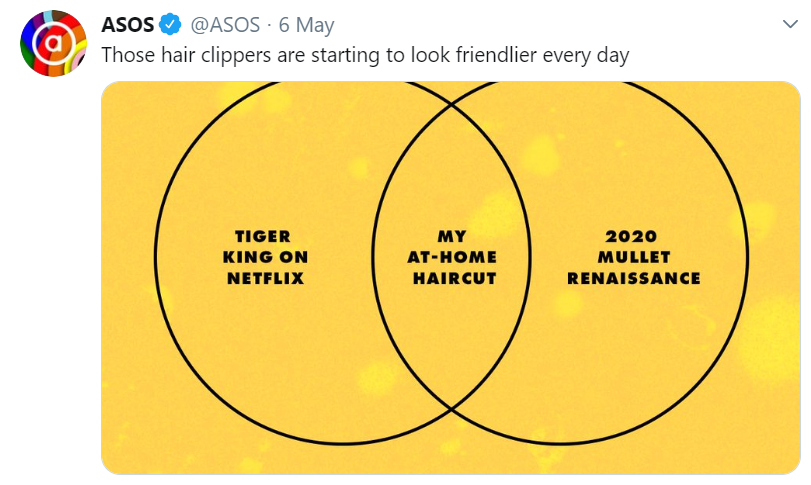 Why ASOS rocks our world:
They include humourous "this" or "that" polls on their Facebook page
The inclusion of relatable memes like Mean Girls hit the sweet spot with fans
Asos loves to play with Twitter fans by asking questions and retweeting answers… social media goals right there!
A brand completely killing the game when it comes to irreverent humour is DeadHappy. This life insurance company uses humour and wit to take fear out of death and address important topics in a way that'll resonate with a millennial audience. It's not about being insensitive. Much of their content is very tender, understanding and useful. But it's about side-stepping the doom and gloom which might make people avoid getting insurance and tapping into reality with a side helping of humour to ease the process.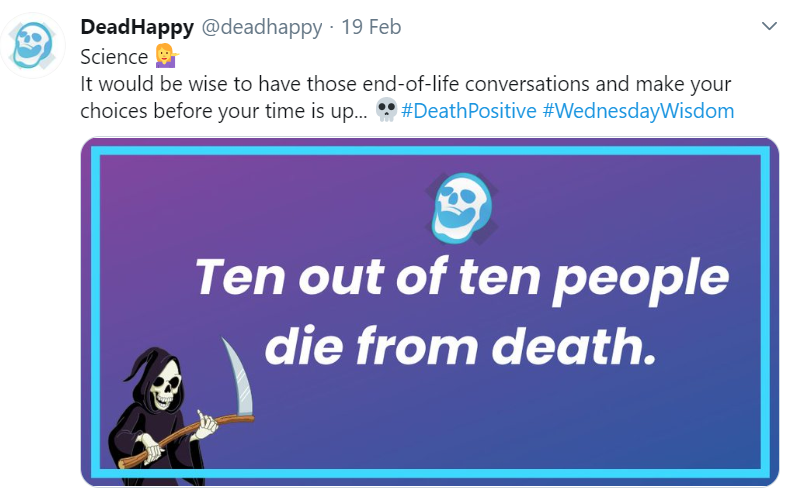 We love social media humour. If you want to get your brand Socially Sorted, contact us today. We offer a full strategy and regular posting designed to boost brand awareness and improve your online reputation. Talk to us about our full content marketing suite too which includes blogs, PR, video scripts, e-books, whitepapers, website content and more.