There were 3.9 billion global email users in 2019. Pretty impressive, right? Well, considering this number is set to reach 4.48 billion by 2023, it's worth putting some thought into your email marketing strategy. After all, with 347.3 billion emails predicted to be sent daily by 2022, there's simply no room for unfocused campaigns. The competition's hot, with 9 out of 10 marketers using email to distribute content organically. So, what can you do to get noticed? And what tips and tricks will help grow your business? We've put together a quick  guide to help. Email Marketing in 2020 – The Quick Guide – let's do this!
Must-Know Email Marketing Stats
Email delivers a strong return according to recent analysis. For every $1 spent on email marketing you can expect an average return of $42. That's an ROI of 4200%.
According to aggregated data pulled from numerous sources including Mailchimp, Campaign Monitor, and GetResponse, the average email open rate is 20.40%. This is the result of analysis from 30+ billion emails.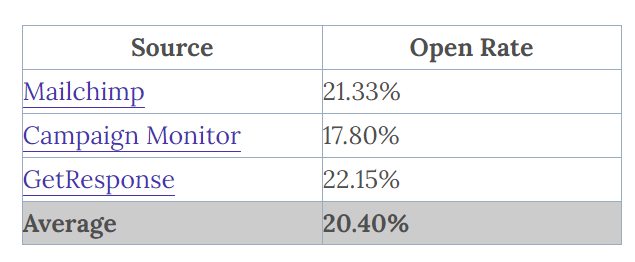 The average click-through rate according to Campaign Monitor is 2.6%. This measures the number of people who clicked on your message's link as measured against the total number of emails sent.
The average click-to-open rate is 14.3%. This also measures how many people clicked on a link. However, it only takes into account people who got as far as opening your email and doesn't include everyone on your email list or all the emails sent.
How to Improve Your Email Open Rate
To calculate your average open rate during a specific period, add up all of your individual open rates and divide by the total number of emails sent during that period. You can then work on the following changes to try and get your open rate higher.
Improve your subject lines
An email subject line is the first text recipients see after your sender name when an email reaches their inbox. So, it needs to attract attention. Stir interest by:
Keeping things short and sweet. MailChimp recommends using just 9 words (or 60 characters).
Lose title case. Emails need to connect with your audience and that means maintaining a more casual, conversational tone.
Don't overdo punctuation. Too many exclamation marks and question marks could see your email filtered through to the spam folder.
Be relevant. Don't send out link bait completely unrelated to your content.
Get personal. Personalised subject lines are 26% more likely to be opened.
Examples of personalisation include using the subject's name:

 You could also personalise your email sends by mentioning the sender to help it feel more tailored and relevant to the recipient. Perhaps something like…

Include a call-to-action as this will give someone a clear instruction that's harder to ignore than a bog-standard sales message. LinkedIn is particularly good at this.

Convey a sense of urgency by throwing in some FOMO.

Think about send day and send time
If you want people to open your emails, it's crucial to think about the day and time you make that all important email send. For example, the worst day for highest email open rates is Sunday (16.9%). In contrast, people are more likely to open and react to your email at the beginning of the working day between 9 and 10am.
Every audience is different however, so it's important to do some testing to see which times perform better. Matching your email sends to the routine of your audience is also important and likely to result in better open rates. For instance, HubSpot sends email to professionals with a busy nine-to-five job to match their downtimes. So, 8-9.30 am before they get into work is a particular rush hour.
There are even marketing email tools which allow users to create and send automated emails for free according to set time preferences. So, even if you're operating on different time zones, you can still stick to a schedule.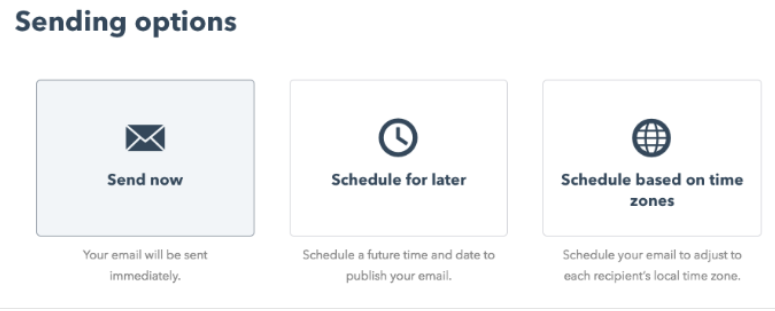 Keep your email list fresh
Your open rate might continue to be low for the foreseeable future, unless you take action. Perhaps your email list is crammed with out of date email addresses or inactive subscribers. If so, it's time for a refresh. Removing anyone who hasn't interacted with your emails for 6 months (providing you send emails on a relevant basis) and instead working on getting fresh new followers by targeting new visitors to your website could be a good tip.
How to Improve Your Click-Through and Click-to-Open Rates
To improve your click-through rate means improving engagement. So how can this be done?
Be irresistible
In marketing terms this means improving your calls-to-action through clear content and a strong, persuasive design. The wording of your email should be so strong that consumers feel the urge to act. Therefore, anything that's weak simply won't do. Similarly, call-to-action buttons in a bright colour are tempting to click.
The SEA LIFE brand does this well by including a Book Now button for each of their locations within the body of the email. This takes consumers straight to the booking page of the website directing them straight through the sales funnel.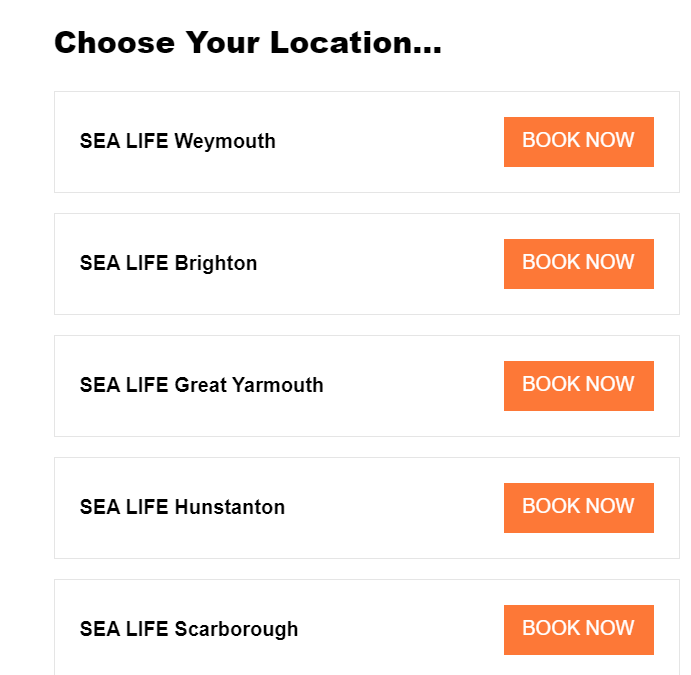 Offer Strong Incentives
For people to take the next step and click an image or link in your email, they need an incentive. This could be a giveaway, discount or special offer combined with a strong call to action. Highlight the benefits of what you're offering before prompting their next move.
The example below from Jessops does just that. Note how the discount is in a different colour to the call to action for visual effect. The Shop Now button is unmissable.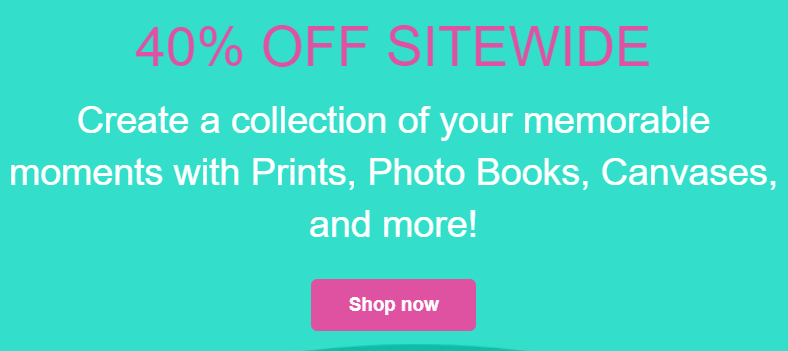 Maintain your brand voice
Consistency is the key in any form of marketing. Want to attract attention? Then make sure your personality is reflected in each email send. This will reassure consumers that the email is authentic while simultaneously building brand recognition and trust.
Similarly, if you've brand ambassadors or influencers synonymous with your brand, why not feature familiar faces in your email sends? This can help sync your email and social media marketing while enticing consumers to click must-watch content.
Clinique did this well recently with an email promoting the LIVE stream event with Emilia Clarke and a Watch Video call to action.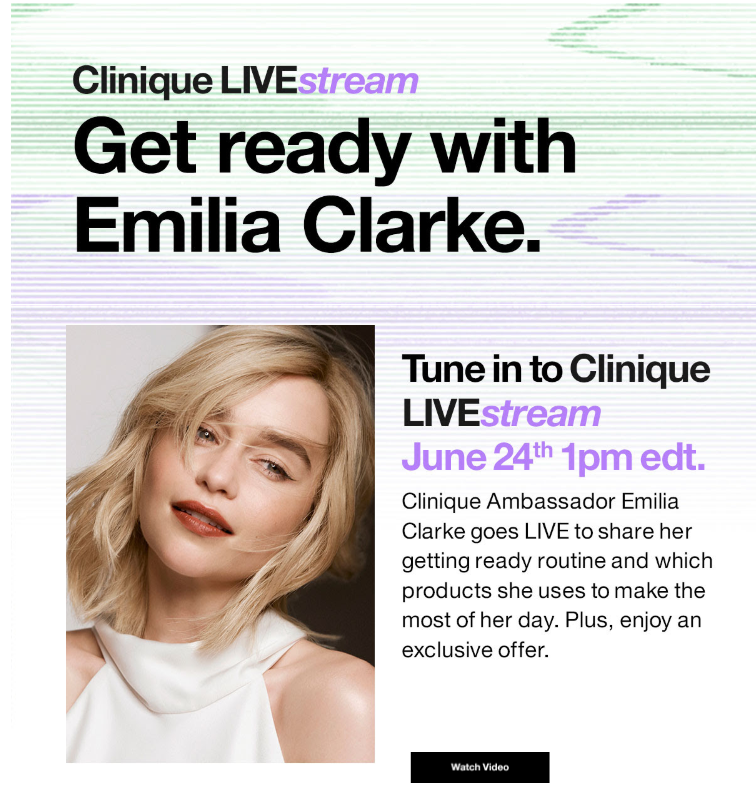 Remember personalisation
Personalising your subject heading is one thing, but what about going one step further and making sure the whole email is tailored to the recipient? This could mean targeting and segmenting audiences by location to recommend nearby stores or events. Or segmenting by sex or by age. Perhaps you've an app more suitable to Gen-Z or health products for over 60s?
An epic example of extreme personalisation comes from Netflix. This viewership is tracked and transformed into streamlined email content. For instance, if you started a series but didn't finish it, they'll happily remind you of what you're missing.
In their own words regarding messages and marketing, Netflix states:
"We deliver billions of messages per year, and we work on the personalisation algorithms that decide what to send, when and to whom. Our algorithm aims to optimise for member joy while being mindful of the volume of messages we send out."
Of course, this all costs money. But segmenting where you can, will make your content more relevant and should, in turn, improve your click-through rates and click-to-open rates. Make the most of segmentation tools such as Campaign Monitor. Demographic segmentation is part of the email builder. Simply select the content you want to segment and the demographic you want to show it to.
Include video
According to the latest video email marketing stats, video can increase open rates by 19% and click rates by 65% while reducing unsubscribe rates by 26%. So, if you want people to engage, why not consider some form of video content? This could be:
Animation
Brand videos
Case studios/testimonials
Demo videos
Educational videos
Team videos
Product videos – and more
Need help with your email marketing strategy? Then contact the Contentworks team today. We write emails, video scripts, web content, PR materials, articles, whitepapers, e-books and more. Enjoyed reading Email Marketing in 2020 – The Quick Guide? go ahead and hit share.