When it comes to social media marketing, TikTok should be on your radar. Especially if you're targeting Gen Z. Aimed at 13-24-year-olds, the platform is available in 75 different languages, 150 countries and has an estimated 800 million monthly active users. In Q3 of 2019, TikTok even surpassed Facebook, Instagram, Messenger and Snapchat for App Store and Google Play installs. As a leading content marketing agency, it's our job to stay on top of changes that affect the marketing world. In fact, our director Charlotte authored a TikTok article for Agorapulse, which stormed the social media platforms back in January.  So who's winning on TikTok? Here's 10 fun TikTok campaigns and what we can learn from them.
#1 e.l.f Cosmetics
In October 2019, e.l.f Cosmetics ran a sponsored hashtag challenge #eyeslipsface that smashed records and became the most successful TikTok marketing campaign of all time. In collaboration with creative agency Movers + Shakers, the brand released a 15-second clip around an original song that encouraged people to share videos of their eyes, lips and (of course) face in time to the beat.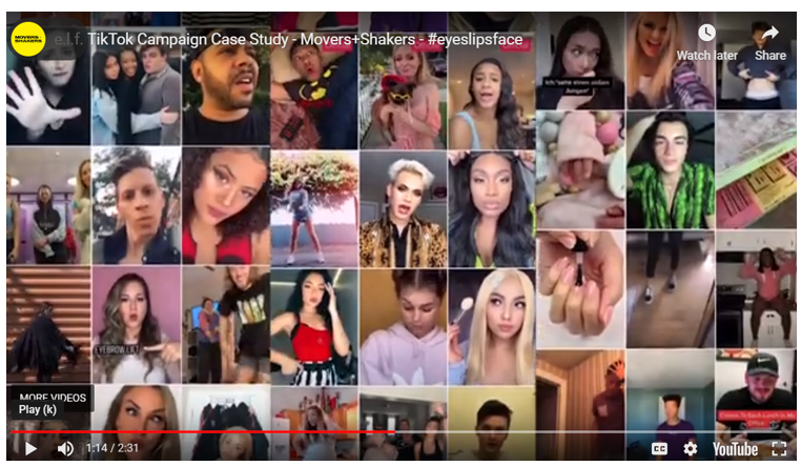 The results:
3 million user-generated videos. How's that for success among TikTok campaigns?
Over 4 billion views
Spontaneous (unpaid) celebrity interaction
Traction on other channels such as Twitter and Instagram
Why this worked:
e.l.f showed up on a platform where they were already loved by followers.
They used original music which hit #4 on Spotify's Global Viral charts. The soundtrack was also extended and released as an official pop video which naturally increased outreach.
Top tip for marketers: Be creative and don't be afraid of originality. As shown by e.l.f, it's the best way to stand out from the crowd with your TikTok campaigns.
#2 Beautiful People
When you know you've a whole bunch of Gen Z fans, what better way to promote your Khalid-feature song than by heading to TikTok? That's exactly what Ed Sheeran did, with his sentimental #BeautifulPeople challenge which encouraged users to create videos of the 'beautiful people' in their lives.  The challenge received 270m views in five days thanks to more than 150k videos. That number has now grown to a staggering 829.5 million views.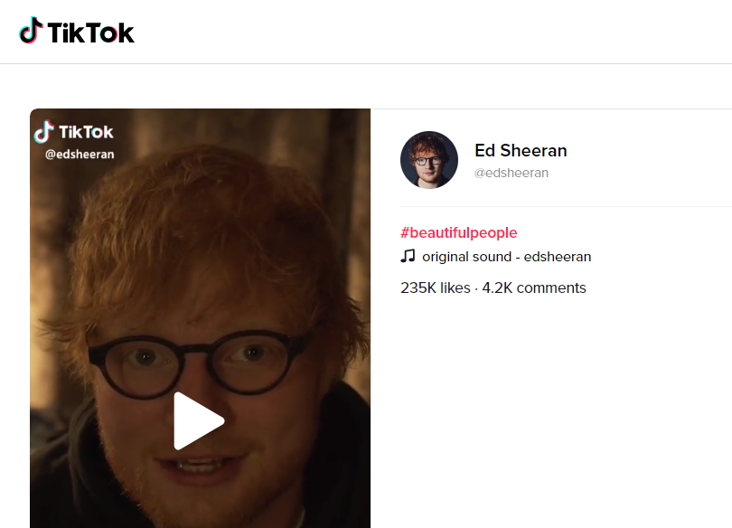 Why this worked
Teens are notorious for their pop-culture following. Therefore, TikTok was a relevant platform to use.
The challenge was easy for other people to recreate and include everything from cartoon characters to pets.
It wasn't overtly promotional meaning it resonated with the audience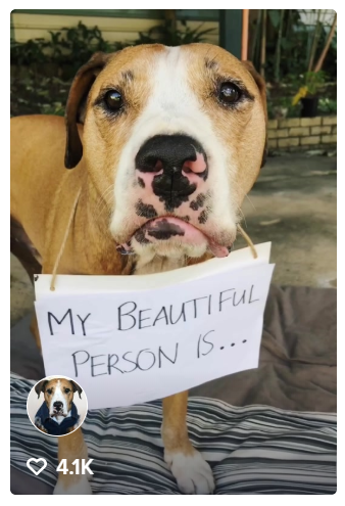 Top tip for marketers: Keep TikTok campaigns and challenges simple as this will encourage more people to take part.
#3 DanceChallenge
TikTok is the ideal platform for dancers with an algorithm favouring unknown users giving rising stars the chance to shine. The hashtag #DanceChallenge had over 1 billion views alone and has been used to promote many vids including #TheGitUpChallenge which put the spotlight on the breakout hit song by Atlanta country/hip-hop artist Blanco Brown. Instructional lyrics such as "do the 2 step, then cowboy boogie" had everyone trying to master the choreography.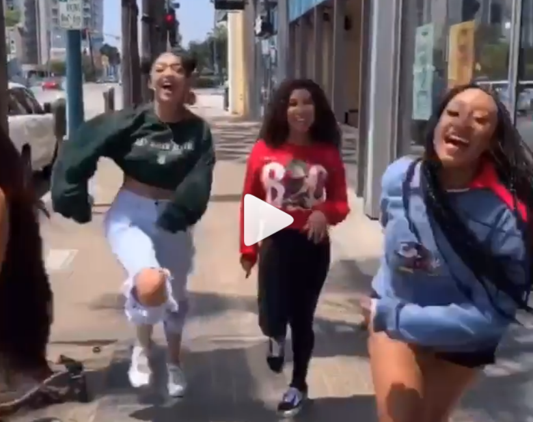 Rising rapper Ambjaay's song 'Uno' also went viral on TikTok last summer largely thanks to the #UnoDanceChallenge. Ambjaay said, "it's given me more fans and a bigger fan base, and I've been able to build more relationships and meet more people." He continued, "Dance gave the song more room to grow and create a different way to have fun."
Top tip for marketers: Look at themes across the TikTok platform and videos garnering the most traction to inspire your campaigns. Among them are instructional videos as TikTok followers like to try to copy.
#4 NFL Official TikTok
Since partnering with the NFL for its 100th season, the NFL official TikTok account has attracted over 2.4m followers. Hosting a series of hashtag challenges, NFL created the #touchdowncelebration initiative during the lead up to the 2020 Super Bowl. This encouraged people to share their touchdown celebration in style and attracted 613m views.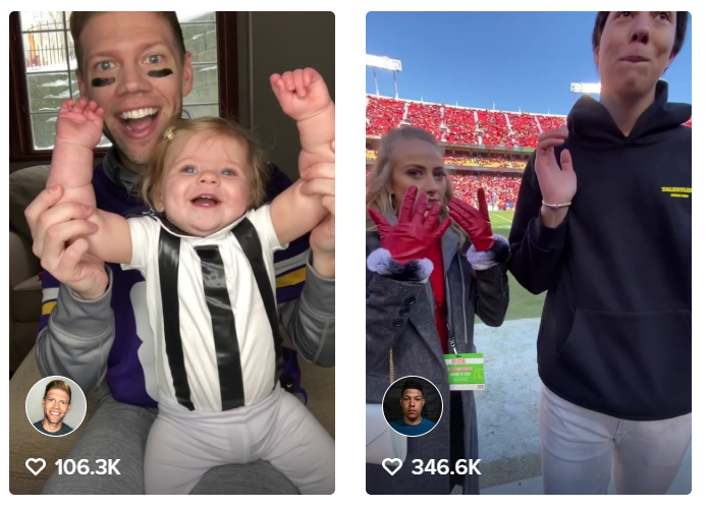 Why this worked:
It helped to create excitement around one of the biggest sporting events of the year
It had an inclusive vibe with people of all ages taking part in the challenge.
It was much hyped to create excitement and of course our old friend FOMO
Top tip for marketers: Use relevant calendar dates such as Christmas and Valentines to inspire relevant TikTok challenges. But, be careful not to piggyback on events such as Pride. If your brand is not genuine, you may be seen as using it to market yourself unnecessarily.
#5 MTN DEW Zero Sugar
MTN DEW's Super Bowl ad for its Zero Sugar drink was supported by a unique TikTok challenge with a creepy twist. While the ad featured Bryan Cranston and Tracee Elis Ross in a spoof re-enactment of The Shining, MTN DEW also hosted an #AsGoodAsTheOG dance challenge on the platform that urges users to create videos with its "twin" tool.
Here's the official challenge description "We just dropped MTN DEW Zero Sugar and it's just as good as the original. Wait for the beat to drop, activate the Dew Twin Effect, use the track, and show us how you Do the Dew. Think you can make something As Good as the Original? We dare you to try."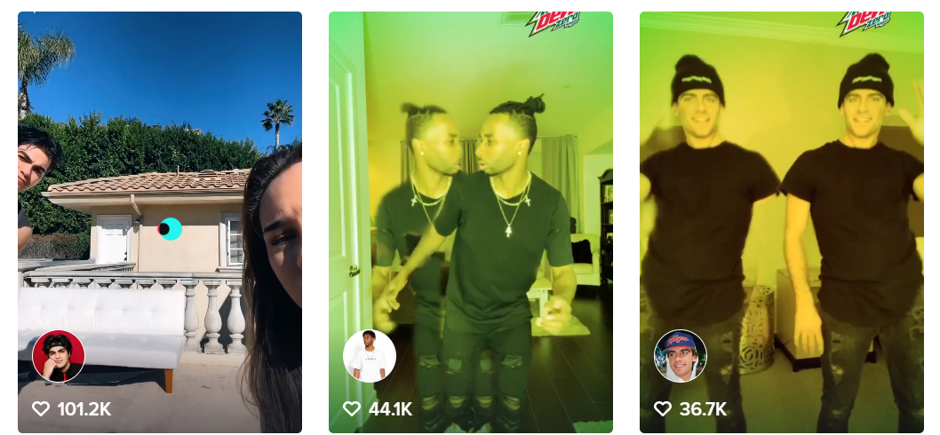 Why this worked:
It plays on pop culture with the remade "Here's Johnny" scene being one of the most well-known moments in film history.
It's fun. Seeing yourself in twin mode has a strong appeal.
TikTok users love to play with new filters, sounds and features so creating one for the campaign worked really well.
#6 YouOwnIt
To celebrate expressiveness and individuality, MAC launched the #YouOwnIt campaign on TikTok in collaboration with ad agency Pulse Advertising. It surpassed over 2 billion views.
During the campaign, a rain-soaked girl is transformed into 1950s elegance. Pulse selected 18 influencers for the campaign who champion diversity. In addition to Anna, whose body shape challenges traditional catwalk norms, creators involved metrosexual Latino YouTuber Louie Castro and Noah Murphy, a teenager who wears a feminine dress in his campaign spot.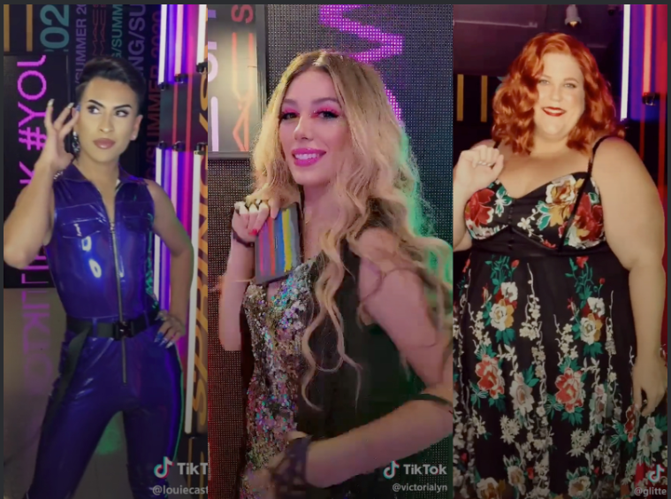 Why this worked:
Gen Z want to see 'people like me' in the media. They're also massive on inclusivity, so this campaign pressed the right buttons.
The influencers were carefully selected with diversity in mind.
Each influencer has a large and dedicated following who will help promote the campaign.
Top tip for marketers: Work with influencers that are a perfect match for your campaign message. Gen Z is looking for authenticity and don't like anything that's overpaid or over staged, so try to keep your efforts as natural and on brand as possible.
#7 InMyDenim
Denim and lifestyle brand Guess teamed up with TikTok to launch an interactive #InMyDenim challenge. The challenge encouraged users to show how denim transformed their outfit from mess into best-dressed with the hashtag receiving 40.6m views. This was a breakthrough for the platform, with Guess becoming the first company in the world to release a partnered fashion-related campaign through the app.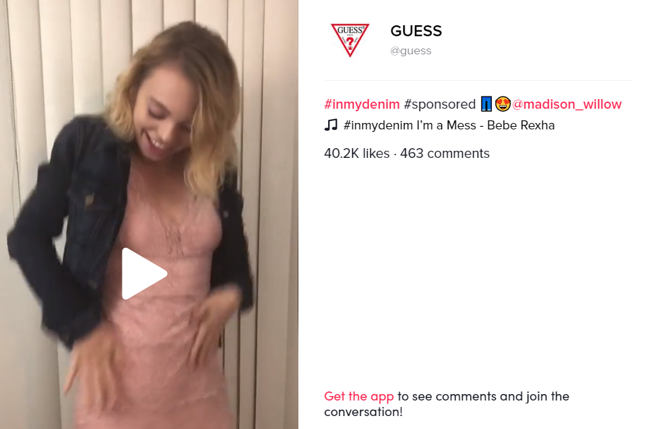 Top tip for marketers: Partner and collaborate with brands that match your target audience. Denim is huge among all ages including Gen Z, with Guess targeting fashionable teens through TikTok.
#8 Obsessed
When a retro R&B classic makes a comeback, it's worth shouting about. The Gen Z-led TikTok community grabbed hold of Mariah Carey's Obsessed song and used it as the dance track to their own TikTok video challenges. It became the song of the summer 2019 (10 years after its debut) thanks to the social media platform. Mariah didn't waste a second to jump on the trend and join in the fun. Pretty smart self-marketing if you ask us. When her car broke down, she bust out a move or two using the hashtag and attracting thousands of likes.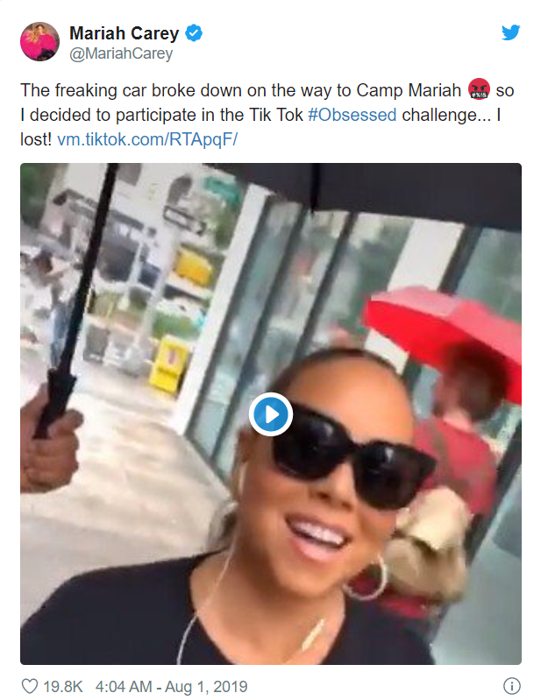 Top tip for marketers: This is a classic case of keeping your eye on public sentiment and how it can pay to respond to comments and join in social interactions.
#9 Chipotle Guac Dance
Mexican restaurant chain Chipotle has over 55,000 fans on TikTok and publish a wide array of posts that use music, memes and other references to showcase their menu awesomeness. On National Avocado Day they posted The Guacamole Song's music video with promotional brand messaging.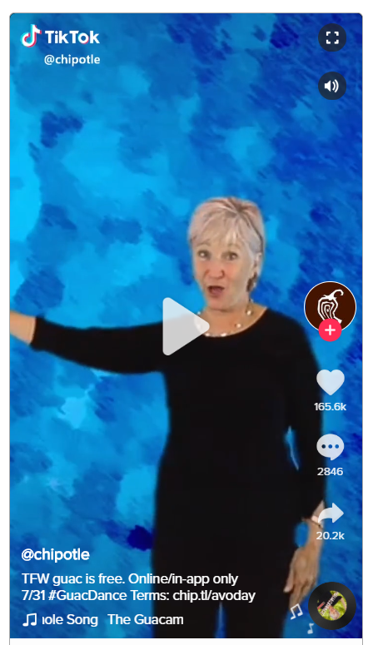 This led to a viral #GuacDance challenge which featured videos of people dancing with avocados. In just one week it became one of the most-viewed challenges of all time with the hashtag so far receiving 1028.8m views.
Top tip for marketers: TikTok is a place for fun and games. It's not the right channel for a 10-minute video of your brand, so save that for LinkedIn or your website and join in the platform's upbeat vibe.
#10 The Washington Post Gets Funny
The Washington Posts was one of the earliest adopters of TikTok shunning investigative and serious content for a humorous, refreshing approach to match the platform. With comedic behind-the-scenes videos and skits about the newsroom, The Washington Post is funny, musical and has totally nailed their more laid-back side.
Here's an example of the news team discussing The Bachelorette instead of political debates.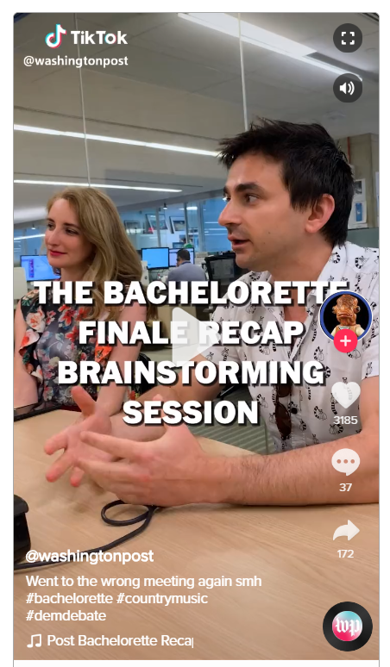 Top tip for marketers: Just because your brand is long established or more traditional, doesn't mean there isn't a place for it on Tiktok. Talk to us about social media management for your "serious" brand!
And one because we love Lizzo…
DNA Test Challenge
Lizzo's smash-hit song Truth Hurts inspired a hilarious DNA Test Challenge on TikTok. In the song she sings "I just took a DNA test, turns out I'm 100% that bitch" and now people have taken the lyrics to the next level by swabbing their mouths are revealing all kinds of results – perfectly in time with the tune. While the track officially dropped in 2017, it became a viral hit on the platform in 2019. The #DNATest hashtag has enjoyed 248.8 million views to date.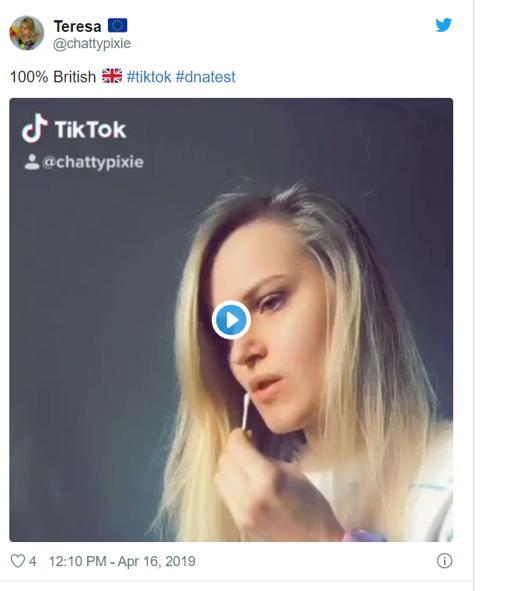 We're big TikTok fans here at Contentworks. Follow our channel right here. Loved reading 10 Fun TikTok Campaigns? Contact us for expert social media management for Facebook, Twitter, LinkedIn, Instagram and Tiktok.