Since it was flung into the limelight in 2008, blockchain technology has evolved and is now being integrated into diverse industries and businesses across the world. The global blockchain market is expected to reach $23.3 billion by 2023 with an impressive Compound Annual Growth Rate (CAGR) of 80.2% predicted (2018-2023). So, we're looking at 5 blockchain marketing trends happening now and how you can utilise them to promote your blockchain business.
Blockchain marketing – who's embracing the tech?
Before we delve into the details of what's going on in blockchain marketing, let's take a closer look at blockchain implementation. Just who are the cool kids using this tech? Here are a few examples of blockchain in action:
HSBC settled more than $250 billion in transactions using its blockchain-based HSBC FX Everywhere platform. It also settled 3 million foreign exchange transactions, processing up to 5,000 trades a day via the system.
Visa launched its Visa B2B Connect network in 2019, a blockchain-powered, business-to-business payment service designed to help corporate clients sidestep the slow corresponding banking network.
Walmart is currently using blockchain technology to enhance food traceability and transparency in collaboration with IBM. By noting each entity that has handled food on the way to the store, it becomes much easier to track any supply chain issues.
Toyota Motor Corporation and Toyota Financial Services Corporation launched a cross-group virtual organisation, Toyota Blockchain Lab, in a bid to enhance global collaborations with partner companies safely and securely.
Marketing blockchain – the trends you need to know
With many companies embracing blockchain and driving this innovative technology forward, how are brands standing out from the crowd and what blockchain marketing trends are happening now. Right now? As we speak! Zooming in is what we love. Let's go…
#1 Education is still a winner
Blockchain is everywhere. It's infiltrating our daily lives which means we're all fully clued up on it, right? Wrong! In fact, most people don't have a clue what it's about.
73% of UK consumers don't know what cryptocurrency is.
68% of Americans say they do not own and do not plan to own Bitcoin in the future. That's around 200 million people writing off Bitcoin due to a lack of understanding, with many people believing its now a tangible asset like cash.
A new study conducted by the bank ING among consumers found that less than a third of all Europeans believe cryptocurrencies and the corresponding blockchain technology will one day be used as a regular means of payment. This belief is fueled by a general misunderstanding of what crypto and blockchain are all about.
Interestingly, the survey also found that participants with a higher knowledge about digital currencies believe more in their growth prospects. On the opposing side, a lack of understanding created higher skepticism.
So, as you can see, if you want to grow your audience and expand your business, education is a winner. If you rely solely on those with firm blockchain/crypto knowledge it could potentially damage your progress. With this in mind, here's how to improve your educational approach and become a go-to source of knowledge through content marketing.
Explain your relationship with blockchain
Blockchain becomes much easier to understand if you can explain the ways in which it's being used. This is where your marketing team must have a strong understanding of blockchain and the projects you're working on, to communicate these messages effectively. Contentworks collaborated with technology and electronics company NEC to explain how NEC was exploring blockchain to create a safer society.
Top tip: Video marketing is a hugely popular medium set to account for 80% of all internet traffic by 2021. It's a great way to attract and engage your audience while addressing key topics.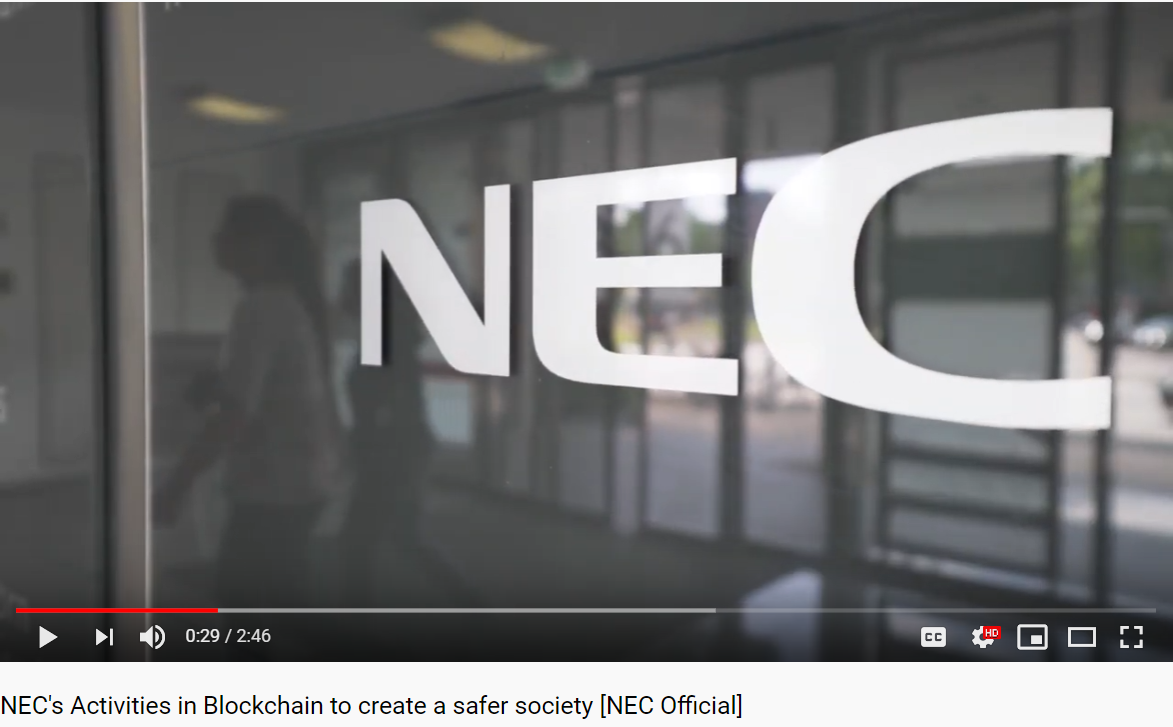 Provide useful articles
Once consumers have their head around the blockchain sector, they need to be able to delve into content that'll help them make sense of the industry further. There's still a gap in the market for educational blogs that speak clearly and explain facts correctly. So, take a leaf out of IBM's book by producing content that's informative and relevant. The brand's Blockchain Pulse is loaded with value-adding content.
Speak to our team now about blockchain blogging, eBooks and educational articles.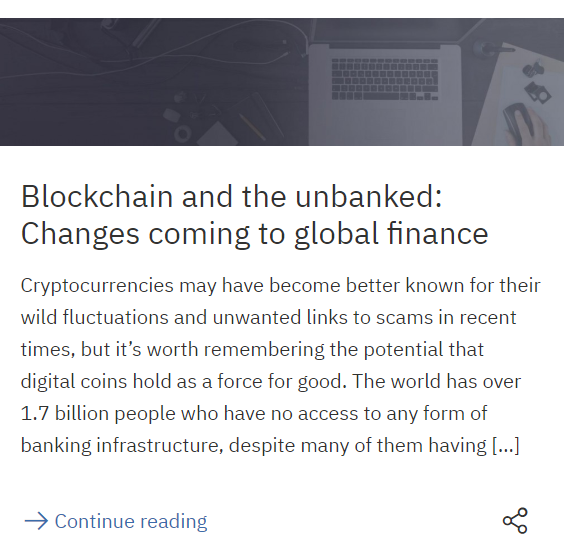 Generate blockchain-related news
Another way to educate your followers is through blockchain-related news. JP Morgan Chase, a bank heavily involved in blockchain projects, does just this. One of the best ways is by making your content easy to relate to. Use real-life examples of how technology has advanced to showcase the potential of blockchain.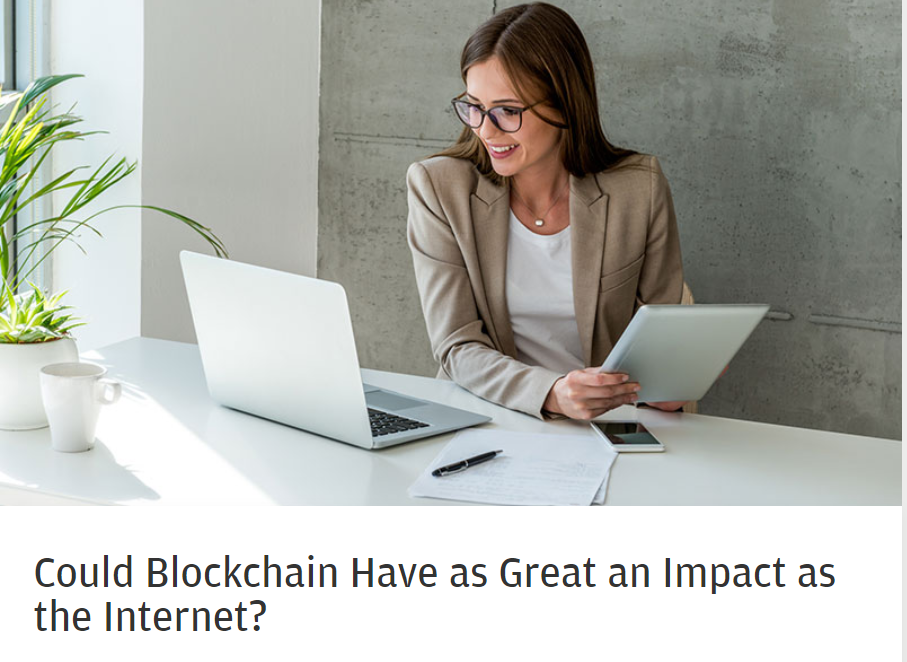 #2 Twitter's the place to be for blockchain communication
Not so long ago, platforms such as Reddit, Telegram and BitcoinTalk were driving blockchain communication. But with fear and doubt taking over and the need to drive ICO token sales dying out, more brands are turning to Twitter. One reason why blockchain businesses and crypto fans are flocking there is that it is crypto friendly.
Twitter Founder, Jack Dorsey, backed Lightening Labs, developers of high-speed transaction protocol Lightening Network, and launched a crypto division of his mobile payments company, Square. Jack also announced that Twitter would "fund a small independent team to develop an open and decentralized standard for social media," which generated a significant online response.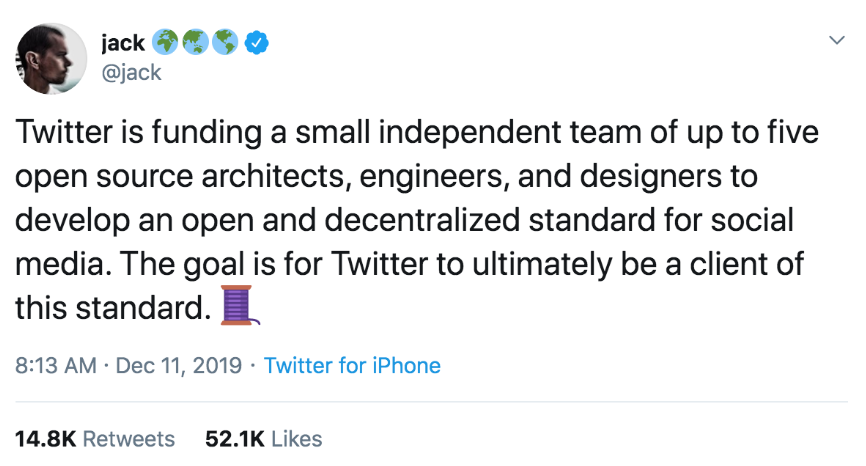 How you use Twitter to communicate brand messages and grow your community is also crucial. Here are some useful tips:
Have a strong identity
Firstly, you should have a strong brand identity. Include a social media introduction that gets straight to the point, telling consumers what you're all about and encouraging them to follow your brand.


Know your blockchain hashtags
Entry to blockchain Twitter is dependent on you understanding crypto and blockchain hashtags. If you don't then you will be an outsider looking in on the party!
Share USPs about your brand
Twitter is the perfect way to shout about your brand and highlight USPs. Social blockchain Steem is all about growing communities, with users making money by sharing content. Steem stands out on Twitter by constantly sharing updates and offering a unique spin on blockchain usage.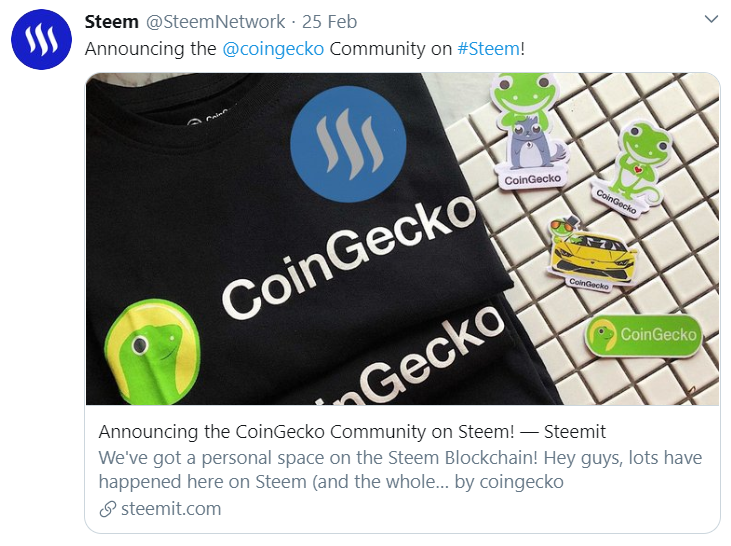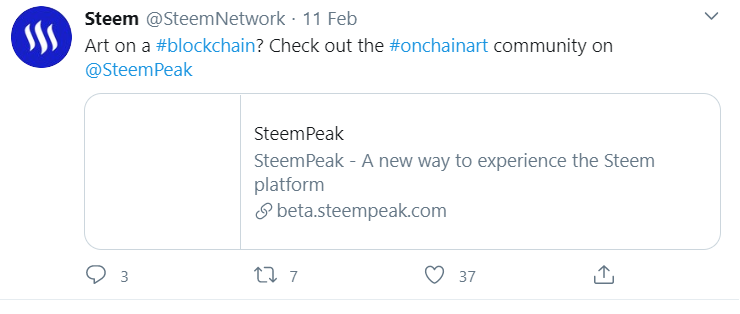 Top tip: Stay active and engaged. Crypto and blockchain is new for many. Consumers want to follow brands keen to nurture relationships with their followers.
#3 LinkedIn marketing is gathering speed
LinkedIn is no longer just a job seeker's platform. It's now an impressive content sharing platform with jaw-dropping organic reach. So, if you're not yet incorporating LinkedIn into your marketing strategy – you should. Here are the stats to back our point.
LinkedIn has over 660 million users in over 200 countries
There are more than 30 million companies listed on the platform
It's the second most popular platform for B2B marketers, behind Facebook
Ad reach is huge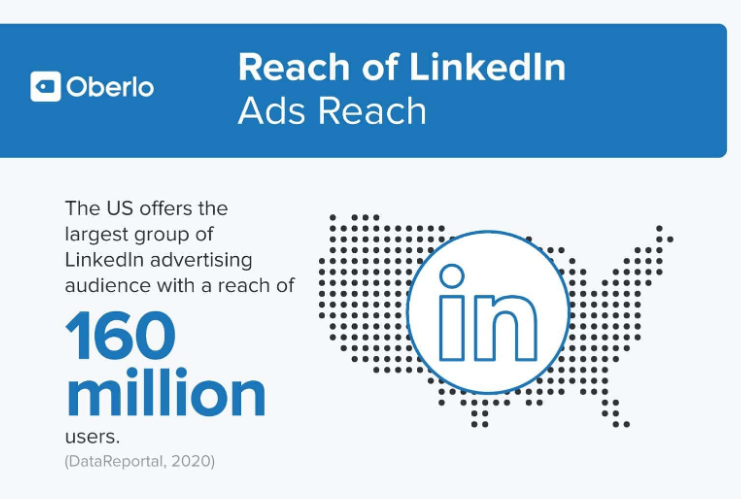 So, how can you use this platform to your advantage?
Become a blockchain thought leader
When it comes to blockchain marketing, consumers are looking for a reliable source to lead the way with regards to education. As a blockchain professional, producing high-quality blogs and sharing them to reputable sites like LinkedIn, is a great way to gain thought-leader status. Remember, people like to read long-form articles on this platform with the preferred article length being between 1500 and 2000 words.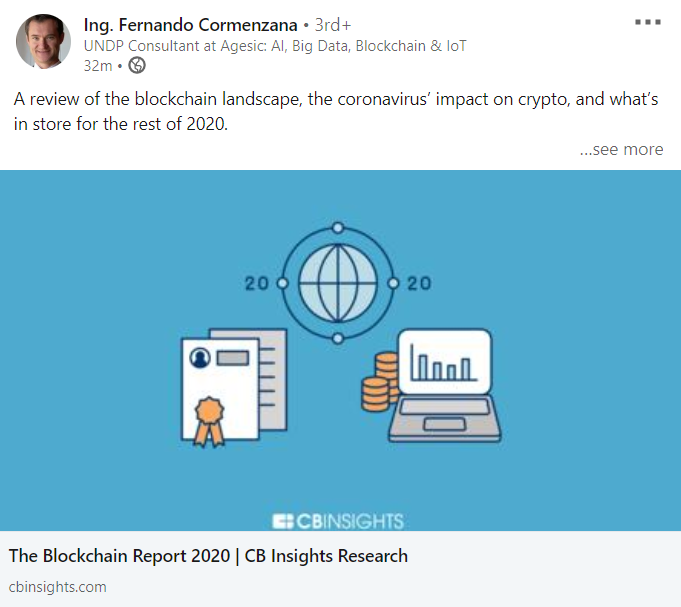 Top tip: Be sure to fact check all stats as the blockchain world develops at a rapid rate. Only source reputable sites in any articles or social media posts.
Promote events
Webinars, panel discussions and other online events are great ways to get eyes on your brand. Such events are appropriate to post on LinkedIn, a platform with a more professional vibe than say Facebook or Twitter.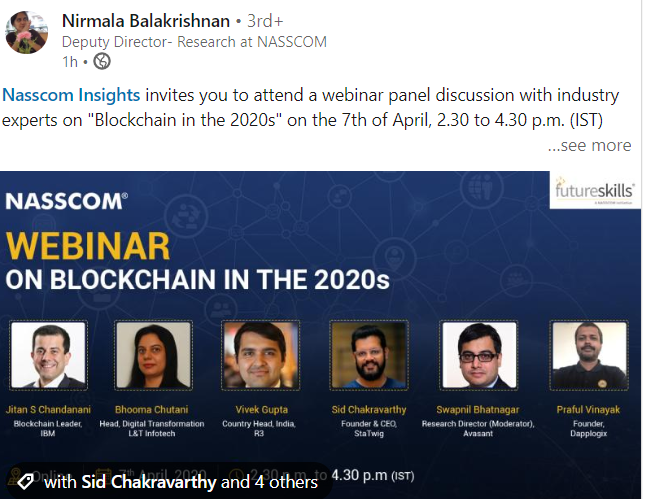 Top tip: Make sure your own professional profile is up to scratch as this could influence whether or not your posts are taken seriously. By spending time on your personal brand, you can add credibility to the company you promote.
#4 Appeal to an ever-mobile audience
According to the Best Finance Apps to Manage Bills and Debts report, 63% of smartphone users have at least one finance app on their device. So, it makes perfect sense for blockchain and crypto marketing to be mobile friendly. Appealing to an ever-mobile audience is a must and that not only means optimising your web pages and creating apps. It also means making your marketing messages clear. You don't want to leave anyone second guessing how they can benefit from your product.
Check out the below marketing from blockchain wallet and security platform, Edge.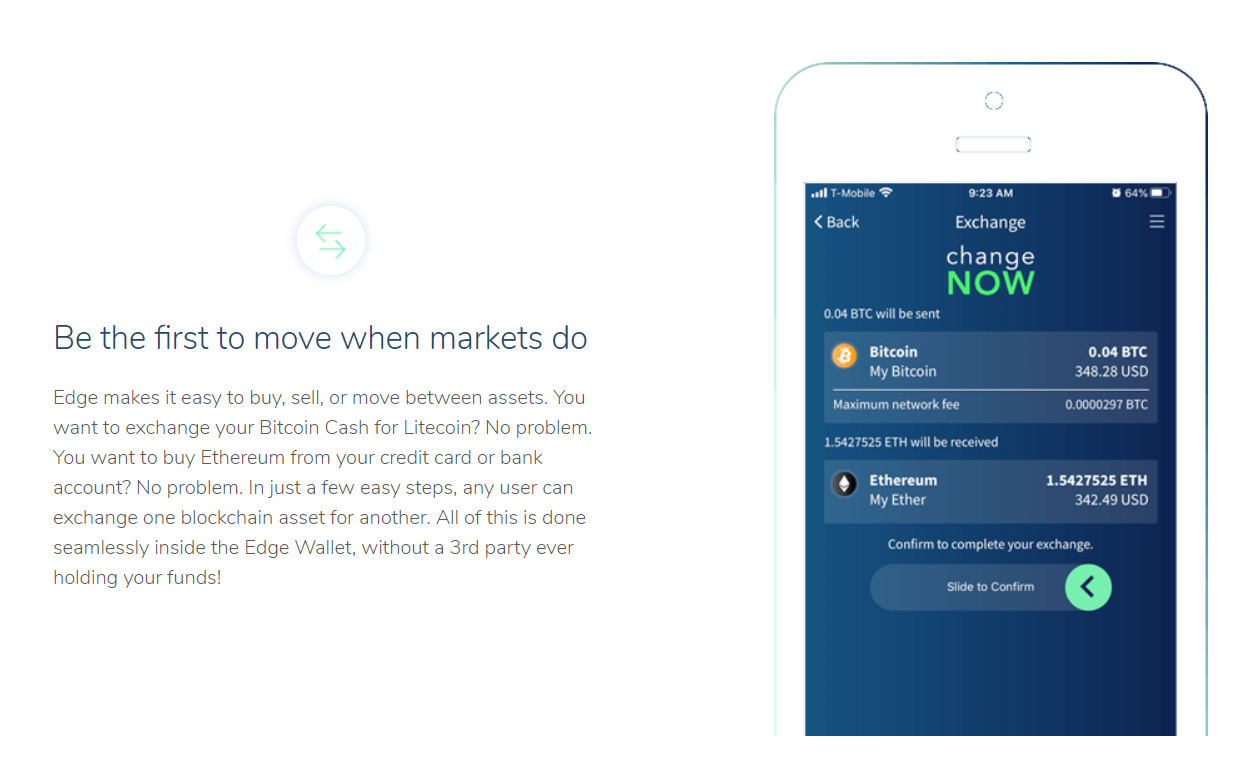 Why we like this:
Clear explanation with corresponding graphic to enhance understanding
Strong call to action
#5 Authentic marketing is bang on trend
The crypto/blockchain world has been rife with scams. That's why it's more important than ever to embrace authentic marketing. In order to gain the trust of your target audience, you must show you've nothing to hide and make your marketing messages clear as glass. Smilo, a unique, full-featured hybrid blockchain platform, has nailed this approach via their website.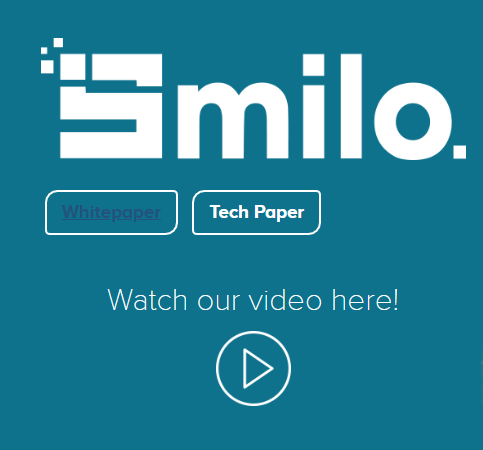 Why we like this:
All information is easily accessible from the Smilo landing page.
The content is clear and well laid out, encouraging people to click for more information.
Problems and solutions are easy to find and written in a relatable way.

Top tip: If you claim to be an authentic blockchain company but your management team doesn't want to be featured in your social media, then something is wrong. Be proud to showcase your organisation from the roots up.
Getting your blockchain marketing right is crucial. Speak to the Contentworks team today to take your brand to new heights. We offer articles, PR, whitepapers, video content, e-books, planning and strategy. We'll also help you to get Socially Sorted.