YouTube has over two billion monthly active users. That makes it the second most popular social media platform in the world, behind Facebook which boasts closer to three billion monthly active users. Over 500 hours of video are uploaded to YouTube every minute, with one billion hours of video watched on a daily basis. But what sort of content is trending right now? Well, long-form content like explainers, how-tos and interviews have all been successfully used by brands. However, YouTube Shorts have really stolen the limelight since their launch in September 2020. So, let's find out more about this short-form content craze and check out some of the best examples on the platform right now.
At Contentworks Agency we've delivered animated and live videos for leading brands around the world. Here are some YouTube Shorts examples to inspire your YouTube marketing strategy.
What are YouTube Shorts?
YouTube Shorts are, as the name suggests, short-form videos that use a full-screen vertical format. Users can shoot, share and view short-form videos that are 60-seconds or less and take advantage of the in-built audio and editing tools like text or filters.
YouTube Shorts are a huge deal. According to Google's latest earnings call, YouTube Shorts crossed the 50 billion daily views mark, surpassing the previously reported 30 billion views. Wowza. The number of channels uploading daily to Shorts also grew by 80% in the first quarter of 2023, versus the final three months of 2022 showcasing an uptick in popularity.
With the YouTube Shorts feature available in more than 100 countries, short-form video consumption on this channel has global appeal and huge potential for marketers. There's even a Partner Program which allows creators to monetise their content, providing an incentive for YouTubers to create unique, entertaining and interesting content. To be eligible for the program, creators must have 1,000 subscribers and generate 10 million views within 90-days.
Is Now the Right Time for a YouTube Shorts Strategy?
Now is a great time to be creating Shorts. Why? Because YouTube is promoting the discovery and viewership of Shorts. Shorts can be found in the app, on the YouTube homepage, in a user's notifications, in their subscriptions and more. So leveraging this momentum could give your content a boost. YouTube Shorts are also similar to the hugely popular Instagram and Facebook Reels and TikTok videos. People know what to expect and are becoming more accustomed to punchy, witty content that won't take up much of their time.
YouTube Shorts are also a brand's best friend because:
YouTube has huge appeal. There's so much content in so many categories that YouTube is a powerful search engine. While a brand targeting older consumers may have trouble reaching its target audience on TikTok (a platform loved by Gen Z), it's much more likely to be able to find the 55-plus market on YouTube – especially when you consider that 56% of Gen Z, 54% of Millennials, 48% of Gen Z and 26% of Boomers discover new products most often on YouTube, emphasising the diverse usership. Want to be a hit on TikTok too? We've got you covered! 
The YouTube algorithm tries to match Shorts to those with a viewing history that would best suit your video category. This means your content will be put in front of people who have consumed similar videos. That's a plus for conversion KPIs.
You can get creative. More than 70% of YouTube Shorts are longer than 15-seconds, giving brands plenty of time to come up with something original. You can film for up to 60-seconds straight or edit together multiple 15-second video clips until the time limit has been reached. Brands can promote long-form content, hash together a series of reviews from influencers or happy clients, unbox new products, speed up recipes, showcase experience, promote 'hacks' and twist up trending content. More on what works later.
Collaborations are a real vibe. We all know that partnering with influencers works. It's a great way to promote your brand and spread the word about a new service or product, with Glossier being the first brand to sell products through YouTube shorts. The company enlisted singer Kehlani to promote their newest eyeliner in a post on the makeup brand's YouTube channel, using the #WrittenInGlossier hashtag. The hashtag also took consumers to a page where they could find out more about and purchase the eyeliner. Other influencers also joined the campaign. The idea was that when each influencer posted their own iteration of the challenge, it would create a viral effect with a shoppable spin. Genius.
Ideas for YouTube Shorts
Shorts are cost-effective, can be filmed using a regular mobile phone and are great for brand awareness. So why wouldn't you want to create your own? Here are a few amazing examples for inspiration.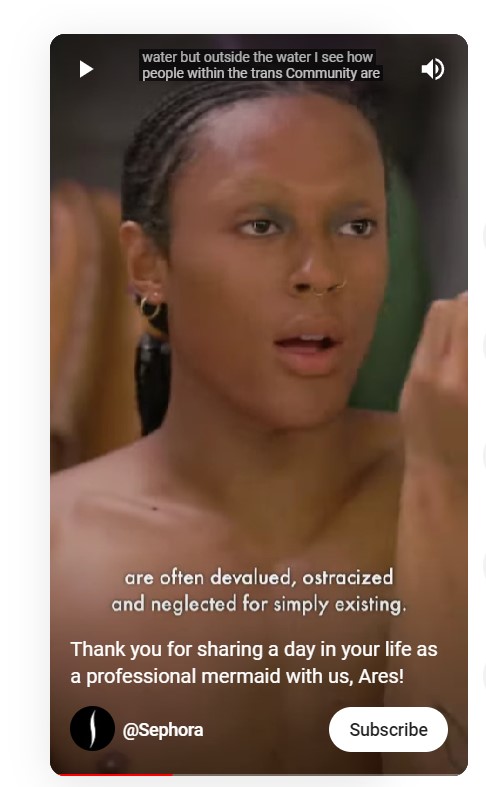 With YouTube Shorts, you don't have much time to communicate your message and get key points across. So jump straight in, just like Sephora. The branded video starts with the line 'get ready with me as a professional mermaid' and features a Black and Filipino trans femme artist. It's different, expressive, to-the–point and immediately conveys the message of acceptance which aligns perfectly with Sephora's brand messaging. Get ready with me videos shouldn't be boring. Instead, they're the perfect chance to embrace storytelling while celebrating the people that use your brand. Such videos are also a great chance to promote your values as a brand without using an overly self-promotional narrative. Bravo Sephora!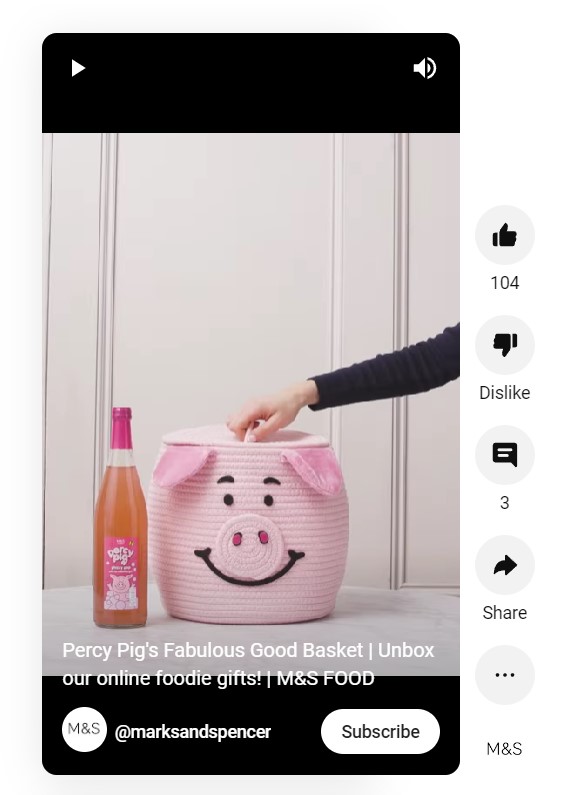 Unboxing a new product via a YouTube Shorts video is a great way to get people excited. It can work with a wide range of items from children's toys to food hampers, with the unboxing of Percy Pig's Fabulous Goody Basket from M&S being an example of this marketing technique done well. Each item of the hamper is clearly presented to the camera before being placed next to the other revealed items. The idea is simple, but video content gives buyers a much better idea of what they'll get when they place an order.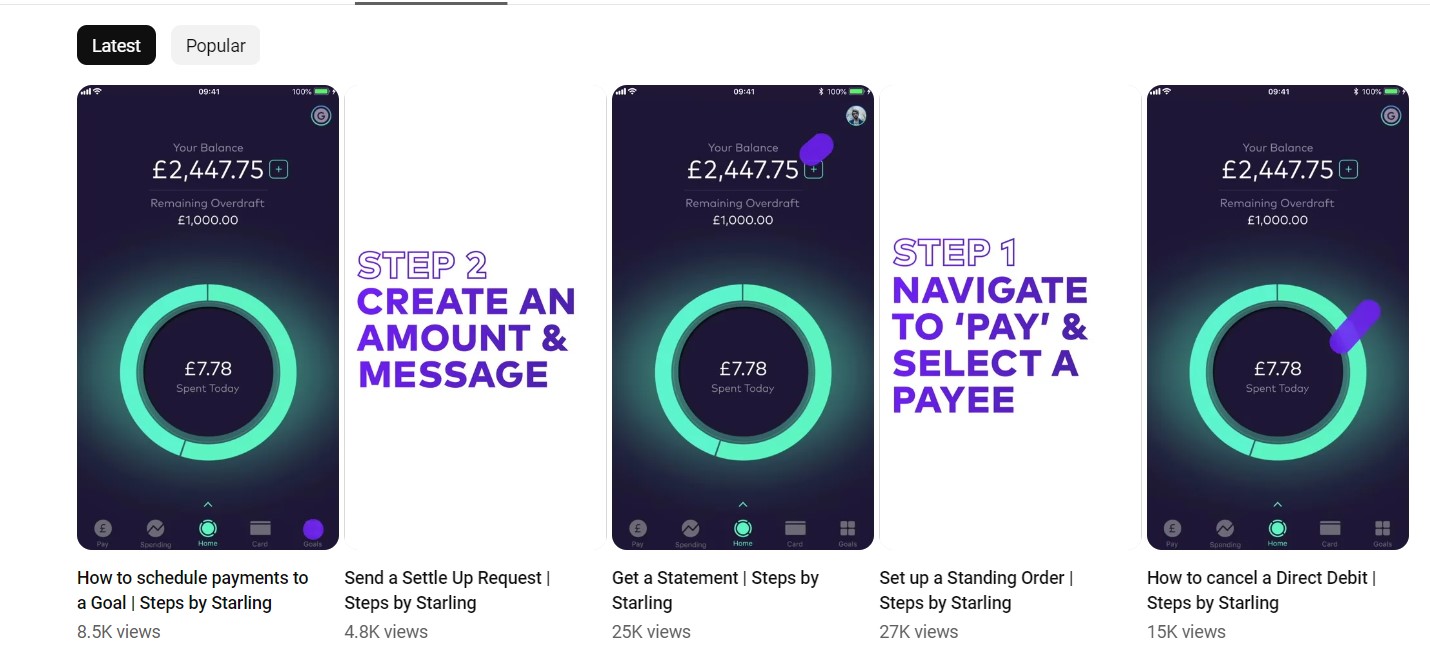 Starling's instructional videos make for perfect YouTube Shorts. From learning how to see your transactions to getting a PIN reminder, Starling has covered many customer pain points into a series of short-form video posts. The step-by-step instructions also make it super easy for those watching the videos to follow along via their own Starling app.
Top Tip: Analyse data to find out what people are typing to find your brand online. This will help you to come up with relevant FAQ-style content that'll be easily picked up by search engines while serving the needs of your consumers.
Another brand nailing the instructional videos is Apple. Their 'How to shoot a time-lapse video on iPhone' video got a whopping 1.9 million views and 53,000 likes and it's easy to see why. There were very clear step-by-step instructions for people to follow. Secondly, each stage of the process was recorded and then shown in completion at the end. The zoom feature was used to draw attention to specific actions such as record. Simple.
The message from both brands here is not to overcomplicate things. Keep your how-tos short, punchy and broken down into easy-to-follow sections.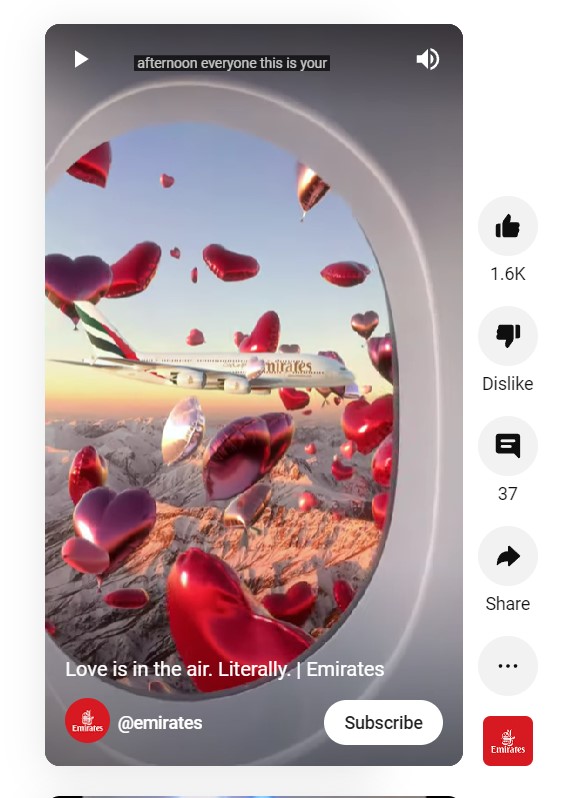 With so many wonderful editing apps for YouTube Shorts, boring isn't an option. Take a look at this inspiring short-form video from Emirates. The mountainous background is dotted with foil heart balloons which create a beautifully charming background. This sort of edit is perfect for Valentine's Day and you can play around with other visuals for other important events.
Short and long-form video is yet another way to enhance your branded marketing strategy. Here at Contentworks we can create animated, motion footage or Live videos for your brand. Speak to us about video marketing.