Dubbed an 'act of cultural vandalism' by some, Musk's Twitter takeover has been far from welcomed. But what does the future look like for a social media platform that's gone through a sudden and shocking rebrand? RIP Twitter Hello X? Let's take a look.
Bye Bye Birdy
Twitter has been an iconic brand, with "tweeting" even making it into the dictionary. Not many social media networks can claim the same fame.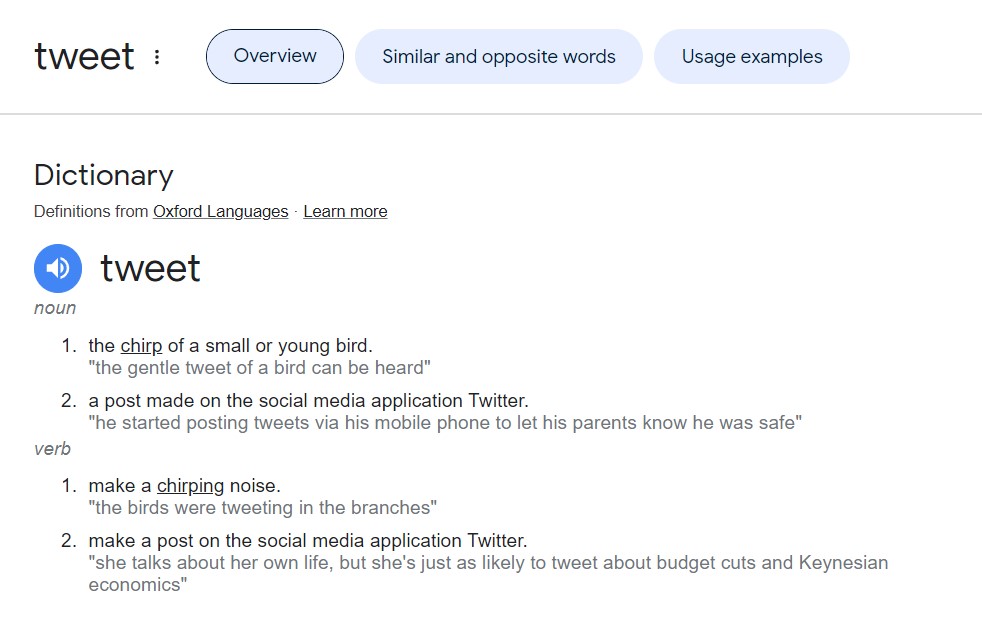 But following the acquisition of Twitter in October 2022 for a whopping $44 billion, Elon Musk threatened to 'bid adieu to the Twitter brand' and 'all the birds.' And he wasn't joking. This particular announcement, made on 23 July 2023, was seen by over 57.5 million people and within hours, the blue bird logo was replaced by a dominant black X.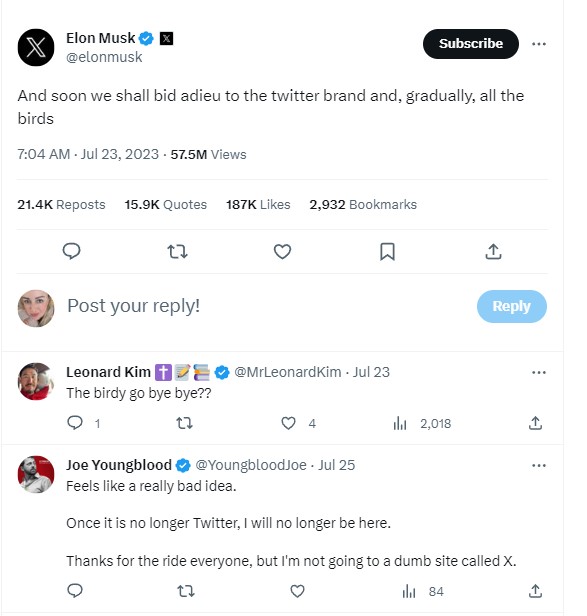 Perhaps unsurprisingly, this was met with quite a lot of confusion.
But Musk showed no mercy. Just a few days later, the original blue bird sign was removed and the company's new X logo lit up the company's headquarters in San Francisco. X CEO Linda Yaccarino tweeted 'Lights. Camera. X' on 24 July and Musk happily declared to an unknown user on a Twitter Spaces audio chat, 'We're cutting the Twitter logo off the building with blow torches.'
Fun fact – Following the installation of a neon flashing X, building inspectors  said 24 people complained about the structure, raising concerns over its structural safety and illumination. They said officials had been denied access to the roof to inspect the sign, and that necessary permit and planning approvals were not in place. Following Musk's tweet below, the neon X was soon removed.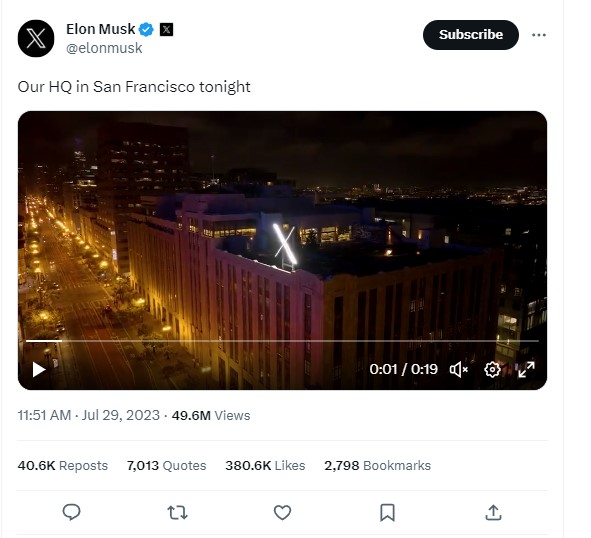 While Twitter isn't the only company to have undergone a rebrand in recent years, the transition has been sudden and without mercy. And add to this, it has been a messy rebrand with some parts of the platform retaining the old Twitter look and feel. So what can be expected as part of the X rebrand? And will it be worth the pain of losing our favourite little birdie?
X – The Everything App
X.com now redirects to Twitter.Com. The former is an online financial service and email payment company founded by Musk in 1999.  This aligns with Musk's vision of creating an 'everything app' that allows for digital interaction like never before. Speaking about the rebrand, new CEO Linda Yaccarino said:
Elon has been talking about X , the everything app for a very long time. Even when we announced that I was joining the company, I was joining the company to partner with Elon to transform Twitter into X, the everything app.
Musk had a very similar vision for X.com which then folded into what we now know as PayPal where Musk tried (and failed) to bring back the X name. Musk explained the rebrand further in a post made on July 25 2023, stating:
Twitter was acquired by X Corp both to ensure freedom of speech and as an accelerant for X, the everything app. This is not simply a company renaming itself, but doing the same thing. The Twitter name made sense when it was just 140 character messages going back and forth – like birds tweeting – but now you can post almost anything, including several hours of video. In the months to come, we will add comprehensive communications and the ability to conduct your entire financial world. The Twitter name does not make sense in that context, so we must bid adieu to the bird.
Explaining a vision far beyond the confines of a microblogging site, Yaccarino stated:
X is the future state of unlimited interactivity – centred in audio, video, messaging, payments/banking – creating a global marketplace for ideas, goods, services and opportunities. Powered by AI, X will connect us all in ways we're just beginning to imagine.
So what could X become?
A Supercharged WeChat?
At the moment, all this fancy speak and jargon seem a little far fetched. But in an ever-evolving and technology advanced world, X could break boundaries. We already know that Musk thinks WeChat should be admired and has a 'good model' following a discussion on the All-In Podcast. He added, "If you're in China, you kind of live on WeChat. It does everything. It's sort of like Twitter plus PayPal plus a whole bunch of other things all rolled into one with actually a great interface. It's really an excellent app. We don't have anything like that outside of China."
Payment Hub?
Musk has received a lot of criticism for the changes he's made so far including a subscription service which allows users to pay to verify their accounts. Payment is now necessary for brands to receive the 'gold tick' to prove they're the real deal. But can Musk win back favour with additional features such as transformative payment opportunities? Perhaps.
Musk has already made it clear that there's 'not a huge difference between just sending a direct message and sending a payment' stating how 'they are basically the same thing. In principle, you can use a direct messaging stack for payments. And so that's definitely a direction we're going to go in, enabling people on Twitter (X) to be able to send money anywhere in the world instantly and in real time."
A Huge Flop?
Advertisers are dropping out of Twitter (X) at an intense pace. Linda Yaccarino said X has never been safer according to Fortune, but major brands are pulling advertising after posts appeared beside pro-Nazi content. And that's not the only reason.
Elon has confiscated user names from @X and @Music. The @X handle was managed by photographer Gene X Hwang since 2007, who operates corporate photography and video company, Orange Photography. Hwang received an email from X that told him that it had taken his account. In return, Hwang has been offered "a selection of X merch" and "an exclusive visit to X's HQ."  Hwang tells NBC News that he will not take up X on its offer to visit, despite being based in San Francisco himself. A similar story occurred with @music. Musk threatened to reassign the @NPR account to "another company" in early May. All this leave brands feeling unsafe having a presence on a platform which wields its power against users.
The blue tick fiasco is another reason. With tons of fake brands impersonating the real deals by buying a blue tick, are brands really safe on the platform?
Creators in turn refuse to pay when they are in fact the ones providing the platform with high quality content. Stephen King, veritable master of horror, reacted to reports that verified users of the social media platform might have to start paying up to $20 a month to keep their check marks: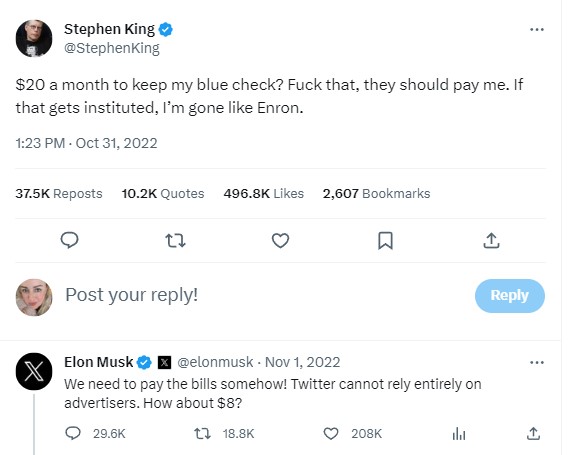 Large ad agencies and brands, including General Motors and Volkswagen, paused their ad spending on Twitter and  its valuation has since plunged. In March, Musk said the company was worth $20 billion, down more than 50% from the $44 billion he paid for it. Last week, the mutual funds giant Fidelity, which owns shares in Twitter, valued it at just $15 billion.

Advertisers have cited confusion over Musk's changes to the service, inconsistent support from Twitter and concerns over misleading and toxic content on the platform. As an example, a picture that appeared to show an explosion near the Pentagon, was shared by dozens of Twitter accounts causing the stock market to tumble. Many of the accounts were blue ticks.
Will Change be Welcomed?
According to data from market intelligence firm, Sensor Tower, X's worldwide instals grew 20% week-over-week in the wake of the rebranding. There was a related 3-4% increase in weekly user growth, as well. Yaccarino said X had its largest usage day since February in early July and Elon Musk posted that monthly users had reached a new high this year. Neither exec was forthcoming with the data, however. Hmmmmm. Despite the growth, Sensor Tower's analysis revealed some troubling numbers too. Time spent per user fell 7% for the week and daily sessions per user fell 6% following the naming of the app to X.
With alternative social apps such as Threads and Mastodon in the mix, consumers have choice. There's no need for them to stay with X if they feel uncomfortable with the rebrand and direction. Many users have already downrated the Twitter rebrand in the US App Store. Indeed, a surge in 1-star reviews put X's future in doubt.
Our Take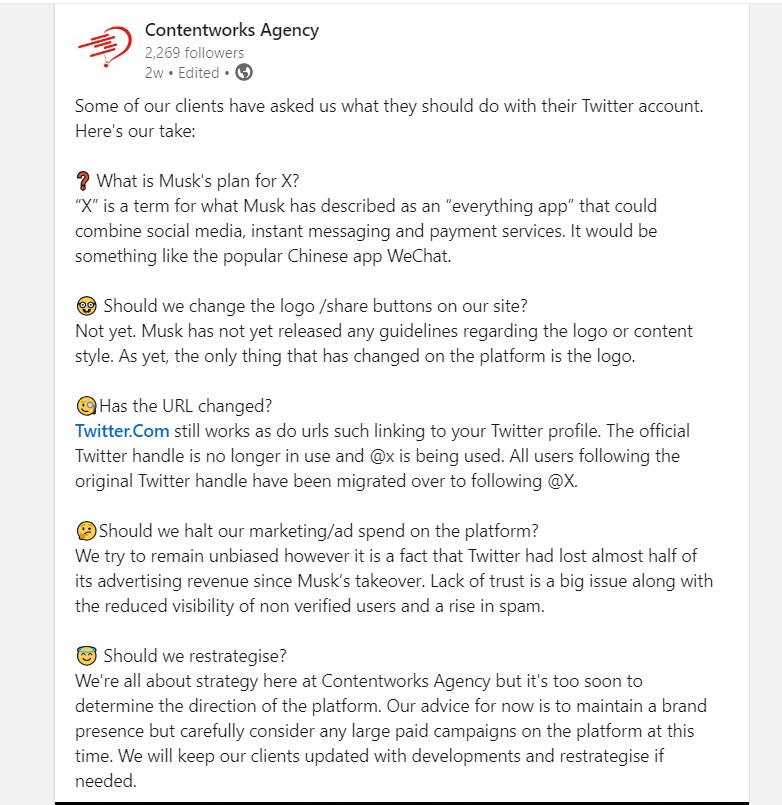 Contentworks Agency Director Charlotte commented:
Without speculating on the future potential of "X" as a platform, the rebranding has been horrible. Disregarding such a well loved brand with clear and trusted packing in exchange for a black X is risky at the very least. The rebrand has been described by some as villainous. The killing of a blue bird in favour of a black X.  For others it resembles something untrusted from the adult entertainment industry. It's understandable that so many advertisers are halting their spend right now.
Be sure to follow us on TikTok for plenty of Twitter silliness.

The volatility of Twitter's captain Elon, combined with a shift in audience sentiment means trying times ahead for the platform. Speak to our team for guidance on social media management and a fresh strategy for 2024.