Threads is the 'new kid on the block' when it comes to social media apps. Pitched as Instagram's 'text-based conversation app' and available in over 100 countries, the app topped over 100 million users within days of its arrival. But what exactly is it and is it good for business marketing? Here's what we know.
All Eyes on Threads – A Twitter (X) Rival?
Every clever entrepreneur identifies gaps in the market and opportunities for success. And Meta owner, Mark Zuckerberg, was no different. In a bid to capitalise on the turmoil at Twitter under billionaire owner Elon Musk, Meta launched its very own Twitter rival – Threads. With user fees, technical glitches, drastic rebrand threats and other turbulent events leaving Twitter vulnerable to competitors, Threads was there to steal the limelight.
But did it deliver? Well, partly yes.
The Benefits of Threads
The Threads app allows users to post short messages that others can then like, share and comment on. Sounds familiar right? By logging in via Instagram, users can follow the same Threads accounts that they follow on Instagram and reply to other public posts in a way akin to how people use Twitter. Although Threads is linked to Instagram, the messaging service is a separate app that people need to download.
According to Instagram's description of Threads on the Apple App Store:
Threads is where communities come together to discuss everything from topics you care about today to what'll be trending tomorrow. Wherever it is you're interested in, you can follow and connect directly with your favourite creators and others who love the same things, or build a loyal following of your own to share your ideas, opinions and creativity with the world.
The ability to develop a personal community of like-minded followers explains why influencers flocked to Threads, with 61% of those surveyed signing up within the first ten days of launching according to Izea's data.
Threads users are also able to
● Publish posts that are up to 500 characters long.
● Share links, photos and videos up to five minutes long.
● Share Threads posts via Instagram's Story feature, or share a post as a link on any other social media platform.
● Manage and monitor who is mentioning or replying to them within the app in a bid to promote positive, productive conversations.
● Add hidden words to filter out replies to Threads that contain specific words.
● Unfollow, block, restrict or report a profile on Threads. Any accounts blocked on Instagram will automatically be blocked on Threads.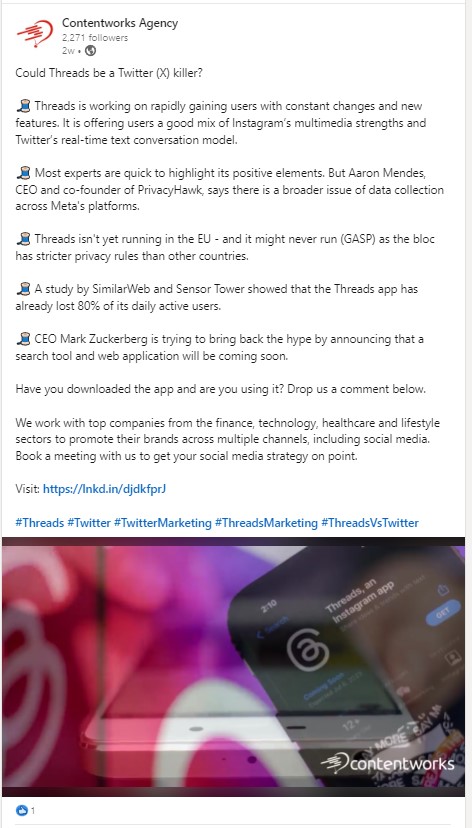 The Downside of Threads
Despite becoming the fastest growing app ever when it first launched back in July, Threads' user base quickly plummeted. Indeed, the social app closed July with just eight million daily active users, down 82% from its Peak, according to Sensor Tower Data. The app's decline has been attributed to a lack of popular features such as direct messaging as well as content produced by buzzy influencers.
Users also haven't been overly keen on the Threads algorithm which 'is not heavy on ranking posts but recommends posts from random accounts, the ones you do not follow,' according to head of Instagram, Adam Mosseri. He notes how this is important for a new app, as users need to follow enough people to get the algorithm working properly. But it has meant users being subjected to unfamiliar accounts.
Speaking of the decline in users, Zuckerberg said he considers the drop-off 'normal' and expects app retention to grow as the company adds more features. 'Retention-driving hooks' will be designed to entice users back to the app to make sure 'people who are on the Instagram app can see important Threads.'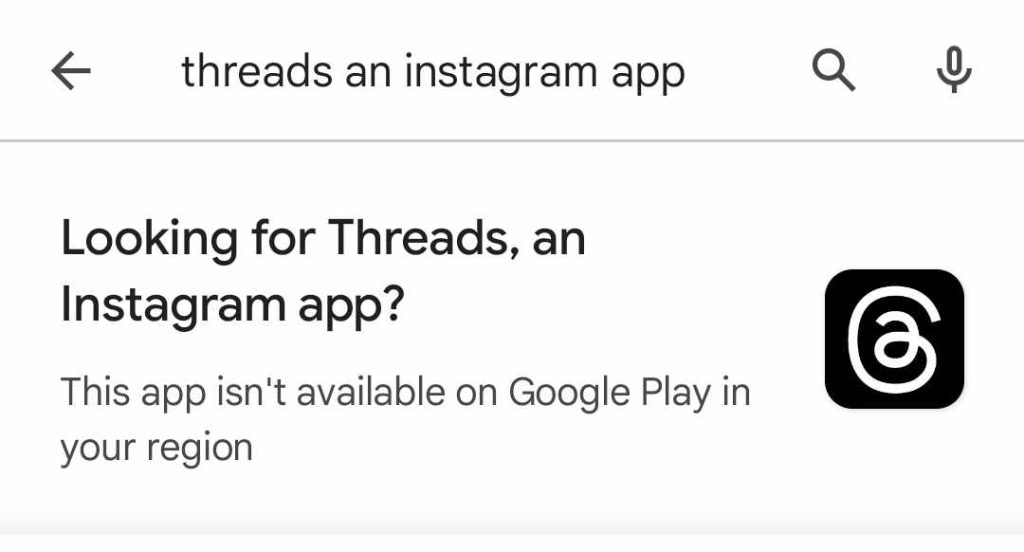 It's also worth noting that Threads is not available in Europe due to privacy concerns. In a statement provided to TechCrunch, Meta said
Threads is not currently available in most countries in Europe and we've taken additional steps to prevent people based there from accessing it at this time. Europe continues to be an incredibly important market for Meta and we hope to make Threads available here in the future.
So, maybe when access is widened, Threads popularity will revive once again? Watch this space…
Threads – The Updates You Need to Know
With Twitter rebranding to X in a speedy and determined manner, Threads really needs to keep pace in order to regain a decent user base. Meta has recently introduced a wide range of new features to improve Threads' appeal. These include:
A Web Version of Threads
On 22 August, 2023, Meta launched an eagerly-awaited desktop version of the application. This allows users to log in, post and interact with other posts via a browser on a desktop computer. There are also plans to launch other desktop features in the future once the early desktop version has been properly tested.
As of August, users can also:
● Share a Thread to Instagram DMs. This further solidifies Threads' integration with Instagram.
● Use the new mention button to easily mention people in a particular Thread. The Profile Mention feature means users can now tag a fellow user in a post. This one is long overdue, given its popularity among social media users. Whether it's a birthday post or a friend or an appreciation post, Threads users can now easily mention a Thread account in a post.
● Edit the automatically generated alt-text description of photos and videos before posting. Allowing users to determine what goes into the alt-text is another opportunity for users to truly feel in control.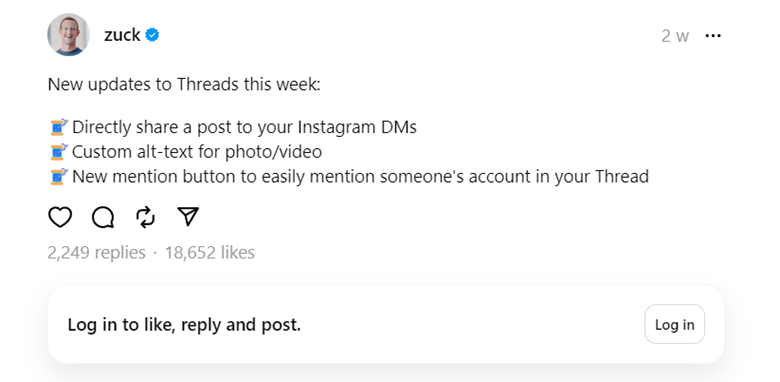 Aside from these major additions, users can now arrange their "Following" using certain parameters – latest first, or earliest first. The platform has also made it possible for users to see their liked posts for the previous week. To catch all the posts a user has liked, they simply need to visit the settings section. Keeping track of likes enables brands to see what's popular and what's not, allowing them to tweak future content.
Threads still does not support hashtags, one of the most popular and commonly used features of text-based apps like Twitter. It's thought these will be introduced in the near future. Unlike Twitter, there is also no 'Trending Topics' feature to make it clear what everyone is talking about or what the day's discourse is.
Zuckerberg has made it very clear that Meta will prioritise "retention and improving the basics" of the app, before shifting to growth and monetisation. So, don't be surprised to see even more additions including advertising possibilities if Threads popularity surges.
Threads for Business – A Viable Platform?
Threads has had its fair share of ups and downs over the past few months. But is it a viable platform for business? Well, there are certainly some benefits to being on the platform.
Align With A Younger Audience
The target audience for Threads is mostly Gen Z and Millennial consumers who appreciate close friendships, connections and real communication. So, if you're targeting an older audience, Threads might not bring in the same engagement as a channel such as Facebook that's loved by Boomers.
Encourages Authentic Engagement
Early data suggests that Threads is a good platform for authentic engagement, which is again something that younger audiences love. As there aren't any paid ads on the platform yet, any reviews or mentions of your business will feel very genuine. But for people to talk about your brand, you need to put in work both on Instagram and Threads, building like-minded communities with interesting and relevant content.
By actively participating in relevant discussions and sharing valuable insights, marketers can strengthen their presence on Threads and cultivate both relationships and brand loyalty. Moreover, by encouraging users to produce and distribute brand-related material, you can acquire sincere endorsements and critiques, creating a buzz around your company.
Provides Chances to Explore Partnerships
As with all social media marketing, influencer opportunities are available on Threads. Aim to find influencers that have a genuine connection with your brand and followers with similar interests. The influencers you choose should also be highly active on Threads and not just have joined during the initial craze then gone silent. Once the right influencers have been found, marketers may work with them to produce interesting and persuasive content. Influencers can highlight the brand's goods or services via eye-catching images, gripping narratives, and first-hand accounts.
The Ability to Leverage Stories
Businesses have the opportunity to establish more personal and exciting connections with their audience by communicating through real-time Stories updates. Brands can use Stories to give behind-the-scenes insights, tease impending product releases, offer sneak peeks or post exclusive, limited-time offers.
Book a Zoom call with our team to discuss your social media and content marketing strategy and how we can help.