Instagram is a part of life that many of us can't ignore. From animal antics and sunset snaps to travel Reels and holiday Stories, the platform is used to document our most photographed moments. It's also a great company promotion tool, with over 200 million businesses using Instagram to boost their engagement and improve brand awareness. Join us as we look at Instagram marketing for 2023 with some  predictions, trends and new features.
Instagram Marketing – The Stats You Need to Know for 2023
Whether you plan to set up an Instagram business account for the first time in 2023 or want to change your strategy, it's important to enter the New Year an understanding of the current landscape. We've gathered the stats you need to know.
Instagram was the most-downloaded app in the world during the third quarter of 2022, with the platform set to increase its numbers by 400 million from 2020 to 2025. It also ranked third for Monthly Active Users.
Instagram now has roughly 2 billion monthly active users worldwide.
The social photo sharing app is especially popular in India and in the United States, with 230+ million and 159+ million Instagram users respectively. Brazil has 119.45+ million, the UK had 32 million users as of September 2022 and 63.1% of Cyprus' entire population has an Instagram account.
According to the Global State of Digital Report 2022, the majority of Instagram's users are Millennials or Gen-Z. 30.1% of 18-24 year olds have an account while 31.5% of 25-34 year olds and 16.1% of 35-44 year olds have access to the platform.
8% of internet users aged 16-64 ranked Instagram as their 'favourite' social media platform, losing out to WhatsApp only which received 15.7% of the votes.
130 million Insta users click on shopping posts per month and more than 1 million users watch live video each day showing a huge uptick in tool usage. Carousels, on the whole, get more organic interactions than both video and images on Instagram, something to keep in mind when promoting products.
Popular Industries on Instagram
There are some industries that use Instagram to their advantage, standing out a mile on the platform. Here's a rundown of some of the most prevalent users.
The Fashion Industry
Instagram is dominated by the fashion world. And it's easy to see why. Social commerce is becoming increasingly popular, with Deloitte Global predicting the social commerce market to surpass US $1 trillion globally in 2023. Insta has responded to this by introducing Instagram Shopping which makes it easy for consumers to shop photos and videos from their favourite fashion brands. With the ability to create customisable storefronts, add shopping tags and access Instagram Checkout, the platform has made it super easy for the fashion industry to cash in.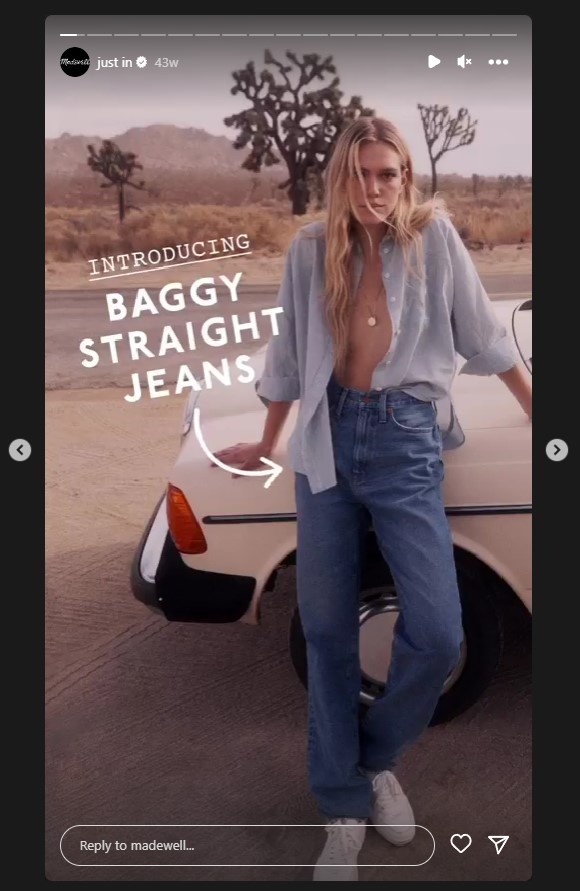 Instagram Live Shopping is also a real win. Accounts with access to Instagram Checkout can tag up to 30 products from their Shop before going live. Then, while live, they can start pinning products one at a time to make it easy for viewers to shop the items. There's also the Shopping from Creators feature. With this, creators create a shoppable post that highlights the products from the brands they want to feature. Followers can then make an in-app purchase using Instagram Checkout.
The Finance Industry
The Finance sector also has a dominant presence on Instagram. While challenger banks such as Monzo keep it fresh with funny, upbeat posts designed to capture the attention of their younger audience, Barclays use the platform to address everyday issues such as handling the cost of living crisis at Christmas. Many finance brands use the Reels feature to create a series of short video clips which make it easy to share bite-sized information in an engaging way.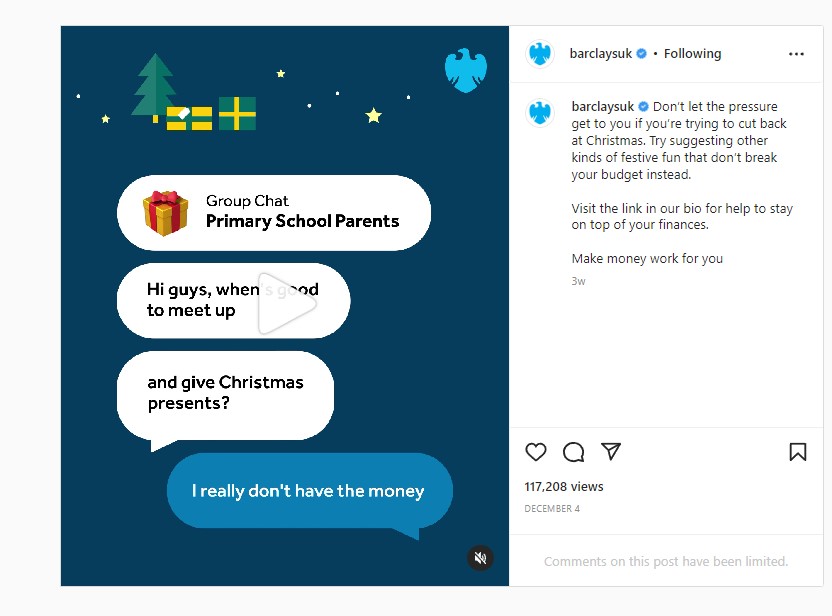 Top Tip: Don't sideline Reels. They account for 20% of all time spent on the platform and research shows that Reels get up to 300% more engagement than regular Instagram videos. As 20% of Reel views happen with the sound off, don't forget to add text to ensure your content is accessible to everyone – including those who are deaf or listening in a public space.
The Food Industry
In a world where 69% of us photograph our food before we eat it, Instagram is the place for restaurants, cafes and street food vendors to grow their brand and attract customers. Top food brands spend a huge amount of time perfectly capturing mouth-watering burgers or piles of nachos. As a top tip, there are loads of photo editing apps out there that can be used to create a marketing food pic for your business including Lightroom, VSCO and Snapseed.
To master food and drink marketing on Instagram, try:
Creating a restaurant hashtag which tells customers what to use when eating at your venue. Share user-generated content to encourage engagement and to boost brand awareness.
Make the most of food and drink-related annual events or special occasions to release new products or promote existing dishes. Check out Krispy Kreme's Christmas efforts.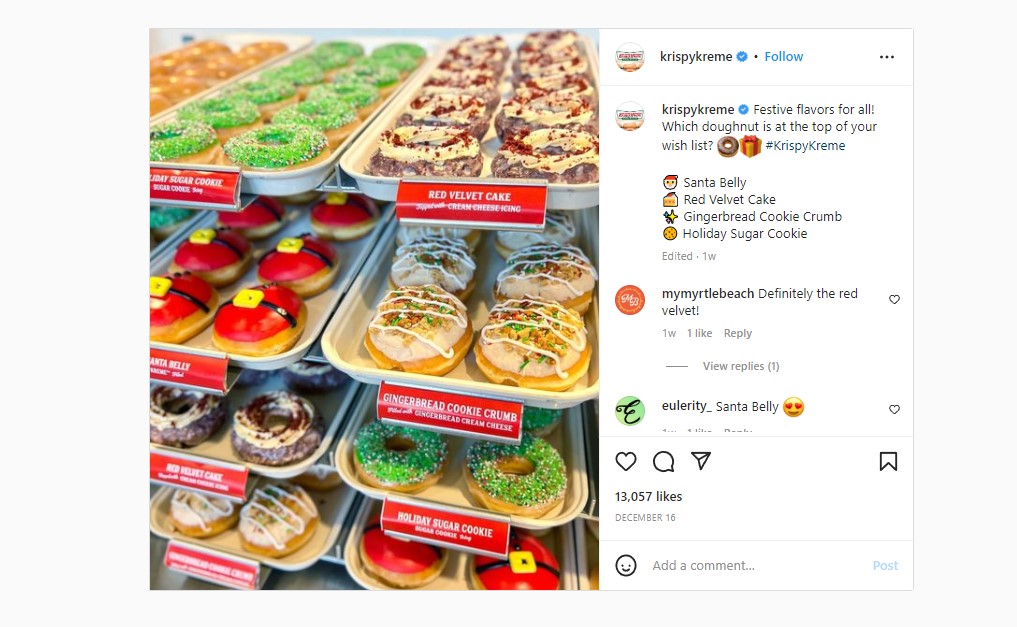 Stick to a consistent colour palette to make your pics instantly recognisable. Take a peek at Ocean Basket's colour scheme which is predominantly blue and white. They also use the same familiar font for brand recognition.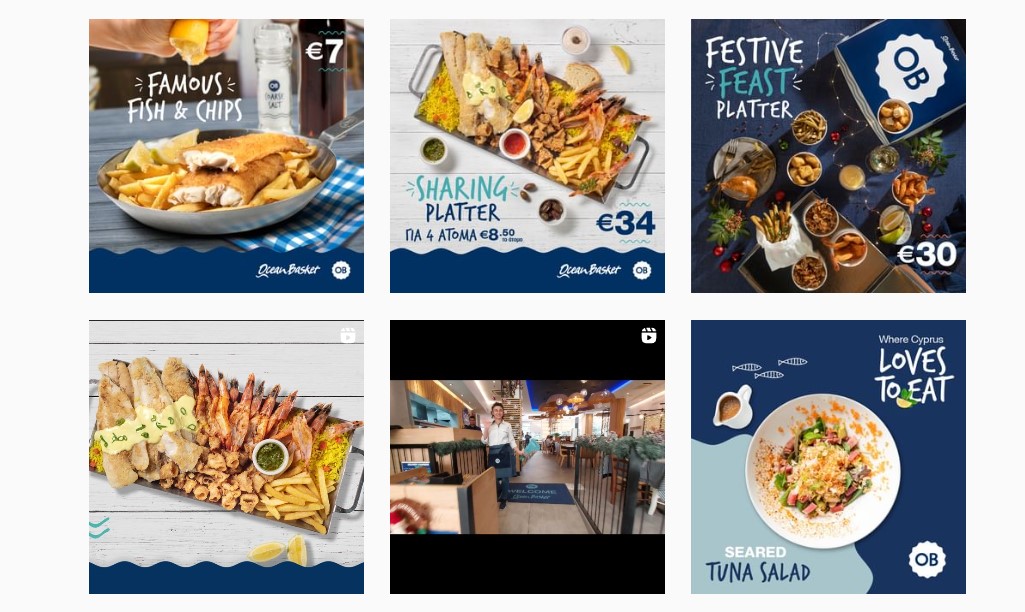 Work with food bloggers and micro influencers to widen your audience.
Be inspiring and useful. Sharing ingredients lists, recipe ideas, DIY tips, accounting tips, beauty tutorials and wellness advice provides real value to your followers.
Instagram's Trend Report
So we know that Instagram is hugely popular and we know that many industries use the platform to their advantage. But what sort of marketing preferences and trends will we see in 2023? Well, there's a whole bunch of exciting stuff pending according to Instagram's Trend Report. We've pulled out some of the most interesting nuggets.
Disability Advocacy will Increase in Prevalence
Instagram discovered that disability advocacy is a leading issue for Gen-Z who, as we know, are huge users of the platform. Three out of four Gen-Z social media users want to follow an influencer who has a disability. So expect more members of the next generation to engage with creators who advocate for those with intellectual or physical disabilities.
Top Tip: As a brand it's wise to align your marketing strategies with user wants and trends. Snag Tights, for instance, is leading the way when it comes to inclusivity using plus sized models and models with disabilities. They also embrace the art of storytelling to make their content relatable. Snag's down to earth posts regularly generate a whole bunch of comments from users who resonate with what they have to say. Check out our article on creating accessible content too.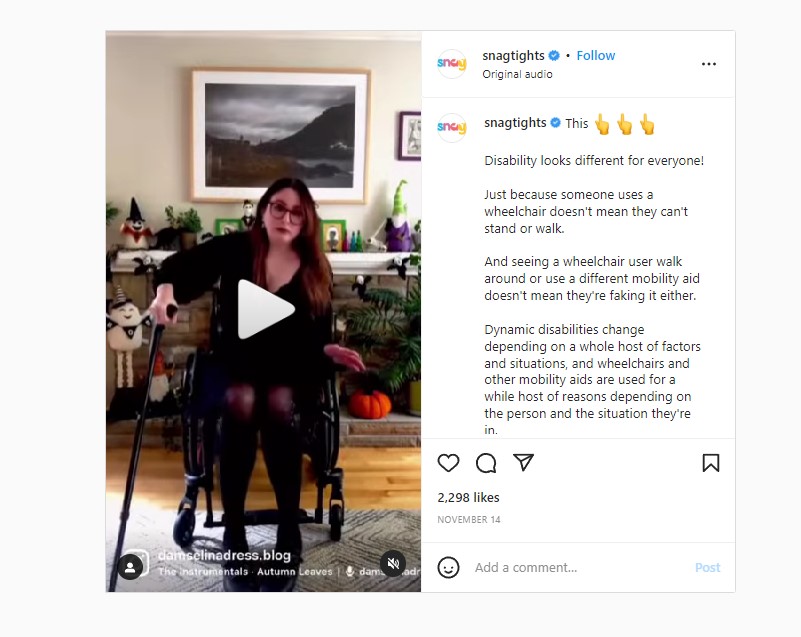 Demand for Niche Beauty Products will Increase
Knowing your sector well is an absolute must, as consumer demand will impact not only your product lines but also your marketing messages. The beauty industry, for example, should be aware that impacts of climate change are driving Gen Z shoppers to buy protective skincare and beauty products. In fact, 2 out of 3 Gen-Z shoppers plan to buy skincare or beauty products that protect against extreme weather and sun. Issues like rising air pollution and intense UV rays are driving searches for climate-proof products, so expect to see more of this type of content.
Financial Literacy is a Priority for Gen-Z
Calling all finance brands. Gen-Z wants to improve their financial literacy to accelerate their financial success. Over 85% of Gen-Zs plan to learn a new skill and one out of four teen social media users want to increase their skills in finance. So take the opportunity to inform and educate your younger consumers? Become a go-to source of knowledge and make sure you answer the questions they want to know. It's also good to introduce new concepts and to provide 'how-to' information for people who want to take control of their spending habits.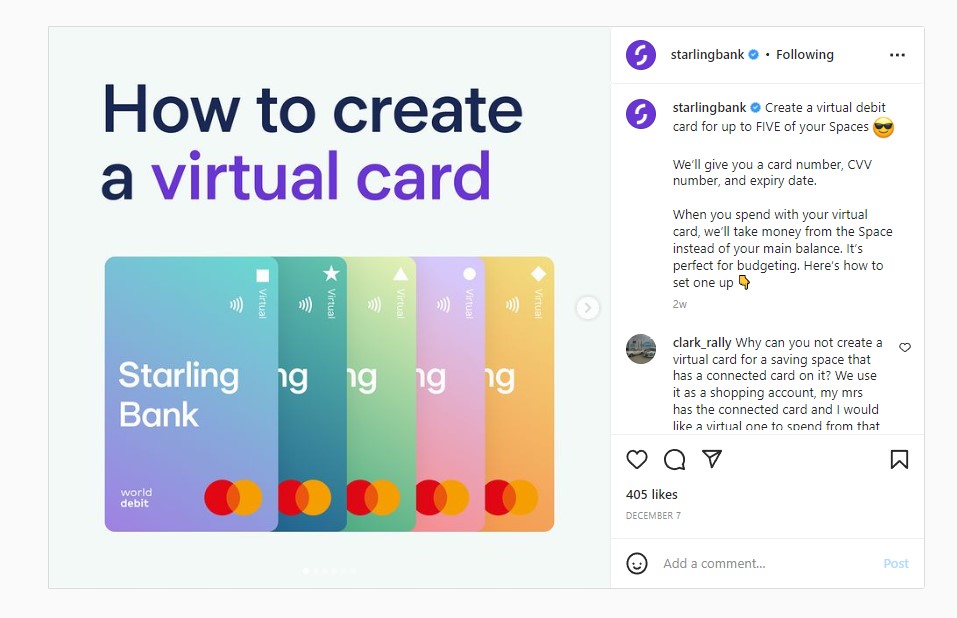 Digital and In-Person Combine
Instagram users are digital natives; they've grown up with the internet and are comfortable using different tools and platforms. That said nearly a third of Gen Z users look forward to in-person experiences such as creator conventions and meet and greets with their favourite influencers. As a brand, it's well-worth thinking of ways to combine the digital experience of your consumers with a real-world event or activity.
New Tools for 2023
Instagram constantly rolls out new tools in order to stay as relevant as possible. Changes to be aware of as we head into 2023 include:
Transparency Tools – these will make it easier to see whether your photos and videos are recommended in the app. The Account Status hub will be expanded to make it easier for users with professional accounts, like businesses and creators, to understand if their content is eligible to be recommended to non-followers in places like Explore, Reels and Feed Recommendations or if their content violates the company's Recommendations Guidelines.
Add Music to Your Instagram Feed photos – this allows you to express yourself with the power of sound and bring content to life in a unique way.
Instagram AR ads – Instagram announced that they would be growing their AR offering with the introduction of AR ads, powered by Meta Spark. AR ads can help you to create immersive experiences, encourage people to virtually try out your business' products and inspire people to interact with your brand. According to Instagram, adding AR to mobile ads can significantly improve campaign performance.
It's an exciting time to be doing Instagram marketing. Talk to our team about your social media strategy for 2023.