Millennials and Gen Zs have become a significant focus group for banks and brokers. Millennials alone are estimated to represent 75% of the global workforce by 2025. Gen Zs already comprise 32% of the global population, with a combined purchasing power of over $143 billion. And let's not forget Gen Alpha. They already have a foot in the door where purchasing decisions are concerned. So, how can finance brands connect with the next generations? Undoubtedly, digital reigns supreme, with TikTok becoming a platform that marketers can no longer ignore. TikTok, which was released internationally in 2017, is now available in more than 150 countries, with over 1 billion active users. We've extensively covered TikTok influencers and TikTok for marketing in previous blogs. But how can you launch a finance product on TikTok? Here's how finance brands can gain visibility and build trust on the platform.
#1 Bring Out Your Fun
Financial services companies, especially traditional ones, have very high customer acquisition costs. And humour has the power to make your brand stand out. However, in the financial world, using humour is no laughing matter. If it fails, it can trigger negative feelings toward your brand or land you with a hefty fine.
But there are plenty of finance brands hitting the sweet spot. Boston-based money manager Fidelity equates food to finance to engage its audience while disseminating knowledge.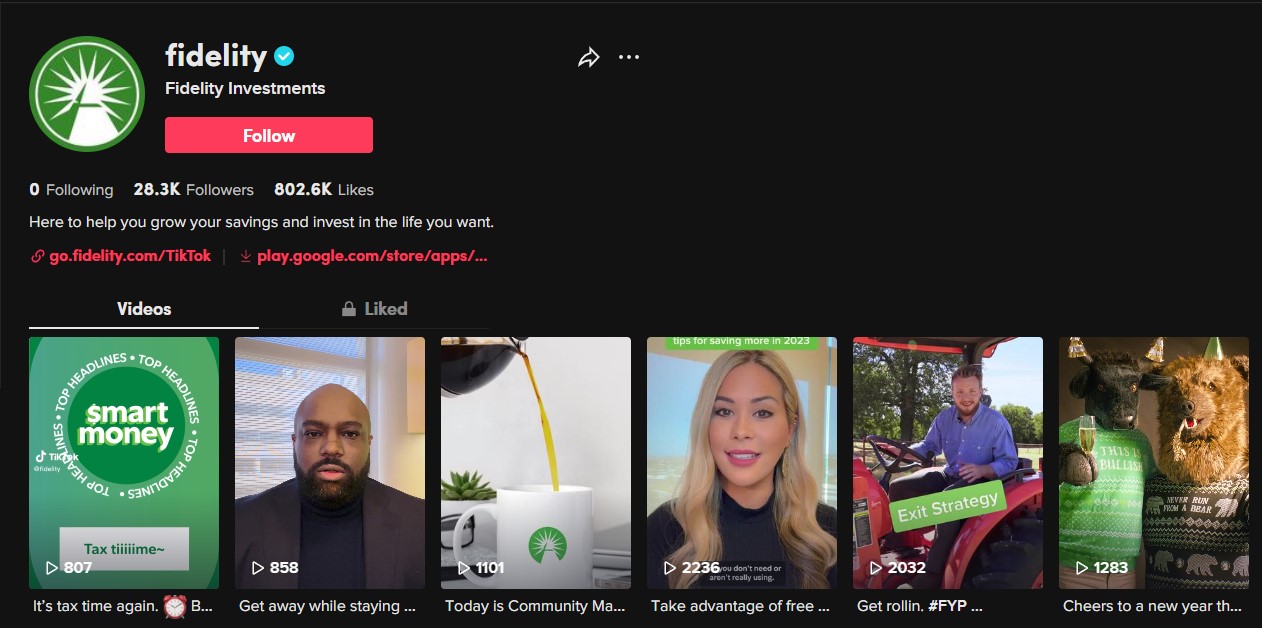 The firm boasts over 14K followers on TikTok. It was the humourous approach that seems to have it easier for viewers to grasp and engage with the financial concepts being discussed.
Tips for launching your finance product with humour
Find the humour sweet spot for your demographic. This means first understanding the sub-culture of your target audience and what they consider funny. This will also help you avoid jokes that might be considered culturally offensive or below the belt. Avoid low blows and cheap shots – don't go for the 5 minutes of fame at the expense of your brand.
Not everything has to be promotional – the best TikToks are not. That's because today's consumer doesn't like being told what to buy. They want unbiased, helpful information so that they can make their own decisions.
Make the most of trending music, effects, greenscreen and filters to amplify the fun. Also test out Duets. They can add a lot of fun to your videos. You could duet with another creator or with your own previous videos. Duets with another creator might just help you gain exposure to a whole new audience. Check out Charlotte's article over at Agorapulse. agorapulse.com/blog/questions-tiktok-marketing/
#2 Keep It Snappy
While TikTok began by allowing users to upload videos that were a maximum of 15 seconds, it has steadily moved towards long-form video content. In February 2022, TikTok increased its maximum video length to 10 minutes. But according to TikTok, 25% of the top performing videos are between 21 and 34 seconds.
Keeping the message short is the way to go with TikTok. Moreover, the video length needs to match the message and content you're sharing. If you're sharing some news that could impact the financial markets, you can keep it less than 30 seconds. For instance, banking solutions provider for the "next generation," Step Bank, recently released a 21-second video on TikTok, tracing the revenue history of doughnut shops since the 1934.
The video isn't just full of fun facts, it's totally drool-worthy with all the different types of doughnuts. And if you're looking for drool-worthy, don't miss out on their all-you-can-eat buffet video!

Tips for keeping your finance videos snappy
Utilise the right music to create a feel good and fast flowing vibe. It is also the bridge that helps the video to transition smoothly from one idea or scene to the next. 67% of TikTokers say they prefer to see videos from brands featuring popular or trending songs from TikTok.
Learn to use TikTok's video editing tools so that you can crop, chop and improve lengthy videos from your CEO!
Study TikTok's analytics for your videos – you might find that viewers are dropping off early and that's not good for your ranking on the platform. Use this knowledge to improve future videos.
#3 Find Yourself a Fin-fluencer
Finance videos on TikTok can and do go viral. We've seen money-saving challenges to videos of crypto get millions of views.  For instance, Italian fintech giant, Hype, turned to TikTok to raise its conversion rates. The company not only used TikTok Ad Manager to run various campaigns but also participated in the TikTok Creative Exchange (TTCX) program. This offers access to the top creative partners in the industry on TikTok.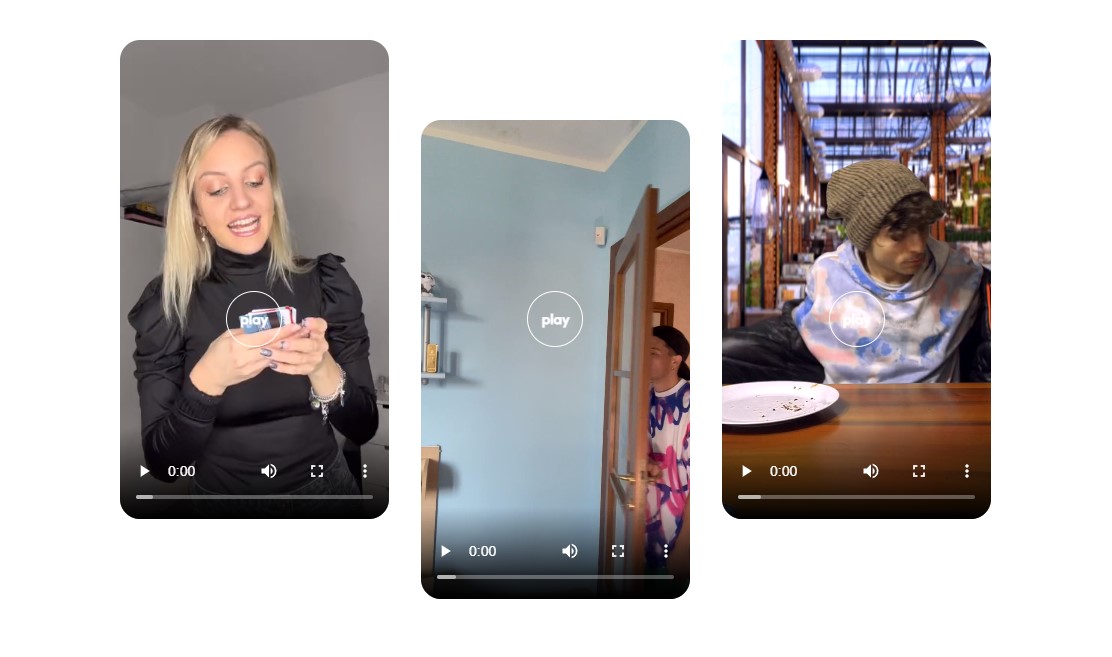 The result was a 5x increase in new customers, which Hype attributed to the social media platform, along with an 80% reduction in CPA and over 10% rise in ad recall.
Millennials and Gen Zs are deeply interested in learning about finance but not in a boring way. As many as 54% of Gen Zs hold some kind of investment, with 25% holding cryptocurrencies and stocks, and 10% owning NFTs. More than a third of Gen Zs electively attend financial education seminars or lectures. Against this backdrop, social media influencers have emerged in the financial space. Known as fin-influencers, most of these financial influencers focus on personal finance, money management and investment.
The #LearnOnTikTok campaign, which focused on delivering short education videos, became very popular among Gen Zs. The #finance hashtag has almost 11 billion views on TikTok.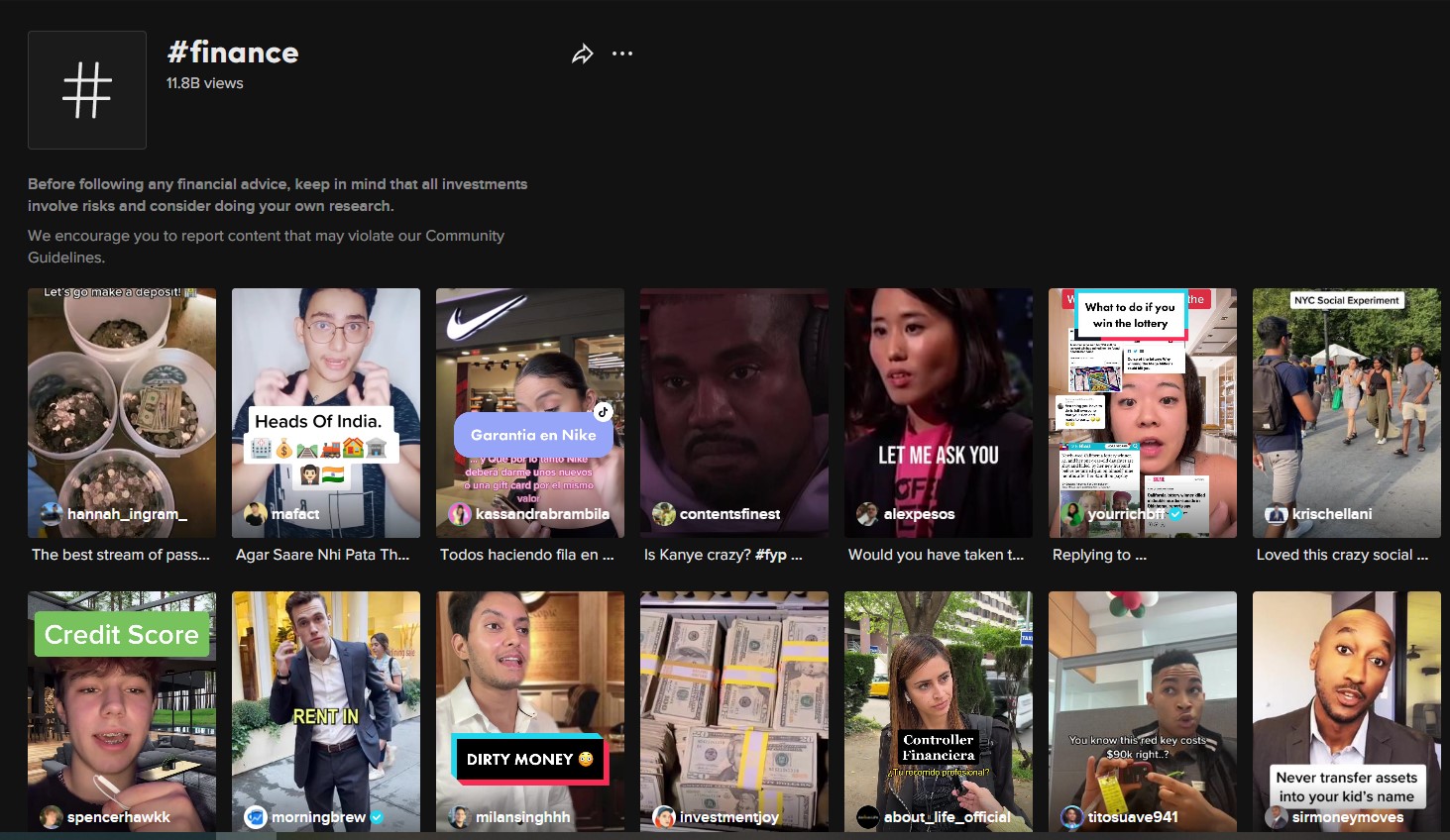 Some of the most popular fin-fluencers are:
Erika (@erikakullberg) – 65.1 million likes and 9.1 million followers
Mark Tilbury (@marktilbury) – 90.4 million likes and 7.2 million followers
Investmentjoy (@investmentjoy) – 67.2 million likes and 3.5 million followers
Duke Tax (@dukelovestaxes) – 36.1 million likes and 3.4 million followers
Humphrey Yang (@humphreytalks) – 49.2 million likes and 3.3 million followers
Tat Londono (@tatlondono) – 44.3 million likes and 2.8 million followers
Milan (@milansinghhh) – 31.8 million likes and 2.7 million followers
Teaching Financial Freedom (@thelegacyinvestingshow) – 14.6 million likes and 2.4 million followers
Money Expert (@herfirst100k) – 24.2 million likes and 2.2 million followers
thelaymaninvestor (@thelaymaninvestor) – 7.9 million likes and 557.5K followers
A partnership with the right finfluencer can help your brand gain visibility and strike the right tone with your target audience.
Tips for finding the right TikTok finfluencer for your brand
Check it's a good match – discuss values and matching goals, budget and outcomes. Also do your research on the reputation and behaviour of your finfluencer!
Draw up a proper contract – Ideally, an influencer contract should lay out governance norms for the content being created and payment terms, along with clauses that specify standards, behaviours or expectations between the two parties. The contract should be legally enforceable and account for legal disputes or breaches of contract.
Check out TikTok's Creator Marketplace – Launched in 2019, this marketplace is where brands can go to collaborate with the most suitable creators.
#4 Watch Your Compliance
Financial institutions and financial services providers are among the most tightly regulated in the world. It can be extremely challenging to create TikTok videos that are both captivating and compliant.
Financial watchdogs are becoming increasingly stringent, with the UK FCA imposing 26 financial penalties on firms and individuals in 2022, compared to 10 fines in 2021. The FCA also removed 14x the number of misleading adverts as it had done in 2021. Across the Atlantic, the SEC announced a record $6.4 billion in penalties, including its WhatsApp crackdown worth $1.1 billion in fines.
Tips for being compliant on TikTok
FINRA specifies the following guidelines for social media platforms, including TikTok:
All communications must be fair, balanced and complete and not omit material information.
False, misleading, promissory, exaggerated or unwarranted statements or claims are prohibited.
Communications may not predict or project performance (with certain exceptions).
Material information in a communication may not be buried in footnotes.
Statements must be clear and provide a balanced treatment of risks and potential benefits.
Communications must be appropriate for the audience."
Tip- work with a marketing agency that understands the financial services space. Speak to our team to get started.
#5 Build Your Community
Communities on TikTok have great power to influence markets. For instance, Dogecoin volumes spiked 1,900% in just two days in June 2020 after a TikTok video encouraging people to invest in the coin went viral. The video, posted by James G (@cannolicrypto), tells viewers just how much they stood to profit if every TikTok user invested just $25 each in DOGE, which at that time was trading at $0.0023! The video garnered 84.5K likes and was shared 29.3K times.
TikTok thrives on communities and taking part is a great way to build your own community and get followers. Check the trending challenges and select ones that fit your business and brand. You can also try a Duet alongside another creator.
One Duet that made its mark was one on personal finance advice by @financialcookbook. It has received 21.5K likes and has been shared 2590 times.
Don't forget to make your TikTok videos accessible. TikTok also has an auto-captioning feature, but it's best to not rely on this. Human fact checking is important to ensure the captions are accurate. Also, the readability of hashtags can be improved by capitalising the first letter of each word (camel case style). Check out our blog on social media accessibility.
Should Your Finance Brand Be on TikTok?
Probably yes! Available in 150+ countries and 75+ languages, TikTok boasts over 1 billion users and 210+ million downloads in the US alone. Almost 50% of Gen Z is on TikTok. In fact, the social media platform has been ranked as "the most valuable platform for direct-to-consumer advertising" in Triple Whale's State of DTC Advertising report. The report also states that brands generating revenue of $1 million – $5 million are using TikTok for their marketing needs. No surprise then that the platform is all set become the third largest social media network this year.
At Contentworks, we create and implement impactful social media campaigns for our finance clients. From Instagram posts through to TikTok scripts and animated videos, we've got you covered. We follow regulatory news and updates from ASIC, CySEC, MFSA, FCA, FSA, FRB, SEC and MiFID II to keep your content on track. Talk to us now about your social media marketing.