Valentine's day is huge, with American consumers set to spend a whopping $25.9 billion on all sorts of treats in 2023. That's one of the biggest spending years on record according to the annual survey of buying intentions released by the National Retail Federation (NRF) and Prosper Insights & Analytics. And it's the same story across the pond, with UK V-Day spend predicted to reach over £1.27 billion. While we might be in the midst of a cost of living crisis, it seems we've still got the funds to spoil our nearest and dearest. We know that marketers are strongly involved in the direction of Valentine's Day. So how can we make it more inclusive? Let's look.
With these figures in mind, brands are embracing this time of year and coming up with some lip smacking campaigns. We're talking fiery, sassy, indulgent, delicious, spine-tingling and INCLUSIVE content that has us smiling from ear-to-ear. In case you missed the memo, Valentine's isn't just for body beautiful straight couples with a combined Instagram following of five million. It's for everyone! And brands are really starting to embrace this concept. So, let's blow a whole bunch of kisses to some of the brands doing inclusivity in their 2023 Valentine's marketing.
#1 Ann Summers – Make Your Power Move
Ann Summers' social media is exciting. From drag artists to plus-size influencers and non-binary models, the brand offers what many other lingerie companies don't – diversity acceptance. In 2023, it's fun to see a wide range of looks being flaunted and Ann Summers certainly hasn't let us down this Valentine's. Take a look at this body inclusive video posted to their Instagram account. This goes to show that no matter what your size, you can still look fabulous in their lingerie. Hurray! We particularly love the, "What comes next" freeze frame which promotes engagement and gives the content an even sassier and entertaining edge.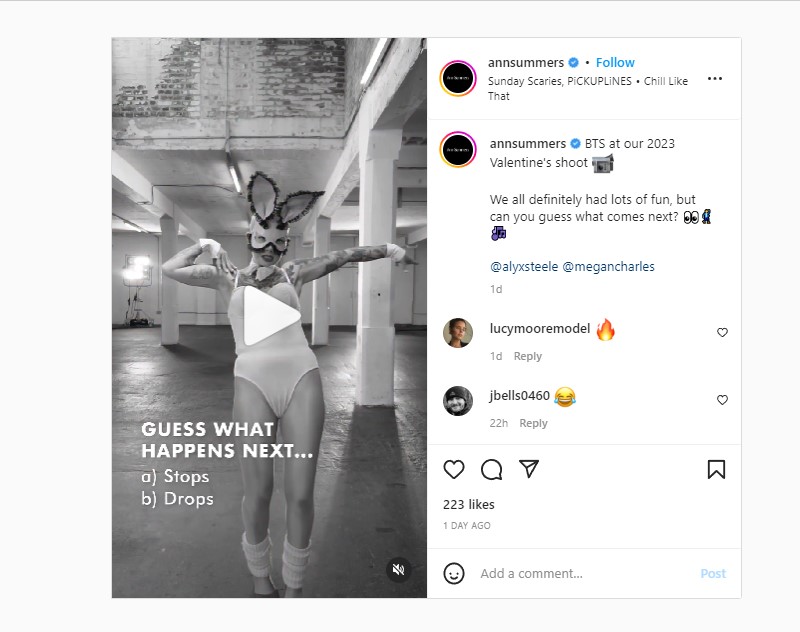 #2 Bras N Things – I Come First
Whether you're in a couple or not, Bras N Things' 'I Come First' campaign is certainly appealing, promoting the very important message of self love. This is brilliant marketing as according to the NRF survey, 28% of those not specifically celebrating Valentine's Day will still mark the occasion somehow with many treating themselves to something special. With an audience ready and waiting to lavish themselves with goodies, we love the me, myself and I angle of this campaign. The body and racial diversity of this video showcases the brand as catering to everybody. Take a look at the messaging too – 'Loving every part of me. Always.' How wonderfully positive and a great campaign takeaway.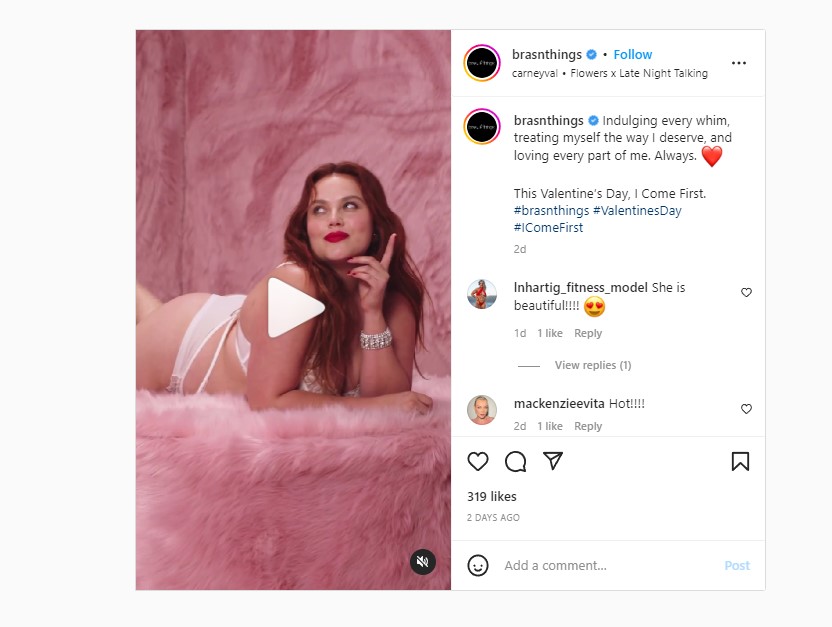 #3 Interflora – Celebrate Your Love, Your Way
Love is love. And Interflora is celebrating the uniqueness of each love story this year with their inclusive and beautifully crafted video campaign. When it comes to Valentine's marketing, storytelling is always a winner, helping to tap into something deeper. It's all about acknowledging different subsections of your audience and connecting with them in a strong way. Remember, Valentine's is for everyone – so why not explore this as much as you can and provide content that's relatable to your followers?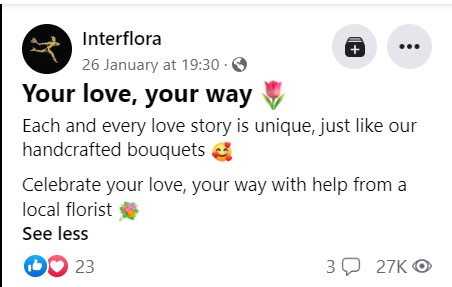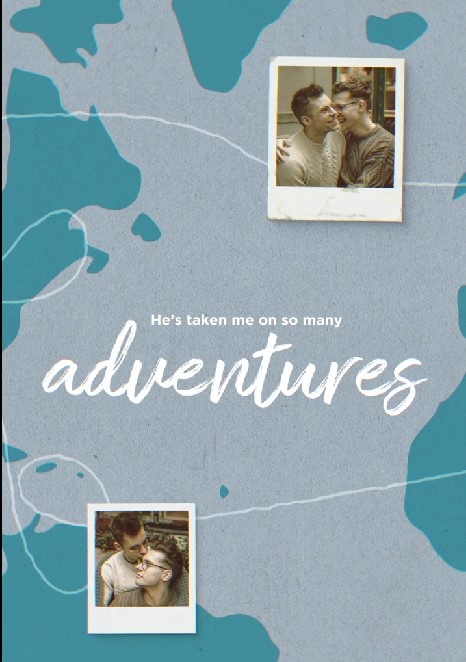 We're loving the simple yet effective 'your love, your way' tagline too which celebrates all kinds of relationships.
#4 Selfridges – Steal a Pizza Their Heart
Traditionally, Valentine's Day has been for loved-up couples, making everyone else feel slightly sick. But with some clever and inclusive marketing, things are rapidly changing. Now, Valentine's is all about recognising connections and keeping your nearest and dearest close. It's a time to share love with your family – including kids – which is why Selfridges have launched a Steal a Pizza Their Heart campaign. Great play on words! This encourages adults to bring their little chefs to their Selfridge's London restaurant for a pizza making session. What a great spin on a traditional date night and perfect considering Valentine's Day falls in half-term this year for most.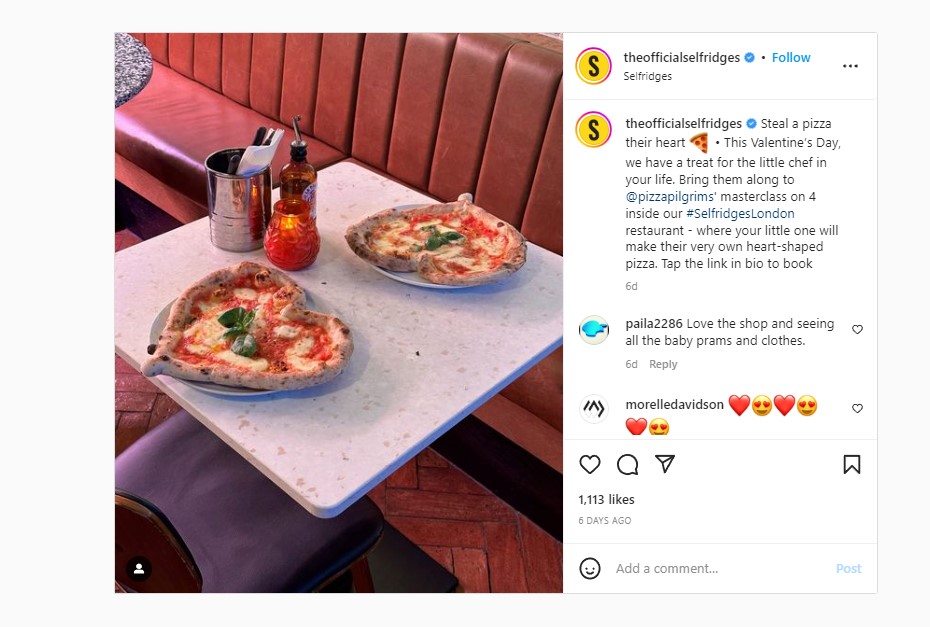 We love the idea of celebrating non romantic love amongst colleagues, friends and family too.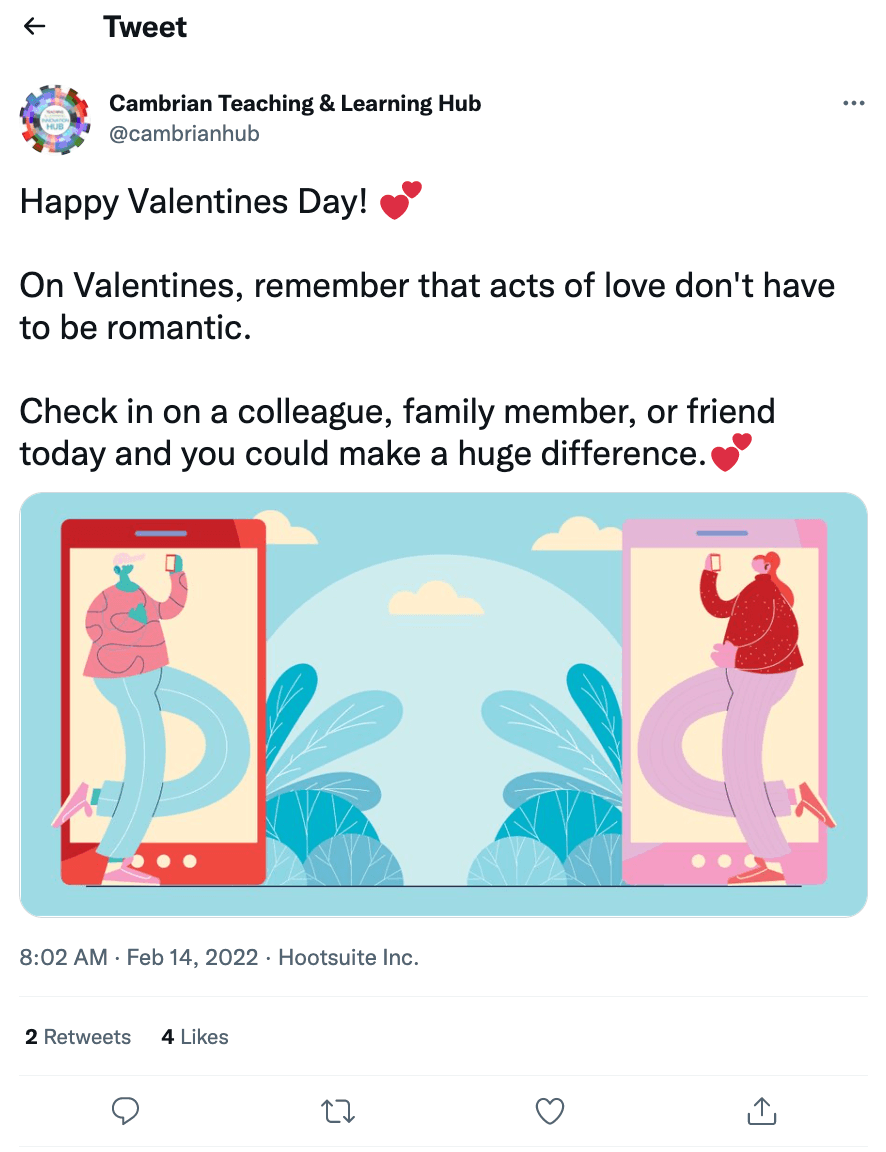 Fun fact – According to a YouGov study, many Americans are really not feeling Valentine's Day. Depending on your business, a "we aren't doing Valentine's Day" campaign could work well! We really want these pins from @Vanityscareart.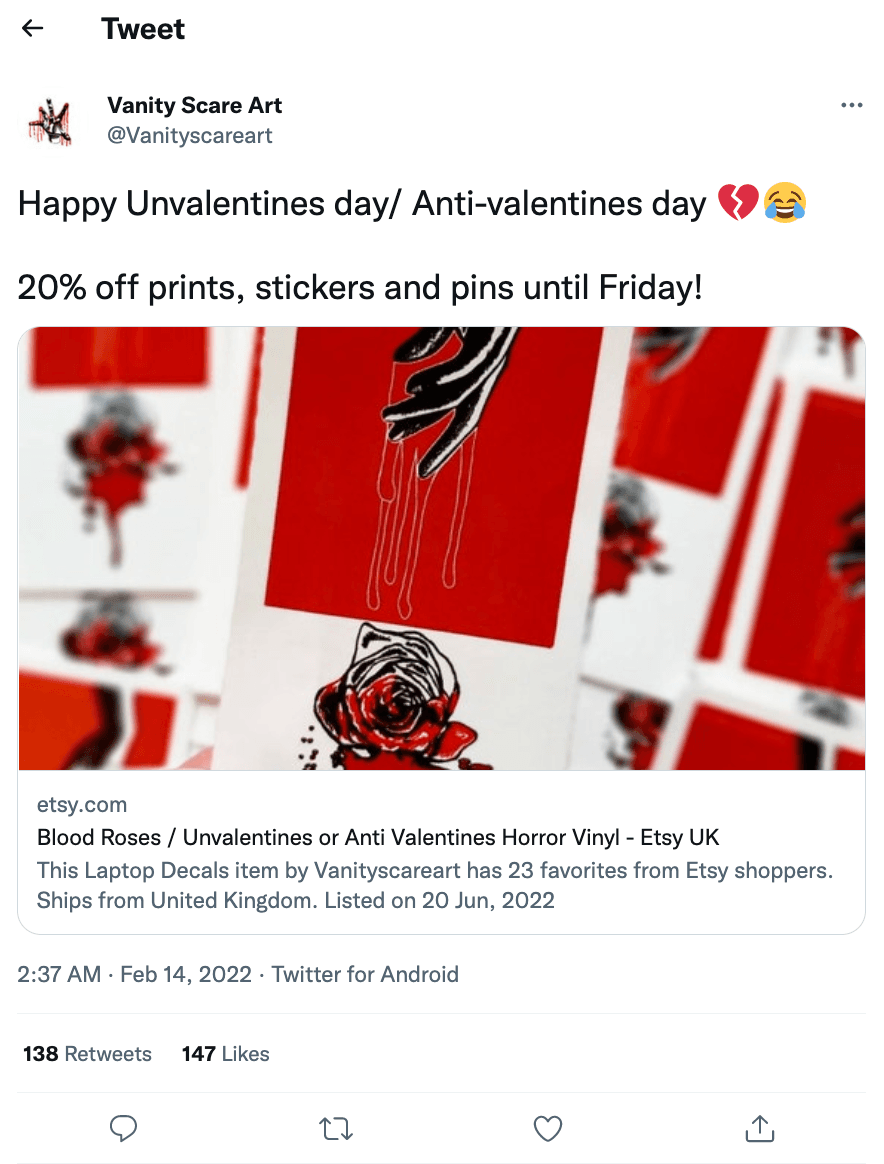 #5 Boots – Galentine's
A new trend has emerged in recent years and that's Galentine's. This typically involves spending Valentine's with your girlfriends or showing your girls how much you love and appreciate them. Boots is rocking TikTok this year with strong Galentine's messaging throughout their campaigns. Check out this Valentine's makeup inspiration video – great for anyone going on a date or girls who just want to feel hot this season. We're liking the 'girls celebrating girls' theme. And choosing a celebrity that's on TV now like Love Island's Tanyel is definitely a great way to draw in a crowd.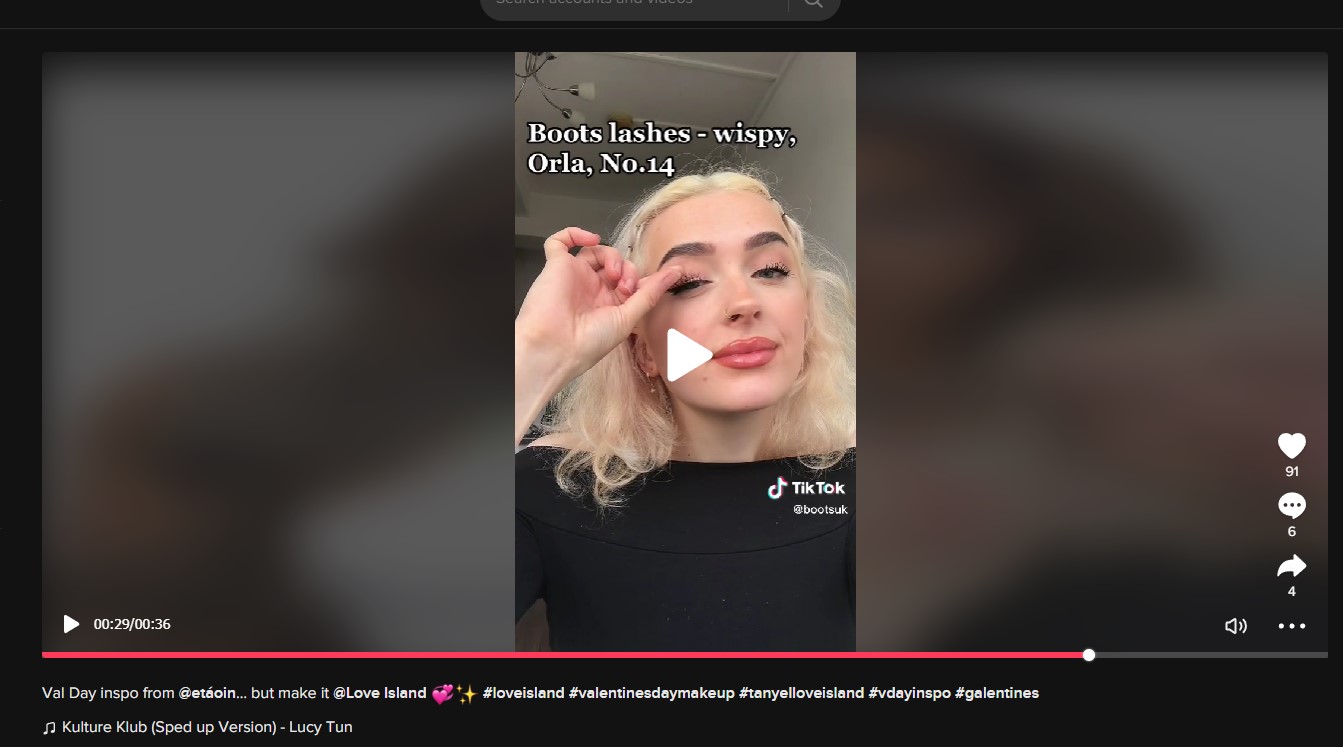 We also love the "Date Optional, Never Settle" messaging in this Lovers + Friends  advertisement.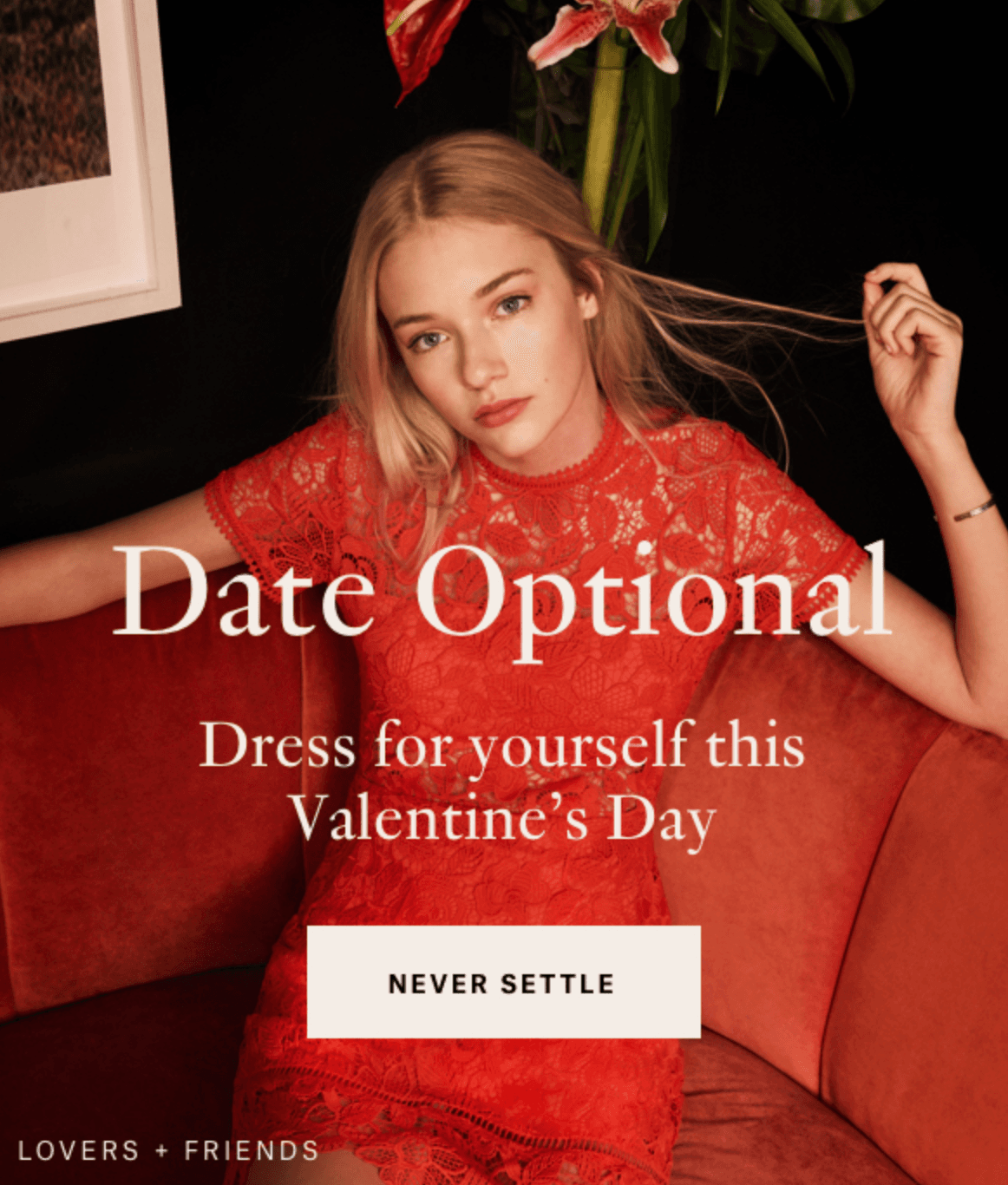 Valentine's Marketing Dos and Don'ts
Don't forget to showcase your product. this might be through imagery, colours, slogans or a solid CTA at the end.
Consider childless couples or individuals in your marketing and feature other lovable elements like pets!
Be mindful of people's current economic restrictions when designing your campaigns.
Offer customers a discount or promo code to encourage gifting .
Get some great user generated content by asking your fans to share their love stories, happy singles stories or best ever Valentine's dates. Remember to be inclusive in your questions.
Go LIVE on TikTok or Instagram to share your events, sale or instore parties.
Be diverse in your choice of models wherever possible. Show your audience that they're part of your story.
Make Valentine's day shopping easier by creating a gift guide. Create Instagram Guides, blogs, short videos and Reels to showcase your gift offering.
Use elements of FOMO by reminding your fans about limited offers, shipping times and exclusive deals.
For holidays like Valentine's, being inclusive can open up a wider audience. But it's not just the models and messaging you need to think about. Ask yourself if your social media content is accessible to all including those with visual or hearing impairments. And if you've followed the very best marketing practices to make your campaigns pop. Read our accessibility article here for plenty of tips and tricks.
Happy love day everyone! Enjoyed reading about inclusive Valentine's Day marketing? Spread the love by hitting share.