As the nights gets colder it's time to gather around the cauldron for some Halloween marketing magic. A leg of a toad, hair of a troll and the breath of a wizard might not work so well in the digital marketing age. So here we go with Halloween marketing – 9 spooktacular tips to make sure you're prepared for the scariest time of the year.
Why You Should Give a Hoot About Halloween Marketing
The build-up to this special event is a huge money-maker for brands. And if you don't believe us, just check out the stats.
Despite a drop in people celebrating Halloween due to Covid-19, US consumers spent a whopping $8 billion on Halloween in 2020 down from around $8.78 billion in 2019. While only 58% of people said they intended to celebrate the event during the pandemic compared to 68% the year before, the average person spent $92 which was actually an increase from the $86.27 spent in 2019.
According to the National Confectioners Association, US Halloween candy sales increased by 8.6% in 2020, led by a 12.2% increase in seasonal chocolates. As a fun fact, more people went in search of minty items in a bid to freshen their breath beneath their Covid-19 masks.
According to Walmart, more than half of customers surveyed said they are likely to celebrate Halloween in 2021 as restrictions ease a little. And customers are significantly more likely to do traditional trick-or-treating this year than last. A Halloween report from Inmar Intelligence predicts 60% more trick-or-treaters in 2021 Vs 2020 – which means more shoppers searching for home décor, party supplies, candy and costumes. Retails, are you listening?
The UK also loves a bit of Halloween fun, with British consumers spending £510 million on costumes in 2020 according to Fairyland Trust. 25% of Brits also bought a pumpkin for Halloween, spending a total of £29.7 million. Wow!
Ghouls are awakening as we speak. So what can you do to ensure your seasonal campaign is fangtabulous?
#1 Dust off that Wand and Get Cracking
Unless you've been trapped in a witch's oven, you should know that Halloween marketing starts early. There's no time to waste, so dust off those wands and get your freak on. We're not kidding – check this out:
The Home Depot sold out of their pre-released Halloween decorations online 'almost immediately' this year, with brand president, Tom Decker, believing that this was a 'very strong indication that people are still going to engage in decorating,' despite the lingering effects of the pandemic. The Home Depot has also prioritised offline marketing by decorating their stores. As consumers spend up to $5,400 a year on impulse purchases alone, it's a very good idea to come up with a point-of-purchase strategy that'll support your digital efforts. Point-of-purchase tactics include placing products right before the tills or creating elaborate end-of-aisle displays. You could also create your very own Halloween graphics, hashtags or catchphrases and use them consistently both on and offline. Offering social media followers the chance to win 'in-store' discounts if they like and share your posts is another tactic. This is a great way to improve your outreach online while boosting store sales this Halloween.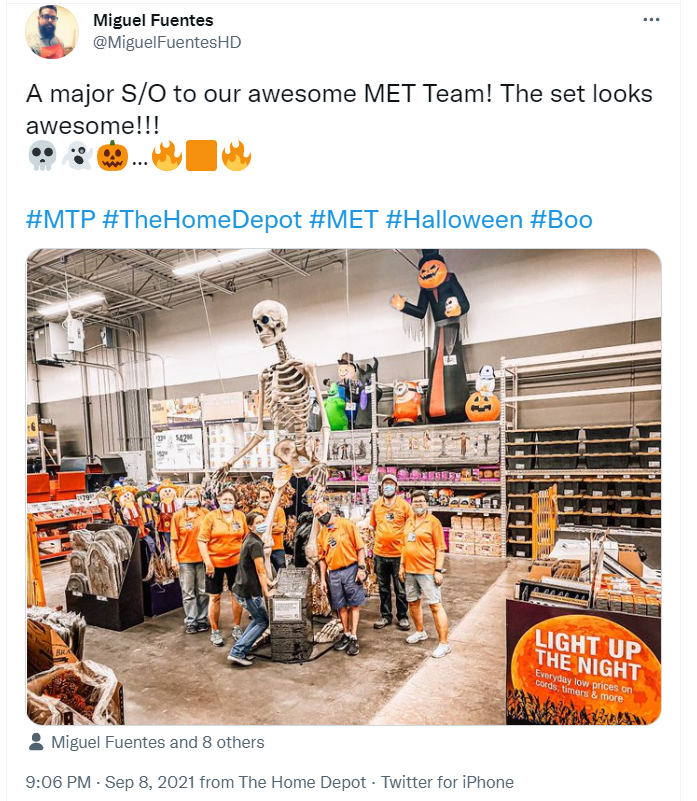 Top tip: 81% of UK consumers believe that brick and mortar shops are still vital to the shopping experience, so it is imperative that you use your knowledge of seasonal shopping trends to maximise the effectiveness of your displays and provide customers with the information they need, in order for your business to make a sale.
Lyons Wyatt, executive VP and practice leader for IRI also agreed that predictions point towards a very positive Halloween season compared to last year for both in-store and online. The fact that the holiday falls on a Sunday will also help drive increased weekend sales. Wyatt notes,
"Consumers and retailers would like to extend seasons. We got a taste of this last year with people decorating earlier and celebrating throughout the month of October for Halloween and even beginning Christmas decorating earlier in the fall."
Retailers are encouraged to be organised. And we couldn't agree more. After all, the hunt for spooky supplies is well under way. Trendanalytis says internet searches for Halloween began climbing as early as April when the term Halloween began experiencing an extremely high weekly search volume – about 328,500 per week on average. Searches for the term typically peak in the last week of October, as the term garnered an average of 30.5 million searches in the last week of October 2020. So as a marketer, you want all your optimised content up as early as possible in order to benefit from these search increases.
#2 Create High Converting Landing Pages
Speaking of optimised content. It's all well and good having the perfect ad copy, creatives and offers as enticing as Halloween toffee apples. But you need to get those all-important conversion and that comes for having well-designed, Halloween-specific landing pages. To create a high-converting landing page, you must:
Know your audience. Use tools such as Google Analytics and Facebook Audience Insights to figure out your target market and the type of content that gets the most hits. Once you understand who you're taking to and what they like, the content will flow much easier. You can use this data to tailor your campaign.
Know the specific goal of your landing page. Every single piece of copy and imagery should focus on the purpose of the landing page. For example, if your landing page is designed to promote a special edition Halloween makeup set, the headline and sub-headline should promote this. The imagery will also guide the eyes towards the Buy Now buttons and every CTA will be focussed on getting a sale. There should be absolutely no waffle and your message should be clear. It should also be inline with your ad content, so that those visiting get what they expect and won't bounce.
Link your landing page with other marketing channels. If you're creating an email newsletter to promote your Halloween range or a sponsored social media post, you should also create a landing page that provides more information about that product. The CTA of an email can then redirect the subscriber to the landing page which will shed more light on the product and make purchasing a breeze.
Create FOMO. Many people make spontaneous purchases because they don't want to miss out. So if you're launching a 'limited edition' product make sure people know it won't be around forever with a countdown clock. You could also make note of how many people have bought your products as a form of social proof.
Keep your landing page simple. When a user visits your page it should be obvious where they are and what they're expected to do. Keep the design clean and always include bold images and call-to-action buttons. Take a look at the below example which allows consumers to create personalised M&Ms – including Halloween-themed sweets.


#3 Keep Up With Trends
Things have not been normal for the past few years, so it's important to keep up with the latest trends when it comes to Halloween marketing. According to Trendanalytics, trick-or-treating is likely to make a comeback depending on ever-changing pandemic rules. And therefore, new costumes might be needed. Kids are expected to dress up in outfits that celebrate everyday lockdown heroes such as mailmen and doctors. After more than a year of binge-watching cartoons and action movies, superheroes and cartoon costumers are also likely to be in high demand. So as a marketer it's your job to be on top of public sentiment.
These are some of the family-favourites for the Amazon search Halloween Costumes for Kids. Amazon cleverly uses their Parent Pick tool as a form of sales analysis as this reveals highly-rated and popular products among customers who identify themselves as parents.
#4 Improve the Visibility of Trending Items
Knowing the stats and predictions for Halloween is a must. From there, you can improve the visibility of trending items. Let's look at confectionary marketing for a second. It's been reported that 79% of consumers plan to fill a Halloween candy bowl this season in the US. So, why not get all eyes on your brand with a unique digital marketing campaign? Coming up with a branded sweet treat was expertly carried out by Mars Wrigley's who launched a creepy Halloween candy line-up in 2020. It included Zombie Skittles, M&M's Ghoul's Mix, M&M's Glow in the Dark Packaging and more. A new product allows for plenty of promotional opportunities, from social media shoutouts and games to playful GIFs and live videos.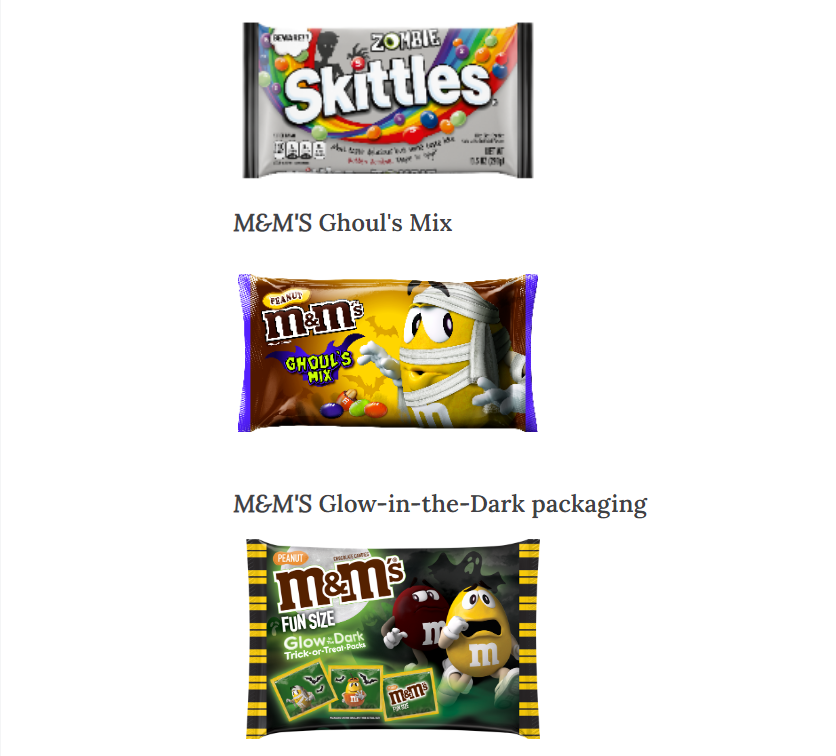 Seasonal promotions are also an effective way for retailers to tap into consumer demand for products that sell well at this time of year. Flavoured, carbonated drinks enjoyed an extra £5.5 million in sales in the run up to Halloween in 2020. So as a result, Coca-Cola Europacific Partners (CCEP) has unveiled a new on-pack promotion for Fanta. From 30 August until the 31 October 2021, shoppers are invited to scan QR codes on limited edition, ghoulish packs of Fanta Orange and Fanta Orange Zero, to find out instantly whether they've won an epic prize. It's all there from cauldrons of cash, to home entertainment systems and supplies for the ultimate scary movie night in. Those who don't win will receive exclusive digital content to scare their friends and family with instead. Genius!
#5 Get TikTok Savvy
Halloween is the perfect time to get TikTok savvy. Younger generations love Halloween. They also love this platform. So if you're targeting Gen-Z or Millennials, it's well-worth analysing the content types that perform well at this type of year and seeing if you can incorporate them into your own campaign. Beauty brands, for instance, should take note of just how popular spooky makeup looks are. TikTok influencer Miss Poppy Locks paints her face and regularly shows her 449.4K followers how to achieve some pretty incredibly looks. As it's already September, Poppy has turned her attention to Halloween, with a skeleton face video that was viewed hundreds of times in just a few hours.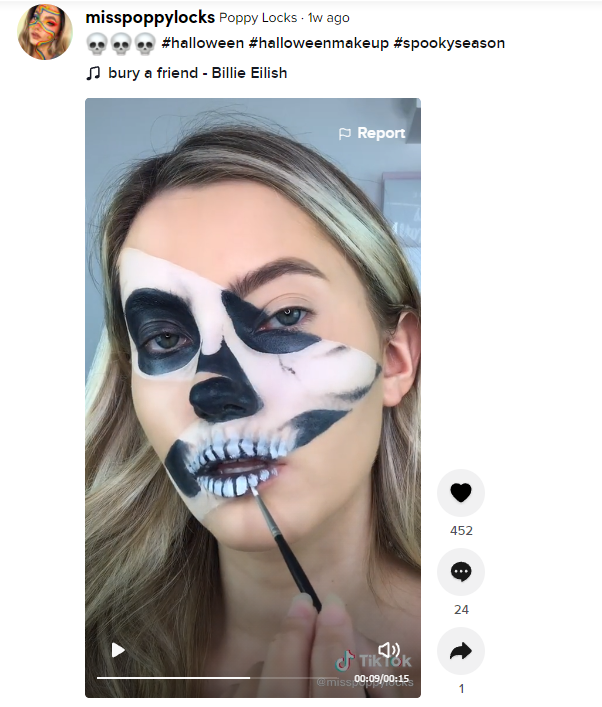 Top tip for brands: Use Halloween to showcase what your products can do. Remember, you've got limited time, so be sure to get straight to the point and don't forget that awesome soundtrack to really hook people in. Makeup Revolution recently promoted their #Creator Revolution Collection with a seasonal, Halloween-inspired makeover and Manic Panic used TikTok to show how to create your own custom hair dyes. Remember to include those all-important hashtags to make your content easier to find. And, when it comes to fashion or beauty, include 'before and after' content for the 'wow' factor.
#6 Create Your Own TikTok Challenge
TikTok Challenges are huge. And a great way to draw in fans. The #TooSickToBeSick challenge by medicine brand Mucinex encouraged users to show their glow up from Too Sick for trick or treats to So Sick and ready to party. The task was to pick a transformation style from one of the Mucinex creators or to come up with something different. This came with the call to action 'if you're really sick this cold and flu season, take Mucinex Nightshift.' The campaign received a massive 1 billion views.
Chipotle also got involved with their own #BooritoChallenge (see what they did there?). The challenge encouraged TikTokkers to post videos of themselves in their Halloween costumes, using the hashtag #Boorito. The five posts with the most likes won the creators a year of free burritos. Chipotle also enlisted TikTok influencers including Zach King and Brittany Broski to promote the challenge with their own branded posts.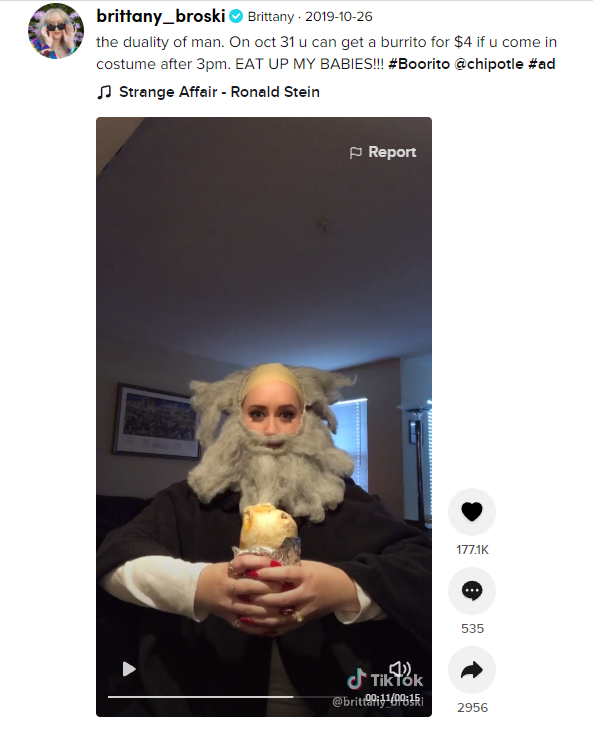 Top tip for marketers: The challenge should be relevant to your brand and include some kind of branded hashtag for maximum exposure. Challenges are also the perfect time to partner with TikTok influencers to expand your outreach.
#7 Use Shopping Tools to Your Advantage
Ensure your consumers 'shop 'til they drop' this Halloween. Literally. With a marketable audience of over 1 billion users per month, Instagram is the place to rake in those seasonal sales. Rather than directing customers from your Instagram account to your website, Instagram Shopping allows them to select and purchase products easily from the app. More than 130 million users tap on an Instagram Shopping post each month — foot traffic a brick-and-mortar shop owner could only dream of. So if you have products to sell, it's time to set up your virtual storefront. By creating a digital, sharable catalogue right on Instagram, users can learn more about products and either purchase directly through Instagram Checkout or click through to finish the transaction on the brand's ecommerce site. Your business is eligible for Instagram Shopping if it ticks the following boxes:
Your business is located in a supported market where Instagram Shopping is available. Check the list to confirm.
You sell a physical, eligible product.
Your business complies to Instagram's merchant agreement and commerce policies.
Your business owns your ecommerce website.
You have a business profile on Instagram. If your account is set up as a personal profile, don't worry — it's easy to change your settings to business.
#8 Make the Most of Instagram Filters
This year, why not dress up your 'Gram for the spooky season? With options like creepy clowns, pumpkin heads and a Euphoria-eque glitter options, filters are a great way to spook up your videos and images. Instagram usually populates the carousel with frightening filters as October approaches, but you can also head to the Explore tab to do a quick search or head directly to some of the creators that rocked filters in 2020. Brands can use filters to launch Halloween products, announce creepy competitions or to make an influencer takeover even cooler. Remember Halloween is a fun holiday, so unleash your creative side.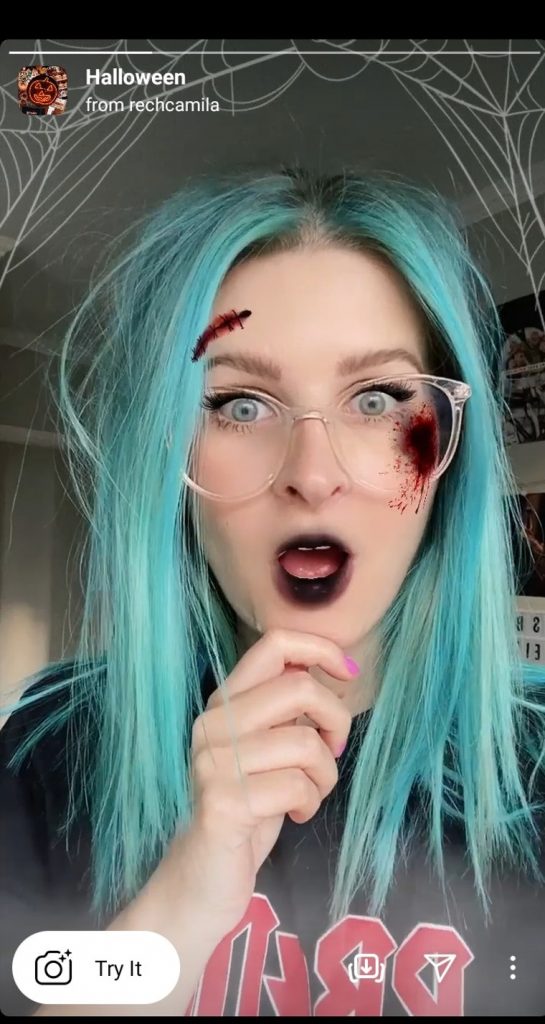 #9 Create Your Own Virtual Event
More traditional Halloween celebrations are back on the cards this year. But with Covid-19 still hanging around like an unwanted spirit, many people are still scared to gather in large groups or visit shops in person. For this reason, it's a good idea to utilise digital marketing to your advantage by creating your very own virtual event. There are many things you can do from hosting a brand party on Zoom to running a Halloween-themed quiz on Twitter. You could also read a scary story live on Instagram every day during the run-up to Halloween or even do a tour of a haunted house.
Make sure your marketing doesn't hide in the shadows this year. Contact the Contentworks team if you need help with any part of your content marketing strategy. We offer articles, e-books, video marketing, whitepapers, web content and more as well as social media management and reporting.
Seen some great Halloween marketing? Tag us on Twitter! Have a very Happy Halloween weekend!