Missed our Creative Director Charlotte Day at iFX EXPO International? The theme of the panel was marketing your finance brand in 2022 and panelists were esteemed marketers within the finance space.  Here's her take on the best ways to market your finance business in 2022.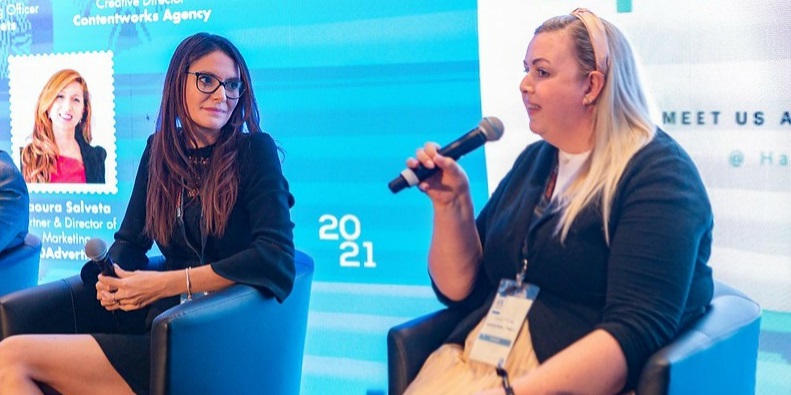 What changes were you forced to make during 2021 marketing-wise for your business or your clients?
The first thing for us was to acknowledge the rise in social media use worldwide. With people stuck at home, these platforms became their only way to connect to the world. Social media use rose to 65 minutes per day on average, compared to 54 minutes in 2018 and 56 minutes in 2019. Even the way social media was being used changed. For instance, Twitter became an extremely active source of real-time news.
The good news was, that all our clients were already active on social media. We encouraged them to spend more time on these networks, responding to questions, monitoring comments and checking chats. This was in addition to the regular posts. At the same time, trading volumes were surging as people stuck at home were turning to the financial markets for some extra income. So, clients who got it right were able to capitalise on this brilliant opportunity.
We found that positive social media content and bite-sized education worked wonderfully for finance fans. Content that explained the financial landscape and ongoing trends was in demand. Rather than simply reiterating mainstream news or adding to the tide of doom-scrolling, we focused our content marketing efforts on providing information on market movements. That's breaking analysis and market reports to reassure and educate both clients and investors at large.
While the influx of new traders in the market was great for brokers, it also meant that they needed to provide better support for newbie traders who might not understand the markets. For them, providing easily digestible, snackable educational content was key. This could be done with great success on social media, via video content and through blogs.
Watch the full marketing panel here:
What was the most effective channel for your clients during 2021?
YouTube is the second most visited website in the world, close on the heels of its parent, Google. Statistics show that 81% of internet users are now on YouTube, compared to 73% in 2019. User growth was also dramatic on TikTok. This sudden surge might in part be a reaction to the negativity that's been growing on Facebook in recent times, including polarisation and toxicity.
In fact, almost 3/4 of all threads on Facebook over the last year were associated with negative sentiment. In contrast, the majority of the mentions on TikTok were positive. So, if TikTok still isn't already a part of a finance brand's marketing strategy, talk to our team!
In the finance space, we also saw great success placing content on Medium and Reddit. The platform has 430 million monthly active users as of 2021, a rise of over 30% from 2020. Over 303 million posts were shared on this Reddit in 2020, up 52.4% from the previous year. Then there's the entire WallStreetBets saga and the rise of meme stocks. This subreddit now has 10 million "degenerates," as the members are called. And they have the power to move the markets!
All these channels worked for our finance clients, albeit for different reasons. For instance, solid, reliable financial education is great on YouTube and Medium, while entertainment and enjoyment were key for TikTok and Reddit. We actually won the award for most popular finance writer on Medium. Our most popular articles on this platform are those about crypto conspiracies (or truths) and alternative stocks – ETFs.
What retail trading products perform best for your clients?
Anything Elon Musk tweets? Just kidding! Actually, our broker clients have seen a rise in stock trading, and not just in the form of CFDs. There has been a rise in the trading of and investing in physical stocks as well. A great way to keep track of such finance trends is via listening to social media chatter. This is where you can see what people want to trade and which assets are the most popular at present.
Trends are important in the world of finance. This not only means following market trends for informed trading decisions, but it also means offering multi-asset trading via a single platform. This gives traders access to any trending asset that might wish to invest in. Of course, being a marketing agency, we can only inform our clients about the latest trends in their space. It is then up to them to refine their offerings accordingly.
But, if I was a CMO, I would definitely keep my eyes on the newest asset classes.
What would be a must-have in your marketing strategy for 2022. On the flip side, what would you downplay?
Trust is a huge issue right now, on social media in general and specifically in the finance space. So, marketing in 2022 needs to build genuine trust. One way to achieve this is through corporate social responsibility, employee advocacy, education and AMAs.
My must haves for marketing in 2022 would be a fresh video marketing strategy that targets YouTube, TikTok and/or Instagram Reels. But remember that the content for each of these channels needs to be different, since the audience and what they seek is different.
Regarding what to downplay… Facebook?  Since its inception in 2004, the audience on this platform has evolved, aged and the average age today is 40+. On the other hand, fintech firms are targeting younger millennials and Gen Z . These generations are more prolific on Instagram, Snapchat, TikTok, Reddit and YouTube. Also, Facebook's rules on advertising in the finance, fintech and crypto space have been becoming increasingly stringent. This means there isn't a lot of flexibility for paid marketing. Plus, in my experience, the LTC and ROI of leads from Facebook tends to be lower than Adwords if you're going the paid advertising route.
Organic engagement has also dipped on Facebook, averaging 0.27% in 2021. I believe it's time to move on.
What's your actionable takeaway for getting more conversions, i.e., sign-ups, leads, traders, customers, etc.?
Offering your target audience valuable content is always a winner for getting signups and leads. Apart from educational content, market news and analysis, whitepapers work well too. But they should be very well researched and offer top trader insights. Also, case studies are great for showcasing how your B2B solutions address and help overcome fintech and finance challenges.
Apart from text-based content, information can also be delivered via videos, podcasts and webinars. All these modes have gained huge traction over the past year and their popularity is unlikely to diminish anytime soon. If your content is educational, meaningful and valuable, people will give you their details, plus, you are helping traders to move towards their first deposit. Well-sourced, meaningful content also builds trust, which is crucial yet often lacking in the finance space.
Are you ready for 2022? Talk to our team for expert content marketing for your broker, bank or hedge fund.