Is there marketing after covid-19 ? It's a question we are asked on a daily basis. What's the new strategy? How do we adapt our business to the digital transformation? Can marketing save an ailing brand? The answer is, it depends on your sector. Join us as we pick up the covid marketing story and look at marketing after covid-19 – key industry takeaways.
CoVID-19 And Online Behaviours
First and foremost, it's important to recognise that e-commerce has surged during the pandemic. Restaurant deliveries, hygiene products, clothing and household cleaning products were among the most desirable options for online buyers.
As of 31 May 2020, a whopping 31% of American consumers said they've deliberately purchased takeaway food online rather than offline because of the Covid-19 pandemic. 19% of those surveyed from the United Kingdom also said the same while 21% of Brits ordered hygiene items online to avoid breaking lockdown conditions.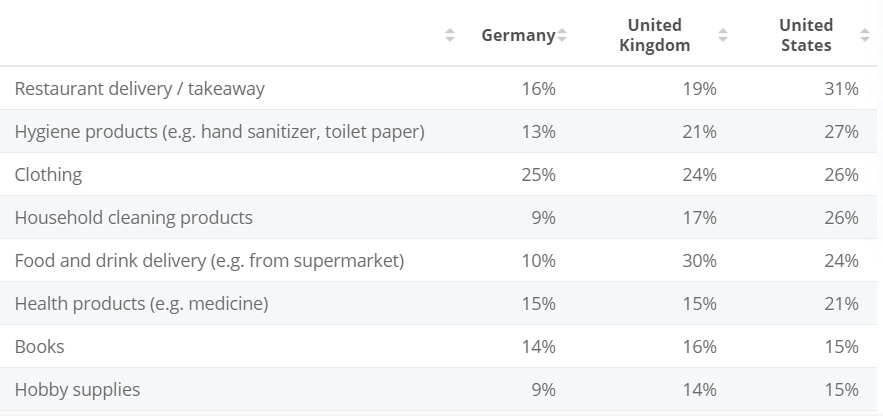 New data from ecommerce security and fraud prevention vendor Signifyd Inc also revealed how e-commerce sales were about 40% higher for the week of 26 May – 1 June compared with its pre-pandemic benchmark for the week 24 February – 1 March. This was based on the sales data of 10,000 retailers with online sales of leisure and outdoor products, auto parts and tires, electronics, alcohol, comedies and collectibles and home goods and décor up at least 40% since the pandemic.
Signifyd Inc data further explained how 'buy online, pick-up in store' purchases surged 248% at the end of May compared to before the pandemic. This shows how people were still keen to not wander around shops going into June.
According to a May survey of 2,000 customers from eCommerce platform vendor PFS Web Inc, 40% of consumers admit to shopping a new website during the pandemic. 45% of these shoppers saying they'll continue to shop that site following a positive experience.
The 'new experience' trend was reiterated by a recent survey conducted by Business Insider Intelligence of 1,199 adults in the US aged over 18. This found that 42% that bought groceries online during the pandemic had never done so before. Business Insider Intelligence estimate that by the end of June, 43% of US consumers will have purchased groceries online.
Jack O'Leary, a senior analyst at Edge by Ascential, told business Insider:
"This has definitely been an inflection point in terms of adoption. Many people are trying things for the first time, and while every single trial does not necessarily become an acquired customer, this level of trialing is going to be a key point of acquisition of new people."
With regards to the food industry, O'Leary added how the Covid-19 pandemic is "going to accelerate a trend that was already ongoing." The online food retail market was already in growth mode with its value doubling between 2016 and 2018.
The covid-19 pandemic led to a continuing e-commerce surge and encouraged consumers to try new ways of buying. Many consumers are now willing to maintain their digital habits so long as the experience is on point. So, it's important to nail your digital offering. We'll give you some marketing tips in this article.
Coronavirus Marketing by Sector – Who's Hot and Who's Not?
There's no doubt that Covid-19 pushed consumers online leading to an e-commerce surge particularly for the food and hygiene sectors. But how did the pandemic impact industries as a whole? And what can you do drive your marketing campaigns going forward?
Retail
Retail was hit hard during the Covid-19 pandemic with many brands filing for bankruptcy including Gold's Gym, apparel company J.Crew, menswear brand John Varvatos Enterprises and many more with department stores such as Debenhams entering administration and being taken over by lenders. The Office for National Statistics (ONS) said that the amount of goods sold fell by 18.1% in April with the shift to digital failing to offset the collapse of spending on the high-street. The effects of the coronavirus outbreak have been particularly dire throughout the U.S. economy. About 16.8 million Americans filed for unemployment benefits in the three weeks that ended April 4, a record pace of job loss several times over. Less money meant less spending and there were numerous retail casualties.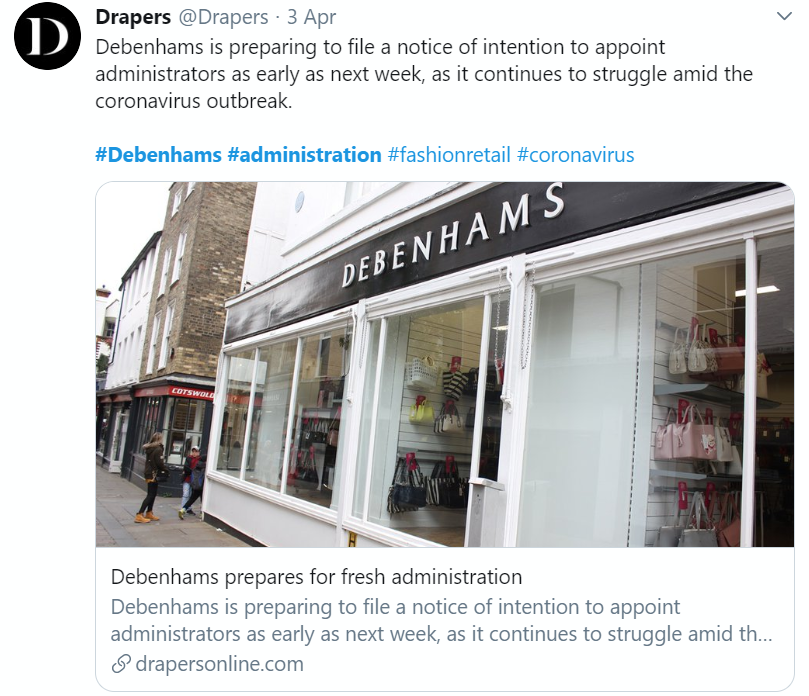 According to Richard Lim, chief executive of Retail Economics:
"Clothing retailers were the hardest hit as the absence of social interaction, whether that's going to work, seeing friends or heading off on holiday, decimated demand for new outfits."
According to reports, the fall in non-food sales in April resulted in the lowest levels of clothing and shoe sales seen since the ONS started collecting data.
The good news
Positive trends emerged. For instance, a combination of quieter roads, free time and good weather prompted a surge of 50% in bike sales in April/May. New bikes sales on e-Bay tripled in May and sales of second-hand machines were up 23% on the same time last year. In the past month, shares in Halfords, the UK's biggest cycle retailer, shot up nearly 80% after the retail group said sales of bikes were double normal levels.
Cycle companies like Wiggle used this to their advantage by streamlining their social media campaigns to garner as much attention as possible. They've focused on cycling as a form of commuting (winner) as well as upselling biking accessories such as helmets. Genius.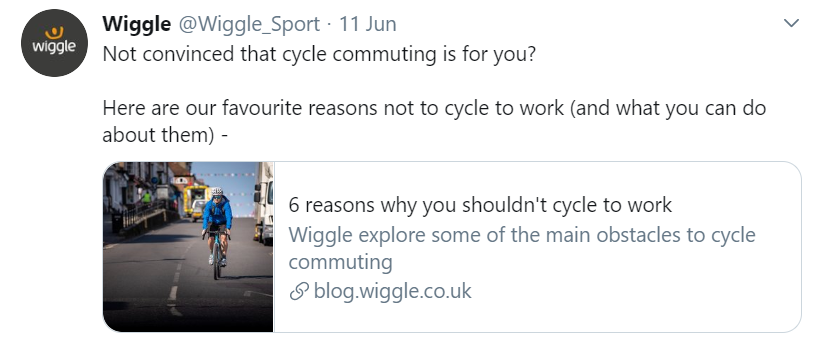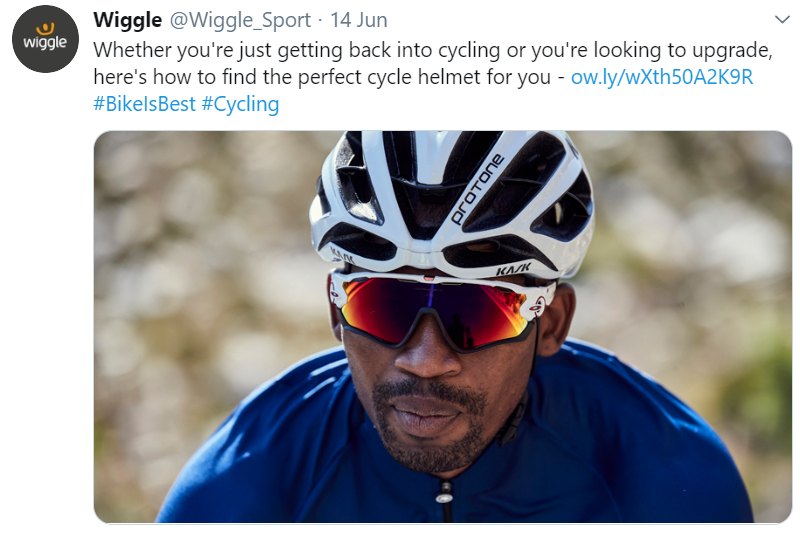 The tech sector also thrived. As millions suddenly started working from home, there were opportunities for companies that sell remote–working technology. Brands like Skype, Zoom and HP saw a lift in sales. Thriving for similar reasons: cloud service provider Akamai Technologies and data-center owners Equinix and Digital Realty Trust. Amazon too has been adding staff to handle increased order volumes.
Summary
Success within the retail industry largely came down to whether companies satisfied the needs of those in lockdown. But what's next? Well, whether the pandemic hit your retail business hard or gave it an unexpected boost, it's important to refine your marketing strategy going forward. Here are some post covid-19 marketing tips:
Stay relevant online. As discussed, many people are prepared to continue embracing e-commerce post-pandemic. So, it's important to boost brand awareness digitally through live interaction, how-to/explainer videos and Q&As.
While beauty brand Sephora was forced to close many physical stores, they maintained a strong online presence particularly on Instagram where they offered numerous tutorials via their Makeup Stories tab. By featuring a wide range of products, guest speakers and how-to clips, the brand managed to light up consumer feeds and stay relevant.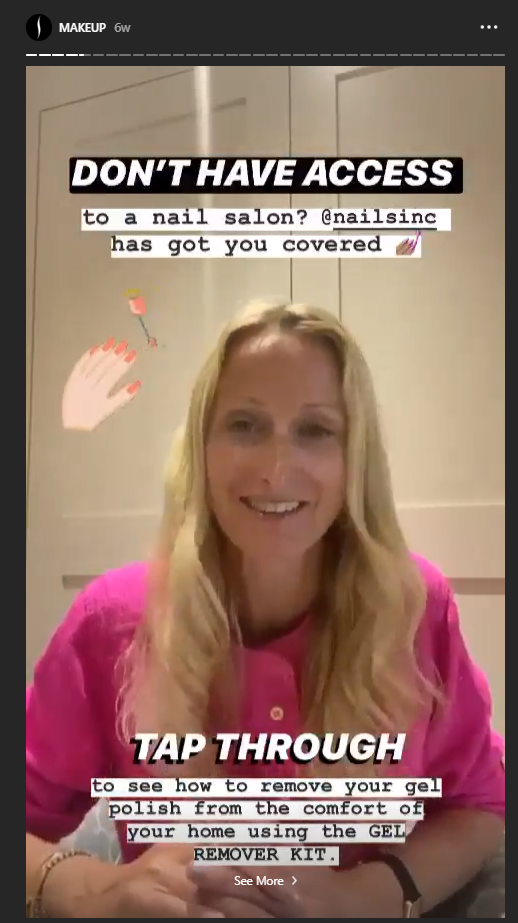 Adapt: If possible, try to adapt to the worries people are likely to have for a long time to come. As a fashion house, Gap was able to create its own range of masks and promote them via social media. Great idea. But if you can't do something like this, why not talk about the safety measures you're taking when your stores reopen? Or post content that shows you understand the pandemic such as discount codes for healthcare workers or social initiatives?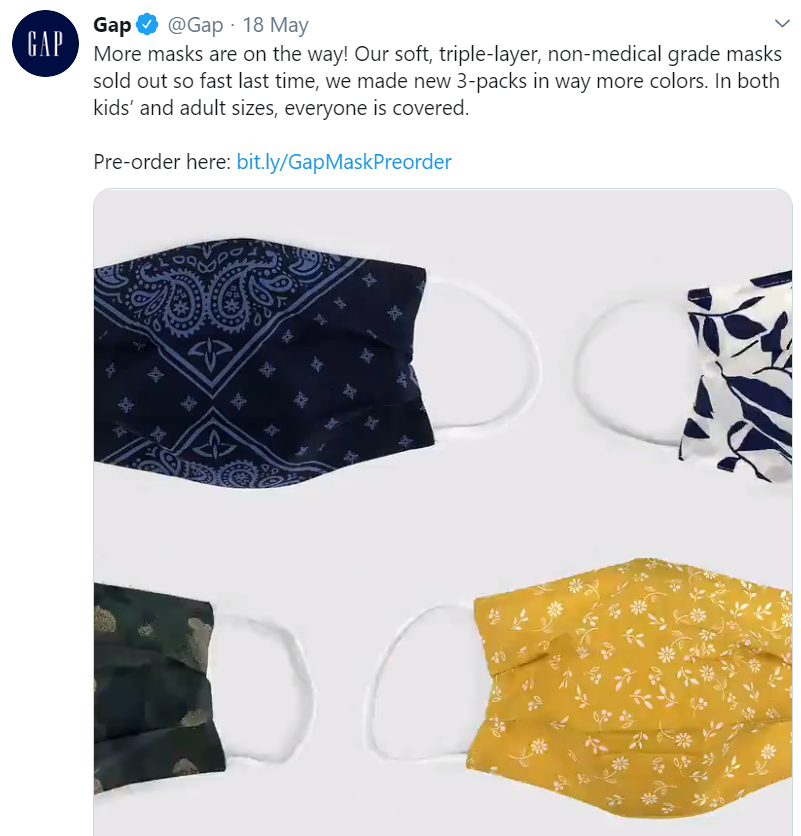 Travel
With 217 countries and territories imposing travel restrictions worldwide, it's clear the travel sector was greatly impacted by Covid-19. Indeed, with airline passenger revenue set to plummet by $314 in 2020 it's not been a good year for those who thrive on transporting people across the globe.
The good news
While 26% of people are still scared to go anywhere far from home according to a survey by RetailMeNot, borders are starting to open and summer travel has not been completely ruled out. Indeed, a new survey by The Out of Home Advertising Association of America (OAAA), a trade association representing billboard advertisers, announced that 53% are planning to get away on a summer vacation, with 62% shunning air travel in favour of car travel.
Summary
There's a whole load of uncertainty out there, but summer tourism is certainly not dead. If you work in the travel industry, a good strategy could be to focus on staycations and nearby travel. Or to promote outdoor adventures that comply with social distancing rules. But remember, your pricing and marketing approach for locals won't be the same as for overseas tourists. Adapt it or lose out on business. It's that simple.
Airbnb has recently updated its marketing strategy in light of Covid-19 promoting nearby getaways, online experiences and entire homes.

Intrepid travel is also taking this route too, focusing largely on places nearby and encouraging people to share their local exploration tips.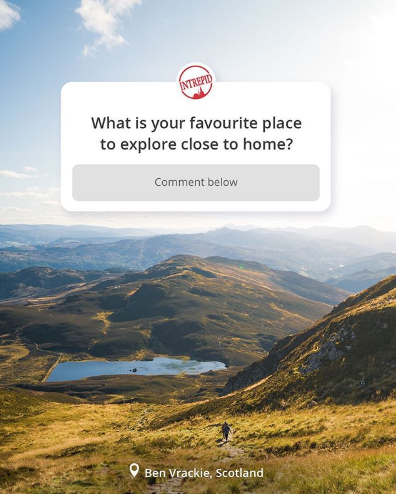 But what about the airlines? Emirates are now focusing on the positives rather than the negatives. Their social media account features a 'We're Back' Stories tab which explains where they're flying. This is a great way to keep people informed.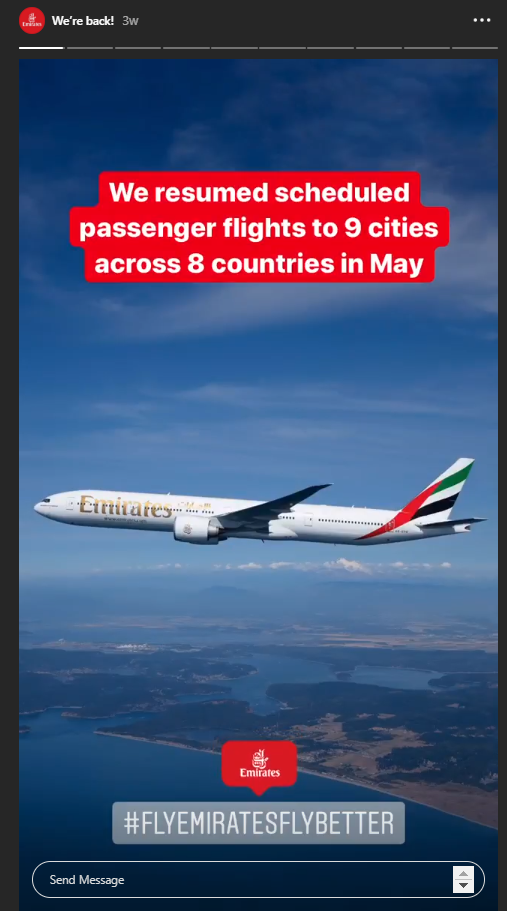 The brand also zooms in on safety. This is clever as with many people nervous to travel, it's essential to put minds at ease in any way possible. Travel companies are walking a careful line. They must start taking bookings to stay afloat, but cannot be seen to be insensitive or pushy.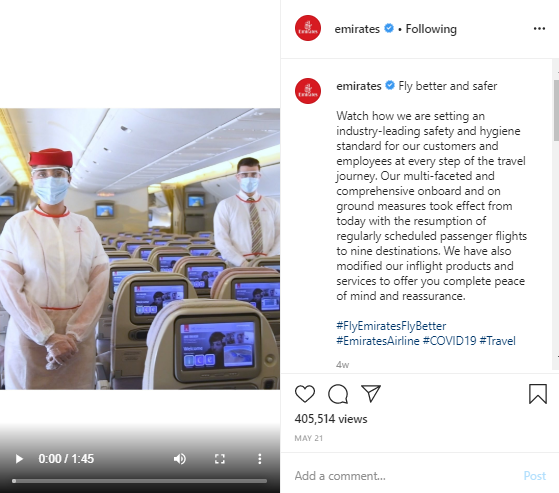 We like how Jet2 gently creates FOMO by reminding people what they love best about summer holidays. Ice cream, that first blast of warm air, golden hour on the beach. By engaging their audience and asking them to recall happy memories, they are subtly prompting bookings.

Finance
The financial markets have been greatly affected by covid-19. While the Dow entered a bear market once the virus was declared a pandemic, oil prices also plunged into negative territory. Indeed, prices fell so much that some traders paid buyers to take oil off their hands. The price of the main U.S. oil benchmark fell more than $50 a barrel to end the day about $30 below zero, the first time oil prices have ever turned negative.
The good news
The S&P 500, a leading stock market index, climbed back above where it began the year in early June – before the pandemic brought the United States economy to a juddering halt. A late-day rally pushed the index into positive territory for 2020, effectively erasing one of the most tumultuous periods in recent American history from the financial record. Stocks rose 1.2% on the same day than economists said the US fell into a recession in February. In the forex sector, brokers saw record levels of trading with incredible profits received in the lockdown months. A combination of high volatility and more people at home in front of their computers meant success. You can check out our forex broker covid-19 roundup here. 
Covid-19 has also led to a massive surge for the fintech industry with people turning to online payments and mobile finance apps. In Italy, one of the first countries to order residents to stay home in a bid to prevent the virus from spreading, e-commerce transactions have soared 81% since the end of February.
Summary:
It's been a turbulent time for the finance sector with traders constantly on the look out for insightful advice and information. The best thing marketers can do during the Covid-19 recovery is to stay relevant by posting useful material including coping techniques. Blackwell Global has pinned the following post on Twitter as the advice remains as relevant as ever. Relevant, actionable analysis is a winner with more brokers than ever requesting the service.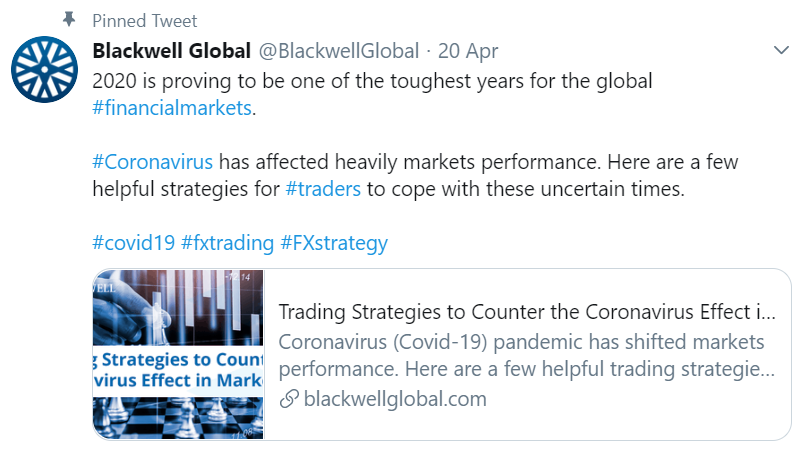 If you're in the fintech realm and have a product that can make people's lives safer and easier, promoting digitally is a must. Revolut has been active during the pandemic showcasing their products as well as getting involved in related social initiatives.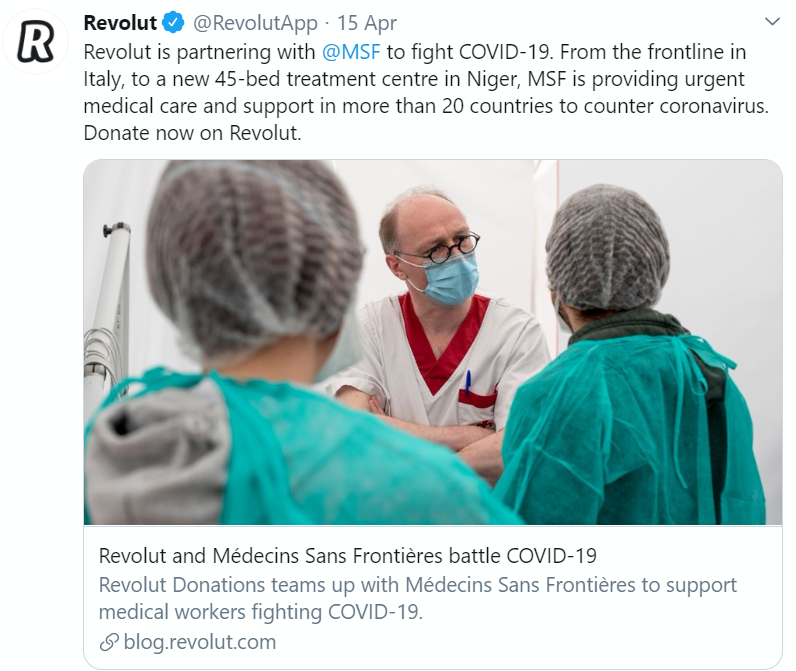 Their corporate social responsibly efforts are also ongoing showing that they have a genuine passion for teaming up with good causes and helping the world. This is important considering their largely millennial audience favours those with good corporate social responsibility practices.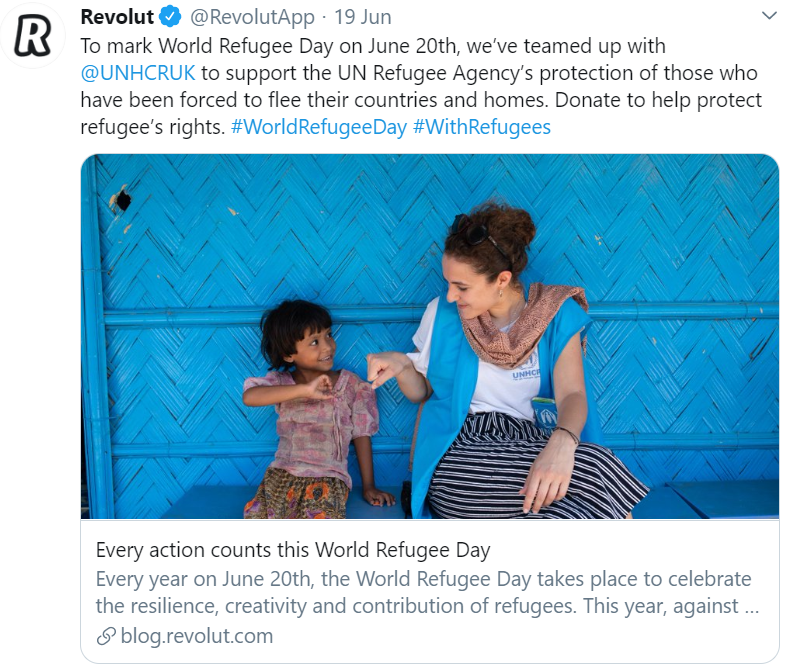 Automotive
The COVID-19 pandemic has had a swift and severe impact on the globally integrated automotive industry. Symptoms include a disruption in Chinese parts exports, large scale manufacturing interruptions across Europe, and the closure of assembly plants in the United States. This has placed enormous pressure on an industry that's already struggling to cope with a downshift in global demand.
The good news
While factory closures are expected, sales of electric cars have been surprisingly resilient. In March, as much of Europe went into lockdown, car sales on the continent fell by more than half. But registrations of battery-powered cars surged 23%, according to Matthias Schmidt, an analyst in Berlin who tracks the industry.
In April, lockdowns caught up with electric cars, too, and their sales fell 31%, according to Mr. Schmidt's estimate. But that was nothing compared with the total European car market, which plummeted 80%.
But demand is picking up. Keen on riding the wave in customer demand, General Motors has called off its traditional two-week summer shutdown and will continue to produce vehicles. Similarly, Ford has shared that most of its US assembly plants will be reducing their annual summer shutdowns to one week.
Summary
If you work in an industry that's been hit hard such as automotive, it's really important to look at industry trends to see how to salvage your marketing plans. Focus on what people are buying and try to align your strategy accordingly. This means reading stats and keeping track of news.
Head to Twitter and you'll see this is exactly what Nissan is doing with their pinned tweet.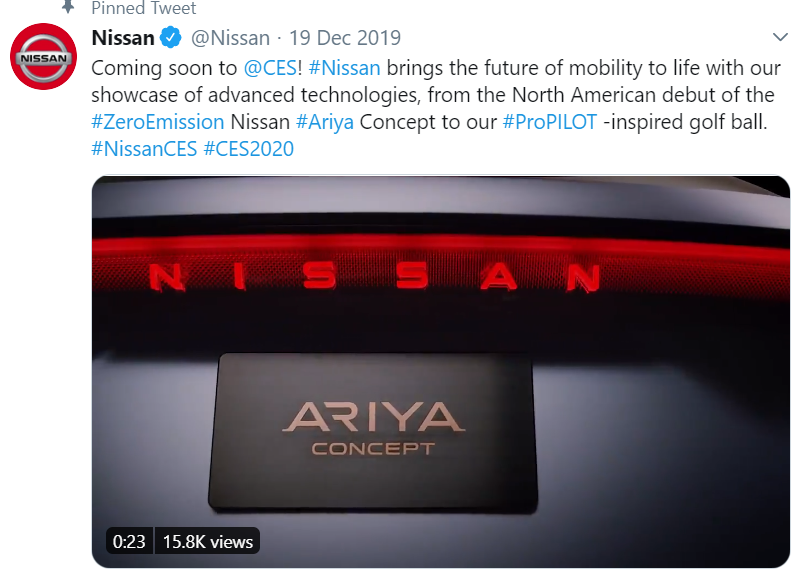 You should also tap into consumer sentiment. Feeling safe, saving money and taking staycations are definitely at the forefront of the consumer buying process. If your auto company can provide payment plans or special offers then now is a good time to promote them.
Health and Fitness
Many gyms across the world were forced to close during the Covid-19 pandemic with companies such as 24-Hour Fitness filing for bankruptcy in June. As lockdowns are lifted, gyms are now facing health and safety scrutiny with many people questioning whether or not they want to return to such environments.
The good news
Exercise equipment became a hot commodity during the Covid-19 pandemic as people strived to continue their fitness regimes at home. Fitness equipment sales soared 600% fueled by those looking to workout indoors during the lockdown. Similarly, organic produce sales are up 50% as shoppers focus on health after lockdown.
Summary
Again, a mixed bag with e-commerce helping to drive the fitness industry but physical gyms taking a big hit by the pandemic. When it comes to marketing in the health and fitness sector, there are many things you can do to keep your brand relevant during these uncertain times. Firstly, continuing to offer online service and classes is a good way to build trust with existing consumers. This is exactly what Bannatyne Health Club are doing with their Home Workouts Story tab on Instagram.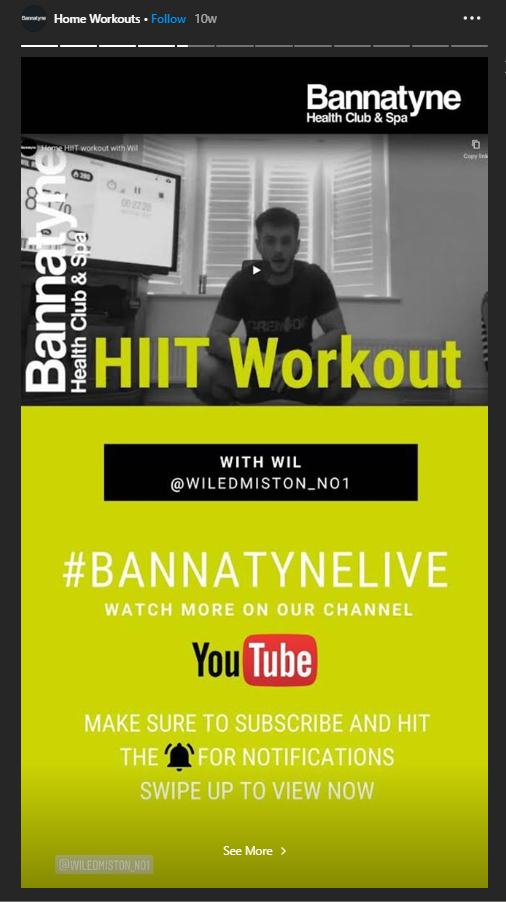 Be sure to let people know that you're open, the new rules associated with your health club/gym and what your schedule is.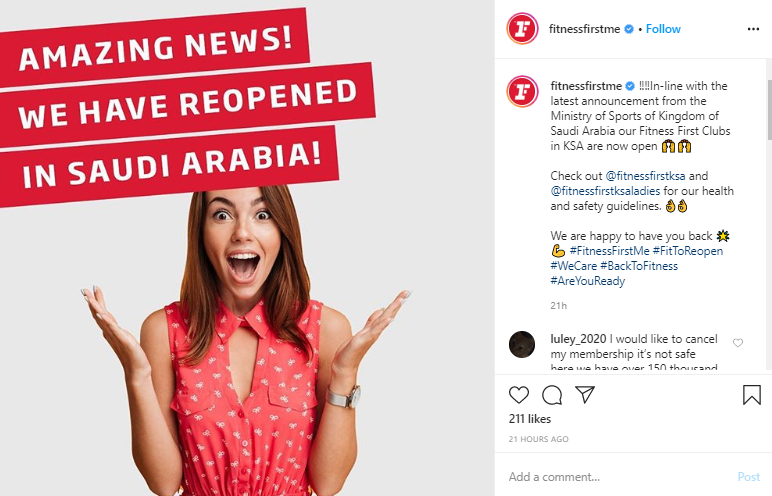 Covid-19 Marketing – What Not To Do
We've talked a bit about marketing tips and ideas, but what shouldn't you do?Here's a quick rundown of the definite nos for post covid-19 marketing.
Don't Guilt Trip – Don't make consumers feel bad for not taking a holiday, spending money on retail or subscribing to your service. Instead try to understand the current barriers to sale.
Don't Generalise – Some people are wearing masks, some aren't. Some feel great about traveling, some don't. Avoid alienating a segment of your clients by generalising or making assumptions.
Don't Make False Promises – Be very clear about your shipping times, refund procedures and any guarantees. Now is not the time to garner bad publicity because you've over promised and under delivered.
Don't Ignore Customer Questions – Right now the social media channels are buzzing with confusion, questions and consumers needing assistance. Make sure you have your best people (or agency!) on the job to answer them swiftly.
Did you enjoy reading Marketing After Covid-19? If you did then go ahead and hit share. Here at Contentworks, we know how important content marketing is during the covid-19 era. Speak to us today about blogs, video scripts, whitepapers, PR material, e-books and social media management for your brand