FOMO or Fear of Missing Out is the fear of social exclusion and can lead to making purchases to achieve a sense of belonging. FOMO has been described as a type of 'social hunger' which underscores how important it is to fit in. At Contentworks Agency we know how to use FOMO to increase ROI. Let's look at finance brands and FOMO marketing in 2023.
Fun Fact: The opposite of FOMO is JOMO which is the acronym for the Joy of Missing Out, or enjoying what you're doing in each moment without worrying about what everyone else is doing.
FOMO – The Stats You Need to Know
Before we delve into the nitty-gritties of FOMO marketing techniques and the psychology behind them, here are the FOMO stats you need to know.
FOMO is experienced by 56% of social media users and 69% of millennials. That's nearly 7 in 10 – the most of any age group.
According to The World Journal of Clinical Cases, FOMO can be associated with negative feelings including anxiety, lack of sleep and a lack of emotional control.
Gen-Z spends around 13-hours a day consuming media. This means they're highly exposed to all kinds of FOMO-inducing materials. They're also being hit with FOBO – the fear of being offline – suggesting a high level of platform addiction. Indeed, around 15% of young people state they're online 'almost constantly.'
Those with FOMO are more likely to check their social media accounts within 15-minutes of trying to sleep and 70% report using social media after getting into bed. This directly shows how FOMO drives people to social marketing.
FOMO causes over a quarter of Brits to overspend. Those over the age of 55, however, were found to be the least likely to overspend, with 72% stating they don't feel pressured to spend money compared to 58% of those aged 25-34.
FOMO impacts all industries, with the finance sector regularly seeing FOMO-fuelled market rallies. Recently, retail investors spent a record $1.5 billion a day on stocks as a rally sparked a fear of missing out.
So now we know just how powerful FOMO can be, let's look at its role in the world of finance marketing.
FOMO and Buy Now Pay Later (BNPL)
Global BNPL payments are expected to grow by 21.7% on an annual basis to reach US $527,942.3 million in 2023. BNPL payment adoption is expected to grow steadily, recording a CAGR of 12.7% during 2023-2028, with BNPL users projected to soar as major retailers, including Walmart, plan to introduce their own BNPL payment solutions.
But how does BNPL feed into FOMO and what does this mean for the consumer? If you see something you want, that everyone has and you want to keep up with trends, you can buy it now. Even if you don't have the money. With BNPL, you can put a down payment amount before making a series of further instalments over a set period of time. This makes digital commerce accessible and attractive. So what works when it comes to BNPL FOMO?
New Incentives and Ideas
This year, it's all about giving consumers a brand-new focus. Klarna, for instance, allows people to form sustainable shopping habits by 'tracking emissions' in the Klarna app. This plays on FOMO for many reasons. Firstly, the 'social good' element connects with Klarna's younger target audience. Research shows that Gen Z are willing to pay more for brands that try to have a positive impact on society (56%) or run their business in a sustainable way (53%).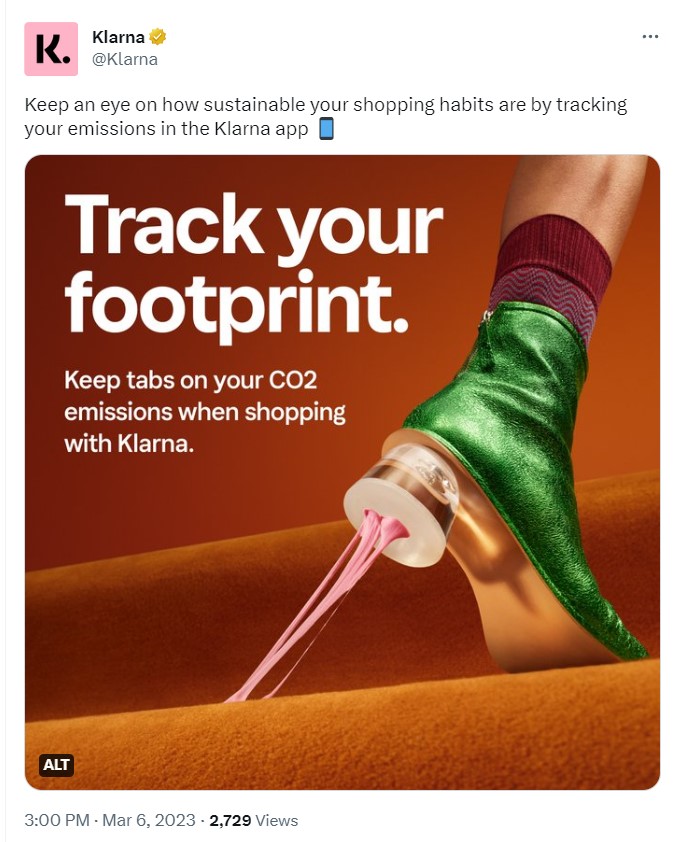 Some might argue that this is just a greenwashing gimmick with no real environmental value. Especially given the fact that Klarna actively encourages purchases of fast fashion and other throwaway items. But… it's a new toy and something to spark FOMO amongst their audience.
Time-Limited Events
Another way to boost FOMO in your marketing efforts is to create and promote time-limited events. This adds a sense of urgency to your campaign and encourages consumers to act or miss out. Klarna nailed this with a post that received over 35K views on Twitter alone.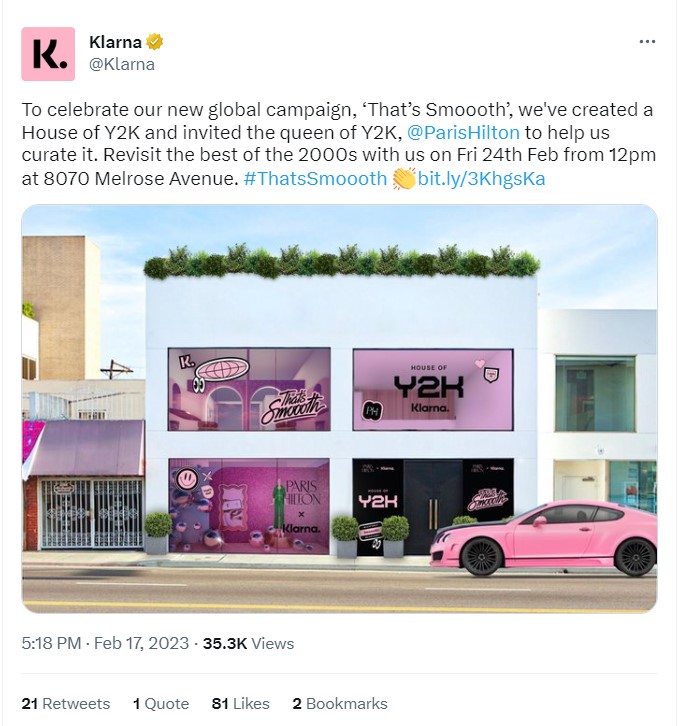 This unveiled the House of Y2K, a one day only pop-up on Melrose Avenue in Los Angeles featuring Paris Hilton. The immersive experience explored the biggest shopping trends from 2000 to today and was used to celebrate and promote Klarna's new global initiative, "That's Smoooth." The phrase reflects brand ambassador Paris' response to Klarna's flexible payments and shopping app features.
As well as creating FOMO through time restrictions, having a celeb influencer and a prestigious location boosts excitement, with people not wanting to miss out. Macro or micro influencer marketing? Check out our article on how to make it work.
Testimonials and Reviews
9 out of 10 customers read reviews before making a purchase. So sharing comments and feedback from customers is a great way to get increase your $$$. Ultimately, consumers want proof from unbiased third parties and you can use this proof to increase FOMO. Look at this example from app-based challenger bank, Monzo, which draws attention to their customised saving pots. The message here is clear – we have a cool product, others think so too, here it is in action.
To fully utilise testimonials and reviews, it's important to incorporate UGC (User Generated Content) into your strategy.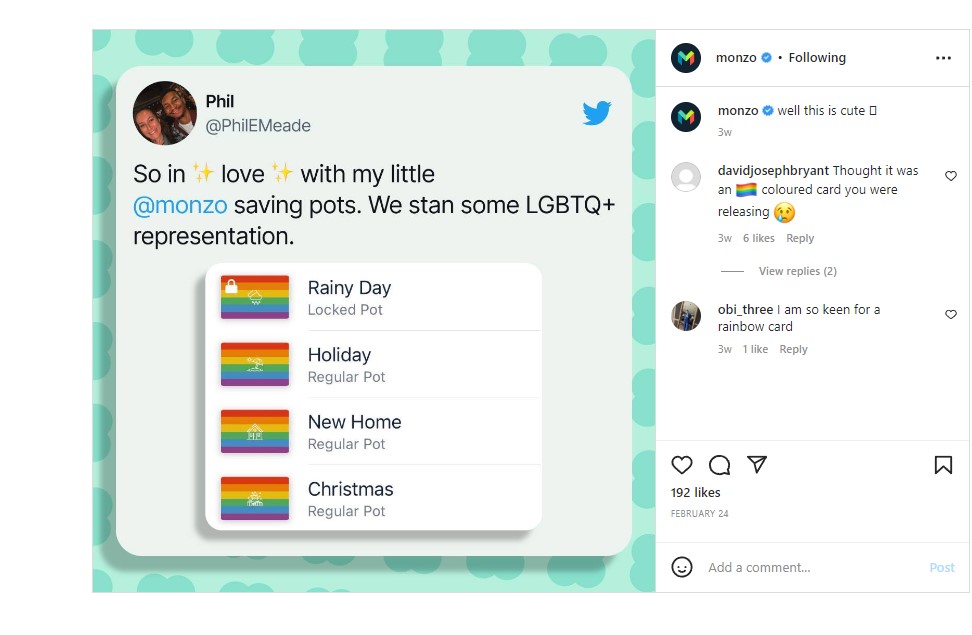 Social Proof
FOMO marketing can be very subtle and discreet while simultaneously showing people what they are missing. Many brands use social proof to boost their products and attract new consumers. This is a phenomenon where people follow and copy the actions of others in order to display accepted or correct behaviour. Check out this post from Starling, a neobank based in the UK.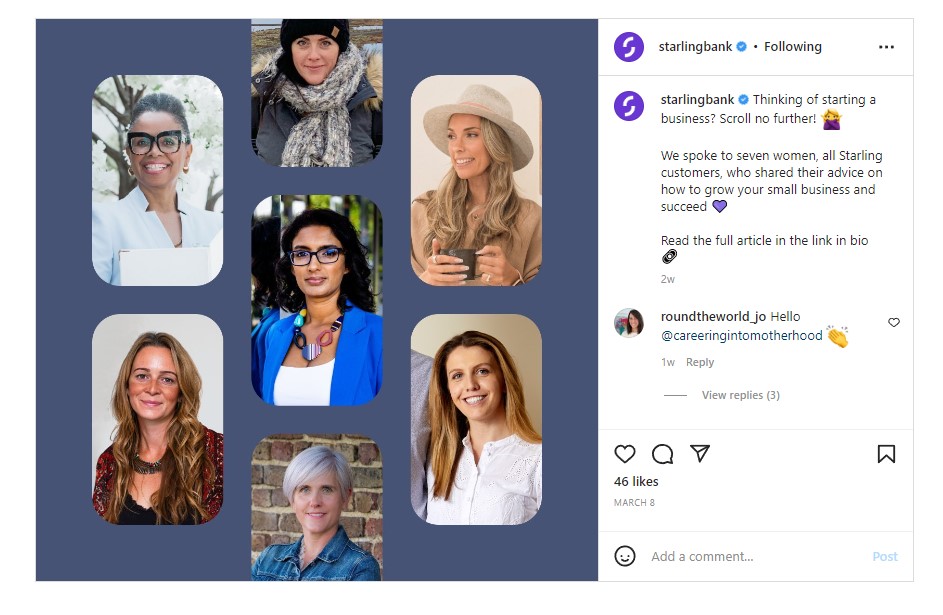 It's a great example of how social proof can lead to FOMO. After all, it shows successful business women growing their companies with the help of Starling Bank. The post has a, "if they can do it, why can't you" kind of vibe. It makes people feel empowered and inspired without being explicitly promotional. Anyone who clicks through to read each inspirational story is a step closer to a Starling signup.
Giveaways
Everyone loves a giveaway, and these can spark FOMO feelings, encouraging signups, ebook downloads, product sales, social media engagement and more. Make sure you nail your wording with captions that include 'free', 'now,' 'today,' 'new' and 'giveaway' to get people excited and on board with your idea. The more you pique their interest, the more likely they are to take action before scrolling past.
BNPL brand Sezzle gameifies its giveaways styling them nicely for the under 40s market.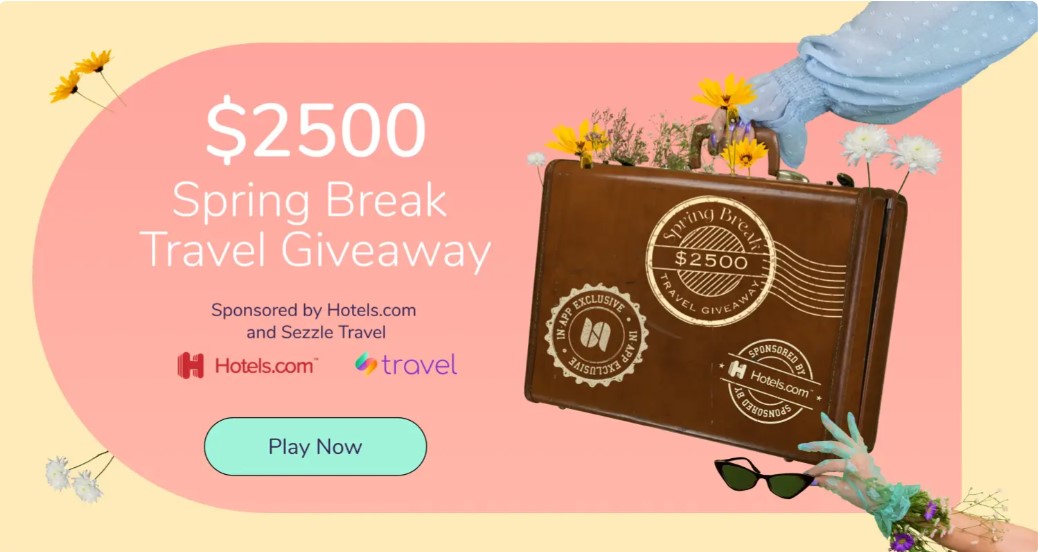 FOMO And The Content You Use
Captions matter a lot when it comes to FOMO marketing. Your words should create a sense of urgency and longing in your target audience. They also need to provide clear instructions on what to do next. Because the FOMO feeling can be very impulsive, the key is to get the purchase quickly. That means you need to make the buying journey short and sweet.
Create short and impactful captions – no waffle here please!
Minimise the number of clicks a buyer needs to make to purchase.
Keep your content and branding consistent between social media and your landing page/checkout page to avoid hesitation. For banks and finance companies, this might be the KYC (know your customer) stage.
Use FOMO words like "exclusive", "limited time" or "last one".
When the offer ends, let it end. That way the next time you run a promo, your fans will know you won't extend it and will hurry more!
Plan your content well in advance of FOMO inspiring holidays like Thanksgiving, Christmas and Easter. We usually plan campaigns that begin 6 weeks ahead of time to allow for online shopping.
Check out the FOMO in the comments on this Chime Bank candle giveaway. By withholding product, you actually spark more interest.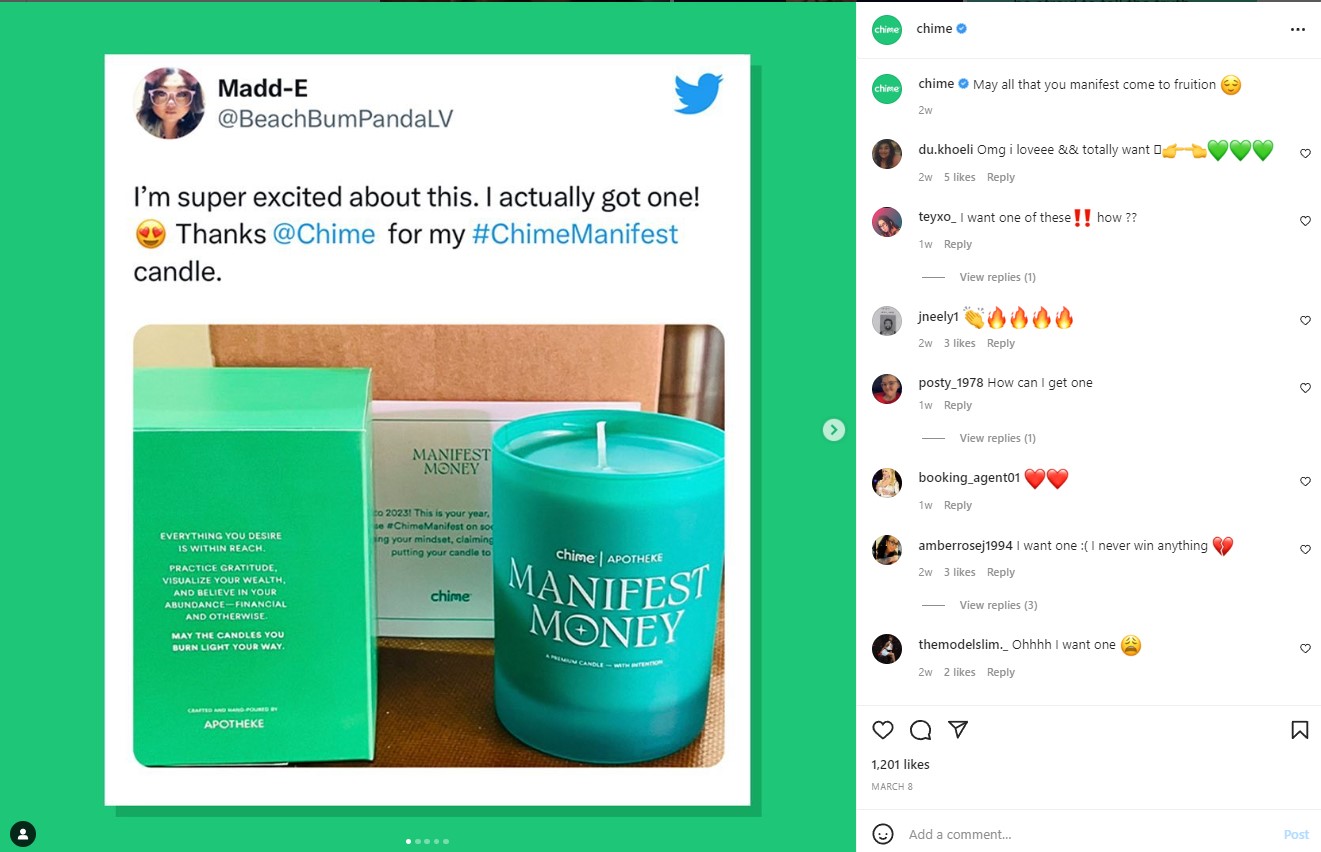 What is the Future of FOMO in Finance?
FOMO in the finance space is here to stay. Think about it. The oldest of Generation Alpha are turning thirteen this year. FOMO is integrated into much of the marketing we see from a young age and is a great way to excite, educate and encourage. With the growth of BNPL, salary advance, credit and loans, FOMO will continue to drive uptake.
At Contentworks, we understand how to craft campaigns that build FOMO. We work with banks, forex brokers, fintechs and techs to deliver high performance FOMO content. Talk to our team now!