2021 is coming to an end and that can only mean one thing. It's time for our predictions for 2022. No, we don't mean predictions like "more chocolate will be consumed by our team" or "cats will take over our home offices." These things are already fact. In this article, we're looking at 7 content marketing predictions for 2022.
#1 Podcast Focus Will Grow
WARC, the international marketing intelligence service, has found that podcasts could account for 4.5% of global audio advertising spend in 2022, or $1.6bn. This is almost double the $885m in expected investment in 2021, equal to 2.5% of the audio market (inclusive of broadcast radio and online formats such as in-stream ads). Interestingly, much of this money is coming from brands' experimental budgets. But there's a reason why companies are turning their attention not only to audio advertising but podcast delivery and creativity.
Firstly, the audience is huge. Globally, one in three (33.5%) people listen to a podcast each month, with almost half of all monthly US podcast listeners aged between 12-34. Podcast advertising therefore enables brands to reach a highly-engaged, affluent audience via a medium they have an affinity with.
But what do listeners want? And what should be the focus in 2022?
Well, educational podcasts are a fast-growing genre, supported by recent stats that reveal 27% of US podcast listeners have a 4-year college degree – verses 19% of the US population. Popular educational podcasts include Freakonomics, Radiolab and TED Radio Hour with the latter, 'exploring some of the biggest questions of our time with the help of the world's greatest thinkers.' Brand can use education to their advantage by:
Focussing on topics and discussions that'll attract and engage a relevant audience. Top trading podcasts, for instance, often interview real traders in order to explore their trading journey and to provide listeners with useful insights.
Interview industry thought-leaders for a fresh perspective.
Hold a live Q&A podcast session to help build a stronger bond with listeners.

#2 Content Strategies Revised
Let's face it, the past few years have been a rough ride for most digital marketers. According to a B2B Content Marketing 2021 Report, 94% of B2B marketers made some sort of adjustment to their strategy, with 70% changing their targeting/messaging strategy and 52% adapting their promotion strategy.
But a re-jig is far from bad. It can ensure your marketing budget is being used effectively and you're still aligned with audience needs. Here are some things to prep for in 2022. Remember, nothing is set in stone and a well-documented content strategy will make tweaks easier to track.
Hybrid events. These offer a combination of in-person and virtual components that can make such events more sustainable and inclusive. As well as being ready to host events, you should also be prepared with an online version, live streaming, IG takeovers and social media updates.
Optimising for Voice Search. In 2022, expect voice search to level up yet again. Smart speakers are predicted to pop up in 55% of U.S. homes, and already, 65% of 25-to-49-year-olds talk to a voice-enabled device daily. Voice search will change the way your brand does SEO and you need to be prepared. Ideas include breaking content down into question and answer sections that can be easily identified by Google and incorporating local search terms based on data.
A shift to sustainability. 66% of global consumers are willing to pay more for sustainable goods. Consumers are becoming increasingly conscious of the fact our resources are limited and are focussing more on the environment. So, it could pay to market sustainable business shifts such as supporting charities, using sustainable materials or opting for a more sustainable supply chain.
#3 Content Marketing for Retention
As you already know, quality content marketing is essential for attracting new clients, improving search engine rankings and converting new leads. But once someone has positively engaged with your brand, how can you keep them? This is a topic that's rarely discussed but one that's crucial at a time when more brands than ever have been forced online. So, what can you do?
Add value to the user experience of your customers. As a brand, you need to give your consumers a reason to return. This means knowing your audience and providing content that's focussed on their dreams, goals, ambitions and interests. Delve deep into topics of interest with insightful blogs, provide an educational podcast, create helpful industry updates and release regular how-to videos or events. All of this will increase engagement and interest.
Know what your audience wants. Gen Z, for example, demands authentic, transparent marketing and want brands to talk to talk to them honestly. 82% state that they trust a company more if it uses real customers in its advertising, while 72% said they're more likely to buy from a company that contributes to social causes. They also don't need heavily polished marketing images. Using an iPhone for a full ad shoot, for instance, can come across more authentic than a shoot costing $30,000.
Patagonia is one brand that's popular with Gen Z and it's easy to see why. They use real people in their imagery of all different ethnicities and ages. They've also a page dedicated to their activism. This mentions their Global Sports Activists who are using their roles in the global sport community to drive positive social and environmental change.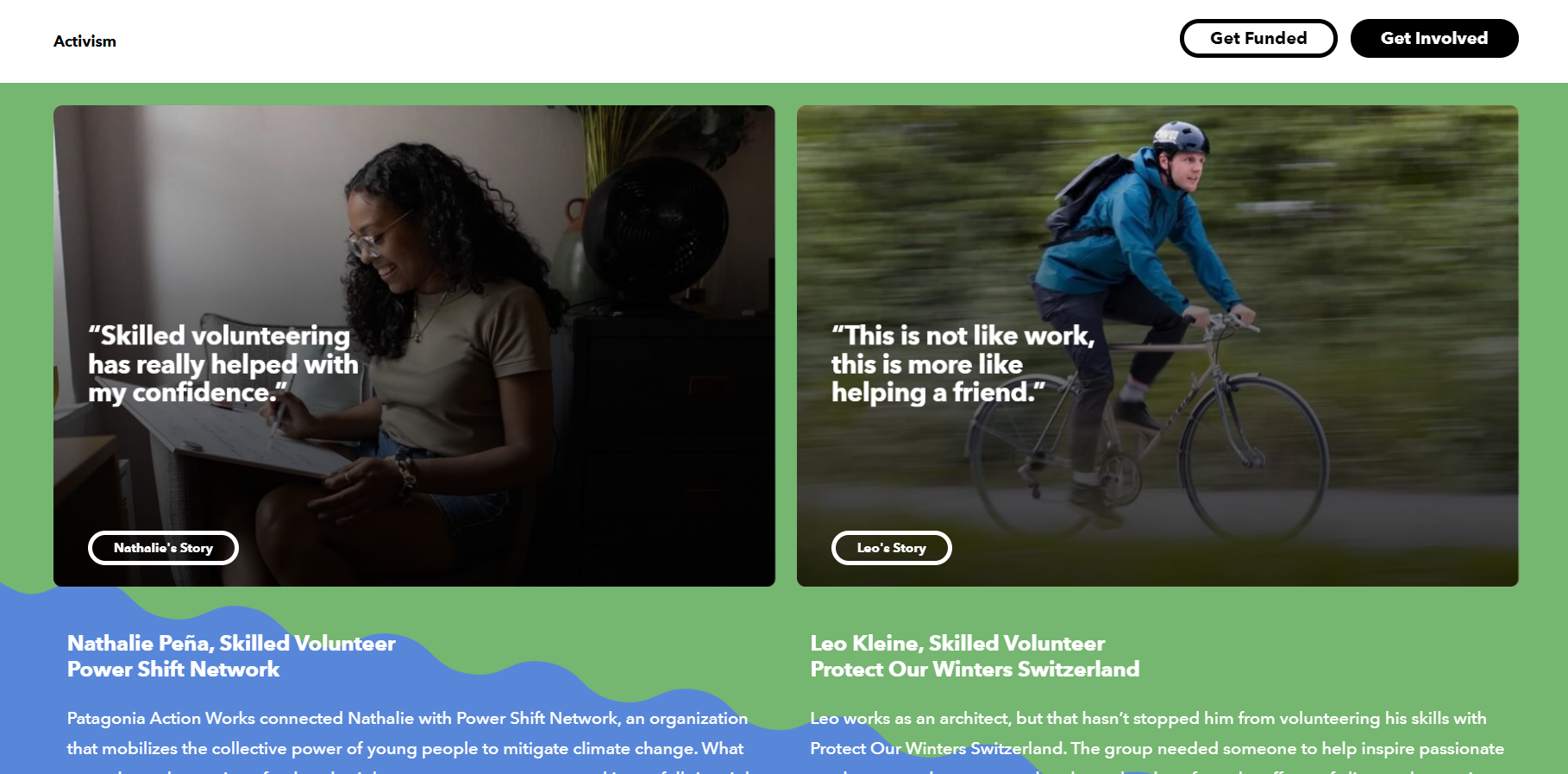 #4 Content That Builds Trust
Building trust through content is huge and will be a big topic for 2022. Essentially, if you want people to keep coming back, they need to know that you're a genuine, reliable and credible brand that'll work hard to provide them with the very best consumer journey possible. There are many things you can do to get people onside. Ideas include:
Embracing Education
Look at the data and find out how and why people are searching for your company. What do they want to know? What questions do they ask? From there, you can start to put together an educational hub on your website that addresses these queries. This is something many finance brands are doing well. Another way to find out is to ask your sales team or social media manager. Which questions keep coming up? How can you address them through content marketing and video education?
Host Ask Me Anything (AMA) Sessions
Building trust with content can be a creative and imaginative process, with Ask Me Anything (AMA) sessions being another great technique. With AMAs, you're essentially putting yourself out there and showing that you don't have anything to hide. This is particularly true if you 'Go Live'. People can address what's on their mind and ask those tricky questions. It's not always easy. But AMA's are a good way to generate conversation, solve problems and discover points of discontent which can, in turn, improve your overall service. Don't forget to promote your AMA on social media being sure to include the time, date and channel on which it'll run. If it's a Live session, make this clear. And if there's a fee, this should be mentioned too.
#5 Visual Storytelling Via Augmented Reality
The global Augmented Reality (AR) market is projected to grow from $6.12 billion in 2021 to a whopping $97.76 billion by 2028. And many brands are taking note of this technological shift by incorporating AR into their storytelling marketing. As you know, storytelling is a great way to connect with an audience and draw people closer to your brand. It can help improve the authenticity of your company and is designed to trigger emotions so that consumers have a reason to spend money with you. AR takes things up a notch by bringing storytelling elements to life, thereby creating a more immersive experience.
Fun Fact: Brands using AR are seeing a nearly 20% increase in engagement rates and a 90% increase in conversion rates.
Jack Daniel's AR packaging is a great example of modern brand storytelling that we think will become even more popular in the coming year. The brand launched an AR app that turned the label on its bottles into an immersive brand storytelling experience. By downloading the app, users could point their phones at any Jack Daniel's bottle and watch as it sprung to life before their eyes. The product itself became a vehicle to tell the story of the brand's founder's origins, the process behind the making of its whiskey, and a virtual distillery tour.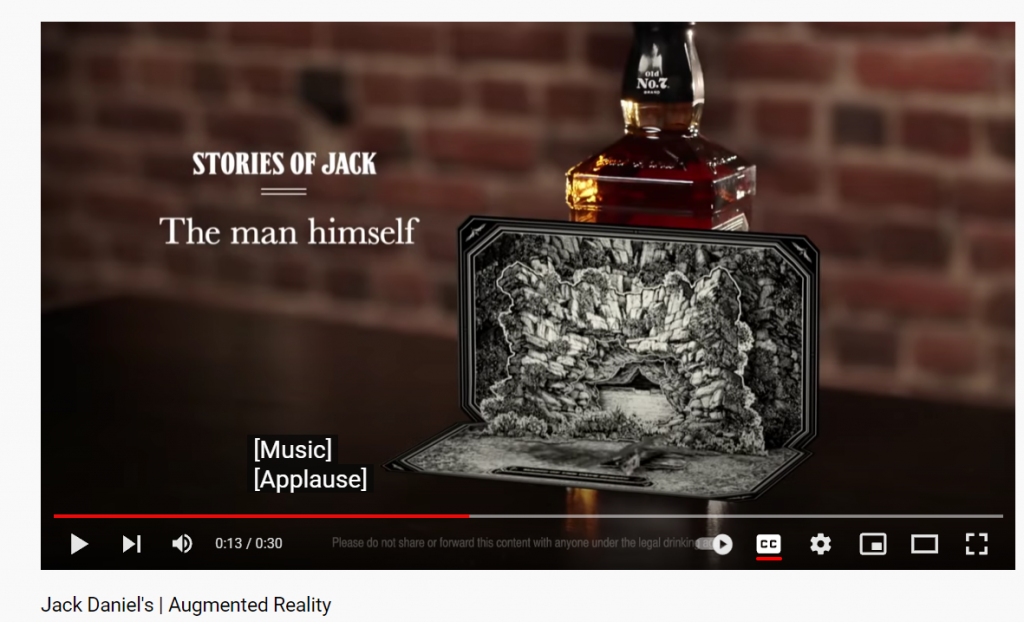 Consumers could also experience the U.S. Open and the U.S. Women's Open like never before with the U.S. Open Augmented Reality App built by Deloitte. This was designed to take golf fans on an interactive and exciting journey that would improve their experience of the tournament.
#6 In-Stream Shopping on All Social Channels
Live-stream shopping is the next big thing to enter the world of e-commerce and it looks set to be huge across multiple social media channels in 2022. Livestream shopping offers the ability to demonstrate and advertise products to a live, online audience. The audience can also interact with that live experience allowing for a personalised B2C connection. This trend is already huge in China with the market estimated at well over $66 million. But expect to see more of this in America and Europe.
You can already sell products through live shopping on Facebook. You can also shop livestreams daily, with celebrities and influencers curating their must-have products and top deals on Amazon Live. If you plan to 'Go Live', however, make sure you've got technology that can deliver crystal clear streaming via a strong internet connection. And that you have knowledgeable and professional team members to hand.
Our prediction is that this trend will grow. Twitter is already looking into new shopping tools that'll allow users to save product listings and make purchases direct from tweeted content in the app. Cool, right? There's also the new TikTok Live Stream Shopping experience that allows users to purchase select items from participating online retailers during a live-streaming event. As a TikTok video plays and products are shown on-screen, pop-up pins will appear related to an item on the video. Users can tap on these pins to add the item to their cart, which directs them to a mobile checkout experience. Walmart was one of the first to embrace this new feature.
#7 Platforms Lean into the Metaverse
Ok we all had a little chuckle over Mark's somewhat cringey explanation of human happiness in the Metaverse. And the Metaverse has been a hot topic of conversation recently, with the Facebook Corporation rebranding to Meta. But what exactly is the Metaverse and why will more platforms lean on this concept going forward? Well, put simply, it's all to do with creating a virtual world which incorporates augmented reality, virtual reality, 3D holographic avatars, video and other means of communication. As the metaverse expands, it will offer a hyper-real alternative world for you to coexist in. It's sort of like a second world layered over the one we already know. And many brands want a piece of this pie.
Through virtual worlds, digital tokens and immersive experiences, brands are experimenting in reaching a new generation of consumers. One that is, quite literally, technology obsessed. NASCAR, for instance, has kicked off a multi-year plan to get its brand in front of young gamers on the wildly popular Roblox platform. NASCAR is dropping a digital car for starters on the platform's breakout Jailbreak game and is selling apparel for players' avatars.
In short, if you're not leaning into the Metaverse sometime soon, there's a chance you could be left behind. Of course, you might be happy about that, but certain industries are already incredibly immersive such as the gaming sector and we anticipate more in the coming years. Watch this space… and while you do, check out Iceland's great take on the Icelandverse!
So that's our 7 content marketing predictions for 2022. Do you agree or perhaps you want to add one? Tweet us @_contentworks and let us know. If you need a content marketing strategy for 2022 and beyond, contact the Contentworks team today. We provide social media management, content, PR, whitepapers and video marketing as well as social media strategies tailored to your brand. Is your marketing ready for 2022? Talk to our team.