Despite the ongoing C word drama, marketers are doing all they can to make this festive season one to remember. Tis the season to be jolly, after all. So which brands have pulled out a Christmas cracker? Take a break with some chocs and a hot drink and read our pick of the best Christmas 2021 marketing campaigns.
Holly Jolly Marketing Stats
Before we delve into some of the best campaigns of the year, let's take a look at some jolly holly marketing stats. Crack open the Celebrations; things are looking up!
According to the Advertising Association/WARC expenditure report, brands are likely to spend £1bn more on Christmas advertising than in 2020 – a sign that marketers are looking to make up for the pandemic slump. The quarterly report revealed that ad spend in 2021 Q4 will hit a record £7.9bn, 14% more than 2020. Search advertising will be one of the quickest-growing areas, increasing by 15.3% to £2,715m. Meanwhile, TV ad spend is on track to see its largest Q4 increase in over a decade, up 9.0% to £1,564m, with Broadcaster Video-On-Demand (BVOD) up by a quarter. TV ads and BVOD (conventional broadcast media that is subsequently made available online and on-demand) are considered to be the 'sweet spot' of marketing this year. Experts across the board recommend an omnichannel approach to all campaigns.
For many brands, the increased budget was money well spent. Here's a rundown of our favourite festive ads. Pour yourself a mulled wine and enjoy the merriment.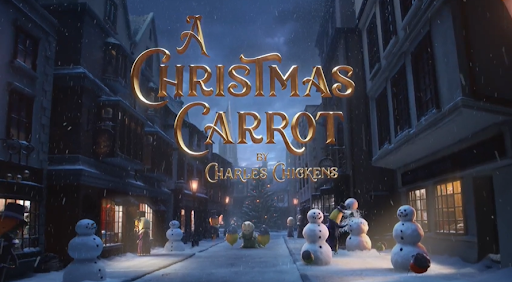 Aldi has totally nailed it this year with a campaign more heart-warming than Buddy the Elf adding candy to his spaghetti. The animated ad is a Dickensian-style take on A Christmas Carol and follows the story of Christmas-hating Ebanana Scrooge. Kevin the Carrot sets about reminding Ebanana of the spirit of the festive season and the pair meet a lot of interesting characters along the way including Marcus Radishford (voiced by the England striker Marcus Rashford) who is 'always helping children'. This is a reference to the footballer's involvement in tackling child food poverty.
Of course, the rotten banana realises he's been spreading sadness and misery and vows to change his ways. He turns up on Christmas morning with a Christmas pudding for Kevin's family and the ad finishes with Jim Broadbent stating: "The moral of the story? The answer you'll find… for you to be happy, you need to be kind." Ahhhh!
Why we love this campaign:
Aldi uses storytelling marketing to form a strong connection with audiences. By featuring a much-loved character like Kevin the Carrot, the ad is very much on-brand and ensures the supermarket chain is instantly recognisable. Aldi also has all the character merchandise and is keen to promote this across social networks.
A Christmas Carol is a very well-known story so the plot is easy to follow and understand. There's also an element of nostalgic marketing here as many people grew up reading this story at Christmas. Nostalgic marketing is a great way to help people connect with your brand.
Eagle eyed viewers were amused to spot Cuthbert the Caterpillar being arrested by two lemon police officers in the Christmas advert. This is a good humoured dig at M&S and the #caterpillarcake saga that ran throughout 2021.
There's a strong moral message about being 'kind'. This ties in nicely with the brand's pledge to work with Marcus Rashford to donate 1.8 million meals to families in need over the festive season. Remember, if you're going to partner with a celebrity or an influencer, there must be good reason for the collaboration. Marcus Rashford was a great choice for this campaign. The footballer said:
"As a family, we relied on the local food bank to get our Christmas dinner. I remember queuing outside that building with mum; mum feeling embarrassed that she might be recognised. It is with that in mind that I'm delighted to lend my support to the Aldi campaign."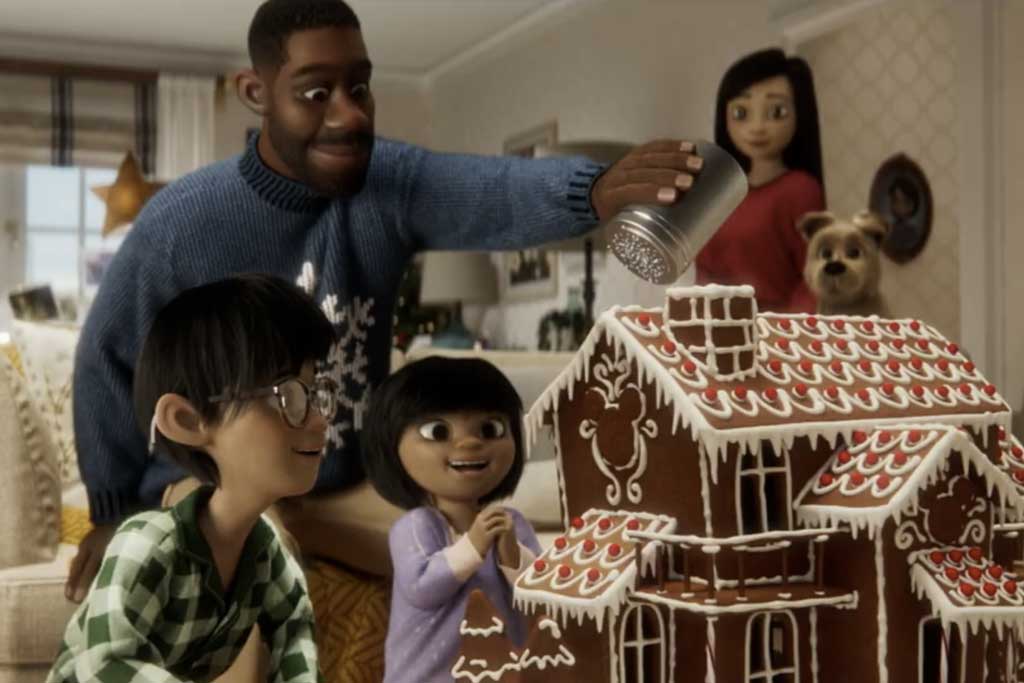 It's beginning to look a lot like Christmas. And family favourite Disney is spreading some of that cosy, festive feeling with their brand-new campaign. The Stepdad is a heart-warming, tear-jerking tale that draws on the brand's history of emotional storytelling and adds a new chapter to a relatable family dynamic.
Eagle-eyed viewers will have noted that the campaign builds on 2020's tale of Nicole and her grandmother, which clocked up a whopping 4.5 million views on YouTube alone. In the new 2021 ad, Nicole is fully grown and has two children of her own and the family is sharing its first Christmas with new stepdad Mike. Gregory Porter sings 'Love Runs Deeper' as Mike attempts to join the family's festive traditions as well as building new traditions.
At the heart of the story is a very special storybook – a precious item belonging to Max from his birth father. The book celebrates the power of storytelling and how it can deepen family bonds; as the family are shown delighting in the magic of Disney storytelling, beautiful animation springs off the pages, igniting the true spirit of Christmas.
Why we love this campaign:
Revisiting Nicole creates what's known as a 'fluid device' and it's an approach that creates familiarity for viewers, making the ad more relatable. The ad also continues to be beautifully diverse and inclusive, embracing interracial relationships.
The animation is impeccable and showcases exactly what Disney does best. While last year's campaign had a pang of loneliness, this year's ad is all about togetherness. Many families were not able to gather in 2020, so this festive season, Disney is focusing on the excitement of being able to spend time with loved ones. Remember, when creating a marketing campaign it's crucial to be aware of what's going on in the world around you in order to embrace the correct sentiment.
The ad also has an element of corporate responsibility with money raised from the Love Runs Deeper single going to the charity Make-A-Wish. Disney's ties to the foundation are woven into the ad itself. Viewers can, in fact, spot hidden 'Easter Eggs' including artworks from children supported by Make-A-Wish. Pass the tissues.
The three-minute animated short lends itself nicely to digital marketing and makes up the majority of Disney's Christmas media strategy. It's hosted on social media channels, predominantly Facebook and YouTube, and runs on TV as well as Disney's owned channels in order to maximise visibility. It's also available in 45 countries across Europe, North America, South America and Asia.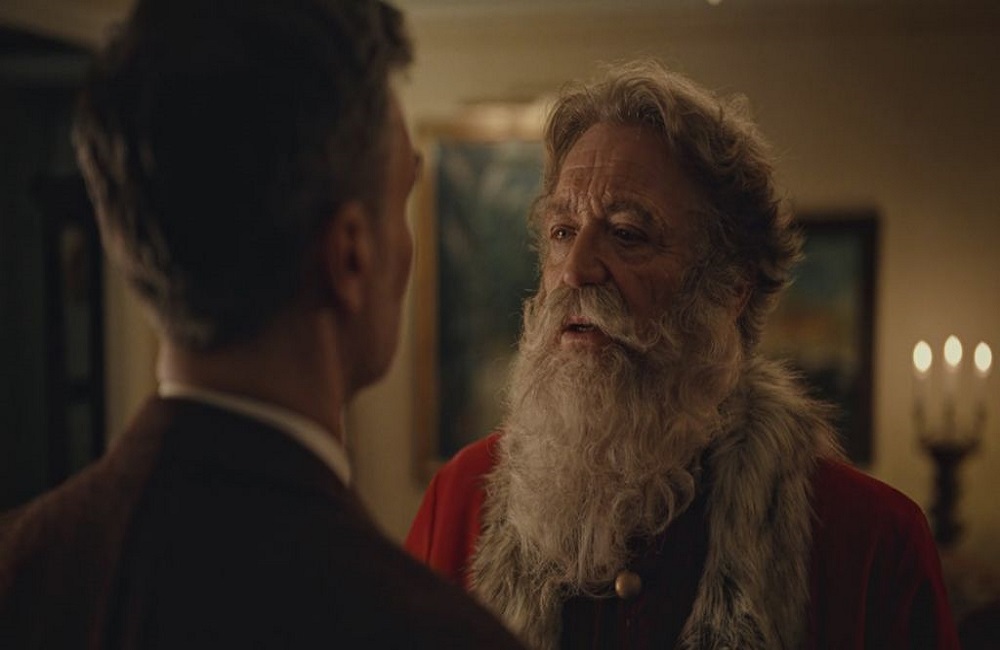 The mail delivery system of Norway has this year produced a short yet incredibly touching and sensitive Christmas ad to mark the 50th anniversary of the Scandinavian nation's decriminalisation of homosexuality. That's right, When Harry Met Santa features a man falling head over heels with the Man in Red – and the feeling is reciprocated.
Why we love this campaign:
It's brave, it's bold, it's unique and it makes a very strong statement that love is love. As an agency that supports inclusivity, this is something that makes us feel happy.
It's on-brand. Harry can only spend limited time with Santa because he's so busy. This gets harder and harder for Harry to cope with. So Santa surprises Harry by arranging help from the postal service so he doesn't have to rush off.
The ad matches the postal service's morals and ethics. 'Posten' states that diversity is important and that they've a diverse workplace with great variations of age, gender, religion, sexual orientation and ethnicity. A statement from the service read:
"Everyone should feel welcome, seen, heard, and included. This year's Christmas ad embraces this. It has been a dark year for everyone.  Perhaps what we need this year is a warm and heartfelt love story. A celebration of the fact that we can love whoever we want in Norway, despite everything bad that happens around the world."
Bravo Posten!
Despite claims that the ad is sexualising Santa, the ad has generated a whole lot of positive feedback as well as organic marketing for the postal service. It's also racked up almost 2 million views on Twitter.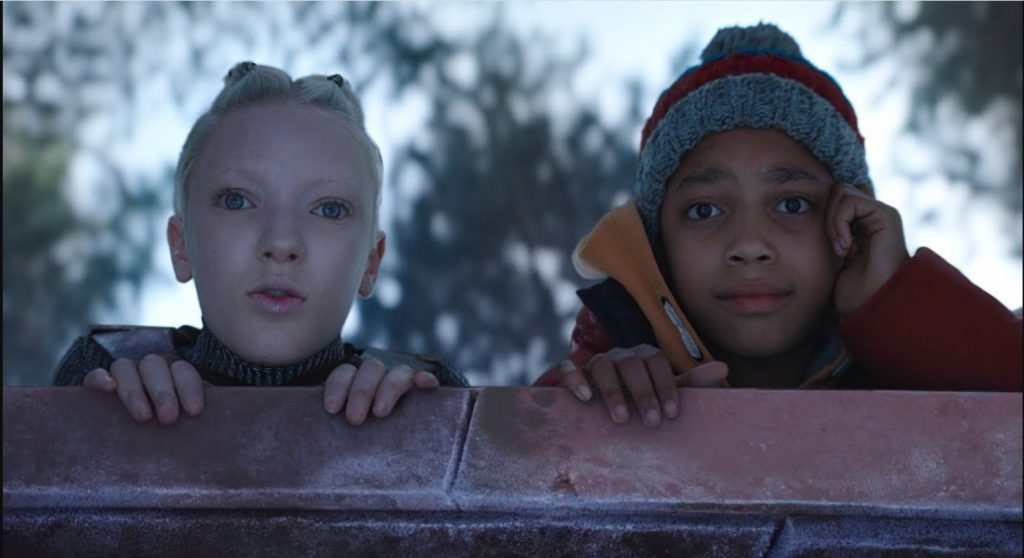 High-end department store John Lewis is well-known for pulling some festive magic out of the bag. And this year's ad doesn't disappoint. It follows the magical tale of 14-year-old Nathan, who discovers an unexpected guest and space traveller, Skye, who has landed in the woods beside his home. As he introduces her to the season's traditions, from decorating the tree to eating mince pies (without the tin casing), their friendship develops, and we see the magic of Christmas through the eyes of someone experiencing it for the very first time. The strapline at the end reads: "For a Christmas as magical as your first."
Why we love this campaign:
It embraces the very best of Christmas and definitely has a feel-good vibe. This is so important following the misery of last year and at a time when people are planning to spend more on festivities. Christmas spending will increase from last year with Brits expected to rack up £21 billion on presents and celebrations.
As well as creating a brilliant ad, John Lewis has also dedicated a whole section of their website to the ad as a form of omnichannel and engaging marketing. Visitors can 'go behind the scenes' of the ad to discover director quotes and more. It's also possible to explore 'moments from the ad' such as decorating the tree. This comes complete with links to the ornaments used in the adverts in a bid to increase ROI.
The brand has also released a special Christmas jumper inspired by the one worn by Nathan in the advert. As well as being a clever way to sell merchandise, John Lewis & Partners will also donate 10% of Christmas advert jumper sales to support families in need. As 75% of consumers today want companies to give back, this is a clever mover from the brand.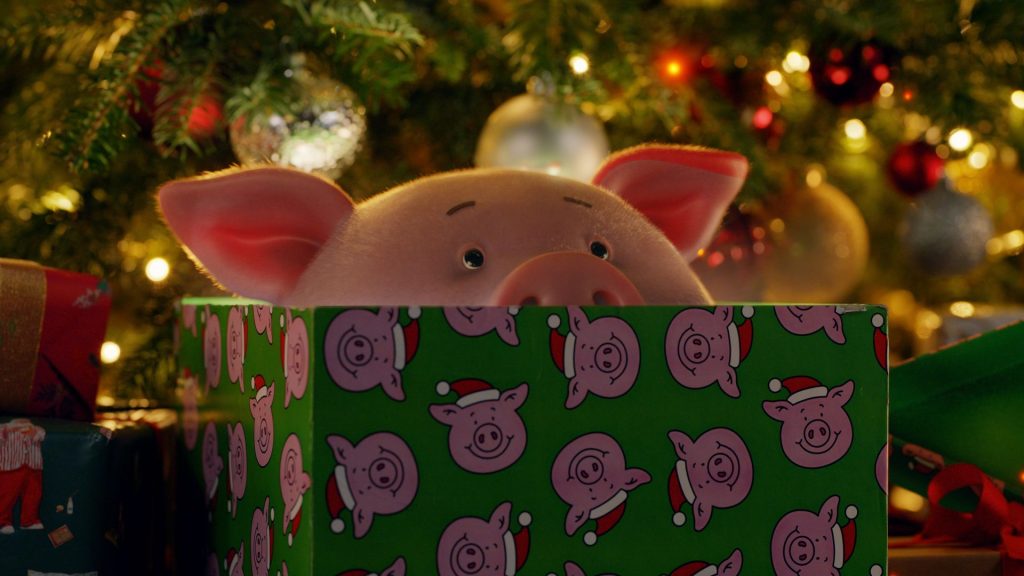 In Marks & Spencer's Christmas festive food ad 2021, Percy Pig comes to life for the first time ever in a campaign designed to bring some much-needed magic back to the holiday season. In the animated visual, Percy (voiced by Tom Holland) is awakened in the dead of night by the magic of the Christmas fairy (Dawn French). Percy then explores the Stratford Food hall to discover the delectable M&S Food offering for Christmas, which includes the Collection Golden Blond Christmas Pudding and the Delicate Smoked Salmon. He doesn't visit the bacon section, unsurprisingly!
What we love about this campaign:
M&S has confirmed that there will be a further seven adverts showing Percy exploring different food products, so new visuals will be released from now until New Year. This is a great way for the brand to showcase a wider range of luxurious food items at different stages of the festive period.
In celebration of the Christmas advert (and to boost ROI), M&S has also launched the full Christmas gift shop in-store and online. This includes a Percy Pig World section. One of our favourite multi-channel marketing initiatives from this section has to be the Pig-tastic filter which brings Percy into your living room. Visitors are encouraged to share their pics on Instagram with the @official_PercyPig tag. What a clever way to boost brand awareness on social media and create a buzz around Percy Pig products.
If you want to see how a traditional brand like M&S has adapted itself, checkout their TikTok channel. The Percy Pig world is hilarious and also completely surreal. Definitely worth a follow.
While most ads have hit the spot this year, the Nothing's Stopping Us campaign from Tesco left us feeling a bit Grinch-like. Why? Well it shows Santa escaping the perils of Covid quarantine by showing his Covid passport and therefore somewhat promotes the controversial benefits of the pass. Do we really need to hear more about the C word at this time of year? And in a Christmas advert Tesco, really? The ad was pulled from their main channels and received over 3000 complaints. This makes it the most complained about advert of 2021. The moral of this story is "sense the tone". Pushing your own political messaging disguised as a Christmas ad won't go down well.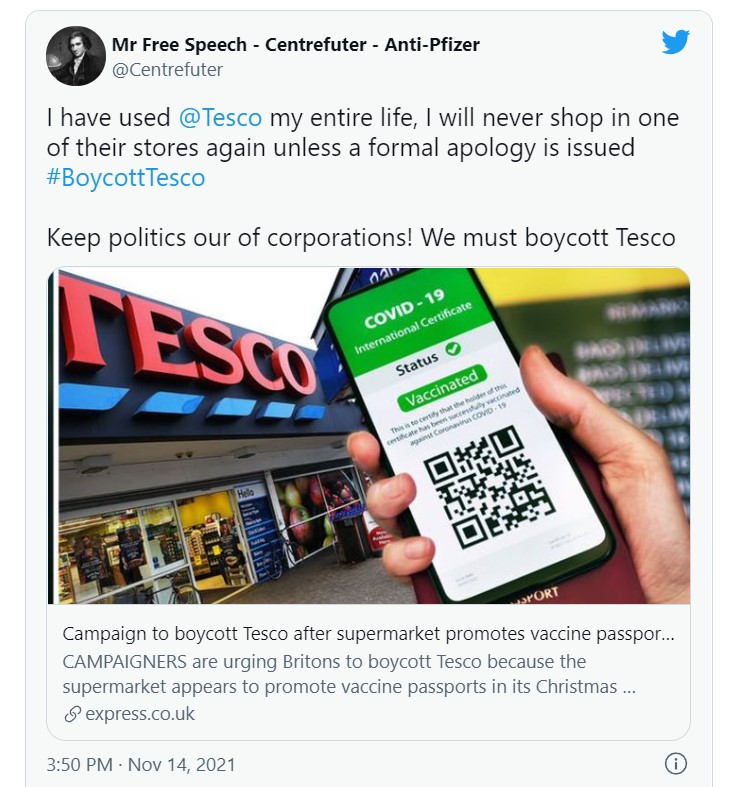 This was our pick of the best Christmas 2021 marketing campaigns. What are your favourite Christmas ads this year? Do you agree with our list? Tweet us @_contentworks and let us know.