Ah 2020, the year that drove thousands more businesses online, messed around with digital marketing budgets and saw platforms like TikTok rise in popularity. It's been a whirlwind. But, as we start a fresh year, it's time to look at what lies ahead and if you had a strategy in place at the start of 2020 then you might need a fresh one. Here are our 7 content marketing predictions for 2021.

#1 Brands will Press Play on Podcasts
First in the spotlight is podcasts. In the past year alone, the UK podcast audience has grown by 24% to 7.1 million listeners a week according to Ofcom data. With regular users tuning in to seven or more shows on average over the same week-long period, the market has never been bigger. It's the same story across the pond with approximately 98 million Americans listening to podcasts every year and 56 million Americans listening to podcasts every month.
According to eMarketer's latest forecast, US podcast ad spending will surpass 20% of digital radio ad spending this year and cross the $1 billion mark next year. Podcasts are huge. But how can you use this to your advantage in the months ahead? Well, there's the obvious pointers such as catering to your audience, providing solutions to problems and storytelling. There are also extra creative ideas such as:
Inviting Quality Guests
One of the best things you can do to attract people to your brand through podcast content in 2021 is to not only invite guests to your show but also maintain the quality of those you interview. Competition is fierce, so if you can – aim high.
Check this out. Matthew Januszek is the co-founder of Escape Fitness, a company that sells functional fitness equipment to gyms all over the world. In Escape Your Limits, Matthew sits down with bodybuilding legends, MMA fighters and fitness entrepreneurs to discover what keeps them going when others stop. This has direct appeal to an audience interested in all things related to fitness.
What's really important is that each podcast also has a specific purpose. For example, when gyms were closed during the Covid-19 lockdown, the podcast was used as a source of advice on how to keep up fitness regimes. Such podcasts were aired via the Escape Fitness website and shared to social media via channels like YouTube. Creating a Playlist for all podcast entries is a great way to keep your content alive. This can then be shared across other social media channels in link form.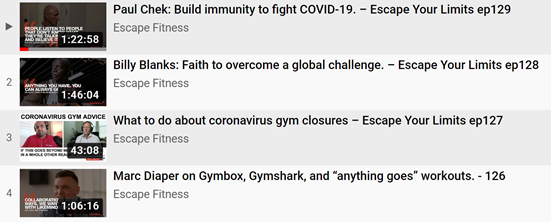 Putting a Spin on a Particular Product
There are so many things you can talk about on a podcast. But if you want to stand out, basic rambling about how awesome you are just won't do. In fact, you have to apply the same creative genius you would give to any other campaign in order to get noticed. Let's use McDonald's as a case study. When the fast-food chain discontinued a popular Szechuan-inspired dipping sauce to go with chicken nuggets, there was public outcry. People were more than miffed. So as a clever public relations stunt, McDonald's launched a podcast.
This was called The Sauce and became an investigative spin off of true crime podcasts like Serial. Over 3 episodes, McDonald's investigated the 'mystery of how they underestimated demand for the sauce.' A sort of tongue-in-cheek apology if you like. This gained widespread media attention with Forbes calling the podcast 'Innovation by Imitation.'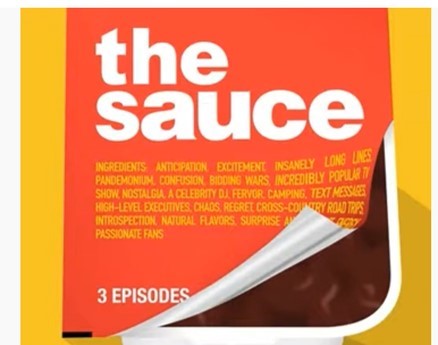 Don't Have a Podcast If You Cannot Dedicate Resources.
Contentworks Agency Director Charlotte says:
"Everyone wants a podcast right now which is great, but it's important to think of your overall strategy. Podcasts take time and resources to plan, script and execute. Do you really need one? Does it match with your target audience? If so, you need to allocate some significant budget and resources to making it work."
#2 Shoppable Content on Social Media Will Thrive
Shoppable content on social media is big business, with lockdowns giving this e-commerce avenue a boost. According to new customer research commissioned by Visa, there's been a surge in social media shopping with around 17% of Brits using social apps to shop and 11% making a purchase this way since lockdown. The research revealed social-media fuelled purchases accounted for 24% of online purchases in the past six months. And therefore it makes perfect sense for shoppable content to become an even bigger priority.
Clothing and accessories are the most popular Swipe Up shopping purchases (37%), followed by homeware (29%) and electronics (20%). The survey of 2,000 UK consumers conducted by Opinium on behalf of Visa, revealed Swipe Up Shopping is likely to continue growing in popularity. Over a third (36%) surveyed planning to continue purchasing this way in the future. People who might once have been nervous about shopping via social media have been pushed more and more online during the pandemic. So as a brand, it's important to do the following in 2020.
Make the most of evolving eCommerce
Instagram's evolving eCommerce tools will provide new revenue opportunities. For instance, the new Shop tab in Explore will showcase a range of buyable items within a single feed.  This will highlight personalised product recommendations for each user, based on the accounts they follow and the businesses that are using Instagram's product listings. To avoid being left behind on an e-commerce basis, listing brand products on social is a must.
Maximise Facebook Shops
Facebook Shops have also recently been rolled out. Designed to 'give people a place to experience the joy of shopping versus the chore of buying' Facebook is making it easier for consumers to find and buy the things they love, particularly from smaller businesses. Basically, businesses can create a single online store for customers to access on both Facebook and Instagram. Choose the products you want to feature and then customise the look and feel of your shop with a cover image and accent colours that represent your brand. For financial services or SAAS brands this won't be so relevant, however retail will want to be all over it.
Be Relevant on Instagram Stories
Use Stories to your advantage to encourage people to Swipe Up and shop your collection. The best tip for 2021 is to be relevant. As you can see, brands such as New Look are ending 2020 strongly by tying in with Diana fever on Netflix' "The Crown" directing consumers straight to their Christmas jumper range. By putting your most relevant products in the spotlight, you're more likely to boost revenue. You can also inspire consumers through Influencer marketing or by imitating celebrity styling.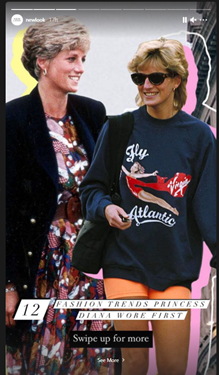 Keep an Eye on Snapchat
Snapchat's just for teens sharing selfies, right? Well no! Even this platform is evolving on the shoppable product front and could be a good tool for brands in 2021. Snapchat is making great strides in the social shopping arena. In June it announced that its new show, The Drop, would feature limited edition streetwear collaborations with celebrities and designers.' Viewers could shop directly from the screen as they watched.
#3 Organic Brand Partnerships to Grow
Why have one audience when you can collaborate with another brand to get more eyes on what you have to offer? Essentially, a brand collaboration is when two or more businesses team up to create an exclusive campaign for maximum attention. Not to be confused with paid influencer marketing, this is a marketing agreement that can benefit all parties and is set to be huge in 2021, especially on Instagram. Check out the unique example from Ben & Jerry's and Nike below.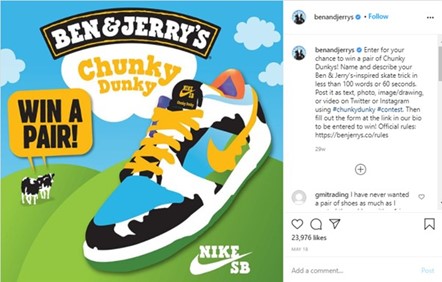 Top tips for brand partnership promotions:
Agree on creatives that promote both brands
Agree to post on the accounts of both/all brands using the relevant brand hashtags
Write enticing content which explains the collaboration in a unique way
Think carefully about your 2021 launch. What time of day is your audience online? When does your brand get maximum engagement? The big reveal should be exciting
Decide on a strategy. Will you run Stories or post videos to your feed? Will you Go Live? If so, brand representatives from both companies should feature.
Perhaps add an element of competition (as above) as this generates FOMO and creates a buzz around your exclusive product.
#4 Voice Content for Search Will Require a Thorough Strategy
According to reports, 5 billion people could be using voice-activated search and assistance worldwide by 2021. This could potentially climb to 6.4 in 2022. So, if you're in the content marketing realm it's important to take this seriously. Why? Because your content needs to be optimised for this kind of search. And breathe.
There are many things you can do to optimise content for voice search:
Anticipating specific questions asked in a conversational manner
The way we type a search into Google is different from how we talk into a device. The latter is much more relaxed and conversational so our content must cater to specific queries, even if they're long-winded. Anticipating specific questions and providing the necessary answers will help your content to be viewed as relative to a specific search. Perhaps think about tweaking the layout of your homepage to include important questions. Or create a separate FAQ section for your website. Look around and you'll see the big brands doing just this and successfully achieving Google position zero.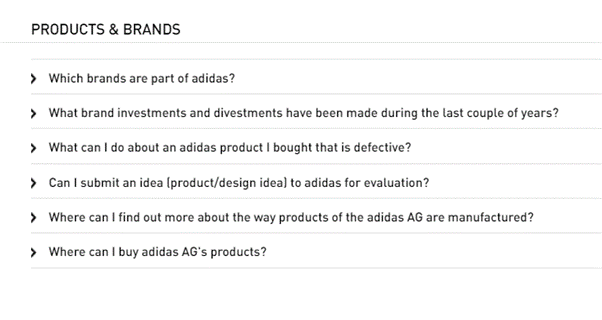 Optimising your website for local SEO
The Meeker's Internet Trends Report found that voice search is 3X times more likely to be local in nature. With this in mind, businesses should keep their profiles and contact information up to date, since this is what Google will pull for queries such as, "Where can I get the best coffee in Kent?" For a coffee shop owner, this would mean including accurate opening hours in their profile, including the precise location of the shop and optimising the content on the website to be found via keywords such as 'best coffee' or longer tail keywords such as 'best spiced chai latte coffee.'
Make sure your website is ready for web search
For this one, you must know the user journey in detail. To clarify, you should provide users with information for each stage of their experience with your brand. For example, you could provide short, sharp, how-to explainer content regarding your booking process. Therefore if someone makes a Google voice search with this query, Google has relevant content to deliver. Headers accompanied by keyword rich explainer content is becoming more relevant as people using voice search require quick, on-point answers.
#5 TikTok Advertising Goes Mainstream
TikTok recorded record growth during the 2020 lockdown as mobile use increased, and people looked for ways to stay entertained. A record 200 million downloads were made in the first quarter of 2020 alone with the social app's video growth impressing many advertisers. As we type, the dynamics of TikTok are interesting. Firstly, many companies are left with surprising advertising budget after a testing year with marketers now looking to explore new avenues as they wrap up 2020 and head into 2021.
Sam Gormley, founder of digital agency Osaka Labs said: "We're seeing a lot of marketers rethink media strategies this year and many believe 2020 is an opportune time to start on TikTok." Similarly, some clients are looking to drive ad spend from TV into other channels like TikTok. Lawrence Dodds, client direct at agency Universal McCann said, "TikTok with its young and engaged users is in a great position to steal share from TV budgets. We've had some clients across the agency look to move money from TV into TikTok' with the social platform taking an increasing amount of ad dollars.
So what kind of TikTok advertising might suit you in 2021?
In Feed Ads – These are the video ads that appear in between user videos as you scroll through your For You page. If you're unfamiliar with TikTok and the For You page, In Feed Ads are very similar to the ads you'd see in Instagram Stories.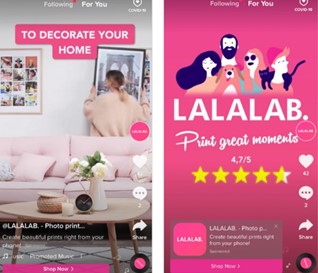 TopView – This is essentially a brand takeover guaranteed to generate an increased number of views. Basically, a full screen video will play to your target audience as soon as they enter the app. They can also appear on the For You page as static images and include clickable links driving users to a landing page.
What's really cool about this kind of ad is that they're exclusive to their category. So, TikTok ensures that users won't see a bunch of similar takeovers on the same day. And this means – more eyes on you!
Branded Hashtag Challenge – What better way to drum up brand recognition than with a Hashtag Challenge. This is a one-of-a-kind advertising opportunity exclusive to TikTok that provides both organic and sponsored opportunities for brands. There have been many great challenges throughout 2020 with E.L.F Cosmetic's 'Eyes, Lips, Face, Safe' dance challenge generating over 41.1K likes.
#6 Content to be Voice Read or Accompanied by Video Explainers
According to a July 2020 report by Global Industry Analysts, the global market for voice technology is expected to grow by over 600% between now and 2027 — from US $2.84bn in 2019 to US $19.39bn. That's as people increasingly choose to listen to their content rather than read it. Therefore it's likely that brands will invest in voice technology in a bid to increase audience engagement.
But this is no walk in the park, as to bond with consumers speech quality has to be on point in terms of pronunciation, timing and emotion. From newsreader to colloquial speech, not all text sounds the same. But with consumer demand for voice read content at a high, it seems this trend will grow at pace. Of course, AI will play an important role, particularly when it comes to localised speech based on region.
Content could also be accompanied by video explainers. There's a lot of exciting things bubbling away from animated explainers in email marketing to a mix of 2D and 3D animation which will be used to bring key messages to life in visual form. Watch this space.
#7 Every Single Platform in the World Adds Stories!
Okay, so we're teasing a bit here. But stories are huge. Over 500 million users watch Instagram Stories on a daily basis. And Facebook Stories has 300 million active daily users. The Snapchat Story function is also hugely popular and now we have Linkedin as well. And with Twitter Fleets allowing you to create what are essentially stories, it seems every channel on the planet will have their own story feature eventually. We're looking at you TikTok. Even WhatsApp has a Story element as does YouTube, so watch this space for 2021. Remember, just because it's there, you don't have to use it. Especially if you don't have the right content for each app's Stories feature.
Did you enjoy reading 7 Content Marketing Predictions for 2021? If you did then go ahead and hit share or tweet us your favourite @_contentworks.
Contact Contentworks today for help with your 2021 content marketing and social media management. We provide strategy, content and social media marketing for leading finance, tech and lifestyle brands.
Want a free financial calendar template to get your 2021 off to a great start? Download yours free here.