There are currently 217 million monetizable daily active users on Twitter. Wow! And with over 500 million tweets shared every single day, it's clear this platform has got the world talking. Twitter conversations, trends and areas of focus are continually changing, Our team is on Twitter every day tweeting for clients so here's our roundup of the 2022 Twitter finance insights you need to read.
Birdseye Report – The Latest Key Shifts in the App
Twitter's not just a pretty face with impressive usability and standout branding. The platform also knows how to highlight rising areas of opportunity and focus for essential tweet marketing. How? They use data and analytics to provide insights that make people want to spread their social wings and up their engagement. Let's explain.
Twitter has recently published a new range of industry reports, based on rising trends, to provide more context as to the key elements of focus among its userbase in each sector. This instantly lets marketers know what's being discussed and opens up new avenues to explore. The new trend reports, collectively called the Birdseye Report, were compiled by Twitter data partners including Hootsuite, Meltwater, Sprinklr and more.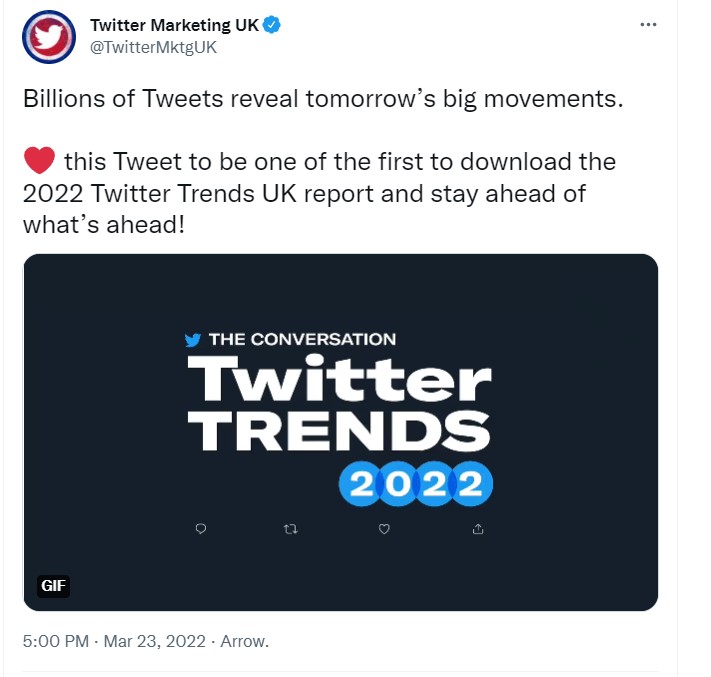 Each partner took on a specific element of expanded Twitter conversation, giving each discussion and industry dedicated focus, providing in-depth insight into the latest key shifts in the app. Brilliant idea and one that shows how Twitter never takes its eye off the ball.
There are many key highlights. But as we're a leading marketing agency for top finance, fintech and technology brands, we're going to delve into insights from these fields in particular to ensure your brand is staying up with the latest Twitter talk.
Birdseye Report – Finance and Fintech Insights
From crypto and blockchain to NFTs and the Metaverse, the finance and fintech industries have been evolving at a phenomenal pace. So how is this being reflected on Twitter?
#1 +549% Crypto Mentions
With roughly 13% of adults in the US (19.3 million) planning to purchase cryptocurrency in the next year, it's perhaps no surprise that crypto conversations on Twitter are climbing. While established cryptocurrencies such as Bitcoin, Ethereum and Dogecoin have continued to gain traction, new cryptocurrencies are popping up daily, with more and more companies wanting a slice of the crypto pie. Many financial institutions have started to adapt and experiment with their own crypto offerings and an increasing number of organisations now accept crypto as an official form of payment. You can even donate to charities by sending crypto to your chosen charity or non-profit.
With regards to Twitter insights, the platform saw +549% of crypto mentions year-on-year (YoY) from 2022-2021 and a 2% rise in positive sentiment around cryptocurrency. A few leading cryptocurrencies dominated the conversations on Twitter, with Bitcoin seeing a 284% YoY increase in Twitter mentions, Ethereum leaping by 451% YoY and Dogecoin seeing a leap of 8,655% YoY. The jump in Ethereum mentions makes particular sense considering most NFT (non-fungible tokens) are part of the Ethereum blockchain (more on those later). As usually, hashtag usage is key to tracking what's hot and what's not in the Twittersphere.
Why do these insights matter? Well the upward trend in crypto mentions allows crypto marketers to deliberately focus their attention on specific topics as well as specific coins and blockchain platforms and to create content around 'big news' themes.
#2 NFT Mentions Soar
If you've been watching the digital landscape, you'll know that the world has gone completely and utterly nuts. We joke. But the Metaverse – a virtual world where people can socialise, work and play – is growing in popularity. We've written a lot about this rather strange development recently. Not only that, but NFTs turn unique, valuable objects like digital artwork, videos or designer clothes ranges for Metaverse avatars into verifiable assets that are stored and can be traded on the blockchain. Many of the world's biggest designers are launching their very own NFT range. We told you, nuts.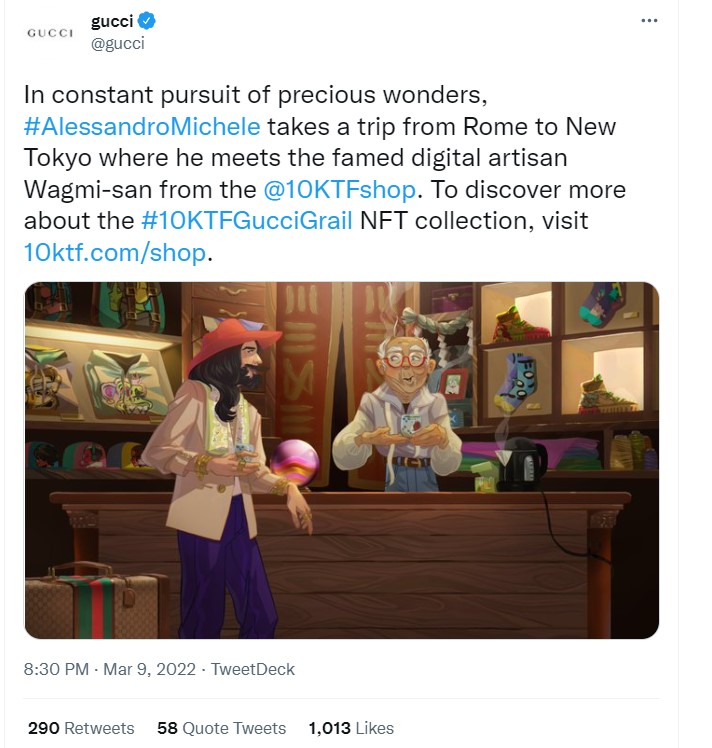 Although NFTs have been around for a while, they completely exploded in 2021 when an NFT piece of art by digital artist Mike Winkelmann (otherwise known as Beeple) sold for more than $69 million. Celebrities like Paris Hilton are also throwing themselves head first into the NFT world, marketing heavily on Twitter. This, helps to explain the sharp rise in NFT mentions on the platform which soared dramatically from January to December 2021.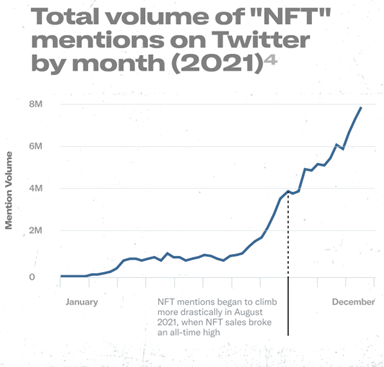 The YoY increase in NFT mentions between 2020 and 2021 was +9,510. Somewhat sadly, the majority of NFT conversations are being held by men on Twitter (75%) compared to women (28%). However, from 2020 – 2021, 3% more women are now joining NFT discussions. Take a look at the conversation drivers which have been pulled from the Finance Birdseye Report.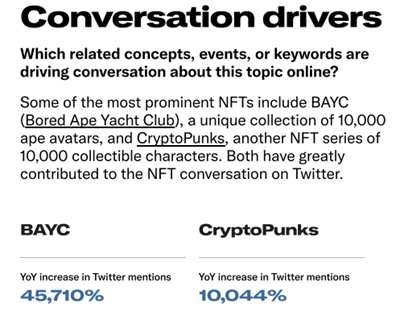 Why do these insights matter? If you know what's in focus on platforms like Twitter, you can start to adapt and modify your marketing strategy accordingly. Perhaps you've got an NFT idea you could make work. Many brands are creating their own relevant brand art and selling it online through the NFT market. This provides a great opportunity for promotional videos, go-live sessions, teaser posts and more.
#3 +25% Growth in 'Investing' Mentions YoY
This is a biggie for brokers trying to attract the attention of investors in a bid to improve their accusation and retention rates. The demographic of investors has changed in recent years, largely as a result of covid19. With people stuck at home in lockdown situations, more and more turned to investing as a hobby or in a bid to top up dwindling incomes. Of all current US stock market investors, 15% started playing the market for the first time in 2020, an era that's been described as the Investor Generation. In addition, lower trading costs and new apps/services for hassle-free investment also made investing more accessible and appealing.
Social media has also propelled investing further into the spotlight, with many people taking to platforms like Twitter to share their trading experiences, to offer investing insights or to analyse the investment markets in real-time. Brands also use Twitter as a platform to share their investment tools and to spark conversations for increased engagement.
Why do these insights matter? Well, 'retail investor' mentions on Twitter have shot up 215% YoY specifically. So, armed with such statistics, you can start to feed into this demand for knowledge and join in relevant conversations. Make sure you post retail investor content where you can and use the relevant keywords to help get your content noticed. You should also check your analytics to see if you notice any similarities between your data and that gathered by Twitter partners. Are you noticing more interaction with your investment posts? If so, this could fuel a whole new cycle of exciting investment content and tweets.
Leverage the Popularity of the Above Trends
So now you know what's on fire in the Twitter world, what can you do to leverage the popularity of the above trends?
Create crypto, NFT, and retail investor content that truly resonates with your audience. Remember, many of these concepts are new or new to your audience, so you might want to start off with some really good explainer videos or articles. You can also pull quotes from these to use as an audience hook.
Host events that educate people and connect consumers with experts in the field. This might mean creating a crypto-themed podcast, going 'live' with expert traders, holding a live question and answer session with reputable investors and so on. It's always a good idea to host regular events, so that people know when to seek out your content. This will make it much easier to build up a loyal community.
Develop FAQs, guides, glossaries and other resources that help people to navigate the complex fintech/finance world. These can then be shared to your social channels such as Twitter.
Use data to know how people are finding your brand. This will help you to put together content that instantly answers people's questions and drives them towards your part of the web. Again, you can use social media to encourage people to download e-books, sign-up to newsletters and more.
Birdseye Report – Technology
Continuing our Twitter insights drive, we're now turning our attention to the Technology Birdseye Report launched by Twitter. From this, we can share that:
#1 Three Trends on the Rise – Digital Ethics, Cyber Individuality and Metaverse
Digital ethics, cyber individuality and Metaverse have seen a 3,587% YoY growth, dominating the technology conversations across Twitter. People are looking to tech brands to explain new concepts. They also want them to contribute positively to a world that's getting significantly more creative and blurring the line between physical and virtual. This means it's really important for brands to stay on top of public sentiment on social media so that they can provide relevant content and deliver a positive user experience.
Interestingly, but perhaps not surprisingly, the majority of people talking about the above three topics are aged between 18 and 35 (65.9%). But what exactly does each topic cover?
Well, digital ethics is all about creating an accessible, sustainable and inclusive way of life while cyber individuality allows people to find their 'happy places' online and mingle with line-minded individuals comfortably. They can live and work how they choose and utilise platforms that cater to their interests. As for the Metaverse (which we touched briefly on earlier), this is all about a coexistence in a digital world. Many creators see us all having a digital persona that can explore multiple aspects of a digital world.
So what are the conversation drivers on Twitter?
Conversations related to sustainability in technology are up 51%
Conversations related to data transparency and consent are up 39%
Conversations related to carbon neutrality are up 192%
Conversations related to al bias and ethics are up 25%
As a result, many brands are now turning insights into actions in the hope that audiences will find it easier to connect with them. Being proactive with honest customer engagement is one way to draw in a crowd, after all, it's not just about the quality of your products and services anymore, but how you address wider social issues. Good corporate values of a must and these can be shared digitally with your followers.
#2 Twitter Talks Metaverse
Let's zoom in on the Metaverse specifically for a second. According to Twitter's Technology report, there has been a +19,425% YoY growth of Twitter conversations related to the Metaverse. Below is a list of some of the most commonly used hashtags related to the Metaverse, with #nft being used over six million times.
Here are the conversation drivers:
Conversations related to the Internet of Things up 56%
Conversations related to immersive technology up 62%
Conversations related to virtual real estate up 483%
Conversations related to social commerce up 56%
With these things in mind, creating immersive experiences based on brand storytelling is something that's in focus for many creative marketers.
#3 Web3 Conversation Skyrockets
Web3 refers to a decentralise online ecosystem based on the blockchain. And it's been causing a stir on Twitter, with 87.7K tweets from California alone and 46.7K from England. Conversations related to blockchain are up 171% and conversations related to NFTs are up 8.8K%. Brands should therefore spark conversations around such out-of-the-box tech. Check out #Web3 and see what you can uncover!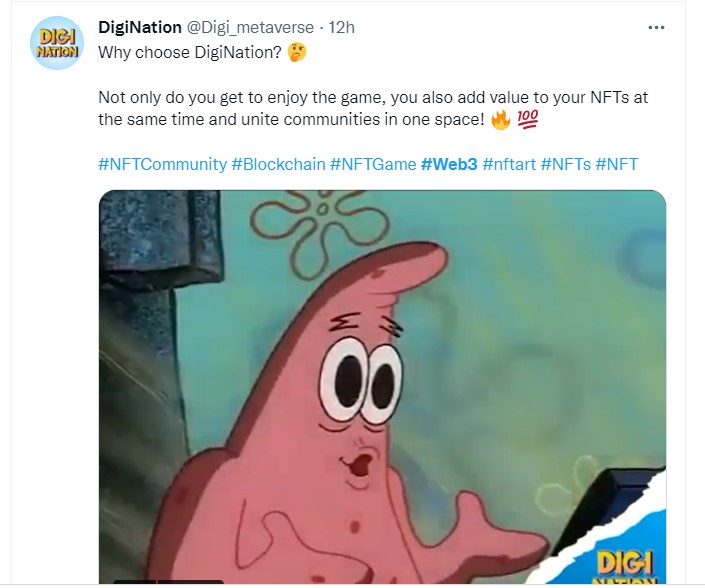 As a leading content marketing agency for the finance and tech sectors, we regularly use Twitter on behalf of our clients and to follow trends.  Contact us today for expert social media management, web content, articles, e-books, video scripts and more. Enjoyed reading 2022 Twitter finance insights you need to read? go ahead and hit share.