The past two years have been turbulent, unsettling, depressing and downright weird. So it's perhaps no wonder that nostalgic marketing has become such a hit. But what is the psychology behind this trend and why do we rely on the past to make us feel better when things go wrong? Let's delve deeper and show you why we love nostalgia marketing.
The Importance of Nostalgia Marketing
Nostalgia describes the sentimental longing we feel for the past. It's that warm, fuzzy feeling you get when you think of playing with Tamagotchis, Trolls, Polly Pockets and Bratz Dolls. Or the smile that comes on your face when you think of space hoppers, slinkies or gummy wristbands that had to take up your entire forearm. The nostalgic thoughts you experience can also include carefree day trips, pre-social media memories and products that don't exist anymore. Remember those toys that fell out of cereal boxes?
The beauty of nostalgia is that it can create a collective experience of joy. Specific generations literally rejoice over elements of the past that defined their childhood. And if brands are clever, they can tap into these emotions and recreate the feelings that consumers long for. In a difficult world that often feels upside down, uneasy consumers will gravitate towards companies that offer a connection to the past. And that's what makes nostalgia marketing such a valuable tool.
What Is The Data on Nostalgia Marketing?
According to a recent global consumer trends report, customers don't want to feel like just another number. In fact, they're re-evaluating the relationships they have with businesses and are spending money where they feel most valued. Over 60% of consumers revealed that if businesses cared more about them, they'd buy more as a result. Companies that show they genuinely care about their customers look set to come out on top in 2022 as a result. And nostalgia marketing could feed into the concept of creating a unique and memorable brand experience that taps into consumer wants.
Knowing Your Audience – A Nostalgic Marketing Must
There's no doubt that nostalgia marketing can revive feelings of warmth, joy and happiness, particularly when times are rough. It can also make people feel more valued as customers. But what do you need to know before cracking on with a nostalgia marketing campaign? Well firstly, nostalgic marketing must resonate with your audience. What makes one person nostalgic could make another person feel out of the loop. Factors such as age, interests, historical events and decade trends influence what we hold dear. So it's really important to delve into your data to know exactly who you're talking to.
Let's look at this kind of nostalgic target marketing in action, with the launch of Netflix's science fiction horror drama, Stranger Things. This hit the streaming service in 2016 and with the fourth series set to premiere in May this year, excitement is high. The show's success has been phenomenal, with Season 3 garnering 26.4 million unique views in the United Stated within the first three days of it being released. But why do people love it so much? Well, the show pays homage to the 80s and therefore directly appeals to a huge section of the Netflix audience. According to Statista, coupled with Netflix statistics, 75% of the Netflix subscribers are 18-34-years old and around 72% are 35-44. This could explain why Stranger Things with its 80s vibe, is one of the most-watched Netflix shows of all time.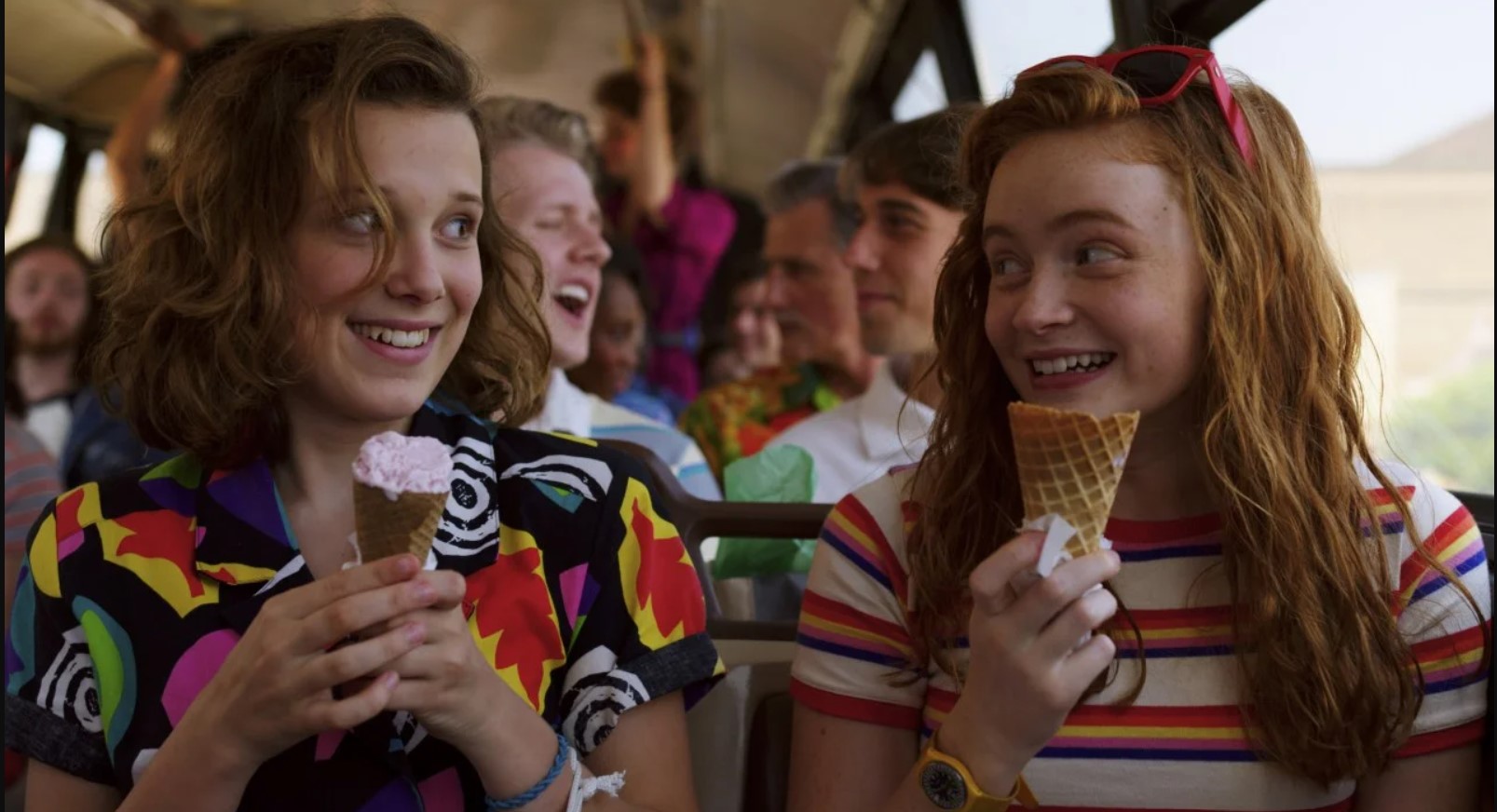 Going back to the power of nostalgic marketing, we feel so comfortable watching Stranger Things because it reminds us of a simpler time. With references to E.T., Ghostbusters, Corey Hart music, Farah Fawcett, retro arcades and 80s fashion, this is an 80s child's dream. And when the heart strings are pulled, you can guarantee there's going to be a whole host of organic marketing from fans across social media, which is great for brand exposure.
Top Tip: If you plan to use nostalgic marketing to draw people closer to your brand, stay focused. Do your research and make sure you tap into themes and trends from the relevant era for maximum effect.
Let's check out a few more brands that have been busy embracing the nostalgic marketing trend.
Primark/Nickelodeon Collaboration
Primark's target audience is primarily fashion-conscious under-35s on a budget. Many consumers within this demographic grew up in the nineties and will have a particular soft spot for this era. A Primark/Nickelodeon collaboration therefore made complete sense, with the store revealing a whole host of retro t-shirts and hoodies based on after school shows enjoyed in the 90s. With the slogan "'90s kids and proud," Primark celebrated a whole host of cult classics including Hey Arnold, Ren & Stimpy, The Rugrats, Cat Dog and SpongeBob to 'make all your nostalgic dreams come true.' Genius. This is another great example of knowing your audience and providing a memorable brand experience. And as expected, social media went mad for it.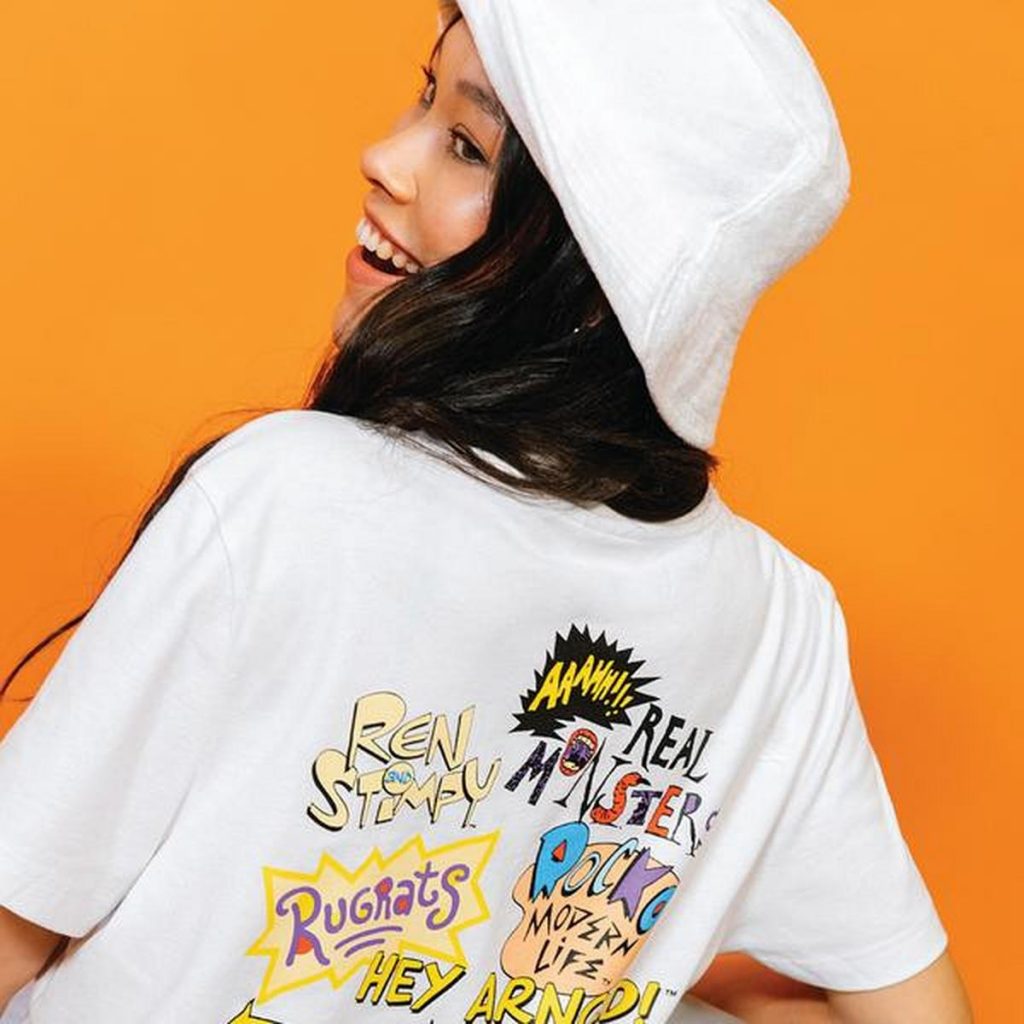 Oreo Blockbuster Takeover
Nothing screams retro more than Blockbuster. The first video rental store opened in 1985 and closed its doors in 2014 due to the takeover of video streaming services. For Millennials and Gen X, Blockbuster was the go-to for Friday nights in or Saturday movie nights with friends. It was where you'd spend hours choosing a movie title and buying snacks. Fans therefore went mad when Oreo took over the last ever Blockbuster store in Bend, Oregon to promote the return of their very own retro snack, Oreo Cakesters. This unique cake sandwich which tastes like a cookie but melts in your mouth like a cake was first launched in 2007, discontinued five years later and eventually brought back to the shelves by popular demand.  At the start of 2022, Oreo Cakesters completely took over the store, complete with a giant logo and Cakester-themed movie posters. Guests were even given free samples of the snacks, playfully delivered in retro VHS-inspired packaging, of course.
Oreo's VP of marketing, Justin Parnel, said in a statement:
"Oreo loyalists have been asking and waiting patiently for Oreo Cakesters to return and we're thrilled to celebrate this epic comeback. We hope the Blockbuster takeover will playfully bring store-goers back to 2007, when Cakesters first launched, and the soft-baked snacks became a fan-favourite."
Blockbuster store manager Sandi Harding, added her enthusiasm. "Being the last-standing Blockbuster, we are rooted in nostalgia. We're excited to collaborate with Oreo to surprise our shoppers with the unique experience to 'rewind to 2007' in celebration of the comeback of a beloved snack from their past."
The campaign, of course, was blasted out across social media, with the help of some pretty awesome imagery. And it was a great example of social listening in action. Oreo listened to their audience and brought back a product which allowed for some pretty epic promotion.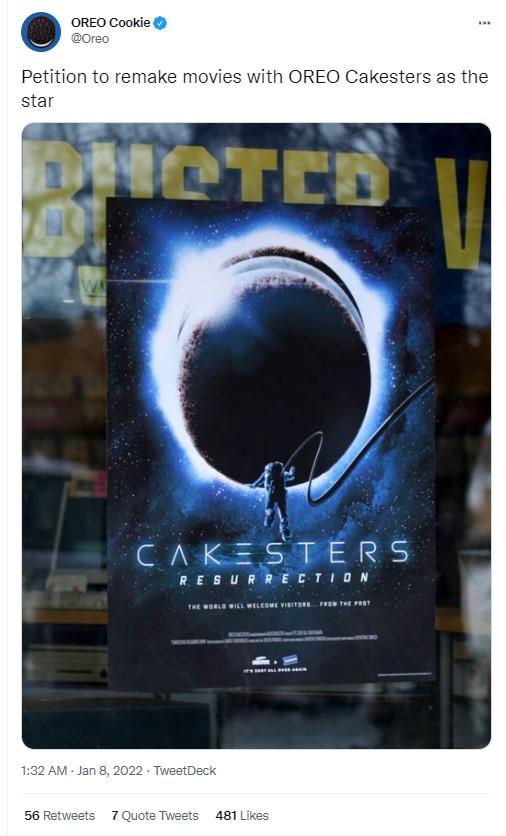 Top tip for marketers: When it comes to nostalgic marketing, sometimes consumers will make it very clear what they want to see make a comeback. For this reason, it's wise to use social listening tools that will pick up public sentiment and inspire future campaigns.
Pizza Hut/Pac-Man Collaboration
From Sonic the Hedgehog on the SEGA Mega Drive to Mario Brothers on the Nintendo, gaming has been a huge part of childhood for many years, with Pac-Man dating back to the 80s. Pizza Hut tapped into the nostalgia of retro gaming by launching a series of limited edition boxes that let you play Pac-Man on them in augmented reality. The traditional cardboard boxes simply had a maze from the game and a QR code printed on them. Scanning the QR with a smartphone or tablet brought the maze to life and allowed customers to play an AR version of the classic eighties video game.
Once the game was over, customers were invited to share their scores on Twitter using the hashtags #PizzaHutArcade and #Sweepstakes to be entered into a prize draw to win a custom Pac-Man arcade terminal. This was a genius idea for many reasons. Firstly, Pac-Man evoked nostalgic feelings for parents ordering their kids a pizza tea or for anyone who grew up in the 80s/90s when Pac-Man was super popular. Secondly, the combination of modern technology with a retro twist gave the campaign a wider appeal as kids who didn't know Pac-Man, could still join in and have fun. The digital competition also helped to boost brand awareness, with the arcade terminal prize being highly appealing to Millennials/Gen-Z in particular – otherwise known as the ones with the cash to buy a family tea.
George Felix, Chief Marketing Office at Pizza Hut explained:
"There's so much love for this brand and so many iconic elements…any marketer would die to have a fraction of those things. The challenge is taking those things that people know use for and bringing them into today's world in relevant ways. There aren't many brands with more iconic elements than us, whether it's the red cups, check tablecloths, connection to pop culture and entertainment – like Pac-Man – or our iconic Pan Pizza. As we look to connect with a new generation of pizza lovers, we are tapping into those things that make Pizza Hut great in a modern and relevant way."
Check out the response on social media.
Top tip for marketers: Think about bringing retro back with a modern twist. If you're worried about excluding audiences, there's no reason why you can't introduce a retro idea with a concept that appeals to perhaps a younger generation.
Have you seen any nostalgia marketing campaigns recently? What are your favourites? Tweet us @_contentworks and let us know. For creative content and engaging storytelling, talk to the Contentworks Agency team.