Did you know that investment bank Jefferies has raised its NFT market-cap forecast to more than $35 billion for 2022 and $80 billion for 2025? Or that OpenSea, the world's largest decentralised NFT marketplace, reached a whopping $5 billion in trading volume in January 2022, the highest sales figure of all time? The NFT ecosystem has literally exploded over the past year, but what exactly does this all mean and how can you take a bite out of the NFT pie? Contentworks is a leading financial services marketing agency so we've got you covered with NFT marketing – The Straight Talking Guide. Let's go.
What is an NFT?
Imagine being frozen in ice for the past forty years and waking up in the year 2022. You would you have to get to grips with Insta stories and TikTok. And you'd also have to understand trickier concepts like Crypto, Blockchain, the Metaverse and NFTs. The digital landscape is changing so fast, that even those who have been consistently exposed to technology have a hard time keeping up. So before we unleash any kind of marketing knowledge, an NFT overview is needed.
NFT stands for Non-Fungible Token. This makes things no clearer, right? Just stay with us…
A fungible token is a digital coin, like Bitcoin, that's interchangeably tradable. Fungible tokens are not unique, meaning a Bitcoin is always equal to another Bitcoin. The same goes for traditional money. If you trade Euro notes with someone, neither of you loses anything since Euro notes are interchangeable. In contrast, a non-fungible token represents a unique digital good. Think of in-game assets, avatars, trading cards and artwork collections. These are not interchangeable like currencies are because they are different digital objects. Importantly, NFTs are bought and sold online, frequently with cryptocurrency, and are generally encoded with the same underlying software as many cryptocurrencies.
Most NFTs are part of the Ethereum blockchain and for this reason, buyers can claim ownership of unique digital data that's fully trackable. Such built-in authentication offers collectors 'digital bragging rights' which often seem more valuable than the item itself.
Famous NFT Moments
Want to take a look at the NFT ecosystem in action? Then check out these incredibly lavish NFT purchases which, if you're anything like us, will make your jaw hit the floor. Literally.
Jack Dorsey Sells His First Ever Tweet as an NFT
Jack Dorsey, CEO of Twitter and Square, sold his first tweet as an NFT, or non-fungible token, for over $2.9 million in March 2021 when bidding ended on the Valuables platform, which is run by Cent, a blockchain-powered social media network. The tweet, which says, "just setting up my twttr," was first posted by Dorsey on March 21, 2006.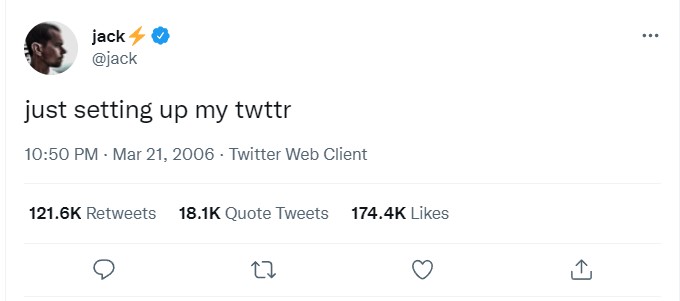 Although there was a bidding war over the NFT of Dorsey's tweet between tech entrepreneur Justin Sun and Bridge Oracle CEO Sina Estavi, Estavi's bid ultimate won. Estavi also bid $1.1 million to own the NFT of a recent tweet by Elon Musk, CEO of SpaceX and Tesla which was also listed on Valuables. Anyone else think Musk is laughing at us all?
Charlie Bit My Finger
If you were online in 2007, you're sure to have seen the Charlie Bit my Finger clip on YouTube which was seen by over 880 million people and claims to be the most-viewed viral video of all time. Following a Charlie Bit Me NFT auction, the video sold as a non-fungible token for $760,999 and the family who created it have taken down the original YouTube for good. This is how the NFT drop was originally promoted.
Beeple Digital Artwork
NFTs catapulted to fame as a result of digital artwork being sold for crazy amounts of money on the blockchain. For instance, famous digital artist Mike Winklemann, better known as 'Beeple' crafted a composite of 5,000 daily drawings to create perhaps one of the most famous NFTs "EVERYDAYS: The First 5000 Days," which sold at Christies for nearly £50 million. While anyone can view individual images or entire art collections online for free, remember it's the bragging and ownership rights which clinches the deal.
Are NFTs A Flash in the Pan?
So the question is, are NFTs a flash in the pan or are they something to take seriously on a long-term basis? Well truthfully, it looks as if they're going to be used more and more due to the creation and advancement of a virtual world known as The Metaverse. We know, things have gone completely bonkers in recent months.
Believe it or not, people are actually using NFTs in the Metaverse to buy virtual land, particularly within the mobile gaming realm. The Sandbox, for instance, is a virtual world where players can build, own and monetise their gaming experience in the Ethereum blockchain. They can buy LAND, a digital piece of real-estate within The Sandbox and each LAND is a unique, non-fungible ERC-721 token. Virtual spaces within the Metaverse are therefore essentially using NTFs, as opposed to a physical deed, to reflect ownership of specific locations.
And it's not just land you can buy in the Metaverse. Virtual worlds, populated by avatars in need of clothes and accessories, also provide an ideal medium for fashion NFTs. For fashion designers, the possibilities for digital fashion NFTs are vast. Creative visions can be unleashed without physical barriers like gravity or practicality. The non-fungible element to digital clothes can also make virtual fashion items more valuable than their real-life counterparts. This was already seen when the Baby Birkin NFT sold for more than an actual Birkin bag in May 2021. There is also the potential for fashion shows to be held in the metaverse, with information about the garments overlaid on the runway and viewers able to get a closer look at the fabrics than they would have at a real-life show.
Blown away? We are too. But it's hard to deny the NFT marketing opportunities that are popping up due to this digital acceleration. Social media platforms are also adapting for NFT usage, with Mark Zuckerberg confirming that his Meta company is building the technical functionality so that users can display their NFTs on Instagram. And, even 'mint' some NGTs within the app. He said, "We're working on bringing NGTs to Instagram in the near term" during a recent interview at the South by Southwest conference.
So, seeing as NFTs look set to last, let's check out some top tips for NFT marketing. Any kind of marketing requires a careful strategy and the same applies to NFTs. Whether you've been dabbling in this world for a while or are exploring NFT marketing for the first time, think carefully about how to proceed and map out how to get all eyes on your brand.
Why Join the NFT Craze?
You might be wondering why an NFT collection is worth your time. The short answer is – it's new. And that makes it exciting. Consumers love brands that are innovative and always keeping up with the trends. They want to be interested and engaged by your content and by promoting NFTs, you open up a whole new avenue for innovation and creativity. Think about all those hashtags you can draw on and all those blogs you can write about celebrities marketing NFTs with a link to your very own product. What about creating your very own NFT community or dedicated webpages? Oh the opportunities!
What's more, brands are already adopting the NFT initiative and if you take your eye off the ball it can be easy to get left behind. Gucci, for example, is inching its way into making its own stake on the Metaverse, launching an "experimental online space" with NFTs to match, of course. The items listed in this space called the Vault, are all part of Edition #1: Discovery and have all been marked 'vintage' including designed from the 1960s in the form of bags, handkerchiefs and clothing items. There are even homewares dating to the 80s. Note how this is just Edition 1, leaving plenty of room to evolve and expand in this area.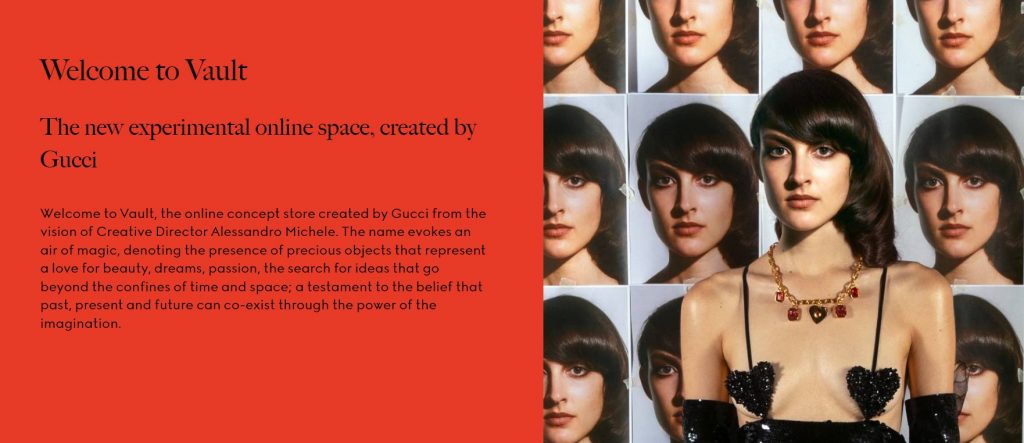 Gucci's all-digital Vault featuring a variety of collectible NFTs highlights a few important things:
Brands are willing to create immersive and technology advanced experiences based around the NFT concept. Storytelling as a marketing technique is being heavily used to draw consumers deep into a unique digital environment. Through video, imagery and a well-written script based around NFT products, it's possible to educate consumers and get them more interested in what you're offering. Don't also forget explainer videos and FAQs. People are interested, but they need answers.
Brands are prepared to collaborate in unique and interesting ways. Gucci has recently teamed with SUPERPLASTIC animation, for example, to create 500 NFTs.
So what can you do to market your NFTs?
Embrace NFT Listings
If you want to make money through your NFTs, which of course you do, it's important to create your unique NFT and make it available on the NFT marketplaces to be listed. Check out this clever listing from Taco Bell who created a series of NFT artwork based around their mouth-watering taco delights. These sold out in under 30-minutes.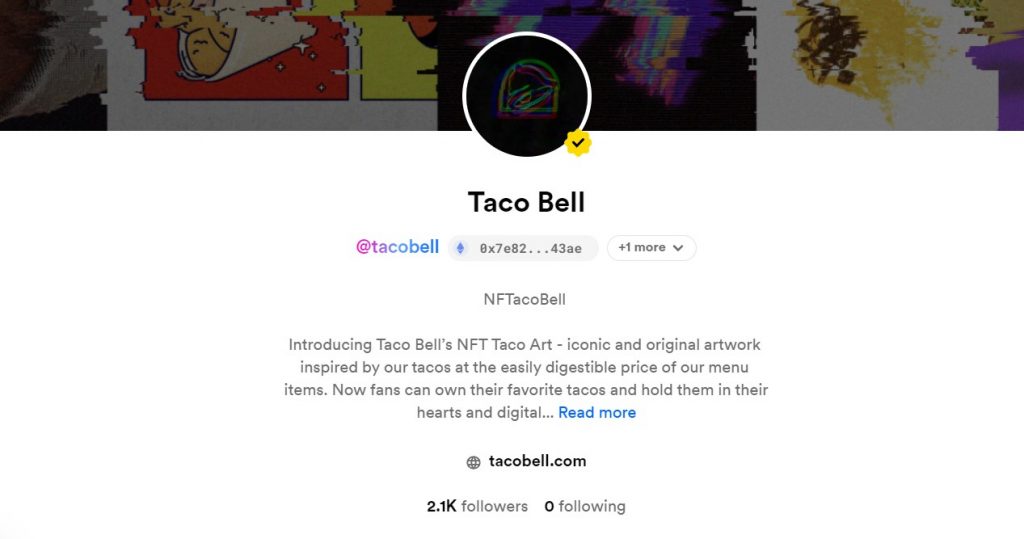 What's really cool about this listing is that it also supports their corporate responsibility efforts and therefore taps into an audience which increasingly demands that companies 'give back' to society in return for their loyalty.
Top tip for marketers
If you're looking to draw in Millennials or Gen-Z who are super concerned with the social responsibility efforts of brands they buy from, charitable NFT marketing is a great idea. Come up with a brand-relevant concept, list your NFTs and donate the proceeds to a cause close to your heart. Remember to keep your NFTs affordable so as not to put off your target audience. A bit of research around average consumer income could help you choose the right price point.
Promote Your Listing
The next thing you need to do is to promote your listing. One of the best ways to do that is via clever social media marketing on channels that your particular audience frequent. You should hopefully already know this, but double check to avoid wasting time.
Taco Bell, for instance, dropped an NFT announcement on Twitter with a link to their listing. This is a great way to drive people directly to where they can part with their hard earned cash. Why not also drop an NFT for a limited time only to create a sense of panic and FOMO? Limited time offers encourage people to take action and prevent hesitancy.
This is exactly what Pizza Hut Canada did when they put a pixelated pizza on Rarible for 0.0001 ETH ($0.18). The idea here wasn't to generate huge buckets of cash, but to create a buzz around the brand while trialling a new craze. Again, Twitter was used to generate hype around the NFT campaign. Interestingly, this shows how NFTs are being used not only to make money but also as a brand awareness tool.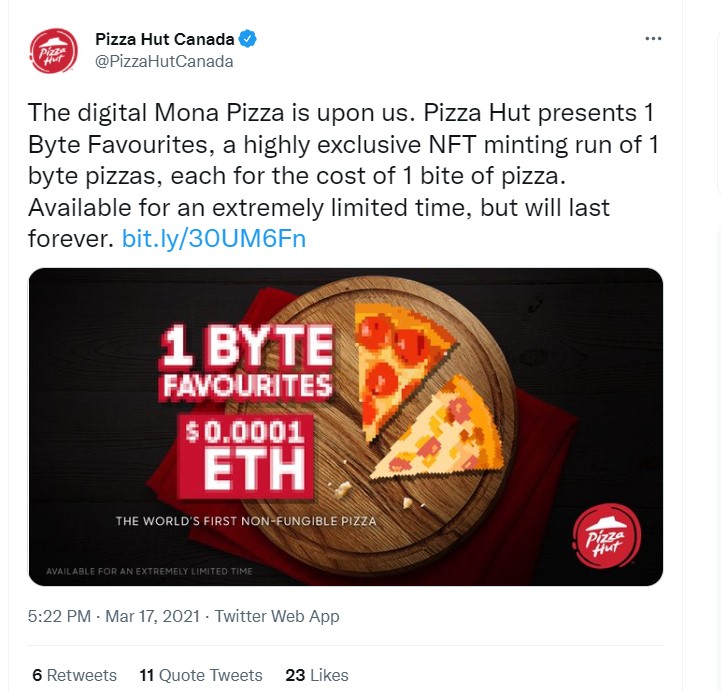 Brands can also consider creating Challenge videos on TikTok around their NFT concept or launching a competition on Facebook.
Top tip for marketers
Use social listening tools to keep an eye on brand sentiment when launching a new campaign. This can help you spot brand mentions and reply to comments across the social media landscape. The more responsive you are, the more you can crush any negative talk with intelligent replies.
Work with Influencers
Any brand looking to get into NFTs should consider partnering with NFT influencers. Because there is still so much confusion surrounding NFTs and crypto, these creators can make consumers feel comfortable navigating the crypto landscape and use their expertise to help guide purchasing decisions. A successful NFT campaign is based around a strong community and that requires a solid team. When NBA collaborated with influencers for their NBA Top Shot's nonfungible tokens (NFT) project, they managed to secure seven purchases a minute.
Maybe don't use Simon Leviev – AKA the Tinder Swindler though!
So the #TinderSwindler is now selling #NFTs . Right. pic.twitter.com/pt4tupVwpr

— contentworks (@_contentworks) March 21, 2022
Make Yourself NFT Relevant
When it comes to NFTs it seems that most brands can adjust their marketing skills to cater for this particular trend. Even toilet paper company Charmin rolled out their first ever NFT(P) toilet paper art, donating proceeds to charity. So don't rule yourselves out. Instead, think of creative ideas and partnerships that'll make your brand visible in the NFT space.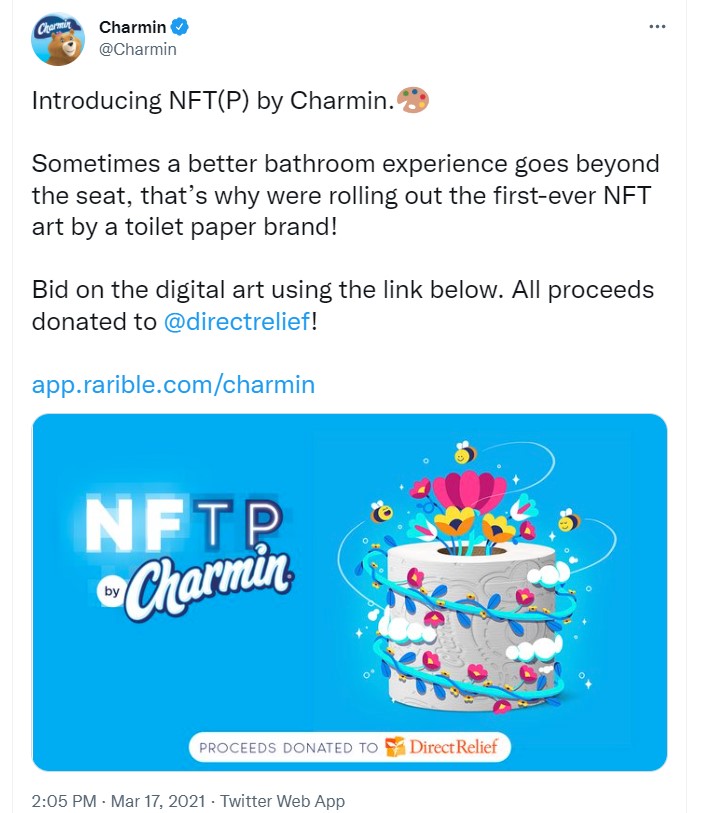 Top tip for marketers
Include a link to your NFT listing to take consumers to where they purchase. Creating a graphic or GIF to make your post stand out will stop people from scrolling past your campaign.
Here at Contentworks, we never lose sight of the latest trends. We also follow news and updates from financial regulators to ensure our content is up to date. Want to get into NFT marketing for your brand? Talk to us for articles, social media management and of course, a killer strategy.
Enjoyed reading NFT marketing – The Straight Talking Guide? Go ahead and hit share.