It's the next big breakthrough in technology! For computer-obsessed geeks! A dystopian nightmare! It's the METAVERSE! The term isn't new. It was coined in a sci-fi book by Neal Stephenson, back in 1992. What is new, however, is how fast reality is catching up to what was once science fiction. But what exactly is the metaverse and what does the metaverse mean for content marketing?
Let's dive right in…
What is the Metaverse? And Is It Just a Fad?
To a certain extent, talking about what 'the metaverse' actually means is a bit like having a discussion about what 'the internet' means in the 1970s. Many called it "a passing fad." The building blocks of a new form of communication were in the process of being built, but no one was 100% sure of what this new technology would look like or how it would impact everyday life. Turns out the internet became pretty darn huge. So can we expect the same from the metaverse?

It's fair to say that there's a whole lot of hype around this concept at the moment. And it doesn't look like a fad that'll fade away. After all, Facebook recently changed its company name to Meta, with Mark Zuckerberg believing the metaverse to be the 'successor to the mobile internet.'
Fun Fact:  Facebook acquired the exclusive rights to the name "Meta" from a South Dakota bank for $60 million USD. It was already owned and trademarked!
Indeed, Facebook plans to spend at least $10 billion in 2021 on Facebook Reality Labs, its metaverse division tasked with creating AR and VR hardware, software and content. The company wrote in its third-quarter earnings release,:
"We are committed to bringing this long-term vision to life and we expect to increase our investments for the next several years" in order to deliver the, "next generation of online social experiences."
Great. But that doesn't help to explain what the metaverse actually is. Well, put most simply, the metaverse is a virtual world where people can socialise, work and play. Broadly speaking, a workable metaverse will require numerous technological components that support universal integration across platforms. After all, the ultimate metaverse dream is for people to create a persona that they can take with them wherever they go digitally. Metaverse components are likely to include:
Virtual Reality and Augmented Reality
Virtual reality is huge in the metaverse and is characterised by persistent virtual worlds that continue to exist even when you're not online or playing some kind of metaverse-related game. So essentially the metaverse is one that can be accessed and inhabited almost like a second world. Augmented reality will also combine aspects of the digital and physical worlds to help create an immersive and realistic metaverse experience.
A Digital Economy
Digital currencies have been around for years already and in the metaverse, users can create, buy and sell goods with the help of cryptocurrencies and non-refundable tokens (NFTS) that are traded with cryptocurrencies. In fact, metaverse tokens such as MANA, GALA and more are rising in popularity due to their uses. These tokens are transaction entities that can be used to trade in virtual marketplaces in the Metaverse environment.
Metaverse Avatars
As it stands, most platforms have virtual identities, avatars and inventories that are tied to just one platform. But a metaverse might allow you to create a persona that you can take everywhere as easily as you can copy your profile picture from one social network to another. This will essentially become your second identity within the metaverse space. And users are taking this whole avatar thing extremely seriously.
Believe it or not, there's already an entire market of people looking to dress their avatars in designer clothes and get their hands (but not their actual their hands) on the latest digital fashion. Fabricant, for instance, is a Dutch virtual couture house where users can create exclusive apparel for their digital avatars on social platforms including VRChat, a 3D digital world that soared in popularity during the pandemic. In a collaboration with The Dematerialised, the Fabricant collaboration sold a $9,000 avatar garment – or more precisely, a non-garment. The whole issue of getting dressed for the metaverse is huge and is being widely spoken about on social sites such as Twitter.
This alone is sending waves through the fashion industry with brands seeing more and more opportunities to make cash in the metaverse. Case in point? Gucci partnered with Roblox to create a digital Gucci garden. In the game, the Italian luxury brand's Dionysus bag with bee sold for 350,000 Robux, or around $4,115 (it was a super-exclusive drop, available for only an hour a day on two days of the partnership).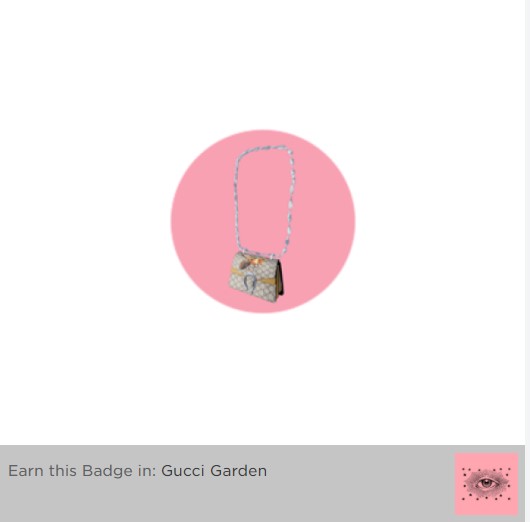 And even some of the top models and influencers these days aren't even human. Virtual influencer, Lil Miquela has 3 million followers on Instagram, showing just how many marketing opportunities can be scraped from the digital and metaverse concept. Imagine this. You don't have to pay real life influencers. But can instead create your own virtual influencer who is free to enter and explore virtual worlds at will, interacting with consumers, selling products and showcasing the latest digital fashion. Mind. Blown.
The Metaverse in Motion…
Popular metaverse plays include Decentraland which introduces all kinds of remarkable concepts such as the Rare Wear Museum inside Decentraland. This features pieces of artwork from real-life artists including comic book legend and crypto artist Jose Delbo and works with the help of wearable technology. Cryptovoxels is another virtual world on the Ethereum blockchain who have huge plans for their VRM Avatars.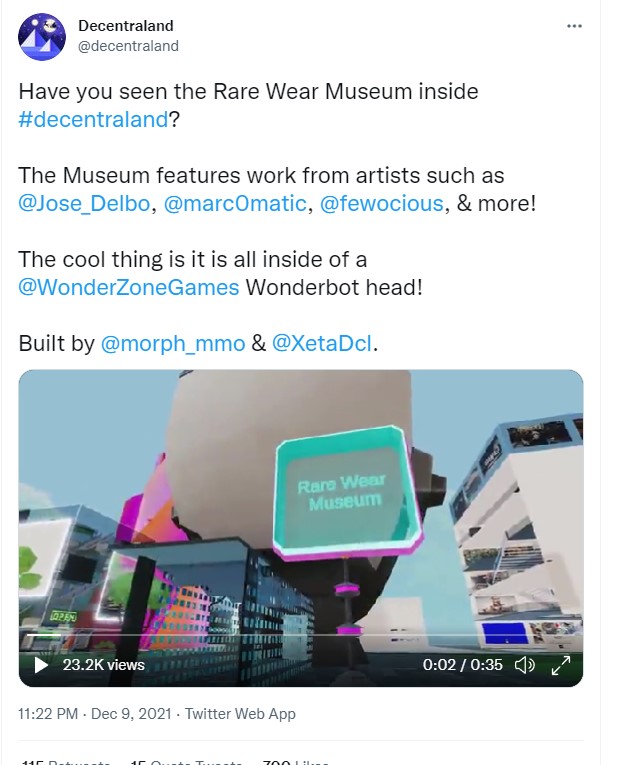 What Have Brands Said About the Metaverse?
It's a lot to take in, right? The thought of a whole new digital existence running parallel to the world we already live in. And while some brands are embracing this idea (more on that in a second), others are using the somewhat unusual elements of metaverse life to promote reality and what we already have. Check out Inspired By Iceland's introduction to Icelandverse which includes 'water that's wet' and real humans to connect with. Hell, there's even real moss but comically, viewers are reminded to not touch as 'it's very delicate.' Skies you can see with your eyeballs, volcanic rocks you can caress? Now that's real-life stuff and a great way to promote Iceland off the back of metaverse craziness.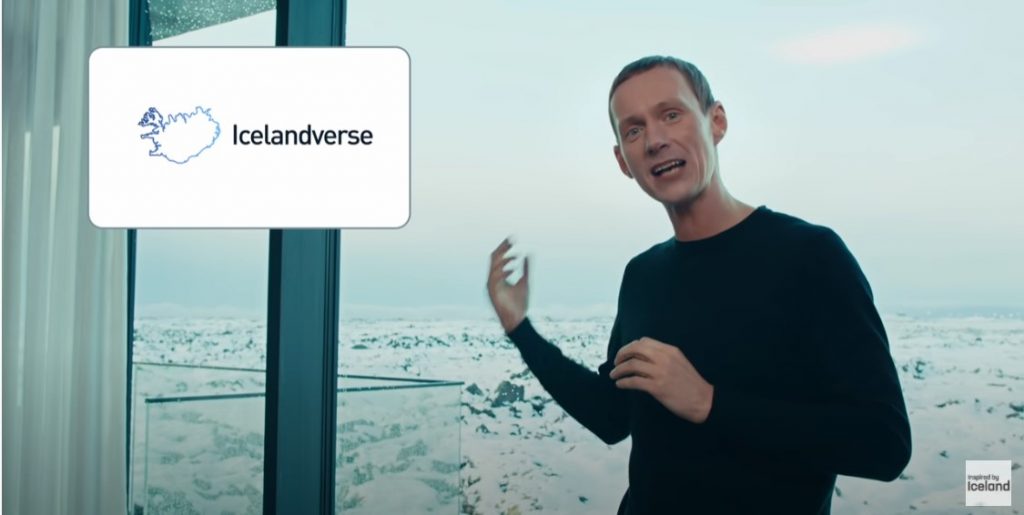 Brands like Nike, on the other hand, are fully psyched by the metaverse idea and have teamed up with Roblox to create a virtual world called Nikeland. Yes really! Here, users will be able to dress up their avatars in Nike-branded sneakers and apparel making it the perfect place to gauge consumer interest over new products. It's the perfect environment for digital market research while providing great user entertainment at the same time. The virtual world includes Nike buildings, fields and arenas for players to compete in various mini-games, ranging from tag and dodgeball to The Floor is Lava and is modelled after the company's real-life headquarters.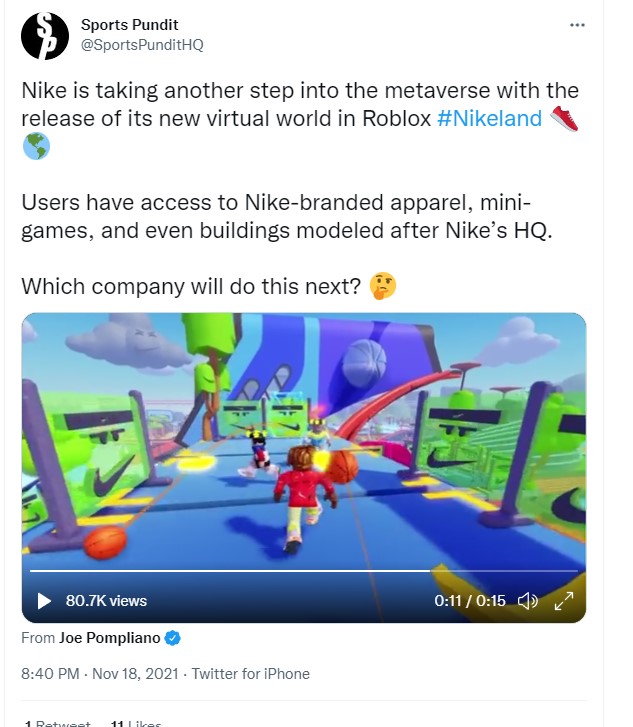 The company eventually plans to integrate in-play moments that emulate global sporting events. Examples may include a soccer event during the World Cup or a flag football game during the Super Bowl. Nike said it will continue to update the virtual world to include athlete and product integration. Perhaps your avatar will even bump into a virtual celeb.
Microsoft Teams has also entered the metaverse race with 3D avatars and immersive meetings. The corporation is planning to bring Mesh, a collaborative platform for virtual experiences, directly into Microsoft Teams next year. This is in response to months of people working from home or adjusting to hybrid work situations. Microsoft Teams will get new 3D avatars in a push toward a metaverse environment, and you won't need to put a VR headset on to use them. These avatars can literally represent you both in 2D and 3D meetings, so you can choose to have an animated version of yourself if you're not feeling like turning your webcam on.
What Does the Metaverse Mean for Content Marketing?
Feeling a bit too much like Black Mirror? Whatever you may think of the metaverse concept, it's clear it's not going away any time soon. In fact, it could revolutionise the way brands engage with consumers. So what does the metaverse really mean for content marketing and how can you use it to your advantage? Here are several top tips.
Share Great Content
The principles of great content marketing remain the same. Whatever you do in the metaverse has to be fun, unique, engaging and clever enough to hold the attention of an ever-demanding audience (particularly Gen-Z who have never been without any kind of technological gadget in their lives and adapt well to technology changes). Things to consider include branded games or a clothing range that can be bought and worn inside this virtual space. As we've already seen, there's certainly a huge market for this type of thing.
Wait what? I can't do that, can I? We hear you. But worry not. Our prediction is that there will be a whole load of hassle-free tools that'll allow you to navigate your way through the metaverse with ease and get exactly what you want out of it. After all, companies like Meta want to keep you hooked and are already in the process of creating metaverse products. The virtual reality app Horizon Worlds, for instance, is available to those 18 and older and allows users to build their own worlds and mini-games. It's similar to Roblox and the OASIS VR world from Ready Player One. Users can create a legless VR avatar in the same style as its workplace meeting system Horizon Workrooms and interact with other avatars.
"Our vision for Horizon Worlds is to bring to life a creator-friendly VR space with best-in-class social world-building tools," Meta said in its announcement. "And we've spent the past year developing those tools and improving them based on creator feedback."
So before you reach for the wine or cry into your coffee over metaverse complexities and unfamiliarity, don't panic. Creating for the metaverse will soon be just as easy as creating for YouTube or Facebook.
Unlock a Next-Level Loyalty Scheme
No-one wants to collect points on a plastic card anymore. That's sooooo 2019. Instead, the metaverse cold unlock a next-level loyalty scheme where select users are rewarded with unique digital experiences. VIP access to branded events online is already a thing. 12 million users recently attended a virtual Travis Scott Fortnite concert, for example. You could also provide early or exclusive access to digital merchandise, perhaps that designer handbag for your avatar fashionista? And there's a wealth of opportunity to host virtual good giveaways.
Metaverse ad placements
Social media marketing as we know it could perhaps be replaced by metaverse billboards which can be viewed by avatars entering specific parts of the digital world. Users could even pay to meet influencer avatars built to discuss the latest product releases. The opportunities really are endless, and brands are sure to be exposed to a whole world of new marketing opportunities. The trick here is to keep ahead of the latest metaverse developments and work out how you can adapt your marketing strategy.
Monetise Digital Assets
The selling of virtual assets is already gaining significant momentum. Big consumer brands like Gucci and Coca-Cola have already tested the water with the latter launching a loot box packed with a Coca-Cola Bubble Jacket Wearable. The owner can re-sell the jacket later for profit and wear it in Decentraland for social status. Essentially, marketers must think not only about physical stock, but should consider how to use the digital space for increased profits too.
Will the Metaverse Change Social Media Platforms?
The answer to this is, most likely. But it'll happen it a way that's so slowly ingrained into our daily existence that we might not even see it happening. There won't be some kind of huge metaverse switch on. Instead, rebranded company Meta has made it clear that the technologies it develops over time will be incorporated into platforms such as Instagram, WhatsApp, Oculus and Facebook without them having to change their names.
The Founder's Letter released on October 28, 2021, states:
"From now on, we will be metaverse-first, not Facebook-first. That means that over time you won't need a Facebook account to use our other services. As our new brand starts showing up in our products, I hope people around the world come to know the Meta brand and the future we stand for."
This is the first big clue that eventually, everything owned by Meta at least will be somehow part of the metaverse experience.
The world of content marketing changes at a rapid rate. So speak to our team today for help with your 2022 strategy. As well as articles and web content, we also provide video scripts, social media management, storytelling and more. We're curious – what do you think about the Metaverse? Tweet us @_Contentworks and share your thoughts.